Wisconsin Public Records
Understanding the availability of public records in the state of Wisconsin and how to access them is very important. Read on to learn more about what information is available and how you can access them.
Public records in the State of Wisconsin are available through the Wisconsin Public Records Law or precisely Wis. Stats. 19.31– 19.39. This law permits the citizens of Wisconsin access to all public records related to the running of the Wisconsin government business. This includes all public records of any employee or any elected official who is working for any Wisconsin government body. You may gain access to these records by making a request to the Office of Open Government, Wisconsin Department of Justice in Madison, Wisconsin, via mail,
The law does not grant access to information related to other documents of non-governmental individual or criminal activity of any person.
Wisconsin Criminal Records
You can access criminal records, such as arrest records and jail and inmate records by addressing your request to the Wisconsin Department of Justice. If you want to obtain information about the criminal history an individual arrested, adjudicated and charged in Wisconsin, you must make your request to the Criminal Records Unit of the state's Department of Justice.
Background checks that utilize The Wisconsin Department of Justice Crime Information Bureau (CIB) has the responsibility to maintain criminal history records that local law enforcement agencies have submitted. To determine whether there is a criminal history for an individual residing in the Wisconsin, a full set of fingerprints and a Criminal History Challenge Form hat has been filled will be required.
The Offender Locator portal contains information about inmates within the DOC (Wisconsin Department of Corrections). The portal allows you to access information about the inmate status of any person throughout the entire system. To enter the portal, you must at least enter the offender's last name.
Wisconsin Court Records
The Wisconsin Court System Circuit Court Access portal contains all the public records of the state's Circuit Courts about a criminal defendant. You can access all these records online through the portal. You can also access some confidential records, such as those of child protection, juvenile delinquency, civil commitments, guardianship, adoption, and termination of parental rights through the portal.
The availability of court records depends entirely on the county where the court case was heard because access to the system and back loading of the older cases vary from one county to another.
Wisconsin Vital Records
You can access Wisconsin Vital Records, such as death, birth, marriage, divorce and domestic partnership through the Wisconsin Department of Health Services Vital Records Service. Applicable fee and a written application are required to perform a search for any of these records.
When you understand the accessibility of public records in the state of Wisconsin and the procedure to follow to access information, you will be able to obtain any record that you are looking for.
Wisconsin State Court System
Understanding how the system of Wisconsin state court works is very important as it helps you find court records easily.
Wisconsin Courts Overview
With the basic understanding of the organization of Wisconsin state court system and how it works, it will be easier for you to find the court files and records you are looking for. To make your work easier, start searching for court records in Wisconsin by simply going to courts by county.
The trial court system of Wisconsin State consists of Municipal Courts and Circuit Courts.
Circuit Courts
Wisconsin Circuit Courts have original jurisdiction over all types of Criminal and civil cases. However, Circuit Courts usually handle only those cases that are beyond the jurisdiction limit of Municipal Courts. Circuit Courts also have unlimited jurisdiction over all jury trials.
Wisconsin Circuit Courts have limited jurisdiction over all types of criminal cases. Typically, Circuit Courts do not actually handle ordinance violations that are within a Municipal Court jurisdiction.
Civil cases generally heard by Wisconsin Circuit Courts include most juvenile cases, probate matters, domestic relations, civil equity cases, and general civil claims.
Municipal Courts
Wisconsin Municipal Courts have limited jurisdiction over majority of ordinance violations. Typical cases that Municipal Courts handle include ordinance violations, traffic violations, and non-jury trials particularly for first offense drunk driving.
Wisconsin Municipal Courts also handle certain types of juvenile cases, including alcohol violations, truancy, curfew violations, and drug offenses. Municipal Courts have no jurisdiction over jury trials. They don't offer jury trials. If the proper request is made and granted, the case can be transferred to Wisconsin Circuit Courts. A Municipal Court doesn't have jurisdiction to hear cases requesting equitable relief.
Circuit Courts hear ordinance violations in the areas where Municipal Courts are not available.
Court Notes
The State of Wisconsin is currently in the process of expanding its trial court system. It is actually developing special or "problem solving" court programs within its Circuit Courts. These specialized court programs are developed to handle some types of cases. They include offender reentry courts, domestic violence courts, specialized juvenile courts, mental health treatment courts, and drug treatment courts. All these court programs operate as "problem solving" or specialized court programs of Circuit Courts.
The State of Wisconsin is also considering establishing some divisions within the Municipal Courts. ?Every division must have its jurisdiction, which can be shared with Municipal Courts.
Currently, the files of cases exist in Circuit Courts and Municipal Courts.
Wisconsin Crime Statistics
Violent & Property Crime Rates in Wisconsin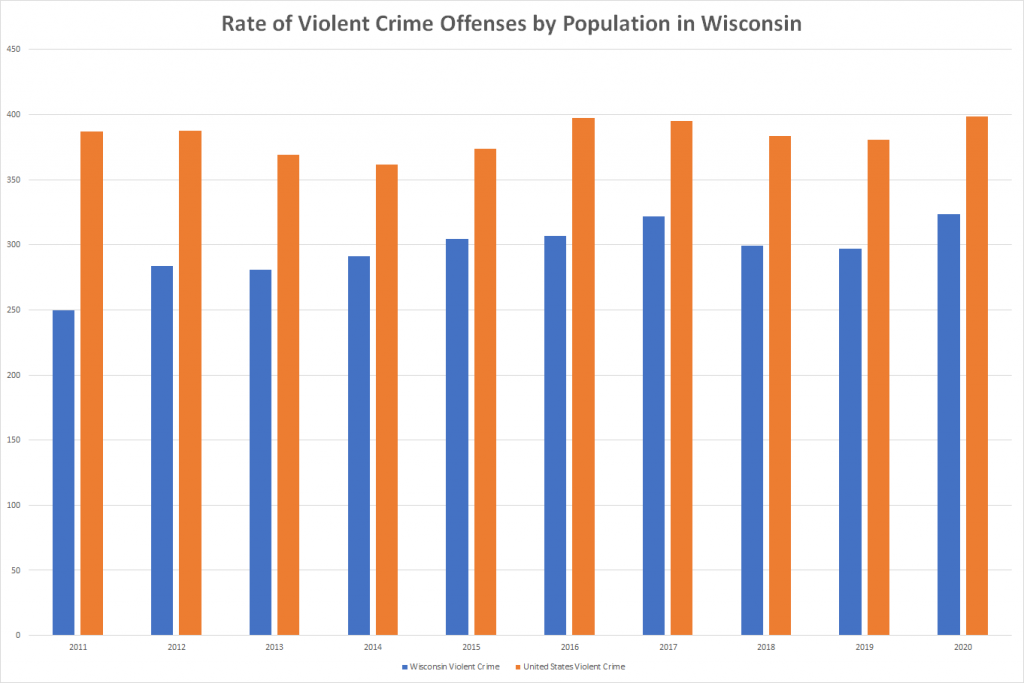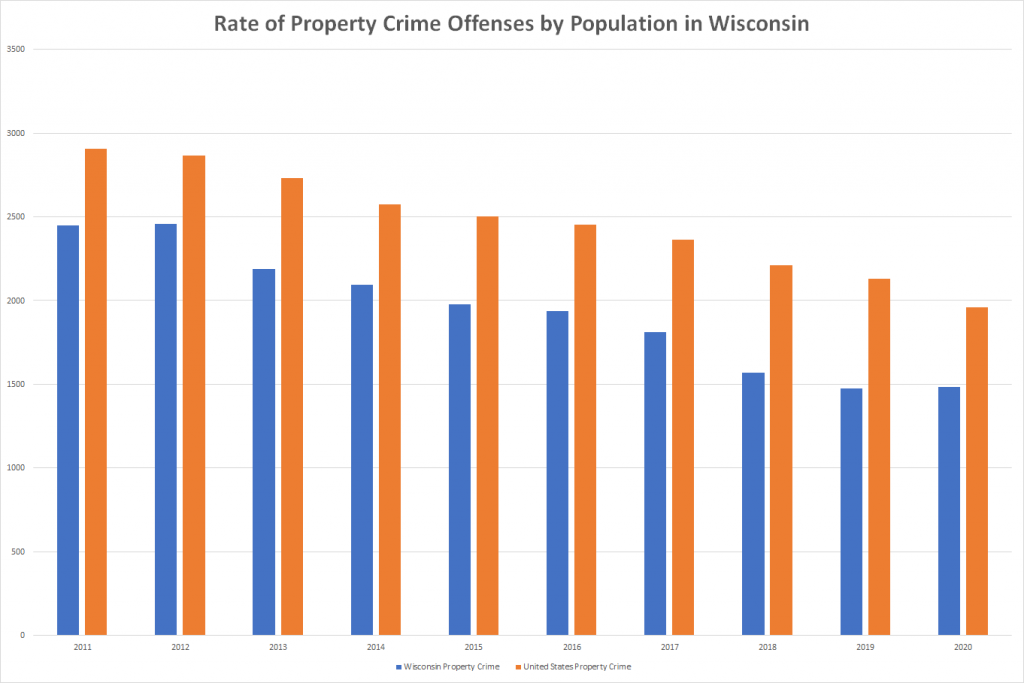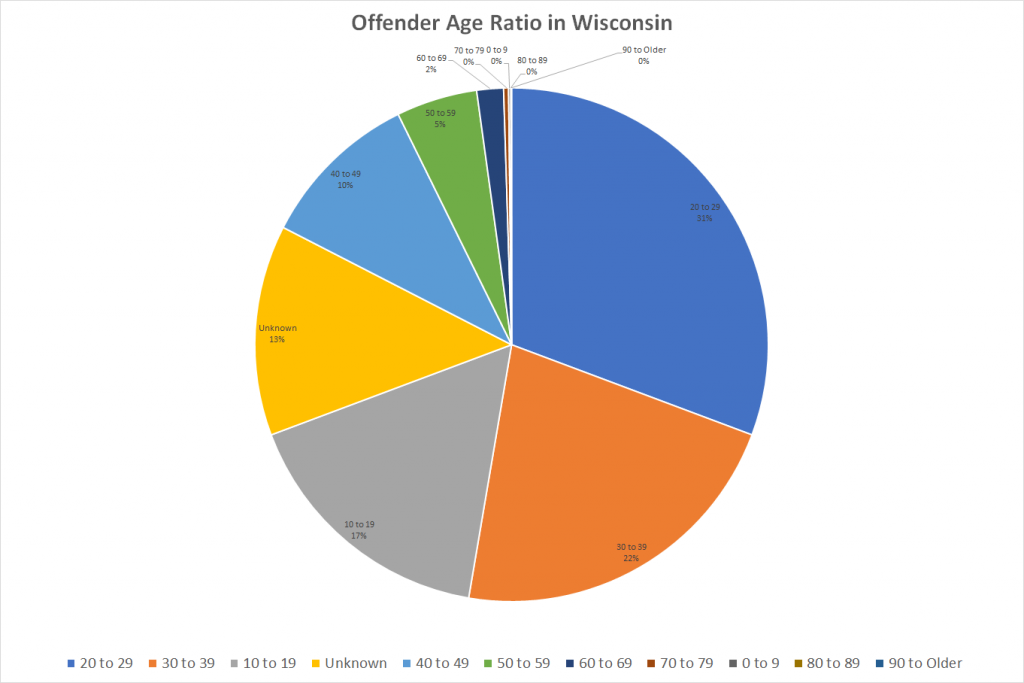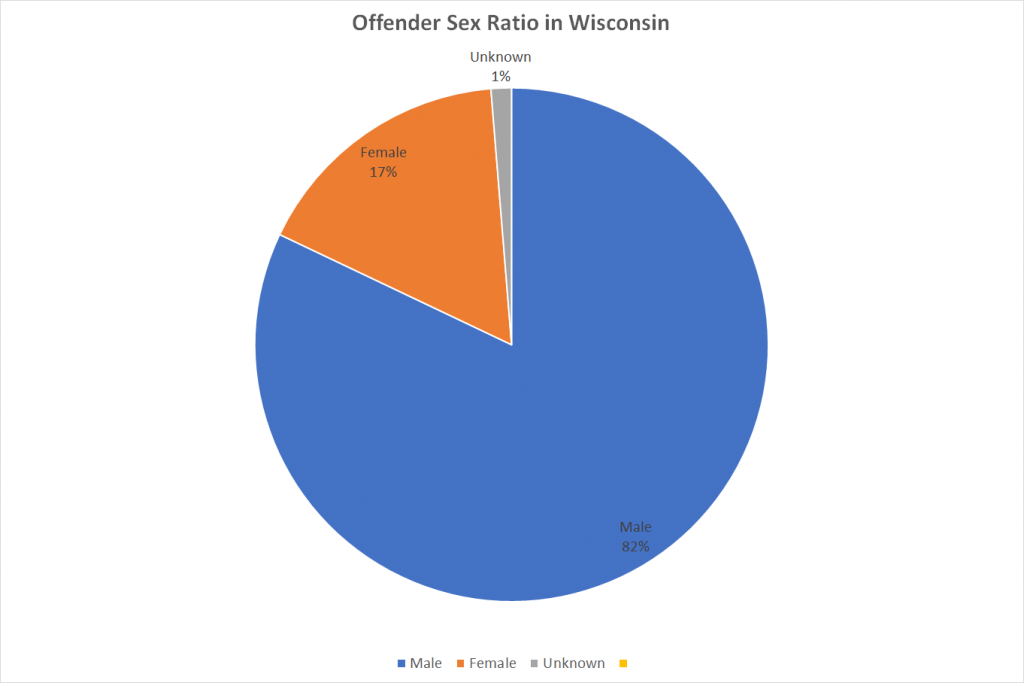 Arrests Offense in Wisconsin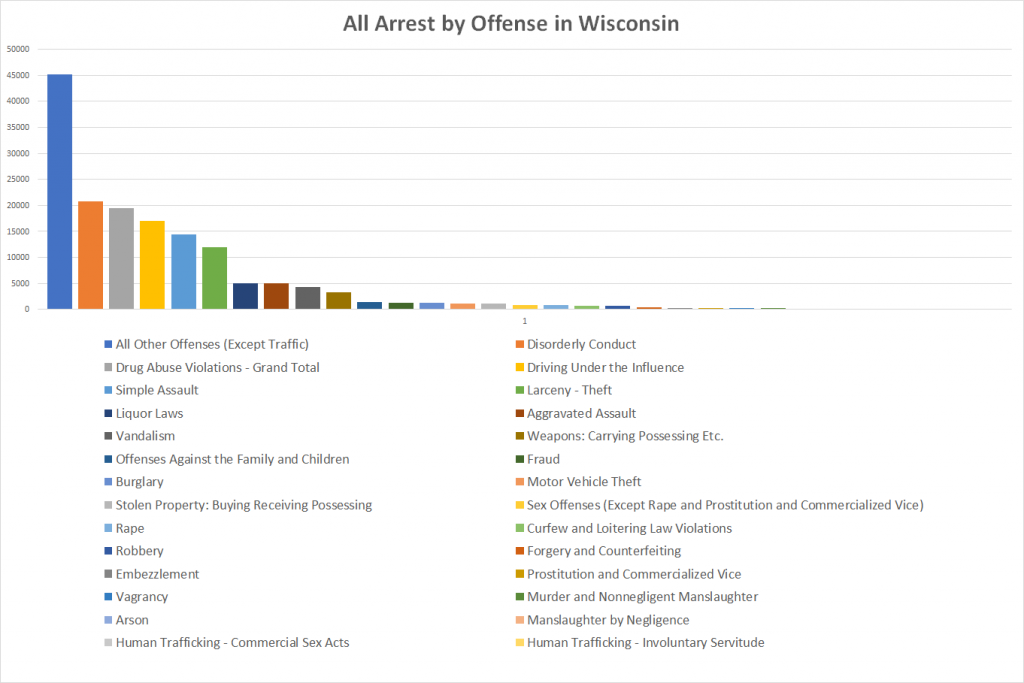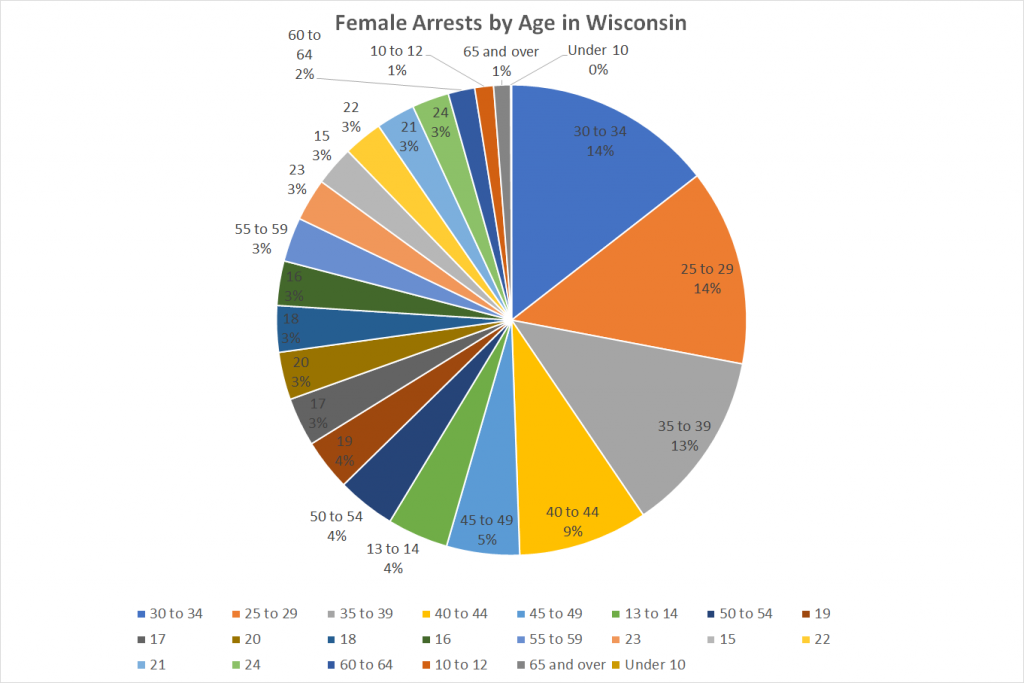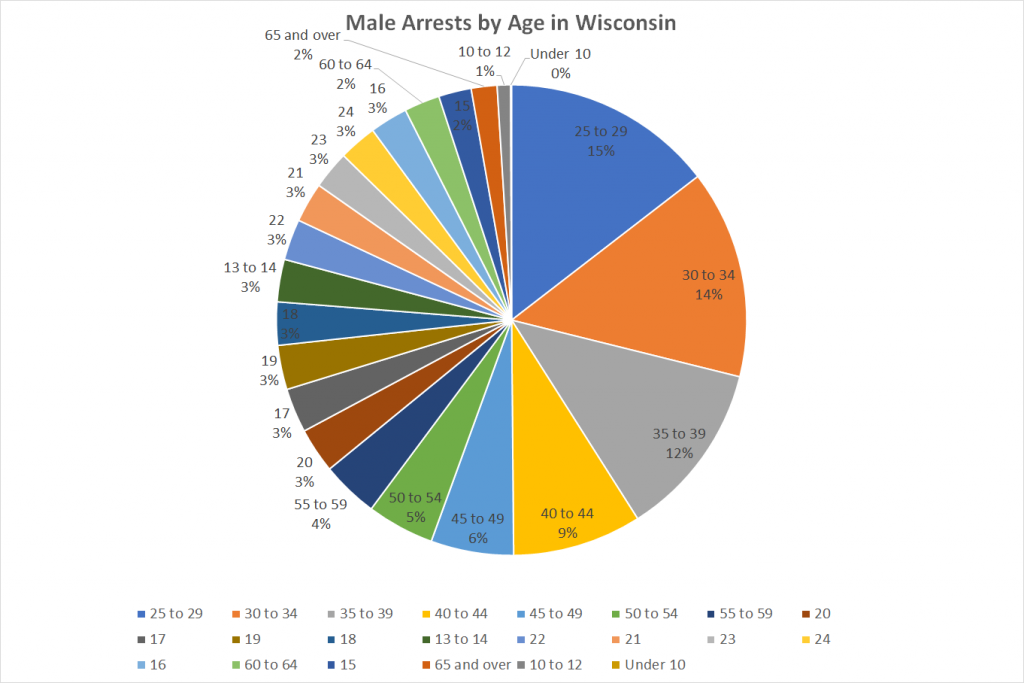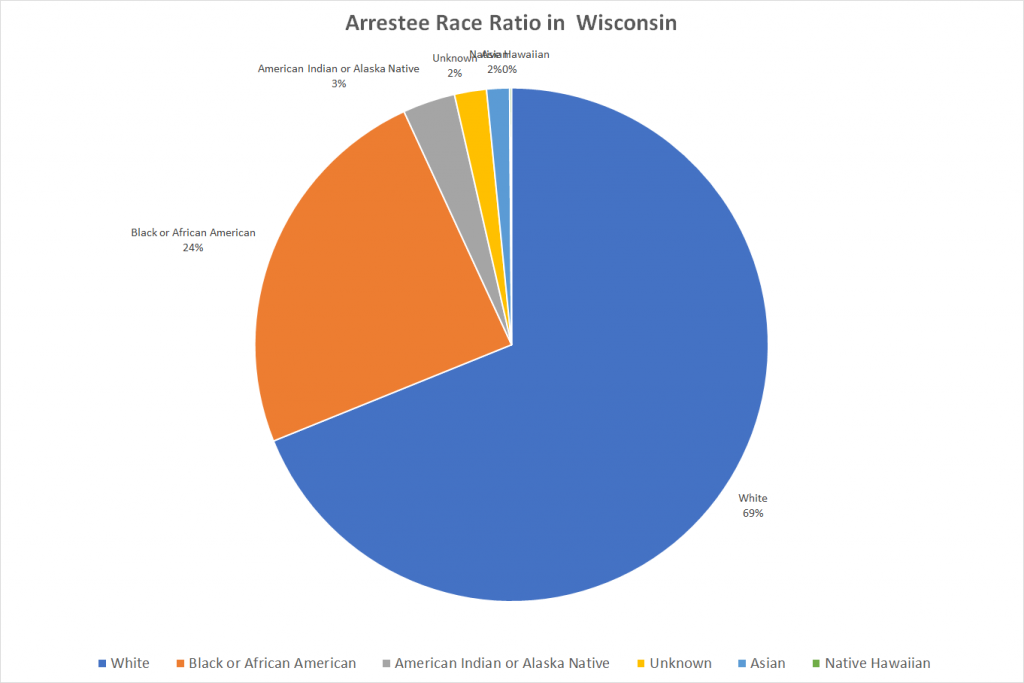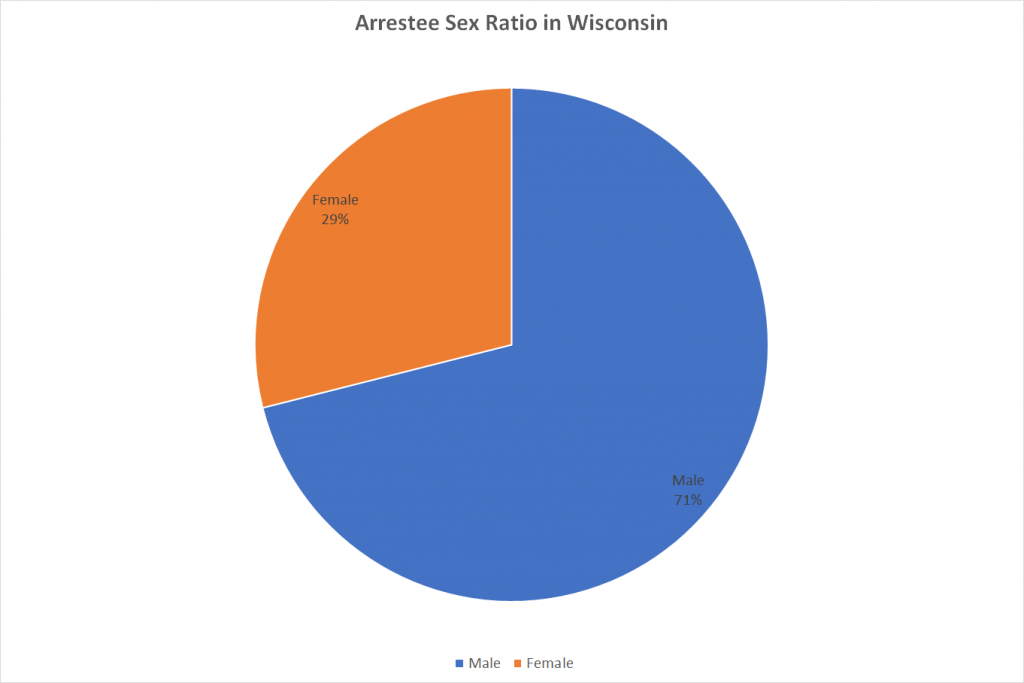 The latest data is from 2021. References: https://cde.ucr.cjis.gov/LATEST/webapp/#/pages/home
The Official Website of Wisconsin County
Milwaukee City of Milwaukee
Madison City of Madison, Wisconsin
Kenosha City of Kenosha The City of Kenosha website helps citizens and visitors learn about city services and conduct business, including permit applications and online payments.
Racine Welcome to the City of Racine The official website for the City of Racine, Wisconsin
Appleton Appleton, WI
Waukesha Waukesha, WI | Official Website
Oshkosh City of Oshkosh
Eau Claire City of Eau Claire, Wisconsin
Janesville Janesville, WI
West Allis West Allis, WI – Official Website
La Crosse La Crosse, WI
Wauwatosa Wauwatosa, WI
Fond du Lac City of Fond Du Lac
New Berlin New Berlin, WI – Official Website
Wausau Wausau Wisconsin
Milwaukee County Milwaukee County | County of Milwaukee
Dane County Welcome to Dane County, Wisconsin The official County Government website for Dane County, WI. Find information on elected officials, local news & events, county services and more!
Brown County The official website of Brown County, Wisconsin government Brown County Government, Green Bay, Wisconsin – providing Brown County news, services and event information
Racine County Racine County, WI Racine County Courthouse730 Wisconsin Ave.Racine, Wisconsin 53403262-636-3333
Outagamie County Outagamie County, WI
Winnebago County Welcome to Winnebago County | Winnebago County
Kenosha County Kenosha County, WI – Official Website
Rock County Rock County Wisconsin
Marathon County Marathon County Wisconsin
Washington County Washington County, WI A Winter Weather Emergency has been declared for Washington County. All non-essential Washington County offices will be closed Monday, January 28.As part of this closure, the Justice Center will be closed and all court matters will be rescheduled.
Sheboygan County Sheboygan County
La Crosse County Official Web Site of La Crosse County Government Welcome to the official website of La Crosse County, Wisconsin
Walworth County Walworth County
Fond du Lac County Fond du Lac County Welcome to the new official Fond du Lac County site. Government officials, departments and services plus much more.
Eau Claire County Eau Claire County
Ozaukee County Ozaukee County, WI – Official Website
St. Croix County Welcome to St Croix County
Jefferson County Welcome to Jefferson County
Manitowoc County Manitowoc County, WI
Wood County Wood County Wisconsin
Portage County Portage County, WI
Chippewa County Chippewa County, Wi
Sauk County Sauk County Wisconsin Official Website
Columbia County Columbia County Website
Waupaca County Welcome to Waupaca County, WI
Grant County Grant County, Wisconsin Grant County, Wisconsin World Wide Web Site
Calumet County Calumet County, WI – Official Website
Barron County Barron County, Wisconsin – www.barroncountywi.gov
Monroe County Monroe County, Wisconsin –
Polk County Polk County, Wisconsin Polk County Wisconsin
Douglas County Douglas County, WI – Official Website
Dunn County Dunn County, WI
Shawano County The Official Shawano County Government Web Site Shawano County – Honoring Tradition, Discovering Tomorrow
Marinette County The Official Marinette County Government Website Marinette County has everything! Find information on Government officials, departments, services and more.
Pierce County Pierce County
Wisconsin Jail Roster
| Type | Name | County | Inmate Locator | Phone Number | Inmate Search |
| --- | --- | --- | --- | --- | --- |
| Federal Prison | Oxford Federal Correctional Institution | Adams County | County Road G & Elk Avenue, Oxford, WI 53952 | (608) 584-5511 | Federal Inmate Locator |
| State Prison | Green Bay Correctional Institution | Brown County | 2833 Riverside Drive, Green Bay, WI 54307-9033 | (920) 432-4877 | Inmate Search |
| State Prison | Chippewa Valley Correctional Treatment Facility | Chippewa County | 2909 E. Park Avenue, Chippewa Falls, WI 54729 | (715) 720-2850 | Inmate Search |
| State Prison | Stanley Correctional Institution | Chippewa County | 100 Corrections Drive, Stanley, WI 54768-6500 | (715) 644-2960 | Inmate Search |
| State Prison | Columbia Correctional Institution | Columbia County | 2925 Columbia Drive, Portage, WI 53901-0950 | (608) 742-9100 | Inmate Search |
| State Prison | Prairie du Chien Correctional Institution | Crawford County | 500 E. Parrish Street, Prairie du Chien, WI 53821-6000 | (608) 326-7828 | Inmate Search |
| State Prison | Oakhill Correctional Institution | Dane County | 5212 County Hwy. M, Oregon, WI 53575-0140 | (608) 835-3101 | Inmate Search |
| State Prison | Dodge Correctional Institution | Dodge County | 1 W. Lincoln Street, Waupun, WI 53963-0661 | (920) 324-5577 | Inmate Search |
| State Prison | Fox Lake Correctional Institution | Dodge County | W10237 Lake Emily Road, Fox Lake, WI 53933-0147 | (920) 928-3151 | Inmate Search |
| State Prison | Waupun Correctional Institution | Dodge County | 200 S. Madison Street, Waupun, WI 53963-0351 | (920) 324-5571 | Inmate Search |
| State Prison | Taycheedah Correctional Institution | Fond du Lac County | 751 County Road K, Fond du Lac, WI 54936-1947 | (920) 929-3800 | Inmate Search |
| State Prison | Wisconsin Secure Program Facility | Grant County | 1101 Morrison Drive, Boscobel, WI 53805-0900 | (608) 375-5656 | Inmate Search |
| State Prison | Jackson Correctional Institution | Jackson County | N6500 Haipek Road, Black River Falls, WI 54615-0232 | (715) 284-4550 | Inmate Search |
| State Prison | New Lisbon Correctional Institution | Juneau County | 2000 Progress Road, New Lisbon, WI 53950-2000 | (608) 562-6400 | Inmate Search |
| State Prison | Milwaukee Secure Detention Facility | Milwaukee County | 1015 N. 10th Street, Milwaukee, WI 53205-0740 | (414) 212-3535 | Inmate Search |
| State Prison | Racine Correctional Institution | Racine County | 2019 Wisconsin Street, Sturtevant, WI 53177-1829 | (262) 886-3214 | Inmate Search |
| State Prison | Racine Youthful Offender Correctional Facility | Racine County | 1501 Albert Street, Racine, WI 53404-0001 | (262) 638-1999 | Inmate Search |
| State Prison | Sturtevant Transitional Facility | Racine County | 9351 Rayne Road, Sturtevant, WI 53177 | (262) 884-2410 | Inmate Search |
| State Prison | Kettle Moraine Correctional Institution | Sheboygan County | W9071 Forest Drive, Plymouth, WI 53073 | (920) 526-3244 | Inmate Search |
| State Prison | Redgranite Correctional Institution | Waushara County | 1006 County Road EE, Redgranite, WI 54970 | (920) 566-2600 | Inmate Search |
| State Prison | Oshkosh Correctional Institution | Winnebago County | 1730 W. Snell Road, Oshkosh, WI 54903-3530 | (920) 231-4010 | Inmate Search |
| Adams County Jail Roster | Adams County Jail | Adams County | 301 Adams Street, Friendship, WI 53934 | (608) 339-4239 | Jail Roster |
| Barron County Jail Roster | Barron County Jail | Barron County | 1420 State Hwy 25 North, Barron, WI 54812-3007 | (715) 537-5559 | Inmate Roster |
| Bayfield County Jail Roster | Bayfield County Jail | Bayfield County | 615 Second Avenue, Washburn, WI 54891 | (715) 373-6117 | Jail Roster |
| Brown County Jail Roster | Brown County Jail | Brown County | 3030 Curry Lane, Green Bay, WI 54311 | (920) 448-4250 | Inmate Search |
| Burnett County Jail Roster | Burnett County Jail | Burnett County | 7410 County Road K, Siren, WI 54872 | (715) 349-2128 | Inmate Roster |
| Calumet County Jail Roster | Calumet County Jail | Calumet County | 206 Court Street, Chilton, WI 53014-1198 | (920) 849-1447 | Inmate Roster |
| Chippewa County Jail Roster | Chippewa County Jail | Chippewa County | 50 E Spruce Street, Chippewa Falls, WI 54729 | (715) 726-7704 | Inmate Roster |
| Clark County Jail Roster | Clark County Jail | Clark County | 517 Court Street, Neillsville, WI 54456 | (715) 743-5379 | Jail Roster |
| Columbia County Jail Roster | Columbia County Jail | Columbia County | 403 Jackson Street, Portage, WI 53901 | (608) 742-6476 | Inmate Roster |
| Crawford County Jail Roster | Crawford County Jail | Crawford County | 224 N Beaumont Road, Prairie du Chien, WI 53821 | (608) 326-8414 | Jail Roster |
| Dane County Jail Roster | Dane County Public Safety Building Jail | Dane County | 115 W. Doty Street, Madison, WI 53703 | (608) 284-6100 | Jail Roster |
| Dodge County Jail Roster | Dodge County Detention Facility | Dodge County | 216 W. Center Street, Juneau, WI 53039 | (920) 386-3734 | Jail Roster |
| Door County Jail Roster | Door County Jail | Door County | 1203 S. Duluth Avenue, Sturgeon Bay, WI 54235 | (920) 746-2400 | Jail Roster |
| Douglas County Jail Roster | Douglas County Jail | Douglas County | 1310 North 14th Street, Superior, WI 54880 | (715) 395-1375 | Inmate Roster |
| Dunn County Jail Roster | Dunn County Jail | Dunn County | 615 Stokke Parkway, Menomonie, WI 54751 | (715) 232-2220 | Inmate Roster |
| Eau Claire County Jail Roster | Eau Claire County Jail | Eau Claire County | 710 2nd Avenue, Eau Claire, WI 54703 | (715) 839-4702 | Inmate Roster |
| Fond du Lac County Jail Roster | Fond du Lac County Jail | Fond du Lac County | 63 Western Avenue, Fond du Lac, WI 54935 | (920) 929-3394 | Jail Roster |
| Forest County Jail Roster | Forest County Jail | Forest County | 100 South Park Avenue, Crandon, WI 54520 | (715) 478-3331 | Jail Roster |
| Grant County Jail Roster | Grant County Jail | Grant County | 1000 North Adams Street, Lancaster, WI 53813 | (608) 723-6372 | Inmate Roster |
| Green County Jail Roster | Green County Jail | Green County | 2827 6th Street, Monroe, WI 53566 | (608) 328-9400 | Jail Roster |
| Green Lake County Jail Roster | Green Lake County Correctional Facility | Green Lake County | 571 County Road A, Green Lake, WI 54941 | (920) 294-4059 | Jail Roster |
| Iowa County Jail Roster | Iowa County Jail | Iowa County | 1205 North Bequette Street, Dodgeville, WI 53533 | (608) 935-3314 ext. 2 | Jail Roster |
| Jackson County Jail Roster | Jackson County Jail | Jackson County | 30 N. 3rd Street, Black River Falls, WI 54615 | (715) 284-5357 | Inmate Roster |
| Jefferson County Jail Roster | Jefferson County Jail | Jefferson County | 411 S. Center Avenue, Jefferson, WI 53549-1703 | (920) 674-7310 | Jail Roster |
| Juneau County Jail Roster | Juneau County Jail | Juneau County | 200 Oak Street, Mauston, WI 53948 | (608) 847-9513 | Jail Roster |
| Kenosha County Jail Roster | Kenosha County Detention Center | Kenosha County | 4777 88th Avenue, Kenosha, WI 53144 | (262) 605-5800 | Inmate Search |
| Kenosha County Jail Roster | Downtown Pre-Trial Facility | Kenosha County | 927 54th Street, Kenosha, WI 53140 | (262) 605-5111 | Inmate Search |
| Kewaunee County Jail Roster | Kewaunee County Jail | Kewaunee County | 620 Juneau Street, Kewaunee, WI 54216 | (920) 388-3100 | Jail Roster |
| La Crosse County Jail Roster | La Crosse County Jail | La Crosse County | 333 Vine Street, La Crosse, WI 54601 | (608) 785-9630 | Inmate Roster |
| Langlade County Jail Roster | Langlade County Jail | Langlade County | 840 Clermont Street, Antigo, WI 54409 | (715) 627-6444 | Jail Roster |
| Lincoln County Jail Roster | Lincoln County Jail | Lincoln County | 1104 E 1st Street, Merrill, WI 54452 | (715) 536-6275 | Jail Roster |
| Manitowoc County Jail Roster | Manitowoc County Jail | Manitowoc County | 1025 South 9th Street, Manitowoc, WI 54220 | (920) 683-4339 | Inmate Roster |
| Marathon County Jail Roster | Marathon County Jail | Marathon County | 500 Forest Street, Wausau, WI 54403 | (715) 261-1700 | Jail Roster |
| Marinette County Jail Roster | Marinette County Jail | Marinette County | 2161 University Drive, Marinette, WI 54143 | (715) 732-7630 | Jail Roster |
| Menominee County Jail Roster | Menominee County Jail | Menominee County | 831 10th Avenue, Menominee, MI 49858 | (906) 863-4441 | Jail Roster |
| Milwaukee County Jail Roster | Milwaukee County Jail | Milwaukee County | 949 North 9th Street, Milwaukee, WI 53233 | (414) 226-7070 | Inmate Search |
| Monroe County Jail Roster | Monroe County Jail | Monroe County | 112 S. Court Street, Sparta, Wisconsin 54656 | (608) 269-2117 | Jail Roster |
| Oconto County Jail Roster | Oconto County Jail | Oconto County | 301 Washington Street, Oconto, WI 54153 | (920) 834-6918 | Jail Roster |
| Oneida County Jail Roster | Oneida County Jail | Oneida County | 2000 East Winnebago Street, Rhinelander, WI 54501 | (715) 361-5180 | Jail Roster |
| Outagamie County Jail Roster | Outagamie County Jail | Outagamie County | 320 S. Walnut Street, Appleton, WI 54911 | (920) 832-5266 | Inmate Roster |
| Ozaukee County Jail Roster | Ozaukee County Jail | Ozaukee County | 1201 S. Spring Street, Port Washington, WI 53074 | (262) 284-7172 | Inmate Search |
| Pepin County Jail Roster | Pepin County Jail | Pepin County | 740 7th Avenue West, Durand, WI 54736 | (715) 672-5945 | Jail Roster |
| Pierce County Jail Roster | Pierce County Jail | Pierce County | 414 W. Main Street, Ellsworth, WI 54011 | (715) 273-5051 | Inmate Roster |
| Polk County Jail Roster | Polk County Jail | Polk County | 1005 West Main Street, Balsam Lake, WI 54810 | (715) 485-8370 | Inmate Roster |
| Portage County Jail Roster | Portage County Jail | Portage County | 1500 Strongs Avenue, Stevens Point, WI 54481 | (715) 346-1259 | Jail Roster |
| Price County Jail Roster | Price County Jail | Price County | 164 Cherry Street, Phillips, WI 54555 | (715) 339-4116 | Inmate Roster |
| Racine County Jail Roster | Racine County Jail | Racine County | 717 Wisconsin Avenue, Racine, WI 53403 | (262) 636-3929 | Inmate Search |
| Richland County Jail Roster | Richland County Jail | Richland County | 181 W. Seminary, Richland Center, WI 53581 | (608) 647-8906 | Jail Roster |
| Rock County Jail Roster | Rock County Jail | Rock County | 200 E US Highway 14, Janesville, WI 53545 | (608) 757-7907 | Jail Roster |
| Rusk County Jail Roster | Rusk County Jail | Rusk County | 311 Miner Avenue East, Ladysmith, WI 54848 | (715) 532-2200 | Jail Roster |
| Sauk County Jail Roster | Sauk County Jail | Sauk County | 1300 Lange Court, Baraboo, 53913 | (608) 355-3210 | Jail Roster |
| Sawyer County Jail Roster | Sawyer County Jail | Sawyer County | 15880 5th Street, Hayward, WI 54843 | (715) 634-4858 | Inmate Roster |
| Shawano County Jail Roster | Shawano County Jail | Shawano County | 405 N. Main Street, Shawano, WI 54166 | (715) 526-7950 | Jail Roster |
| Sheboygan County Jail Roster | Sheboygan County Adult Detention Center | Sheboygan County | 2923 South 31st Street, Sheboygan, WI 53081-4612 | (920) 459-1300 | Inmate Roster |
| Sheboygan County Jail Roster | Sheboygan County Juvenile Detention Center | Sheboygan County | 525 North 6th Street, Sheboygan, WI 53081 | (920) 459-1300 | Jail Roster |
| St. Croix County Jail Roster | St. Croix County Jail | St. Croix County | 1101 Carmichael Road, Hudson, WI 54016 | (715) 386-4752 | Jail Roster |
| Taylor County Jail Roster | Taylor County Jail | Taylor County | 224 South Second Street, Medford, WI 54451 | (715) 748-1431 | Jail Roster |
| Trempealeau County Jail Roster | Trempealeau County Jail | Trempealeau County | 36245 Main Street, Whitehall, WI 54773 | (715) 538-2311 ext. 452 | Jail Roster |
| Vernon County Jail Roster | Vernon County Jail | Vernon County | 1320 Bad Axe Court, Viroqua, WI 54665 | (608) 638-5780 | Jail Roster |
| Vilas County Jail Roster | Vilas County Jail | Vilas County | 330 Court Street, Eagle River, WI 54521 | (715) 479-4441 | Inmate Roster |
| Walworth County Jail Roster | Walworth County Jail | Walworth County | 1770 County Road NN, Elkhorn, WI 53121 | (262) 741-4510 | Jail Roster |
| Washburn County Jail Roster | Washburn County Jail | Washburn County | 421 Highway 63, Shell Lake, WI 54871 | (715) 468-4720 | Jail Roster |
| Washington County Jail Roster | Washington County Jail | Washington County | 500 N Schmidt Road, West Bend, WI 53095 | (262) 335-4427 | Jail Roster |
| Waukesha County Jail Roster | Waukesha County Jail | Waukesha County | 515 W. Moreland Blvd, Waukesha, WI 53188 | (262) 548-7170 | Inmate Roster |
| Waupaca County Jail Roster | Waupaca County Jail | Waupaca County | 1402 Royalton Street, Waupaca, WI 54981 | (715) 258-4466 | Jail Roster |
| Waushara County Jail Roster | Waushara County Jail | Waushara County | 430 East Division Street, Wautoma, WI 54982 | (920) 787-6591 | Jail Roster |
| Winnebago County Jail Roster | Winnebago County Jail | Winnebago County | 4311 Jackson Street, Oshkosh, WI 54901 | (920) 236-7380 | Jail Roster |
| Wood County Jail Roster | Wood County Jail | Wood County | 400 Market Street, Wisconsin Rapids, WI 54494 | (715) 421-8730 | Jail Roster |