Tennessee Public Records
The state of Tennessee has long made provisions for the sharing of its criminal records, vital records, and court records and other public records with the general public.
Passed for the first time in 1957, the Tennessee Open Records Act is covered in the Title 10, Chapter 7 of the Tennessee statutes. According to the Act, all the citizens of Tennessee State and corporations within the state have the right to access public records. You don't have to state the reason for requesting the records and you can use the records for any purpose once you have received them.
Records that the Act covers include records from judicial, legislative, and executive branches as well as all other government agencies. Also covered are all non-governmental bodies that do get public funds.
Tennessee Criminal Records
The Tennessee Bureau of Investigation is responsible for administering background checks in Tennessee. The general public, licensing agencies and employers can request name-based background checks on any individual through Tennessee Open Records Information Services (TORIS), which is an online system. You can also request a background check through the mail, which will show an individual's criminal history for only the state of Tennessee.
You can request for arrest records, and jail and inmate records. You can go to the official website of Department of Corrections to find further information on any inmate in the state system, or to learn more about agency services, or the state prison. Felony Offender Information (FOIL) is a state's website from which you can locate an offender by State ID, TOMIS ID, or Name. The search results will provide you with the inmate's sentencing date, earliest parole date, and supervision status.
Tennessee Court Records
Any information about Tennessee courts is available on the state of Tennessee administrator of courts official website. The site contains information on every court in the state. You can obtain information on oral arguments, opinions, and court meetings from individual court's student page. However, if you want to obtain any particular court records, you will have to make a request through the specific court in which the case was decided.
Tennessee Vital Records
The Office of Vital Records and Tennessee Department of Health are responsible for administering Tennessee Vital Records pertaining to death, birth, divorce, and marriage. Access to these certificates is limited to a spouse, child, parent or the individuals named on the certificate. Legal guardians can also request for these certificates. You can request for a marriage, divorce, death or birth certificates online through VitalCheck. You can apply by mail whereby you download the right form and then mail it to Tennessee Vital Records, 1st Floor, Andrew Johnson Tower, 710 James Robertson Pkwy, Nashville, TN 37243 with payment and a duplicate of your photo ID. Alternatively, you can also make a request in person at the Vital Records Central Office, which is located at 710 James Robertson Pkwy, 1st Floor, Nashville.
Birth records: Birth certificates are available from 1914 to present. For birth records prior to 1914, you can direct your request to the Tennessee State Board of Health and Tennessee Family History Library. You may also check with the county where the birth was recorded.
Death records: Death records are available dating back to 1914 at the Tennessee Department of Health. For records prior to 1874, you can make your request through Tennessee State Archives. Microcopies of all death records are available at the state's Family History Library.
Marriage records: Marriage records dating back to 1949 to present are available at the Office of Vital Statistics. Copies of most marriage records from early 1900s are kept at the Family History Library.
Divorce records: Divorce records are available from 1949 to present. You can request for these records at Tennessee Department of Health. The records are also available at the Tennessee State Library.
The information regarding Tennessee vital records, court records, and criminal records are easily accessible. Just apply for these records appropriately and you will be granted access to them.
Tennessee state court system
Understanding how the system of Tennessee state court works is very important as it helps you find court records easily.
Tennessee Courts Overview
To make your work easier, start searching for court records in Tennessee by simply going to courts by county.
The trial court system of Tennessee State consists of Municipal Courts, Probate Courts, Juvenile Courts, General Sessions Courts, Criminal Courts, Chancery Courts, and Circuit Courts.
Circuit Courts
Tennessee Circuit Courts have general jurisdiction to handle all cases. They handle any case that no other court has jurisdiction over.
Circuit Courts share jurisdiction over all types of criminal cases with Criminal Courts. Chancery Courts and Circuit Courts also share jurisdiction over adoption, divorce, name changes, distribution and partition of personal or real property, the appointment and release of trustees, arbitration, trustee petitions, and paternity.
They also share jurisdiction with some General Sessions Courts over domestic relations cases. They can also handle disputes about validity of cases connected to arbitration. These courts also have limited jurisdiction to handle cases citizenship restoration.
Chancery Courts
These courts have limited jurisdiction to handle many cases of an equitable nature. They generally hear cases that other courts have no jurisdiction over. Chancery Courts share jurisdiction with other courts over some types of civil cases.
Chancery Courts have limited jurisdiction over cases that involve disputes over land boundaries, some types of requests made by creditors, and the cases that the State has signed against corporations.
Criminal Courts
Private Acts in some Judicial Circuits have created Criminal Courts. Criminal Courts share jurisdiction with Circuit Courts over criminal cases, but Circuit Courts will usually not exercise jurisdiction in districts where Criminal Courts are available.
General Sessions Courts
These courts have general jurisdiction to handle certain types of criminal and civil cases. Criminal cases generally handled by these courts include many violations of municipal ordinances, misdemeanor trials, and preliminary hearings in all types of criminal cases.
Civil cases generally heard by these courts include certain general civil cases without any financial limits, such as the recovery of personal property, and forcible entry and detainer. Jurisdiction of General Sessions Courts is limited for certain types of equity and general civil cases to claims with less than $25,000 in dispute, exclusive of costs and attorney fees.
They also issues restraining orders and handle the enforcement of restraining orders. They can also handle cases including nonsupport, mental health proceedings, juvenile matters, and probate matters.
A Mental Health Court division exists in some General Sessions Courts for handling cases that involve voluntary commitments and cases that have been filed under the Mental Health Law.
Juvenile Courts
Juvenile Courts have limited jurisdiction to handle many juvenile delinquency as well as other juvenile cases, such as child neglect and abuse, juvenile dependency, judicial consent to military or employment enlistment, and minors considered to be unruly.
Criminal cases generally heard by these courts include some violations of parental responsibilities by guardians or parents. General Sessions Court share jurisdiction with Juvenile Courts over the offense of contributing to unruly conduct or delinquency of a child.
A Juvenile Court may have a Teen Court division that handle juvenile delinquency cases, including some drug offenses, curfew violations, truancy, runaways, traffic offenses, harassment, disorderly conduct, unauthorized use of a motor vehicle, forgery, vandalism, theft of property, burglary, and assault.
Probate Courts
Probate Courts have jurisdiction to handle conservatorships, guardianships, administration of estates, and probate of wills. Chancery Courts may have a Probate Court division.
Municipal Courts
Also sometimes known as Town Courts or City Courts, Municipal Courts usually handle some types of criminal cases and many municipal ordinance violations. Some Municipal Courts also have jurisdiction to handle certain municipal ordinances that reflect state criminal laws, including underage alcohol offenses, reckless driving, and driving without a driving license.
Tennessee Crime Statistics
Violent & Property Crime Rates in Tennessee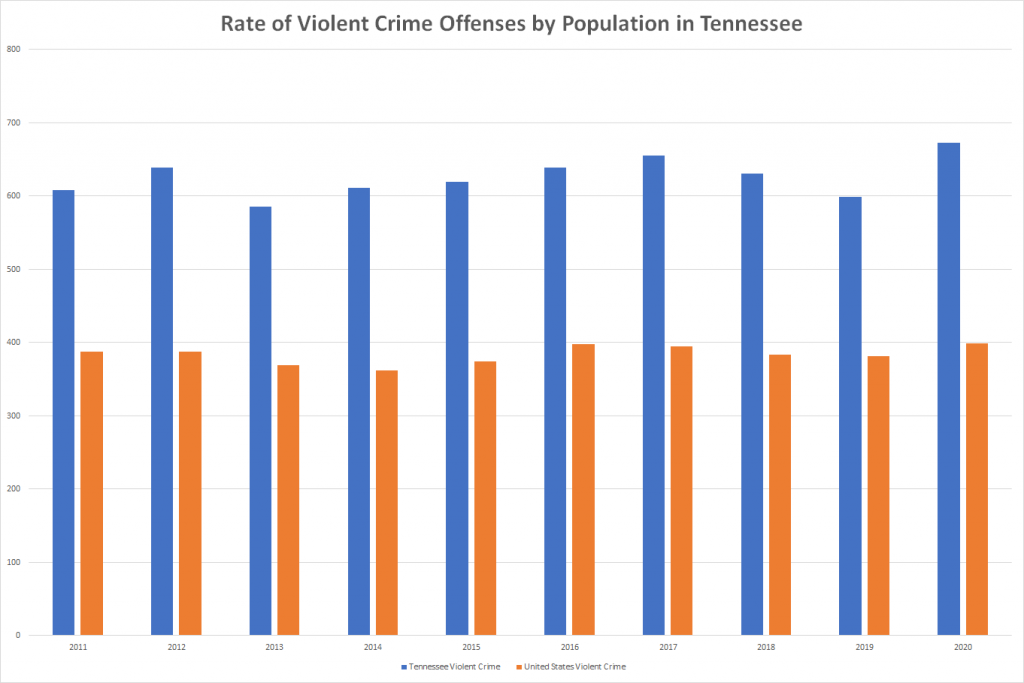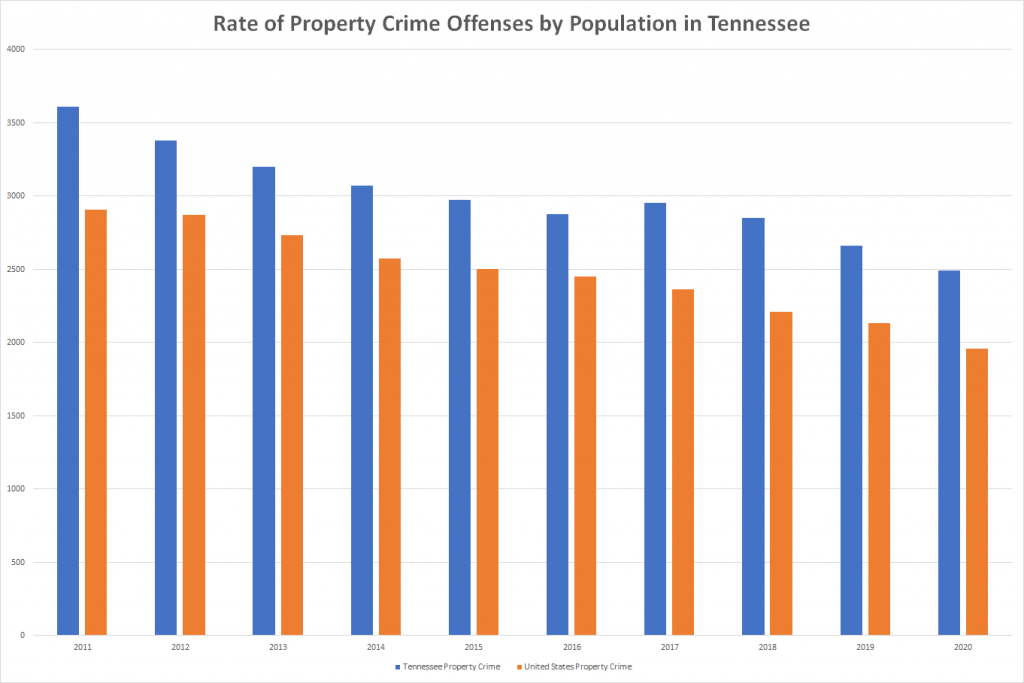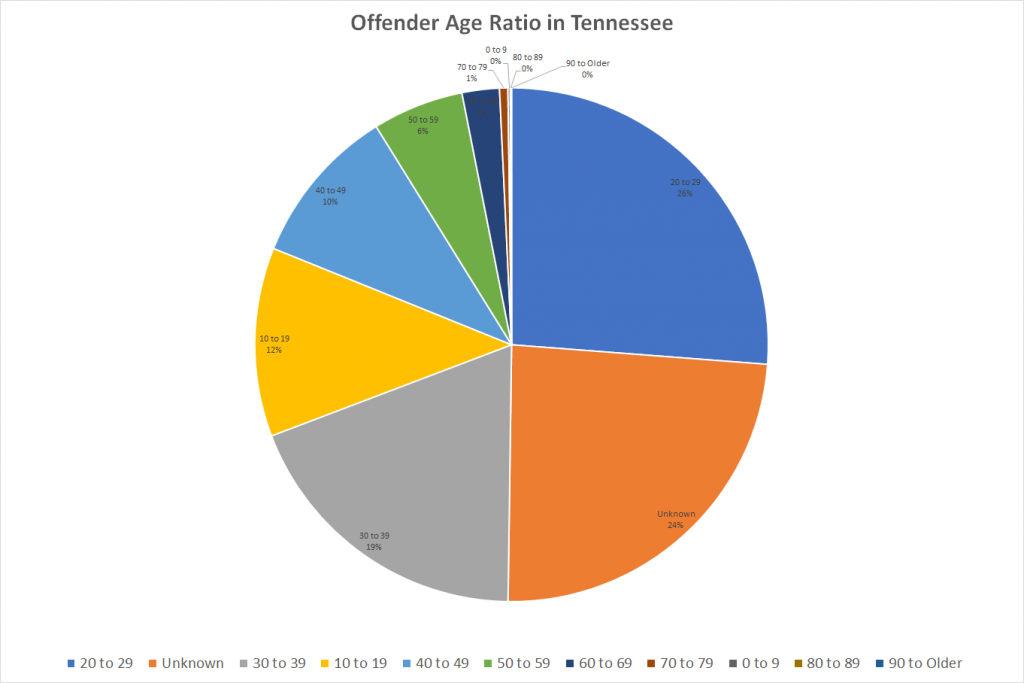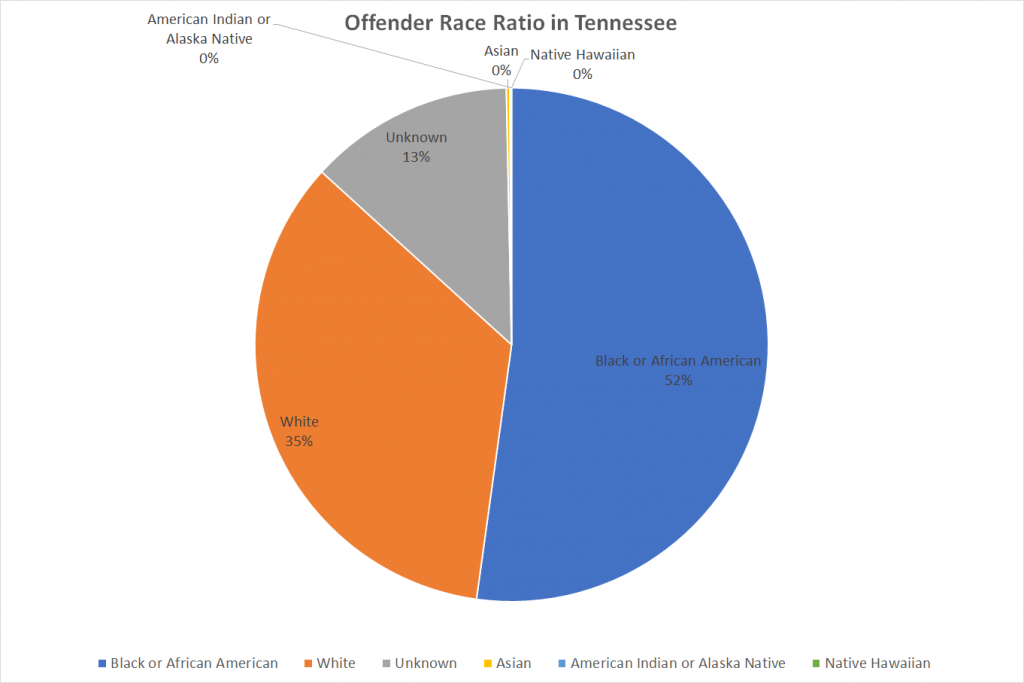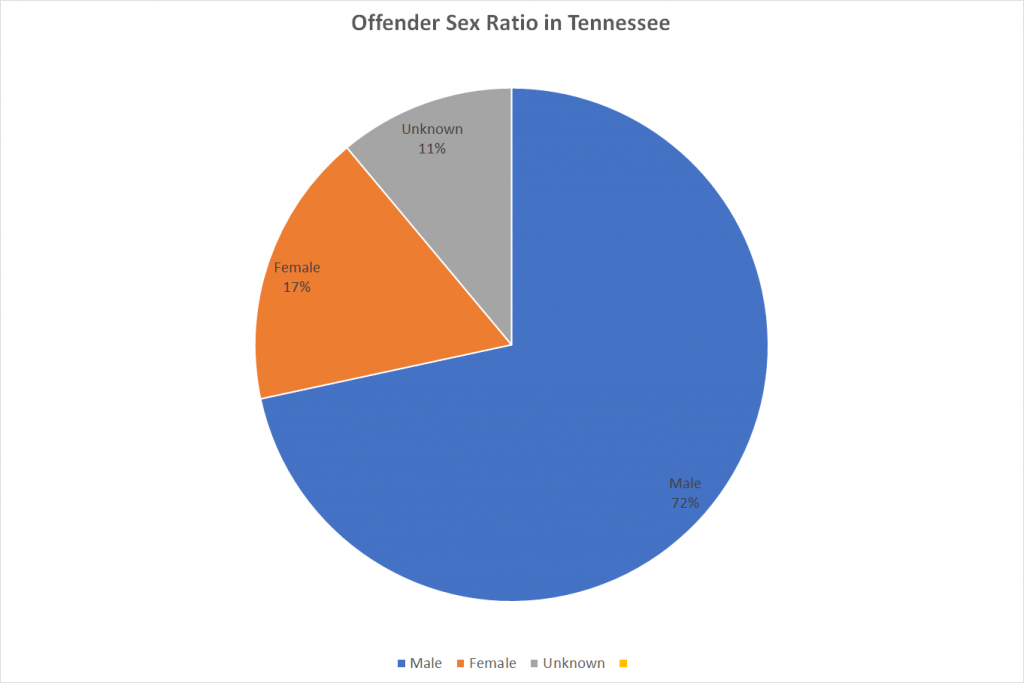 Arrests Offense in Tennessee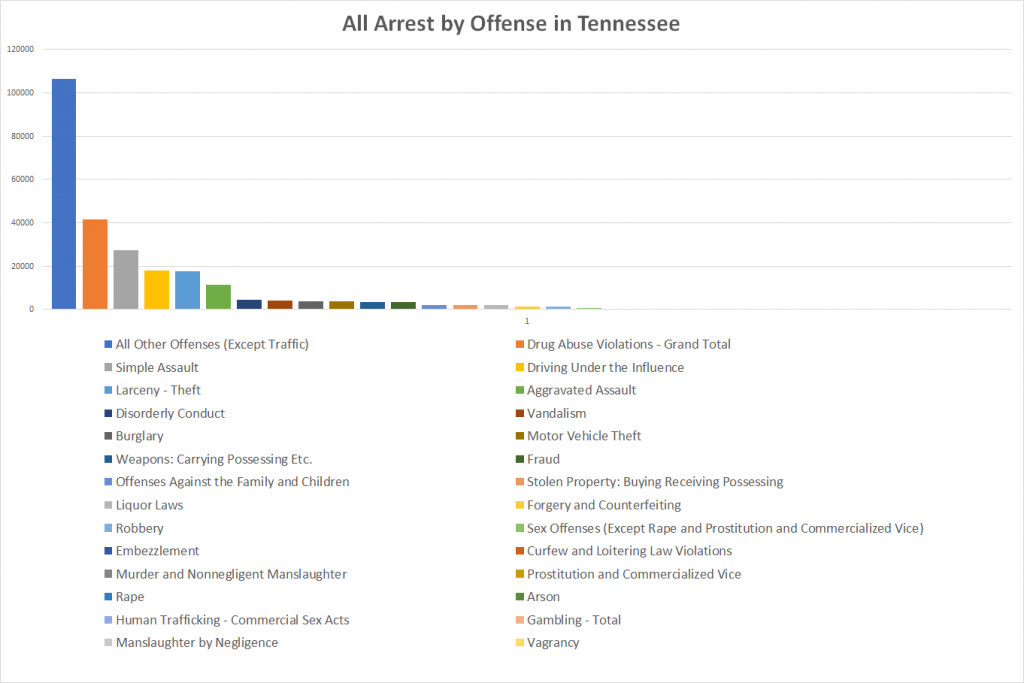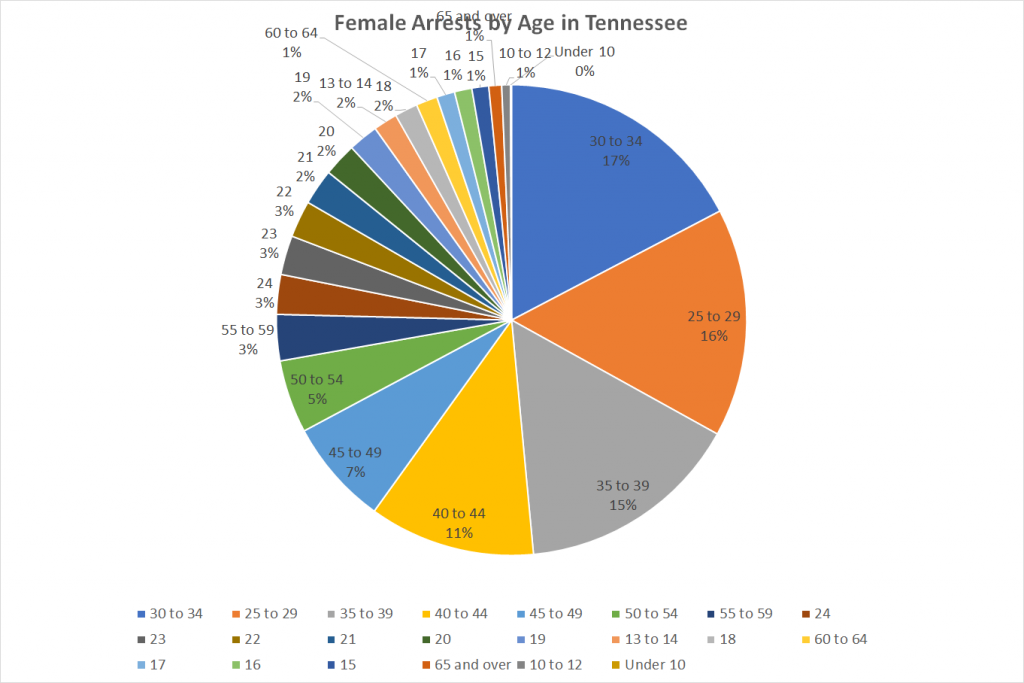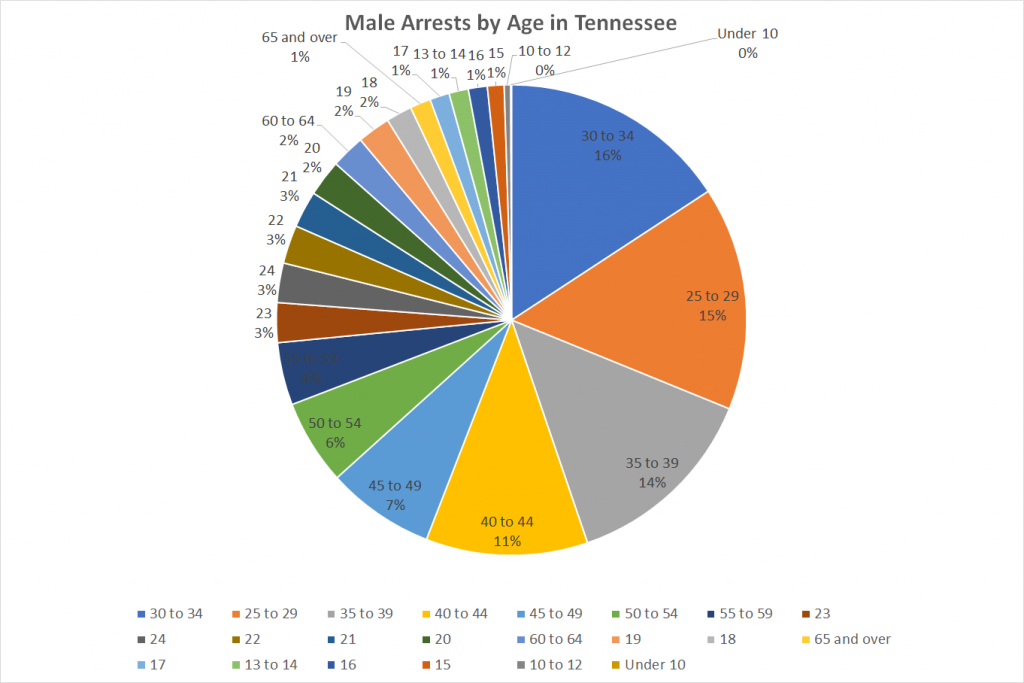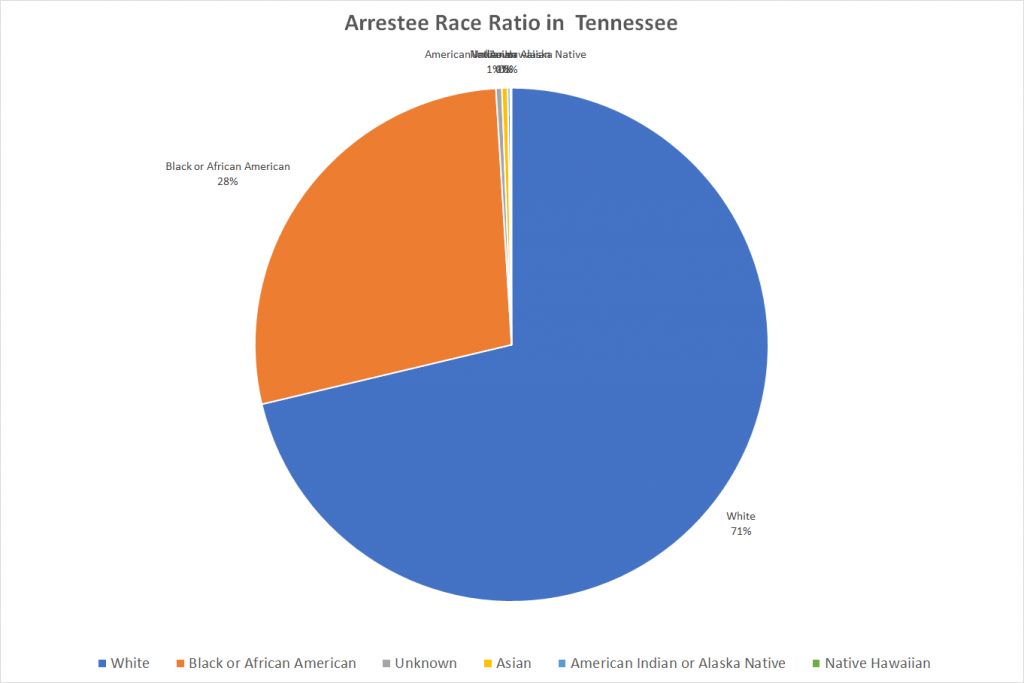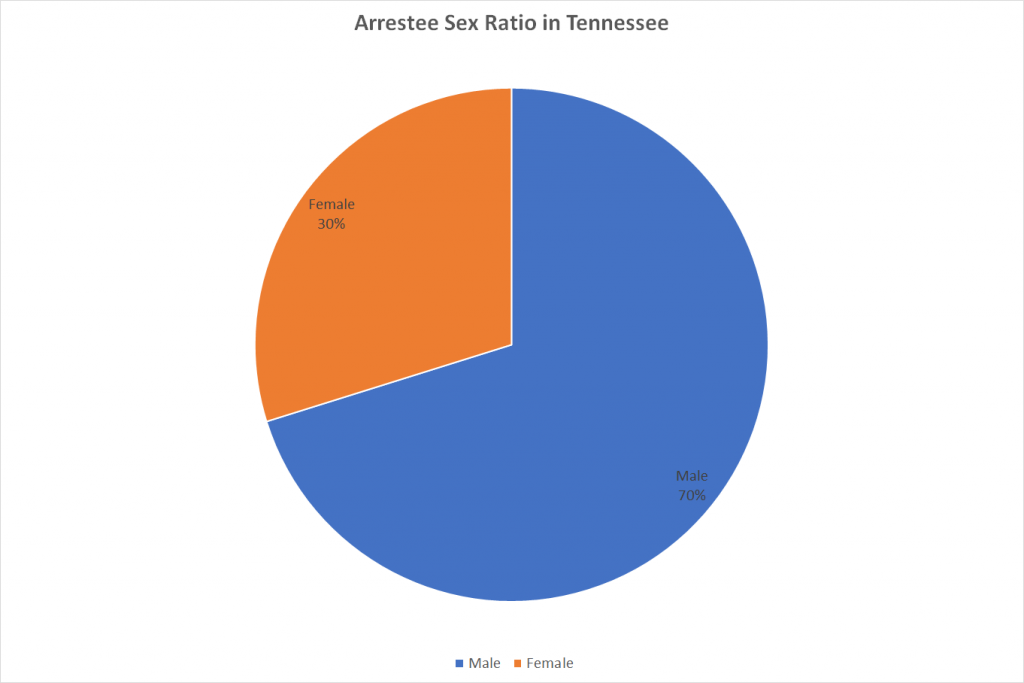 The latest data is from 2021. References: https://cde.ucr.cjis.gov/LATEST/webapp/#/pages/home
The Official Website of Tennessee County
Murfreesboro Murfreesboro, TN – Official Website
Clarksville Clarksville, TN | Official Website
Chattanooga Welcome to Chattanooga.gov Official site for the City of Chattanooga in Hamilton County, Tennessee
Tullahoma TullahomaTN – Welcome to Tennessee's Rising Star!
East Ridge East Ridge, TN
Shelbyville Shelbyville
Farragut Farragut, TN – Official Website
Bristol Bristol, TN – Official Website
Maryville City of Maryville, TN
Oak Ridge Welcome to the City of Oak Ridge, Tennessee Official website of the City of Oak Ridge, Tennessee.
Morristown Welcome to City of Morristown, Tennesee
Lebanon Lebanon, TN | Official Website
Mount Juliet Mount Juliet, TN | Official Website
Cookeville Cookeville, TN | Official Website
Gallatin Gallatin, TN | Official Website
Shelby County Shelby County, TN – Official Website
Davidson County Metropolitan Government of Nashville and Davidson County, Tennessee
Knox County Knox County Tennessee Government Knox County Govenment Website
Hamilton County Welcome to Hamilton County, TN Hamilton County, TN Government
Rutherford County Rutherford County TN
Williamson County Williamson County, TN – Official Site | Official Website
Montgomery County Montgomery County Government
Sumner County Sumner County Government
Sullivan County Sullivan County | Tennessee
Blount County Blount County, TN | Official Website
Washington County Washington County — The Birthplace of Tennessee | Washington County, TN
Wilson County Welcome – Wilson County TN Government, Official Website Wilson County Tennessee is located in the heart of Middle Tennessee and the county seat is Lebanon, Tennessee.
Bradley County Bradley County, TN
Madison County Madison County, TN – Official Website
Sevier County SEVIER COUNTY TENNESSEE – Sevier County, Tennessee
Maury County Maury County, TN | Official Website
Anderson County Anderson County
Putnam County Putnam County TN
Greene County Greene County
Hamblen County Hamblen County Government
Tipton County Welcome to Tipton County, TN
Carter County Carter County, Tennessee
Hawkins County Hawkins County, TN
Cumberland County Cumberland County, TN – Golf, it's just the beginning… Don't forget to take the Cumberland County Broadband Survey! Cumberland County.? Here, the spirit of creativity drives everything, from innovations in manufacturing to artistic integrity. A boundless imagination builds strong businesses, creates thriving communities and applies new ideas to logistics. Now is the time to be in Cumberland County, Tennessee. Cumberland County, located in Tennessee's…
Roane County Roane County
Coffee County Coffee County, TN | Official Website
McMinn County McMinn County, TN
Jefferson County Jefferson County, Tennessee
Gibson County Greater Gibson County Chamber – Tennessee
Dickson County Dickson County, TN
Loudon County Welcome to the official website of Loudon County, Tennessee Government!
Bedford County Bedford County Welcome
Monroe County Monroe Government
Lawrence County Lawrence County, TN Government | lawrencecountytn.gov – Lawrence County, Tennessee Government Official county website contains latest county news, information on county elected officials, county government services, departments, events, and online data access.
Tennessee Jail Roster
| Type | Name | County | Inmate Locator | Phone Number | Inmate Search |
| --- | --- | --- | --- | --- | --- |
| Federal Prison | Memphis Federal Correctional Institution | Shelby County | 1101 John A Denie Road, Memphis, TN 38134 | (901) 372-2269 | Federal Inmate Locator |
| State Prison | Bledsoe County Correctional Complex | Bledsoe County | 1045 Horsehead Road, Pikeville, Tennessee 37367 | (423) 881-3251 | Inmate Search |
| State Prison | Northeast Correctional Complex Carter County Annex | Carter County | 188 Old Railroad Grade Road, Roan Mountain, TN 37687 | (423) 772-3231 | Inmate Search |
| State Prison | Lois M. DeBerry Special Needs Facility | Davidson County | 7575 Cockrill Bend Boulevard, Nashville, TN 37209-1057 | (615) 350-2700 | Inmate Search |
| State Prison | Riverbend Maximum Security Institution | Davidson County | 7475 Cockrill Bend Boulevard, Nashville, TN 37243-0471 | (615) 350-3100 | Inmate Search |
| State Prison | Tennessee Prison For Women | Davidson County | 3881 Stewarts Lane, Nashville, TN 37243-0468 | (615) 741-1255 | Inmate Search |
| State Prison | Hardeman County Correctional Facility | Hardeman County | 2520 Union Springs Road, Whiteville, Tennessee 38075 | (731) 254-6000 | Inmate Search |
| State Prison | Whiteville Correctional Facility | Hardeman County | 1440 Union Springs Road, Whiteville, TN 38075 | (731) 254-9400 | Inmate Search |
| State Prison | Turney Center Industrial Complex | Hickman County | 1499 R.W. Moore Memorial Highway, Only, TN 37140-4050 | (931) 729-5161 | Inmate Search |
| State Prison | Northeast Correctional Complex | Johnson County | 5249 Highway 67 West, Mountain City, TN 37683-5000 | (423) 727-7387 | Inmate Search |
| State Prison | Northwest Correctional Complex | Lake County | 960 State Route 212, Tiptonville, Tennessee 38079 | (731) 253-5000 | Inmate Search |
| State Prison | West Tennessee State Penitentiary | Lauderdale County | 480 Green Chapel Road, Henning, TN 38041-1150 | (731) 738-5044 | Inmate Search |
| State Prison | Morgan County Correctional Complex | Morgan County | 541 Wayne Cotton Morgan Drive, Wartburg, TN 37887 | (423) 346-1300 | Inmate Search |
| State Prison | Mark Luttrell Transition Center | Shelby County | 6000 State Road, Memphis, Tennessee 38134 | (901) 372-2080 | Inmate Search |
| State Prison | Trousdale Turner Correctional Center | Trousdale County | 140 Macon Way, Hartsville, Tennessee 37074 | (615) 808-0400 | Inmate Search |
| State Prison | South Central Correctional Facility | Wayne County | 555 Forest Avenue, Clifton, TN 38425-0279 | (931) 676-5372 | Inmate Search |
| State Prison | Turney Center Industrial Complex Annex | Wayne County | 245 Carroll Road, Clifton, Tennessee 38425 | (931) 676-3345 | Inmate Search |
| Anderson County Jail Roster | Anderson County Detention Facility | Anderson County | 308 Public Safety Lane, Clinton, Tennessee 37716 | (865) 457-7100 ext. 128 | Inmate Roster |
| Bedford County Jail Roster | Bedford County Jail | Bedford County | 210 North Spring Street, Shelbyville, TN 37160 | (931) 684-0893 | Jail Roster |
| Bedford County Jail Roster | Bedford County Juvenile Detention Center | Bedford County | 101 Lane Parkway, Shelbyville, TN 37160 | (931) 680-9720 | Jail Roster |
| Benton County Jail Roster | Benton County Jail | Benton County | 116 Rosemary Avenue, Camden, TN 38320 | (731) 584-5008 | Jail Roster |
| Blount County Jail Roster | Blount County Jail | Blount County | 920 E Lamar Alexander Pkwy, Maryville, TN 37804 | (865) 273-5245 | Inmate Roster |
| Bradley County Jail Roster | Bradley County Correctional Facility | Bradley County | 2290 Blythe Avenue, Cleveland, TN 37311 | (423) 728-7380 | Jail Roster |
| Carter County Jail Roster | Carter County Detention Center | Carter County | 900 E Elk Avenue, Elizabethton, TN 37643 | (423) 542-1855 | Inmate Search |
| Davidson County Jail Roster | Davidson County Correctional Development Center | Davidson County | 5113 Harding Place, Nashville, TN 37211 | (615) 862-8123 | Jail Roster |
| Davidson County Jail Roster | Davidson County Hill Detention Center | Davidson County | 506 Second Avenue North, Nashville, TN 37201 | (615) 880-1942 | Jail Roster |
| Davidson County Jail Roster | Davidson County Maximum Correctional Center | Davidson County | 5113 Harding Place, Nashville, TN 37211 | (615) 862-8227 | Jail Roster |
| Davidson County Jail Roster | Davidson County Offender Re-Entry Center | Davidson County | 5131 Harding Place, Nashville, TN 37211 | (615) 880-3840 | Jail Roster |
| Dickson County Jail Roster | Dickson County Jail | Dickson County | 150 Doyles Hill Drive, Charlotte, TN 37036 | (615) 789-4109 | Jail Roster |
| Dyer County Jail Roster | Dyer County Jail | Dyer County | 401 E. Cedar Street, Dyersburg, TN 38024 | (731) 285-2802 | Jail Roster |
| Fayette County Jail Roster | Fayette County Jail | Fayette County | 705 Justice Drive, Somerville, TN 38068 | (901) 465-5247 | Jail Roster |
| Franklin County Jail Roster | Franklin County Jail | Franklin County | 494 George Fraley Parkway, Winchester, TN 37398 | (931) 962-0123 | Inmate Roster |
| Giles County Jail Roster | Giles County Jail | Giles County | 200 Thomas Gatlin Drive, Pulaski, TN 38478 | (931) 363-3505 | Inmate Search |
| Hamblen County Jail Roster | Hamblen County Jail | Hamblen County | 510 Allison Street, Morristown, TN 37814 | (423) 586-3781 | Jail Roster |
| Hamilton County Jail Roster | Hamilton County Jail | Hamilton County | 601 Walnut Street, Chattanooga, TN 37402 | (423) 209-7050 | Inmate Search |
| Hardeman County Jail Roster | Hardeman County Criminal Justice Complex | Hardeman County | 505 South Main Street, Bolivar, TN 38008 | (731) 228-3016 | Inmate Roster |
| Hawkins County Jail Roster | Hawkins County Jail | Hawkins County | 117 Justice Center Drive, Rogersville, TN 37857 | (423) 272-6968 | Jail Roster |
| Henderson County Jail Roster | Henderson County Criminal Justice Complex | Henderson County | 170 Justice Center Drive, Lexington, TN 38351 | (731) 651-2018 | Jail Roster |
| Houston County Jail Roster | Houston County Jail | Houston County | 3330 Hwy 149, Erin, TN 37061 | (931) 289-4614 | Inmate Roster |
| Humphreys County Jail Roster | Humphreys County Jail | Humphreys County | 112 Thompson Street, Waverly, TN 37185 | (931) 296-6521 | Jail Roster |
| Jefferson County Jail Roster | Jefferson County Detention Facility | Jefferson County | 983 Industrial Park Road, Dandridge, TN 37725 | (865) 471-6000 ext 1307 | Jail Roster |
| Knox County Jail Roster | Knox County Roger D. Wilson Detention Facility | Knox County | 5001 Maloneyville Road, Knoxville, TN 37918 | (865) 281-6700 | Inmate Search |
| Knox County Jail Roster | Knox County Jail | Knox County | 400 Main Street SW, Knoxville, TN 37902 | (865) 342-9620 | Inmate Search |
| Lawrence County Jail Roster | Lawrence County Jail | Lawrence County | 240 West Gaines Street, Lawrenceburg, TN 38464 | (931) 762-3646 | Jail Roster |
| Lincoln County Jail Roster | Lincoln County Corrections | Lincoln County | 4151 Thornton Taylor Parkway, Fayetteville, TN 37334 | (931) 433-3111 | Jail Roster |
| Loudon County Jail Roster | Loudon County Jail | Loudon County | 12680 Highway 11 W, Lenoir City, TN 37771 | (865) 986-6612 | Inmate Roster |
| Madison County Jail Roster | Madison County Jail | Madison County | 546 East College Street, Jackson, TN 38301 | (731) 423-6000 | Jail Roster |
| Maury County Jail Roster | Maury County Jail | Maury County | 1300 Lawson White Drive, Columbia, TN 38401 | (931) 380-5722 | Jail Roster |
| McMinn County Jail Roster | McMinn County Jail | McMinn County | 1319 South White Street, Athens, TN 37303 | (423) 745-5620 | Inmate Search |
| Meigs County Jail Roster | Meigs County Jail | Meigs County | 410 River Road, Decatur, TN 37322 | (423) 334-5268 | Jail Roster |
| Montgomery County Jail Roster | Montgomery County Jail | Montgomery County | 116 Commerce Street, Clarksville, TN 37040 | (931) 648-0615 | Inmate Roster |
| Morgan County Jail Roster | Morgan County Jail | Morgan County | 414 Main Street, Wartburg, TN 37887 | (423) 346-6262 | Jail Roster |
| Obion County Jail Roster | Obion County Jail | Obion County | 1 Law Lane, Union City, TN 38261 | (731) 885-0277 | Jail Roster |
| Overton County Jail Roster | Overton County Jail | Overton County | 1010 John T. Poindexter Drive, Livingston, TN 38570 | (931) 403-0077 | Jail Roster |
| Polk County Jail Roster | Polk County Detention Facility | Polk County | 164 Industrial Access Circle, Benton, TN 37307 | (423) 338-8215 | Inmate Search |
| Putnam County Jail Roster | Putnam County Jail | Putnam County | 421 E Spring Street, Cookeville, TN 38501 | (931) 528-8484 | Inmate Roster |
| Rhea County Jail Roster | Rhea County Jail | Rhea County | 444 2nd Avenue, Dayton, TN 37321 | (423) 775-7837 ext. #2 | Inmate Search |
| Roane County Jail Roster | Roane County Jail | Roane County | 230 North 3rd Street, Kingston, TN 37763 | (865) 717-4700 | Jail Roster |
| Robertson County Jail Roster | Robertson County Detention Facility | Robertson County | 311 5th Avenue E, Springfield, TN 37172 | (615) 384-7974 | Inmate Search |
| Rutherford County Jail Roster | Rutherford County Adult Detention Center | Rutherford County | 940 New Salem Road, Murfreesboro, TN 37129 | (615) 898-7774 | Jail Roster |
| Sevier County Jail Roster | Sevier County Jail | Sevier County | 137 Commerce Street, Sevierville, TN 37862 | (865) 453-0212 | Jail Roster |
| Sevier County Jail Roster | Sevier County Minimum Security Facility | Sevier County | 896 Old Knoxville Hwy, Sevierville, TN 37862 | (865) 908-9905 | Jail Roster |
| Shelby County Jail Roster | Shelby County Jail | Shelby County | 201 Poplar Avenue, Memphis, TN 38103 | (901) 222-4700 | Inmate Search |
| Stewart County Jail Roster | Stewart County Jail | Stewart County | 117 Donelson Pkwy, Dover, TN 37058 | (931) 232-3114 | Inmate Roster |
| Sullivan County Jail Roster | Sullivan County Jail | Sullivan County | 140 Blountville Bypass, Blountville, TN 37617 | (423) 279-7509 | Jail Roster |
| Sumner County Jail Roster | Sumner County Jail | Sumner County | 117 W. Smith Street, Gallatin, TN 37066 | (615) 442-1843 | Jail Roster |
| Unicoi County Jail Roster | Unicoi County Jail | Unicoi County | 102 North Main Avenue, Erwin, TN 37650 | (423) 743-1858 | Jail Roster |
| Van Buren County Jail Roster | Van Buren County Jail | Van Buren County | 179 Veterans Square, Spencer, TN 38585 | (931) 946-2118 | Jail Roster |
| Warren County Jail Roster | Warren County Jail | Warren County | 108 Security Circle, McMinnville, TN 37110 | (931) 473-7863 | Jail Roster |
| Washington County Jail Roster | Washington County Detention Center | Washington County | 114 W. Jackson Blvd, Jonesborough, TN 37659-0097 | (423) 753-1701 | Inmate Roster |
| Wayne County Jail Roster | Wayne County Jail | Wayne County | 1016 Andrew Jackson Drive Suite 101, Waynesboro, TN 38485 | (931) 722-3615 | Inmate Search |
| White County Jail Roster | White County Jail | White County | 111 Depot Street, Sparta, Tennessee 38583 | (931) 836-3621 | Jail Roster |
| Williamson County Jail Roster | Williamson County Detention Center | Williamson County | 408 Century Court, Franklin, TN 37064 | (615) 790-5560 | Jail Roster |
| Wilson County Jail Roster | Wilson County Jail | Wilson County | 105 East High Street, Lebanon, TN 37087 | (615) 444-1412 option 1 | Inmate Roster |
Anderson County Inmate Search Anderson County Sheriff's Department, Sheriff, Anderson County, Tennessee, Law Enforcement
Bedford County Jail Bedford County Sheriff's Office Home
Blount County Inmate Lookup Current Inmate Information
Bradley County inmate services Bradley County Sheriff's Department
Current Inmates – Carter County TN Sheriff's Office Carter County Jail Inmates
Jail & Detention Center – Cocke County Tennessee Cocke County Detention Center
Davidson County Sheriff – Active Inmate Search Davidson County Inmate Roster
Dickson County Sheriff's Office Dickson County Jail
Public Jail Roster – Dyer County Sheriff's Office Dyer County Jail Roster
Franklin County Online Inmate System Franklin County Inmate Lookup
Giles County Sheriff's Department Giles County Jail Current Inmates
SHERIFF'S OFFICE – Greene County Greene County Sheriff
HCSO-Corrections-Inmate Information Online Hamilton County Inmate Search
Current Inmates – Henderson County Detention Center Henderson County Jail Inmate Info
Henry County Inmate Information Henry County Inmate Search
Knox County Sheriff – Inmate Population Knox County Sheriff Inmate Lookup
Lawrence County, Tennessee Sheriff's Department – JAIL Lawrence County Corrections Center
Lincoln County Tennessee Sheriff's Department Lincoln County Sheriff's Department
Loudon County TN Sheriffs Office Inmate Now Loudon County Jail Inmates
Corrections | Maury County, TN Maury County Corrections
Montgomery County Jail Roster Montgomery County Inmate Roster
Putnam Count Public Jail Roster Putnam Count Corrections Center
Rhea County Inmate Information Rhea County Jail Inmate Info
Public Information-Robertson County Sheriff's Office Robertson County Jail Inmate Lookup
Rutherford County Sheriff's Office Rutherford County Jail
Sevier County Online Inmate System Sevier County Inmate Search
Inmate Lookup – Shelby County, TN Shelby County Inmate Roster
Sumner County Jail & Inmate Information Sumner County Jail
Washington County Detention Center Washington County Tennessee, Washington County Sheriff's Office, Law Enforcement, Washington County Detention Center, Chief Littleton, Patrick Littleton
Wilson County Inmate Information Wilson County Jail
Tennessee Felony Offender Information Tennessee Department of Corrections
Background Checks TN Background Checks
Court Records | Tennessee Secretary of State TN Secretary of State Court Case Searches
TN Courts Appellate Case Search
Sex Offender Search Main page TN Sex Offender Registry