Oregon Public Records
The State of Oregon has long made clear provisions for sharing its records with the general public, particularly the residents of the state. The public law provisions in the state of Oregon indicate that the state considers public records as public property.
Oregon's public records law is known as the Public Records and Public Meetings Law. The law states that every person has the constitutional right to inspect and obtain copies of all non exempt public records created by any government body. Records covered include all records created, maintained, or acquired by all government bodies including judicial, executive, and legislative branches, and any other organization that receives funding from the government of Oregon.
Oregon State Records keeps and maintains the information regarding the subject matters such as criminal records, state background checks, vital records, and court records, as well as more than 35 million other public records.
Oregon Criminal Records
Criminal records in the state of Oregon are organized and maintained in online record depositories that the state make available to the general public as a Criminal Background Report. You can access this report through various police departments, courts, or the certified Oregon State Record Online Database.
Criminal records checks in Oregon can be done on nearly any individual through online by searching StateRecords.org. The background checks in the state of Oregon generally give arrest records, felonies, arrest warrants, sex offender listing, jail and inmate records, probation records, conviction records, juvenile records, serious traffic violations, parole information, and misdemeanors.
Any information regarding Oregon correctional facilities, services for victims and their families, and inmates in the system is available on the Oregon Department of Corrections website. The department provides an Official Search page on the site that will require you to provide either a Last Name and a First Name, or a Doc Id. It gives the current location of the offender, earliest possible release date, and all offenses.
Oregon Court Records
Information about the courts in Oregon and the court records and opinions are considered public records with the exemptions of any information and record that has been preserved by the court. You can request for these records online or at the appropriate courthouse where the case was filed or heard.
Oregon court records and information accessible to the public include small claims, domestic and family law, state tax, civil limited action, marriage licenses, probate, and statutory liens.
Oregon Vital Records
All Oregon Vital Records are maintained by the Office of Vital Records. Vital records in Oregon include documents such as birth certificates, death certificates, and marriage licenses. All birth records from 1903 are available at the Oregon State Archive.
Birth records: Oregon began a statewide registration of births in 1903. All birth records from this time are available at the Oregon State Archives. If you are looking for birth records prior to 1903, you can find them at the Oregon State Archive and the Oregon Family Search History. Birth records from 1930s are available at the Oregon Family History Library and Oregon State Health Division.
Death records: The Oregon State Hospital keeps a directory of about 3500 unclaimed cremated remains of people who passed on in Mid-Columbia Hospital, Oregon Tuberculosis Hospital, Oregon State Hospital, Fairview Training Centre, Oregon State Penitentiary, and Dammasch State Hospital between 1914 and 1970s. Records of births and deaths from 1903 to 1984 are available at the Oregon State Archives. The Centre for Health Statistics in Portland keeps death certificates that are less than 50 years old.
Marriage records: There are county marriage records that date back from 1849. You can request for these records by writing to the specific county where the marriage took place. Since 1906, the Oregon State Health Division has been receiving copies of marriage records from each county. Marriage records are available from 1849 to 1930 at the Oregon State Archives. For marriage records from 1930, you can make your request to the Oregon State Health Division.
Divorce records: There are divorce records dating back to 1849. You can obtain these records by writing to the specific county where the final decree was made. For divorce records from 1930, you can make your request to the Oregon State Health Division.
Gaining access to public records, court records, criminal records, and vital records in Oregon can be fairly a simple affair if you know where to look.
Oregon State Court System
Understanding how the system of Oregon state court works is very important as it helps you find court records easily.
Oregon Courts Overview
To make your work easier, start searching for court records in Oregon by simply going to courts by county.
The trial court system of Oregon State consists of Tax Court, Justice Courts, Municipal Courts, County Courts, and Circuit Courts.
Circuit Courts
Oregon Circuit Courts have general jurisdiction to handle all types of cases, but generally only handle cases that other courts have no jurisdiction over.
These courts may have specialized programs or divisions for handling certain types of cases, including Drug Court, Commercial Court, Family Court, or Juvenile Court.
Typical criminal cases that Circuit Courts handle include capital murder, felonies, and preliminary hearings. Circuit Courts share jurisdiction with Municipal Courts and Justice Courts over criminal cases.
Typical civil cases handled at these courts include certain small claim cases and civil claims without financial thresholds. They also hear juvenile cases, dissolution of marriage, requests for injunctions, involuntary commitment, adoption, guardianship, probate matters, child custody, and disputes involving title to land.
A Circuit Court may also have a Family Court division for handling most family-related cases, including domestic violence cases. Some Circuit Courts also have a Small Claims Court division in counties where Justice Courts are not available. In areas where a Justice Court is available, the Justice Court and Circuit Court will make decision on which court hears small claims cases.
In addition, a Circuit Court also has a specialized Commercial Court division with statewide jurisdiction and it for handles certain types of complex commercial and business cases. General cases that the Commercial Court program handles include commercial insurance disputes, intellectual property, environmental litigation, mass torts, product liability, professional malpractice, commercial real property, construction defects, electronic technology, trade secrets, and external and internal affairs of business.
County Courts
The jurisdiction of County Courts is limited to juvenile cases and probate matters. Some Oregon County Courts have jurisdiction only over juvenile cases, while others will have jurisdiction only over probate matters.
Municipal Courts
Oregon Municipal Courts have exclusive jurisdiction over ordinance and traffic violation and certain types of criminal cases.
Typical cases handled by Municipal Courts include non-felony traffic criminal cases, traffic violations, vehicle impoundments, municipal ordinance violations, and some tobacco, drug and liquor violations.
They share jurisdiction over misdemeanor criminal cases and ordinance violations with Justice Courts and Circuit Courts.
Justice Courts
Oregon Justice Courts have exclusive jurisdiction to handle certain types of criminal, civil and ordinance violation cases. Typical criminal cases handled by these courts include some misdemeanors, and felony preliminary hearings. Only Justice Courts of records can handle misdemeanors. Otherwise, the case is transferred to the Circuit Court after preliminary hearings.
Also heard by Justice Courts are county ordinance violations, including boating, traffic, wildlife and fish cases. Civil cases typically handled by these courts include majority of civil claims with less than $5,000 in dispute, exclusive of fees and costs, such as recovery of damages or money, landlord-tenant cases, recovery of forfeitures, and recovery of personal property.
Justice Courts cannot hear certain types of civil cases, such as false imprisonment, malicious prosecution, slander, and disputes over boundaries or title to real estate.
Tax Court
The Oregon Tax Court has limited jurisdiction over all lows as well as facts arising under most state tax laws. It shares some jurisdiction with Oregon Circuit Courts over the validity of certain types of property transfers and the priority of the property tax liens when the Department of Revenue is an interested party in the property in question.
Oregon Crime Statistics
Violent & Property Crime Rates in Oregon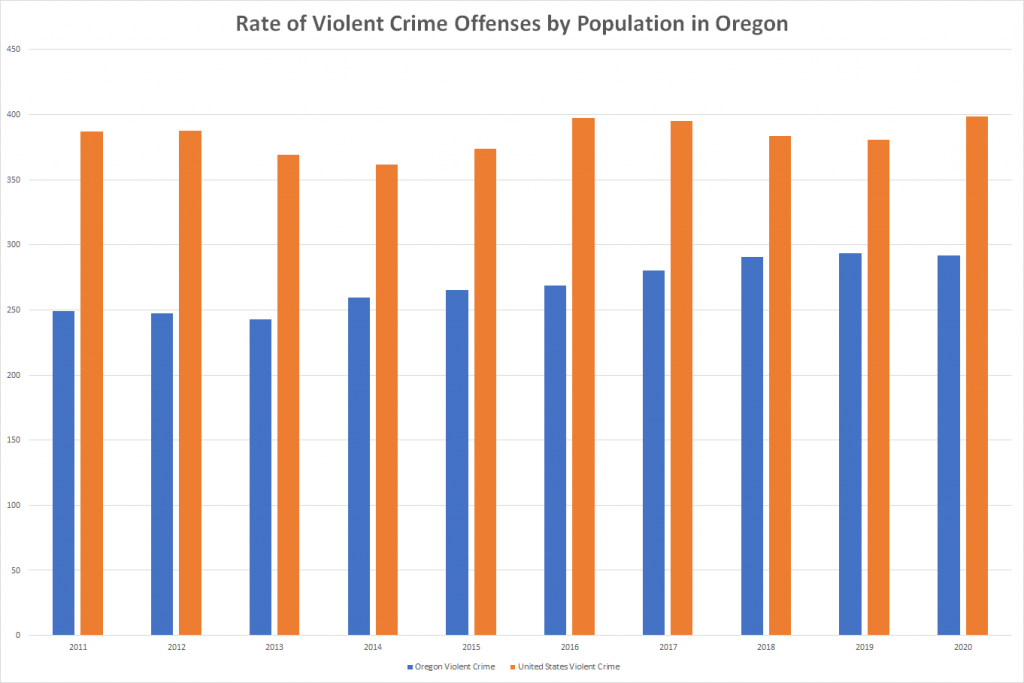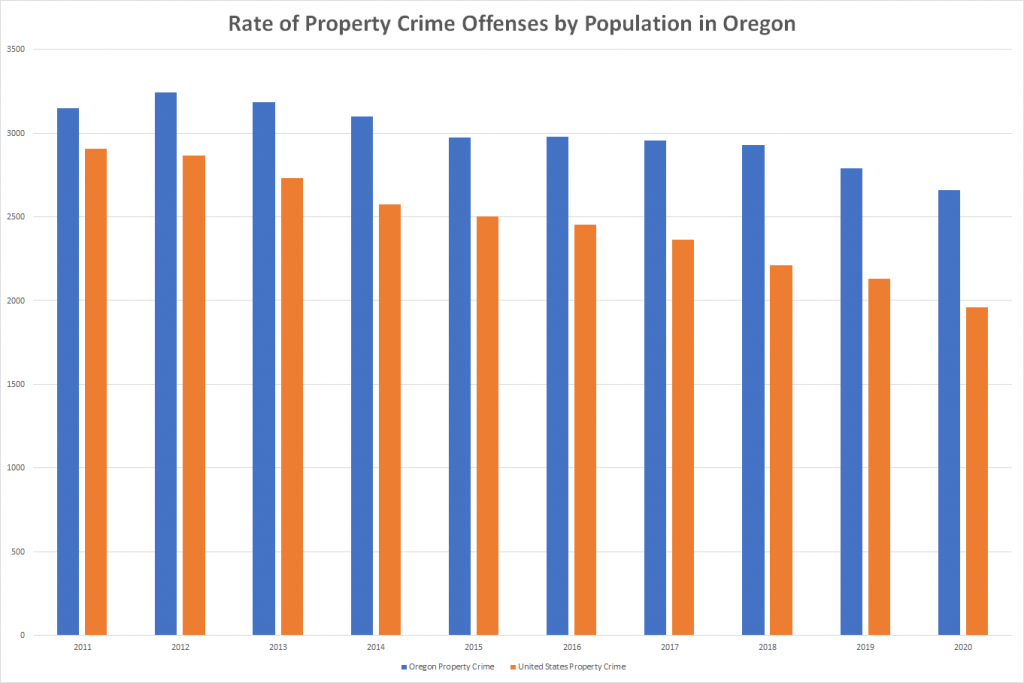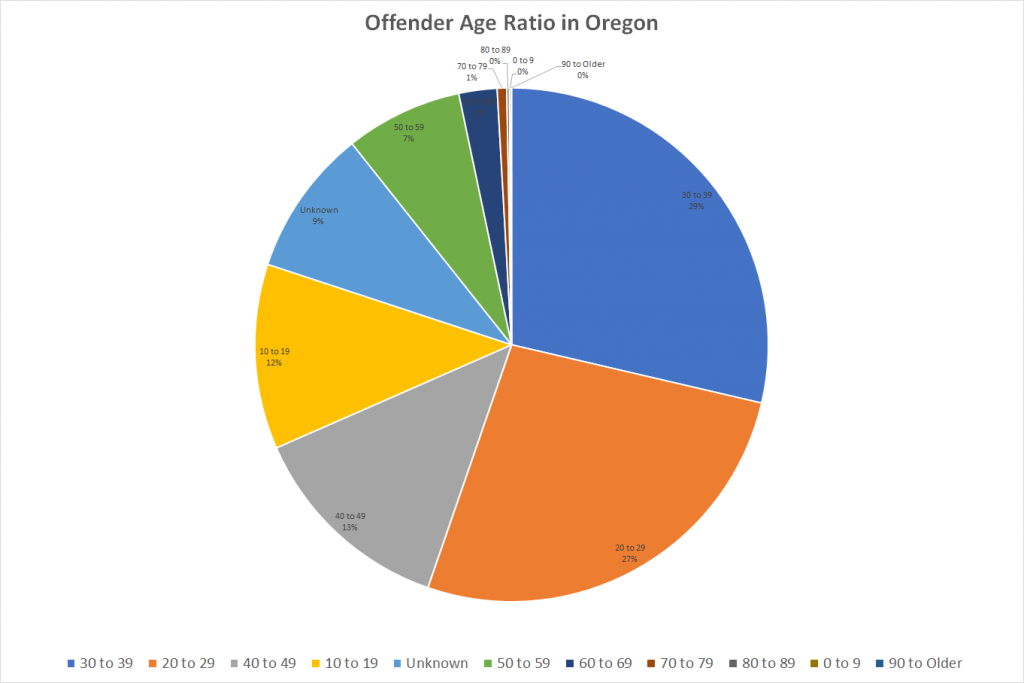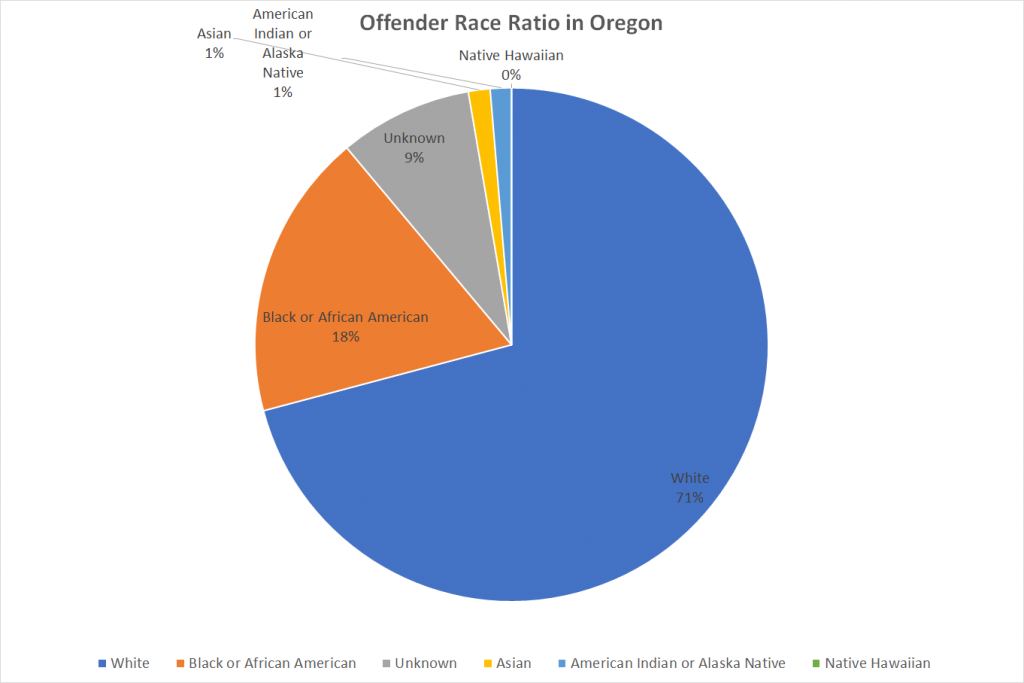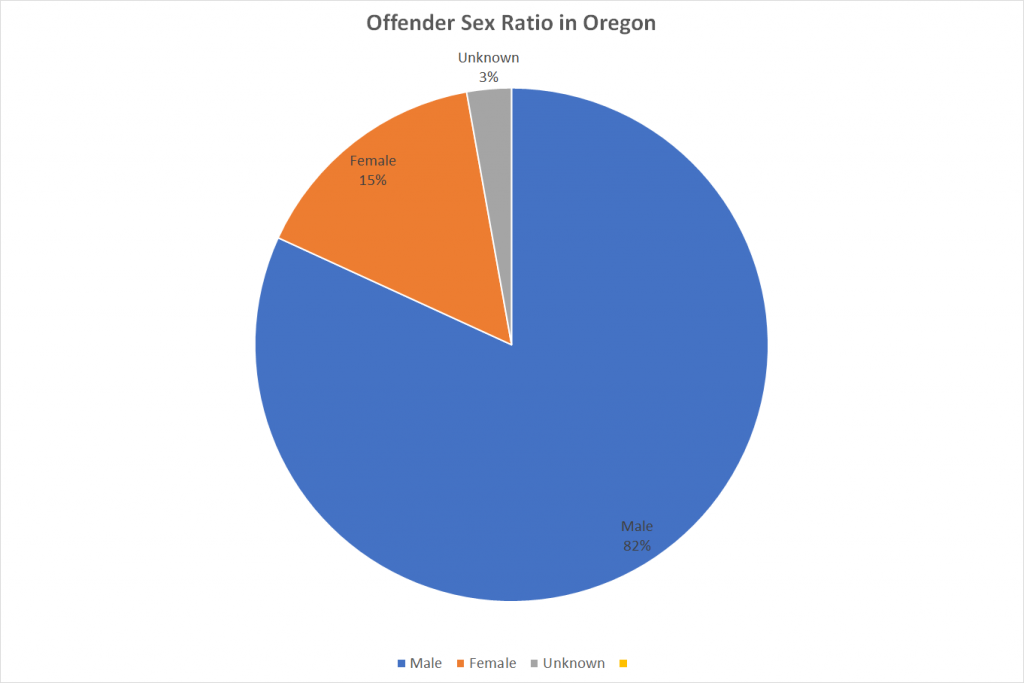 Arrests Offense in Oregon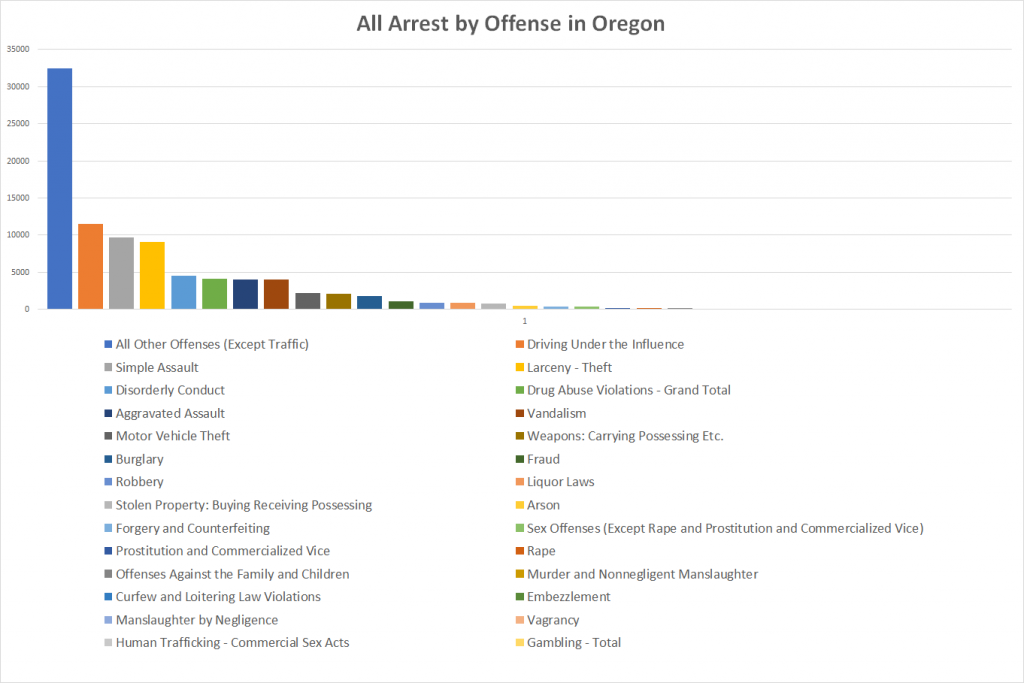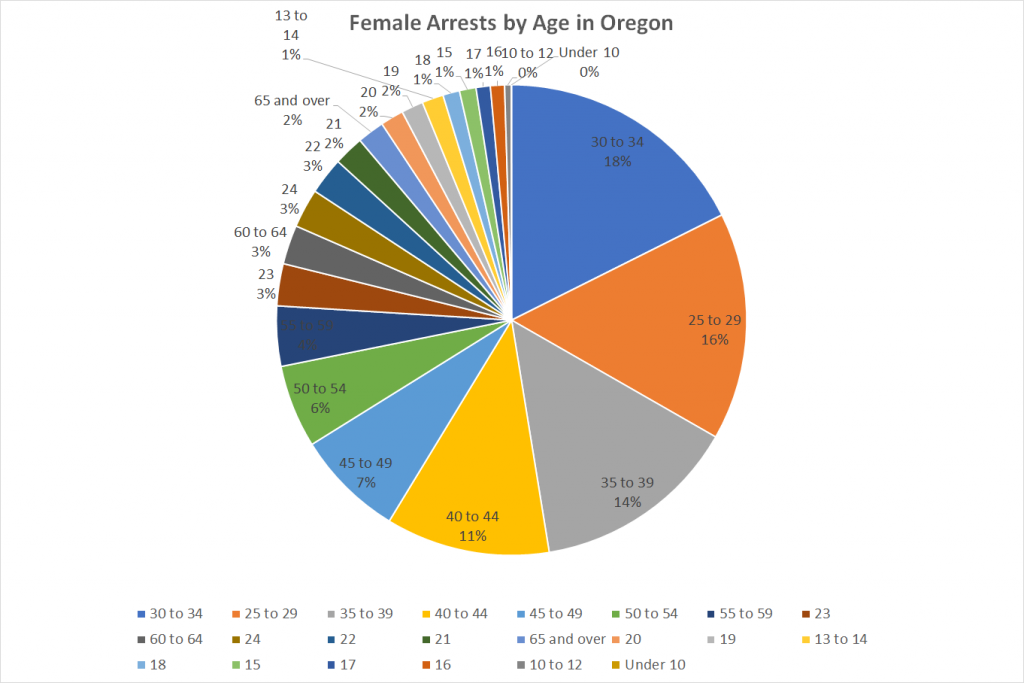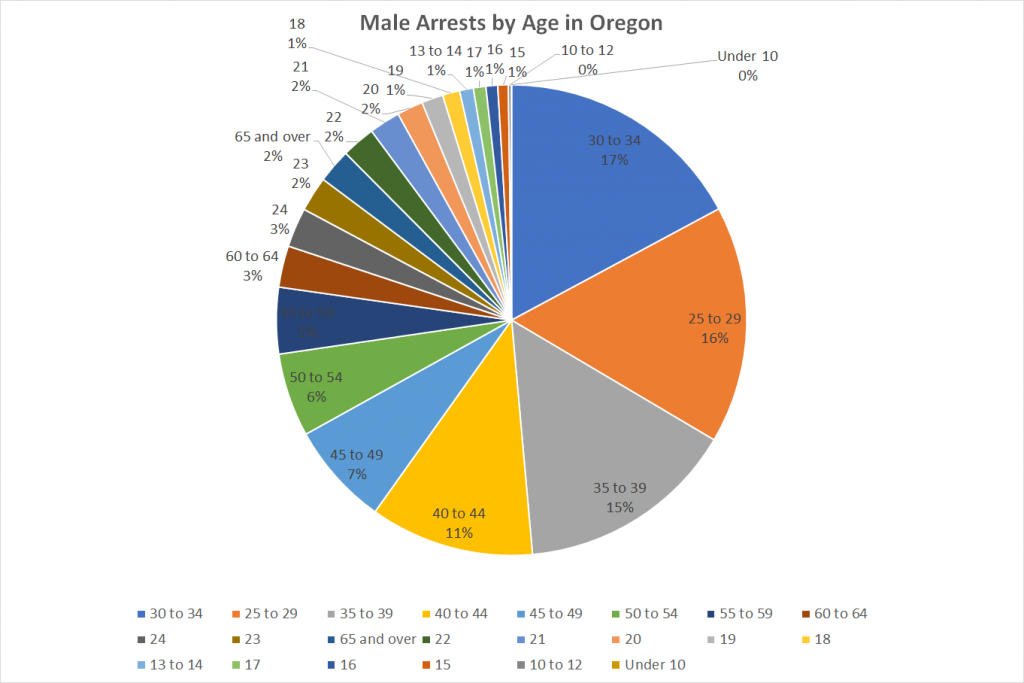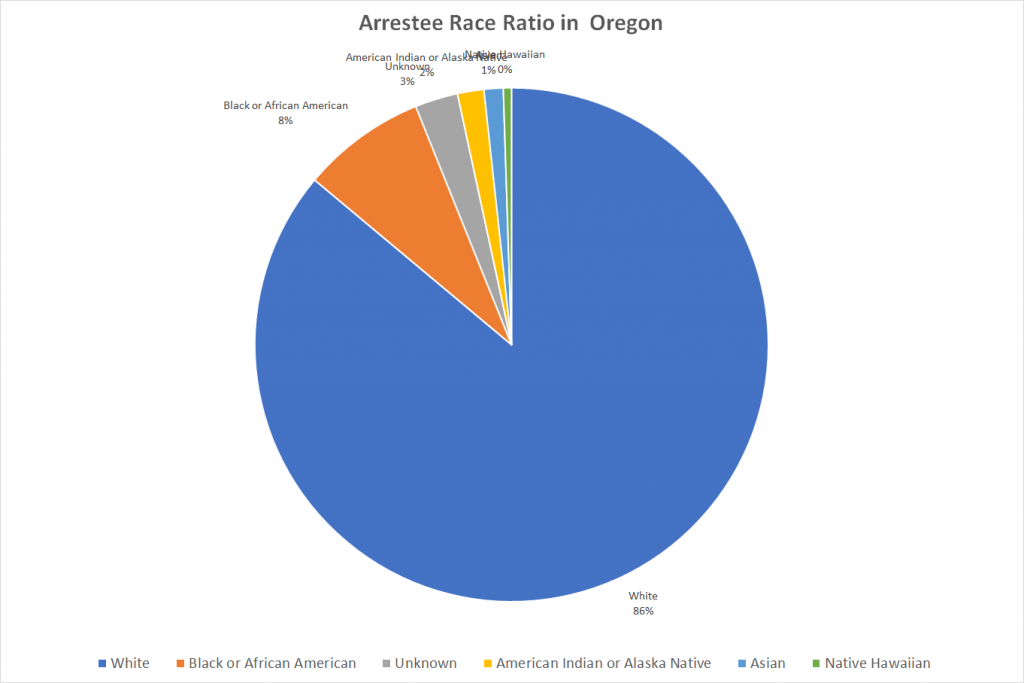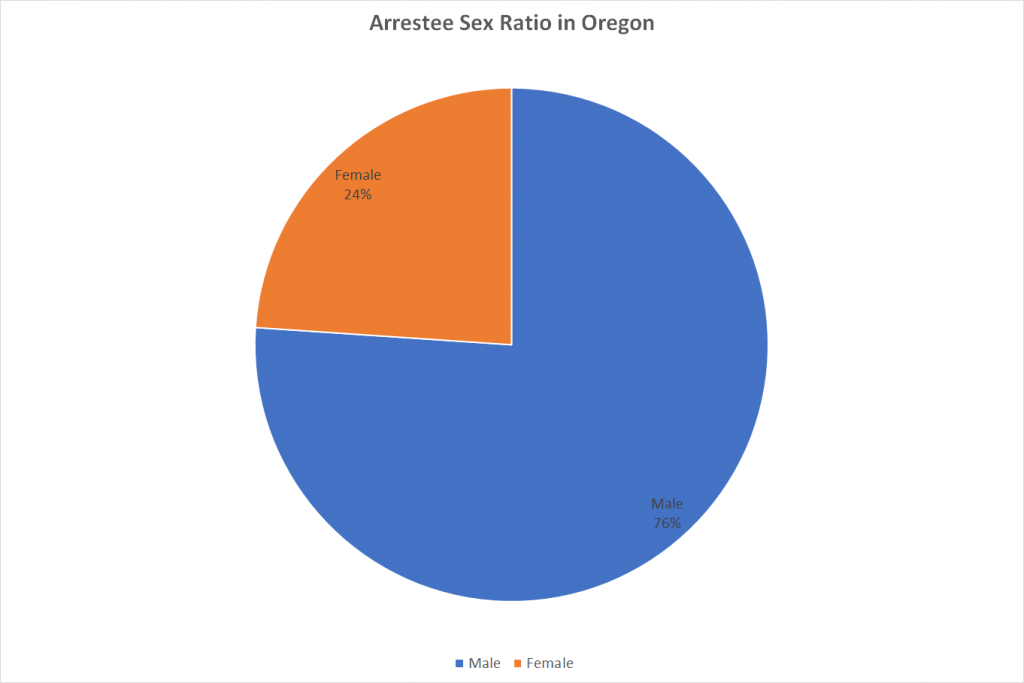 The latest data is from 2021. References: https://cde.ucr.cjis.gov/LATEST/webapp/#/pages/home
The Official Website of Oregon County
Portland PortlandOregon.gov | The City of Portland, Oregon Official web site of the City of Portland
Eugene Eugene, OR Website | Official Website The City of Eugene–a great city for the arts and outdoors. Eugene, Oregon is consistently ranked one of the best places to live in the U.S. Come visit and find out why!
Gresham City of Gresham
Hillsboro City of Hillsboro, OR Take family farms, wineries, and educational centers. Add high-tech headquarters and state-of-the-art health care. Stir. Enjoy. As Oregon's fifth largest city with over 100,000 residents, Hillsboro enjoys award-winning urban planning, an affordable cost of living, a strong economic base, and one of the state's most diverse populations.
Beaverton Beaverton, OR – Official Website
Bend City of Bend The City of Bend serves the community, focusing on core services such as public safety, utilities, economic and community development.
Medford City of Medford
Springfield City of Springfield Oregon
Corvallis Corvallis Oregon
Albany City of Albany, Oregon The Official Government Website for the City of Albany, serving a population of over 50,000 in the heart of the Willamette Valley, Oregon.
Tigard Tigard, OR – Official Website The official City of Tigard website
Lake Oswego City of Lake Oswego
Keizer City of Keizer, Oregon
Grants Pass Grants Pass, OR – Official Website
Oregon City City of Oregon City
Wheeler County Wheeler County | Welcome Discover Wheeler County. The official web site for Wheeler County, Oregon.
Sherman County Sherman County Welcome to the Sherman County, Oregon, home page — with an historic courthouse and online resources for residents, visitors, business, and more.
Gilliam County Gilliam County
Wallowa County Wallowa County
Harney County Harney County Government The official website for the Harney County Government, Harney County in Burns, Oregon.
Grant County Grant County, OR | Official Website
Lake County Lake County
Morrow County Morrow County Oregon
Baker County Baker County – Official Website
Crook County Crook County Home
Jefferson County Jefferson County, Oregon
Curry County Welcome to Curry County, OR Welcome to Curry County, OR
Hood River County Hood River County Description
Tillamook County Tillamook County This is Tillamook County Oregon's home page
Wasco County Welcome to Wasco County, OR
Union County Union County, Oregon
Malheur County Malheur County Oregon – Malheur County Official Web Site
Clatsop County Clatsop County Oregon
Lincoln County Lincoln County Oregon
Columbia County Columbia County Columbia County Government Website
Coos County Coos County
Klamath County Klamath County, OR | Official Website
Polk County Polk County Oregon Official Website
Umatilla County Umatilla County
Josephine County Josephine County Online
Benton County Benton County Oregon
Yamhill County Yamhill County, Oregon | In the heart of the Willamette Valley
Douglas County Douglas County Oregon e-Government
Linn County Linn County Public Web
Deschutes County Deschutes County Oregon | Enhancing the lives of citizens by delivering quality services in a cost-effective manner.
Jackson County Jackson County, Oregon – Official Website
Marion County Marion County Oregon
Lane County Lane County
Clackamas County Clackamas County Learn about some of the ways we're working with the state and federal governments to improve the quality of life for the people of Clackamas County
Washington County Washington County, Oregon
Multnomah County Multnomah County Services for seniors & disabled people, assessment & taxation, bridges, community justice, courts, elections, health, jails, libraries, marriage licenses & passports, school & community partnerships.
Oregon Jail Roster
| Type | Name | County | Inmate Locator | Phone Number | Inmate Search |
| --- | --- | --- | --- | --- | --- |
| Federal Prison | Sheridan Federal Correctional Institution | Yamhill County | 27072 Ballston Road, Sheridan, OR 97378 | (503) 843-4442 | Federal Inmate Locator |
| State Prison | Powder River Correctional Facility | Baker County | 3600 – 13th Street, Baker City, Oregon 97814-1346 | (541) 523-6680 | Inmate Search |
| State Prison | Coffee Creek Correctional Facility | Clackamas County | 24499 SW Grahams Ferry Road, Suite U, Wilsonville, OR 97070 | (503) 570-6400 | Inmate Search |
| State Prison | Columbia River Correctional Institution | Clackamas County | 9111 NE Sunderland Avenue, Portland, Oregon 97211-1799 | (503) 280-6646 ext. 241 | Inmate Search |
| State Prison | Shutter Creek Correctional Institution | Coos County | 95200 Shutters Landing Lane, North Bend, Oregon 97459-0303 | (541) 756-6666 | Inmate Search |
| State Prison | Deer Ridge Correctional Institution | Jefferson County | 3920 East Ashwood Road, Madras, Oregon 97741 | (541) 325-5999 | Inmate Search |
| State Prison | Warner Creek Correctional Facility | Lake County | 20654 Rabbit Hill Road, Lakeview, OR 97630-5000? | (541) 947-8200 | Inmate Search |
| State Prison | Snake River Correctional Institution | Malheur County | 777 Stanton Blvd, Ontario, Oregon 97914-8335 | (541) 881-5000 | Inmate Search |
| State Prison | Mill Creek Correctional Facility | Marion County | 5465 Turner Road SE, Salem, Oregon 97317 | (503) 378-2600 | Inmate Search |
| State Prison | Oregon State Correctional Institution | Marion County | 3405 Deer Park Drive SE, Salem, Oregon 97310-9385 | (503) 373-0125 | Inmate Search |
| State Prison | Oregon State Penitentiary | Marion County | 2605 State Street, Salem, Oregon 97310-0505 | (503) 378-2453 | Inmate Search |
| State Prison | Santiam Correctional Institution | Marion County | 4005 Aumsville Hwy SE, Salem, Oregon 97317 | (503) 378-5808 | Inmate Search |
| State Prison | South Fork Forest Camp | Tillamook County | 48300 Wilson River Hwy, Tillamook, OR 97141-9799 | (503) 842-2811 | Inmate Search |
| State Prison | Eastern Oregon Correctional Institution | Umatilla County | 2500 Westgate, Pendleton, Oregon 97801-9699 | (541) 276-0700 | Inmate Search |
| State Prison | Two Rivers Correctional Institution | Umatilla County | 82911 Beach Access Road, Umatilla, OR 97882 | (541) 922-2001 | Inmate Search |
| Baker County Jail Roster | Baker County Jail | Baker County | 3410 K Street, Baker City, OR 97814 | (541) 523-6415 | Inmate Roster |
| Benton County Jail Roster | Benton County Jail | Benton County | 190 NW 4th Street, Corvallis, OR 97330 | (541) 766-6866 | Inmate Roster |
| Clackamas County Jail Roster | Clackamas County Jail | Clackamas County | 2206 Kaen Road, Oregon City, OR 97045 | (503) 722-6777 | Inmate Search |
| Clatsop County Jail Roster | Clatsop County Jail | Clatsop County | 636 Duane Street, Astoria, OR 97103 | (503) 325-8641 | Inmate Roster |
| Coos County Jail Roster | Coos County Jail | Coos County | 250 N. Baxter, Coquille, Oregon 97423 | (541) 396-7850 | Inmate Roster |
| Crook County Jail Roster | Crook County Jail | Crook County | 400 NE 3rd Street, Prineville, OR 97754 | (541) 416-3620 | Inmate Search |
| Curry County Jail Roster | Curry County Jail | Curry County | 29808 Colvin Street, Gold Beach, OR 97444 | (541) 247-3344 | Inmate Roster |
| Deschutes County Jail Roster | Deschutes County Adult Jail | Deschutes County | 63333 W. Hwy 20, Bend, OR 97703 | (541) 388-6661 | Inmate Search |
| Douglas County Jail Roster | Douglas County Jail | Douglas County | 1036 SE Douglas Avenue, Roseburg, OR 97470 | (541) 440-4440 | Inmate Search |
| Gilliam County Jail Roster | Northern Oregon Regional Correctional Facility | Gilliam County | 201 Webber Street, The Dalles, OR 97058 | (541) 298-1576 | Inmate Roster |
| Grant County Jail Roster | Grant County Jail | Grant County | 205 S Humbolt, Canyon City, OR 97820 | (541) 575-1134 | Jail Roster |
| Harney County Jail Roster | Harney County Jail | Harney County | 485 N Court Avenue, Burns, Oregon 97720-1524 | (541) 573-6256 | Inmate Roster |
| Hood River County Jail Roster | Northern Oregon Regional Correctional Facility | Hood River County | 201 Webber Street, The Dalles, OR 97058 | (541) 298-1576 | Inmate Roster |
| Jackson County Jail Roster | Jackson County Jail | Jackson County | 787 W 8th Street, Medford, OR 97501 | (541) 774-6850 | Inmate Roster |
| Jefferson County Jail Roster | Jefferson County Jail | Jefferson County | 675 NW Cherry Lane, Madras, OR 97741 | (541) 475-2869 | Inmate Search |
| Josephine County Jail Roster | Josephine County Jail | Josephine County | 1901 NE F Street, Grants Pass, OR 97526 | (541) 474-5140 | Inmate Search |
| Klamath County Jail Roster | Klamath County Jail | Klamath County | 3201 Vandenberg Avenue, Klamath Falls, OR 97603 | (541) 883-4197 | Jail Roster |
| Lake County Jail Roster | Lake County Jail | Lake County | 513 Center Street, Lake view, OR 97630 | (541) 947-6027 | Jail Roster |
| Lane County Jail Roster | Lane County Main Jail Facility | Lane County | 101 W. 5th Avenue, Eugene, OR 97401 | (541) 682-4263 | Inmate Search |
| Lincoln County Jail Roster | Lincoln County Jail | Lincoln County | 251 West Olive Street, Newport, OR 97365 | (541) 265-4277 | Inmate Search |
| Linn County Jail Roster | Linn County Jail | Linn County | 1115 SE Jackson Street, Albany, OR 97322 | (541) 967-3901 | Inmate Search |
| Malheur County Jail Roster | Malheur County Jail | Malheur County | 151 B Street West, Vale, OR 97918 | (541) 473-5510 | Jail Roster |
| Marion County Jail Roster | Marion County Jail | Marion County | 4000 Aumsville Hwy SE, Salem, OR 97317 | (503) 588-8595 | Inmate Roster |
| Morrow County Jail Roster | Morrow County Sheriffs Office lodges their inmates at Umatilla County Jail | Morrow County | 4700 NW Pioneer Place, Pendleton, OR 97801 | (541) 966-3600 | Inmate Roster |
| Multnomah County Jail Roster | Multnomah County Detention Center | Multnomah County | 1120 SW 3rd Avenue, Portland, OR 97204 | (503) 988-3051 | Inmate Search |
| Multnomah County Jail Roster | Multnomah County Inverness Jail | Multnomah County | 11540 NE Inverness Drive, Portland, OR 97220 | (503) 988-5434 | Inmate Search |
| Polk County Jail Roster | Polk County Jail | Polk County | 884 SE Jefferson Street, Dallas, OR 97338 | (503) 623-9254 | Inmate Search |
| Sherman County Jail Roster | Northern Oregon Regional Correctional Facility | Sherman County | 201 Webber Street, The Dalles, OR 97058 | (541) 298-1576 | Inmate Roster |
| Tillamook County Jail Roster | Tillamook County Jail | Tillamook County | 5995 Long Prairie Road, Tillamook, OR 97141 | (503) 842-3422 | Inmate Roster |
| Umatilla County Jail Roster | Umatilla County Jail | Umatilla County | 4700 NW Pioneer Place, Pendleton, OR 97801 | (541) 966-3600 | Inmate Roster |
| Union County Jail Roster | Union County Correctional Facility | Union County | 1109 'K' Avenue, La Grande, OR 97850 | (541) 963-1020 | Inmate Roster |
| Wasco County Jail Roster | Northern Oregon Regional Correctional Facility | Wasco County | 201 Webber Street, The Dalles, OR 97058 | (541) 298-1576 | Inmate Roster |
| Washington County Jail Roster | Washington County Jail | Washington County | 215 SW Adams Avenue, Hillsboro, Oregon 97123 | (503) 846-2600 | Inmate Roster |
| Yamhill County Jail Roster | Yamhill County Jail | Yamhill County | 535 NE 5th Street, McMinnville, OR 97128 | (503) 434-7507 | Inmate Roster |
| Sheriff's Dept | Columbia County Sheriff's Office | Columbia County | 901 Port Avenue, St. Helens, OR 97051 | (503) 366-4611 | Inmate Roster |
Benton County Jail Inmate Custody List | Benton County Oregon Benton County Jail Inmates
Clackamas County Sheriff's Office – Roster Clackmas County Jail Inmate Search
Jail Roster | Clatsop County Oregon Clatsop County Jail Roster
County Jail Inmate Population List Columbia County Jail Inmate Roster
Current Inmate List | Deschutes County Sheriff's Office in Oregon View the Current Inmate List for Deschutes County Adult Jail in Bend, Oregon.
Douglas County Jail Inmate Search Inmate search form page for the Douglas County Sheriff's Office, located in Roseburg, Oregon.
Current Inmates – Jackson County, Oregon Jackson County Jail Current Inmates
Josephine County Web Jail Viewer Josephine County Jail List
SO – Inmate Search Lane County Jail Inmate Search
Lincoln County Current Inmates Lincoln County Jail Inmates
Current Inmates – Linn County Sheriff's Office Linn County Inmate List
Marion County Inmate Roster Inmate/Offender Information
Inmates In Custody | Polk County Oregon Official Website Polk County Jail Custody Roster
Current Jail Roster – unioncountysheriff.us Union County Jail Roster
Who is in Custody? Washington County Jail Current Inmates
Yamhill County, Oregon | In the heart of the Willamette Valley Yamhill County Inmate Search
Oregon Offender Search Oregon Department of Corrections
Oregon Background Check Information Background Checks Unit related to OHA and DHS employment services.
State of Oregon: CHC – DHS Background and Criminal Records Checks CRIMS Information about the Criminal Records Information Management System (CRIMS)
OREGON JUDICIAL DEPARTMENT – Online Records Search Oregon Judicial Department Online Records Search
Oregon State Police Oregon Sex Offender Registry