Missouri Public Records
Giving access to public records in the state of Missouri is covered under three statutes. These statutes are what govern the availability of sharing of the government records with the public.
The first statute is the Missouri Public Records Law, which was passed in 1961. This statute specifies what records public agencies should keep. The second statute is the Sunshine Law and the third one is the Arrest Records Law. The second and third laws are covered under Chapter 610 of the Missouri Revised Statutes.
Under the three Laws, "any member of the public" can request access to Missouri public records. People applying for any of these records don't have to state the purpose for which they need the information. However, you will have to show a "material interest" for you to be able to access records that are exempt. There is no any restriction on how to use the records once you have obtained them.
The records that are covered under the three Laws are all records from all government bodies as well as "quasi-public government bodies", including the legislative and executive branches. The courts and exempt regarding their administrative records are not covered by the Laws. Records that are exempt include:
Personal records
Privileged communications
Testing materials
Medical records
Records made exempt by court order or statute
Bidding information
Missouri Criminal Records
The responsibility of administering Criminal Records in Missouri lies squarely with the Missouri State Highway Patrol, Criminal Justice Information Services Division (CJIS). The Criminal Justice Information Services Division conducts both fingerprint-based and name-based background checks. Besides, the Missouri Automated Criminal History System (MACHES) is also an online portal specifically for name-based searches. Anyone can use the portal to request name-based criminal records check on any person without having to obtain a signed consent.
Arrest records, jail and inmate records are also available to the public. The information regarding Missouri correctional facilities, inmates in the system, and services for victims is available in the official website of the Missouri Department of Corrections. To locate an offender, you need to navigate the site and find an Official Search page, which will ask you to enter either a First Name and a Last Name or a Doc Id. The search will provide the offender's location, the earliest possible release, and a list of offenders.
Missouri Court Records
You can find any information on courts and court records in Missouri on the Missouri's administrator of the courts website. The courts in the state of Missouri have an online search tool known as CaseNet, which allows searches of case records, judgments and dockets. You can search many of the courts in Missouri on this system. However, for full court records, you may still have to make your request through the clerk of the court at the specific courthouse in which the case was decided.
Missouri Vital Records
Missouri Vital Records for things such as birth, marriage, divorce and death certificates are available at the Missouri Department of Health & Senior Services, Bureau of Vital Records. To make a request for any of these records, you must provide proof that you are named on the certificate or you are a spouse, parent, child, guardian, other relative or legal representative.
Birth records: Birth certificates in Missouri are accessible from 1910 to present. You can request for birth certificates by submitting a completed application form to the nearest local health department or by mail to the main office, which is located at 930 Wildwood Dr., Jefferson City, MO 65109. You can also make your application online through VitalCheck.com. The certificates are accessible from 1910 to present.
Death records: Death records are accessible from 1910 to present and you can obtain one by submitting a completed application in person or by mail to any nearest local health department, or to the head office, which is located at 930 Wildwood Dr., Jefferson City, MO 65109.
Marriage records: Marriage certificates are accessible from 1948 to present and you can obtain one by submitting a completed application to the Recorder of Deeds or to the head office. You can also obtain these records online through VitalCheck.com.
Divorce records: Divorce records are accessible from 1948 to present. You can request these records by submitting a completed application form to the Circuit Court in the particular court in which the final decree was made. You can also send a completed application form to the head office in person or by mail at 930 Wildwood Dr., Jefferson City, MO 65109.
We hope this information helps you obtain the records you might be looking for in the state of Missouri.
Missouri State Court System
Understanding how the system of Missouri state court works is very important as it helps you find court records easily.
Missouri Courts Overview
To make your work easier, start searching for court records in Missouri by simply going to courts by county.
The trial court system of Missouri State consists of Administrative Hearing Commission, Municipal Courts, and Circuit Courts.
Circuit Court
Missouri Circuit Courts are actually the primary trial courts in the State of Missouri. They have general jurisdiction to handle all criminal and civil cases. Generally, Circuit Courts are organized into the following divisions:
Associate Circuit whose judges have jurisdiction to handle some types of cases, including infractions and misdemeanor criminal cases.
Family Court division with limited jurisdiction to handle cases such as name changes, child protection, adult abuse prevention, child support, adoption, child custody, juvenile proceedings, legal separation, maintenance, annulment, and divorce.
Juvenile Court that handles certain types of cases, including guardianships, truancy, adoption, juvenile delinquency, children considered to be unruly and beyond parental control, and children in need of treatment and care.
Probate Court with general jurisdiction to handle all probate matters, including most guardianship cases, determination of heirs, the probate of wills, and administration of trusts.
Small Claims Court division for offering simplified procedure for majority of civil claims involving less than $3,000 in dispute, exclusive of costs and interest.
Municipal Court and Traffic Court
Circuit Courts may also have Municipal Court and Traffic Court divisions for handling violations of municipal ordinance. There are some areas with administrative tribunals that are supervised by the Circuit Court and handle cases involving parking and traffic ordinances violations for a municipality.
Municipal Courts
The Mississippi Municipal Courts have exclusive jurisdiction over cases that involve violations of municipal ordinances. They are actually divisions of the Circuit Courts. Municipalities may opt to have an associate judge of Mississippi Circuit Court, or establish their own independent local court with a judge to decide on their ordinance violations.
There are some counties with County Municipal Courts for handling violations of ordinances of their municipalities and violations of county ordinances.
Administrative Hearing Commission
This is an independent, neutral administrative tribunal with jurisdiction to handle more than 100 matters that have been identified by the statute including professional licensing, actions of Highways and Transport Commission, and Sate tax, disciplinary actions against the State employees. The Administrative Hearing Commission hears some cases from the beginning and also hears appeals of decisions of several state agencies. Operating out of a central location, the Administrative Hearing Commission handles cases for the entire state.
Court Notes
The State of Mississippi has set up several specialized court programs that handle some types of cases. Mississippi Circuit Court may have a Truancy Court, Teen Court, Drug Court or Mental Health Court.
Mental Health Court have programs that focus on disability-related needs and mental health of individuals involved in crime. Drug Court programs offer alternative ways handling certain offenses connected to drug use. They may also offer a way for charges and sentences to be dismissed, modified or reduced. Truancy Court focuses on children's needs through school. These are children who have not been charged with any juvenile delinquency but are chronically absent from the school. Teen Court programs offer better alternative to the state's juvenile justice system for some misdemeanor cases.
Missouri Crime Statistics
Violent & Property Crime Rates in Missouri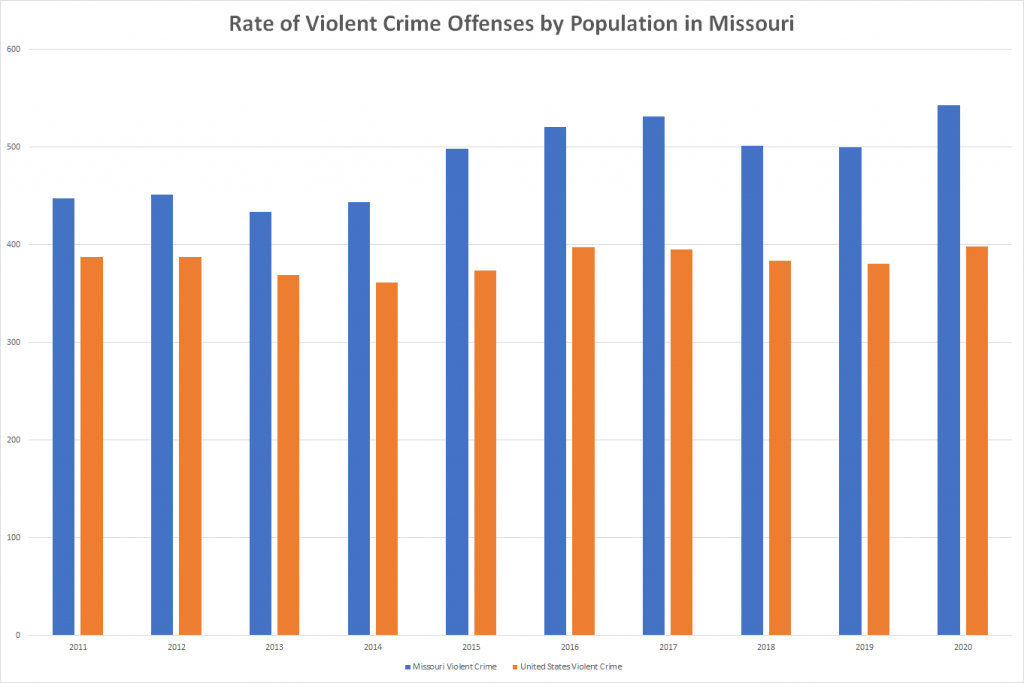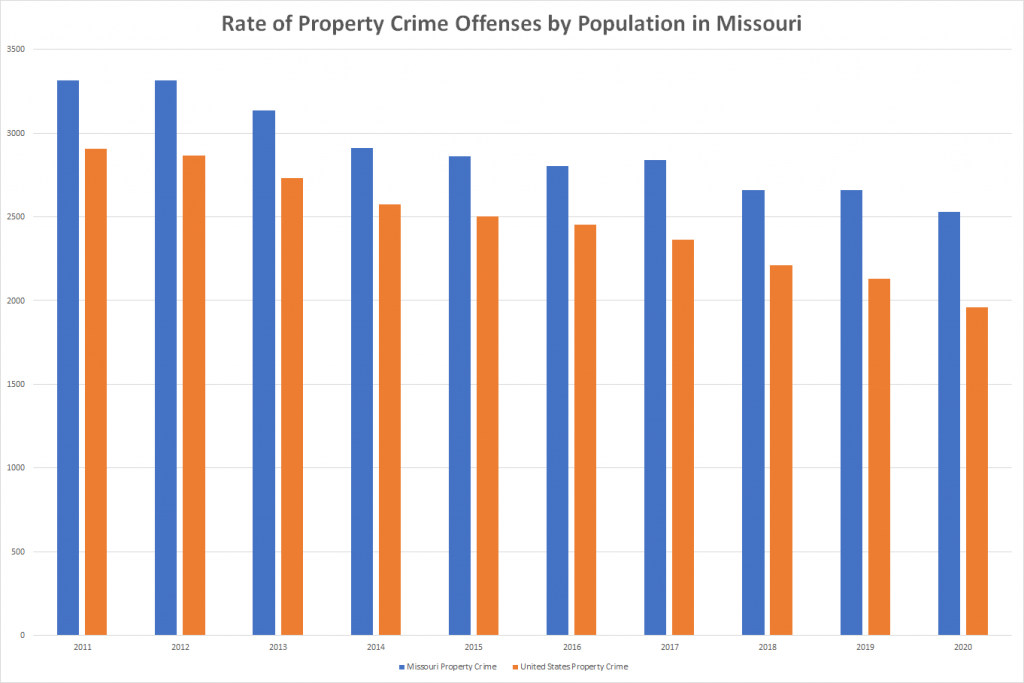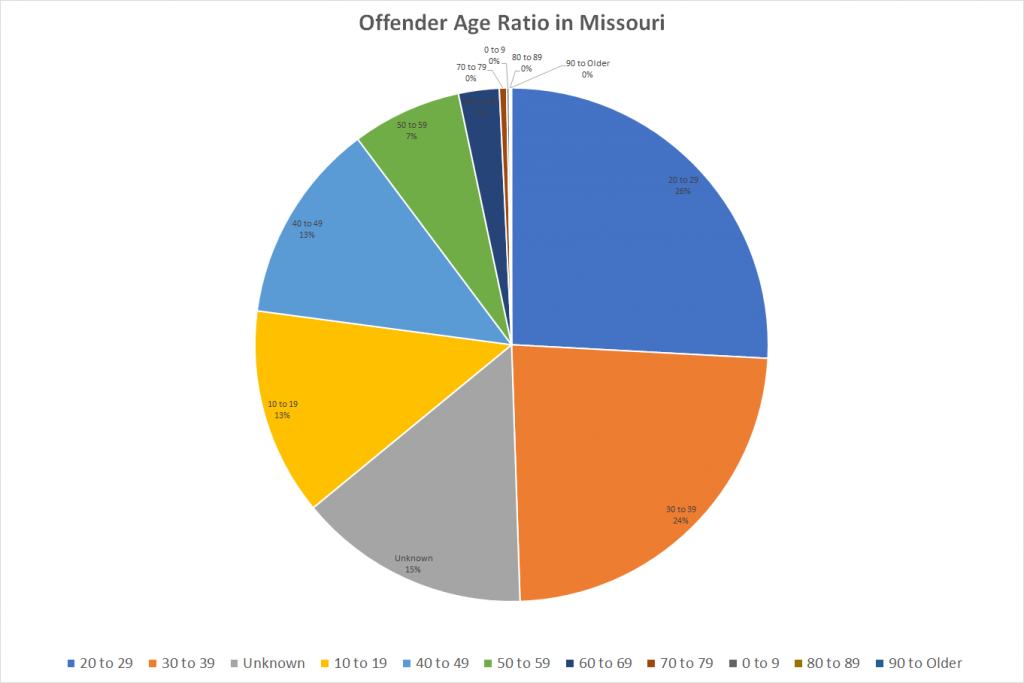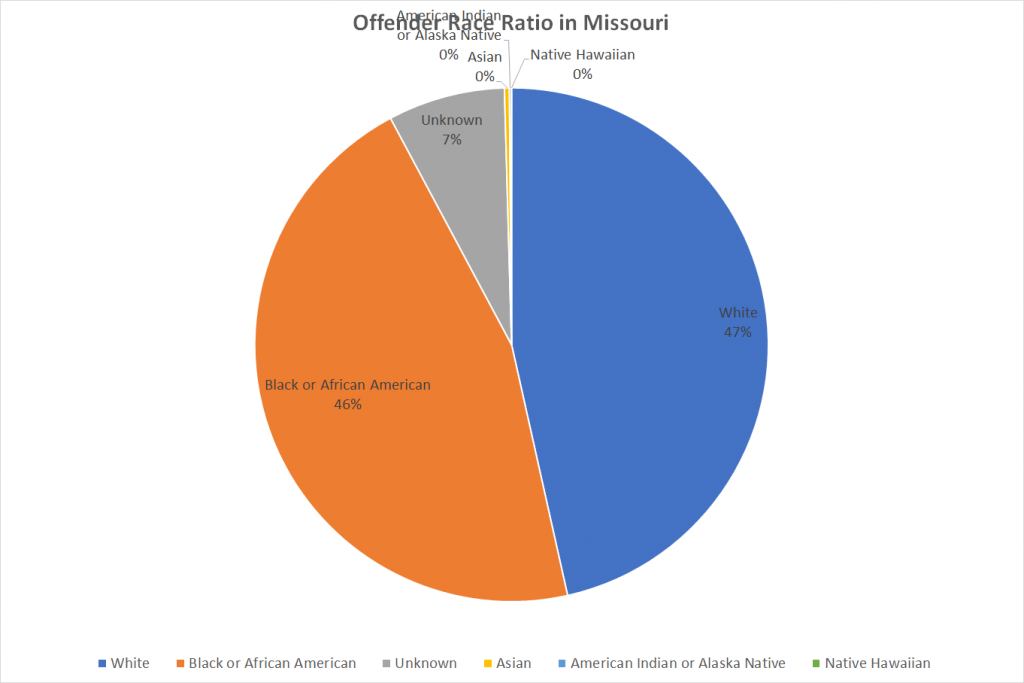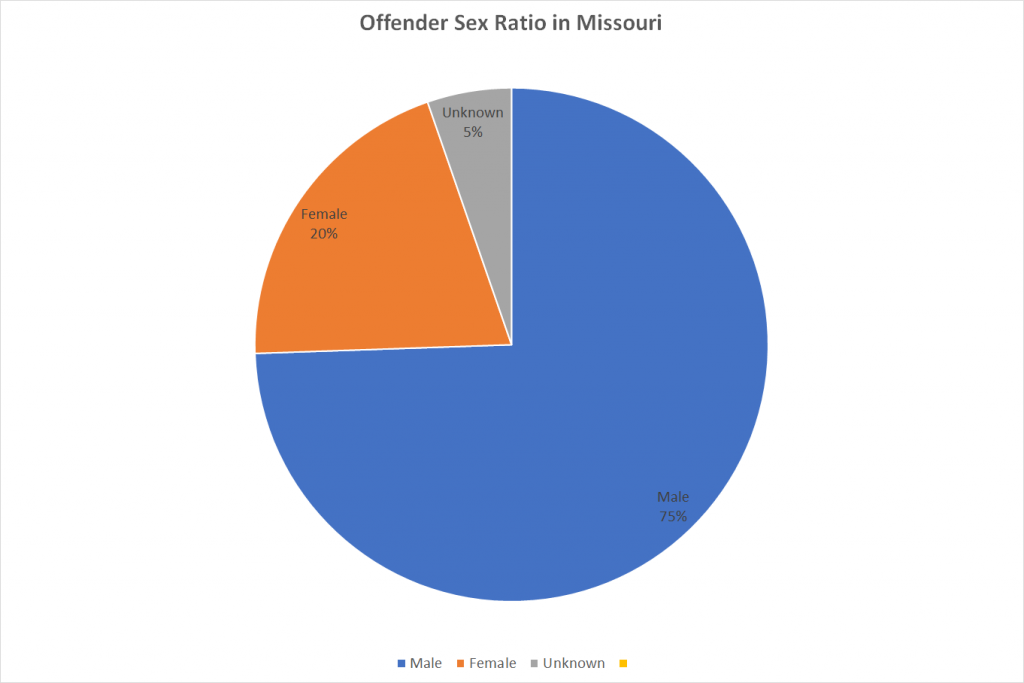 Arrests Offense in Missouri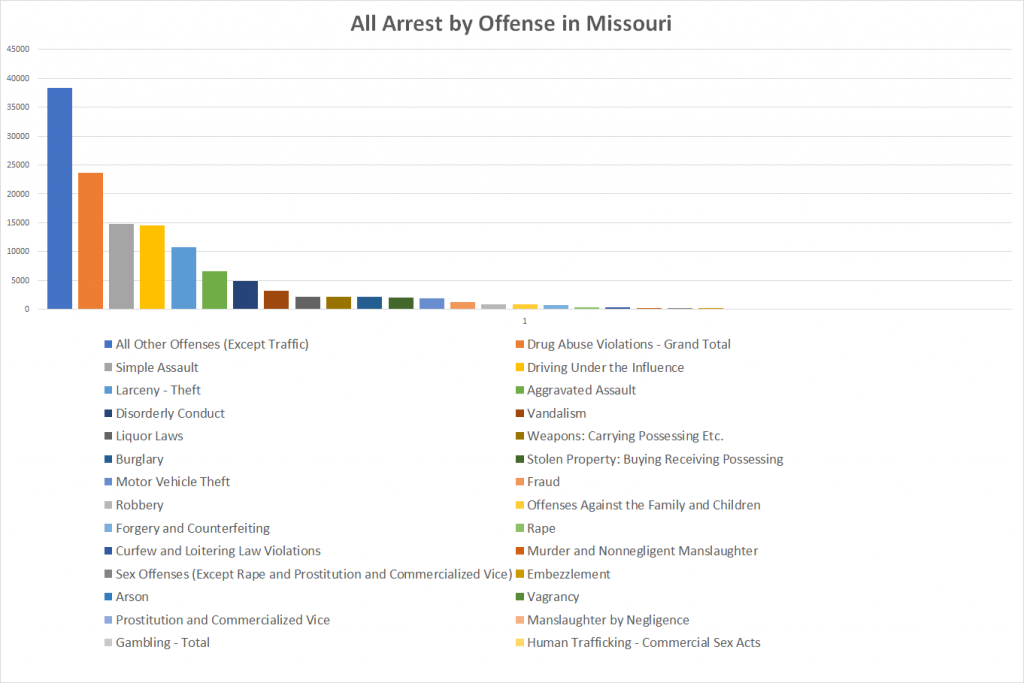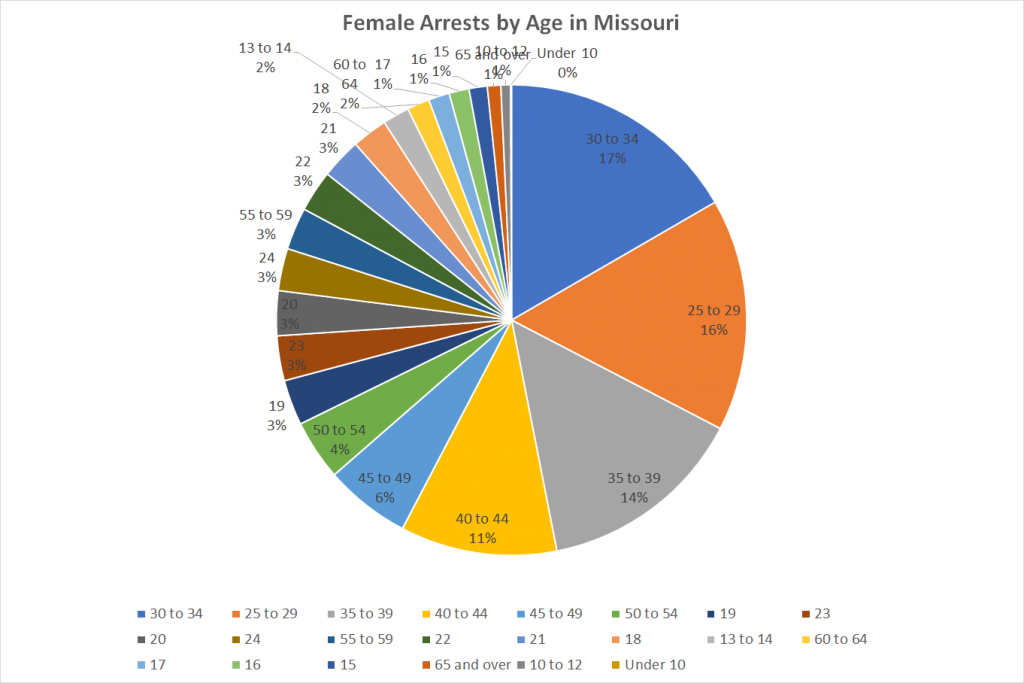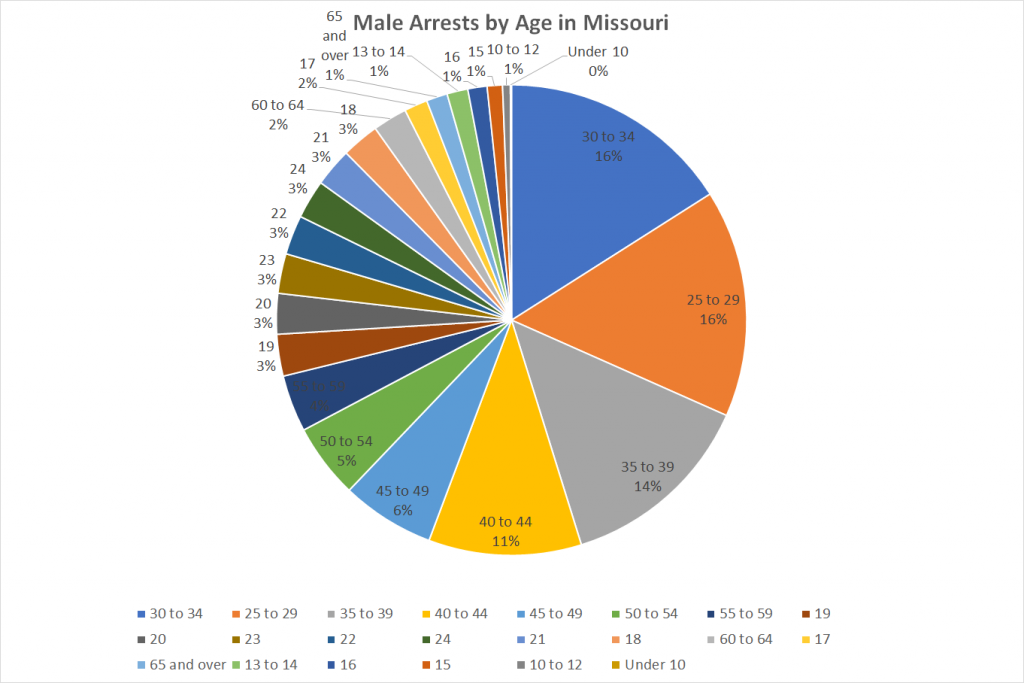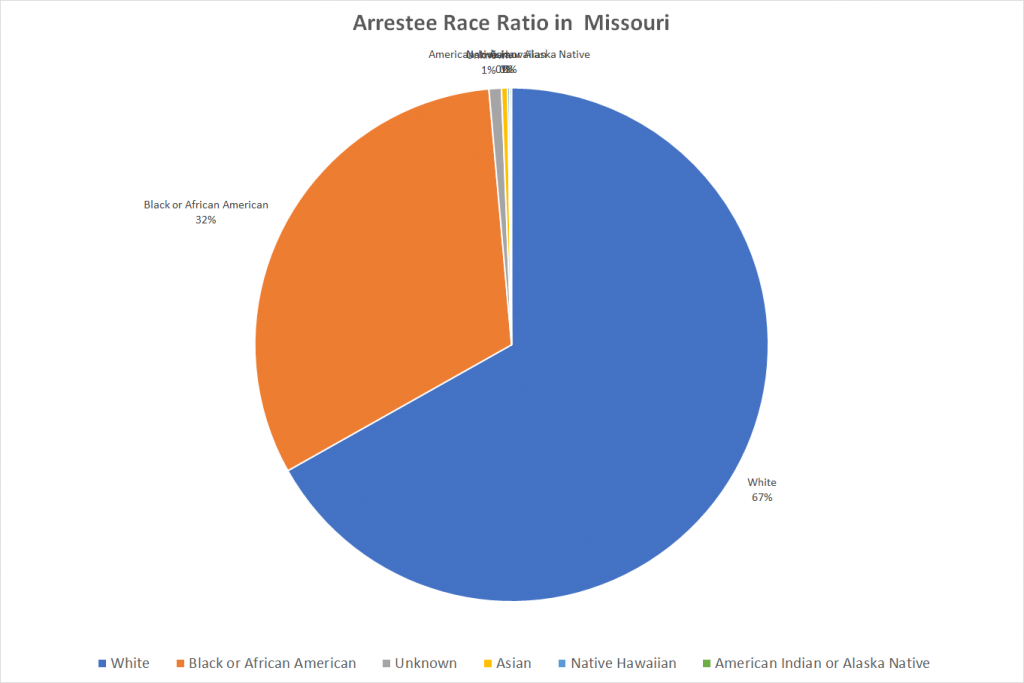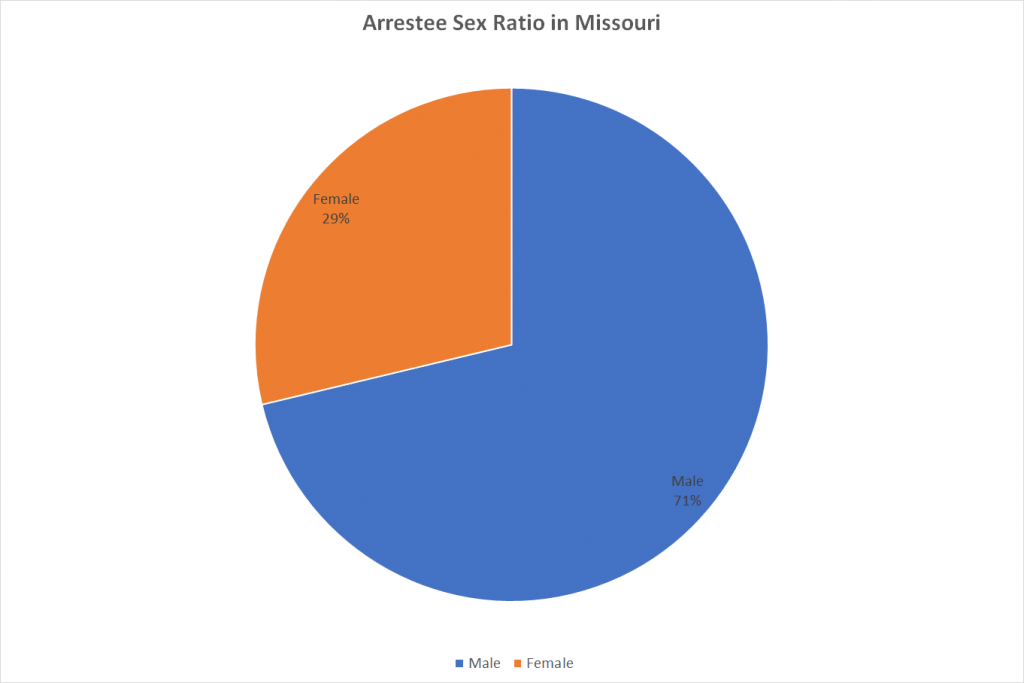 The latest data is from 2021. References: https://cde.ucr.cjis.gov/LATEST/webapp/#/pages/home
The Official Website of Missouri County
Kansas City Kansas City
St. Louis City of St. Louis, MO: Official Website
Springfield Springfield, MO – Official Website
Independence City of Independence, Missouri
Columbia City of Columbia, Missouri
St. Joseph St. Joseph, MO – Official Website
St. Charles St. Charles, MO – Official Website
St. Peters City of St. Peters, Missouri | My Hometown
Blue Springs City of Blue Springs, MO – Official Website
Florissant Florissant, Missouri The Official Website of Florissant, Missouri
Joplin Joplin, MO – Official Website
Jefferson City Welcome to City of Jefferson, Missouri
Cape Girardeau City of Cape Girardeau
Wildwood Wildwood, MO – Official Website
University City University City, MO – Official Website
Saint Louis County Welcome To The St.Louis County Website | Let's Get Started!
Jackson County Jackson County, MO | Official Website
Saint Charles County St Charles County, MO – Official Website
Greene County Greene County Features Greene County departments, offices, property information, emergency information and court searches. People, not the buildings they work in, make Greene County government services notable. Our staff and elected office holders strive to meet the challenges of a growing community while protecting the public interest.
Clay County Clay County, Missouri :: Clay County, Missouri
Boone County Boone County, Missouri Government
Jasper County Jasper County, Missouri
Franklin County Franklin County, Missouri Official Website of Franklin County, Missouri
Cass County Cass County, MO – Official Website
Platte County Platte County
Buchanan County Buchanan County, MO – Official Website
Christian County Christian County Missouri
Cole County Cole County, MO | Official Website
Cape Girardeau County Cape Girardeau County
Saint Francois County Saint Francois County
Newton County Newton County, Missouri – Newton County, Missouri
Lincoln County Lincoln County MO
Taney County Taney County, MO Taney County, Missouri government website. The place to find out about all the services the County has to offer!
Phelps County Phelps County
Callaway County Callaway County
Camden County Camden County Missouri | The best place to live, work, and start a business in Missouri.
Butler County Butler County Missouri
Pettis County Pettis County – Homepage for Pettis County Missouri
Howell County Howell County Missouri | A Great Place to Be!
Scott County Scott County Missouri | county information | offices & hours Scott County Missouri website with directory of services, office hours, events, links, maps & more. Get contact information for various offices.
Lawrence County Webster County Missouri
Laclede County Laclede County, Missouri Government
Lafayette County Lafayette County, Missouri
Warren County Warren County Commission – Let the welfare of the people be the supreme law
Stone County Stone County,Mo
Marion County Marion County Missouri
Texas County Texas County Missouri Texas County Missouri, Missouri's Largest County
Adair County Adair County Government Adair County Government. This page contains information on all of the elected offices of Adair County, Missouri.
Audrain County Audrain County Missouri Audrain County, Missouri is located in central Missouri and is considered to be the Biofuel Capital of Missouri.
Missouri Jail Roster
| Type | Name | County | Inmate Locator | Phone Number | Inmate Search |
| --- | --- | --- | --- | --- | --- |
| Federal Prison | Springfield Medical Center for Federal Prisoners | Greene County | 1900 W. Sunshine Street, Springfield, MO 65807 | (417) 862-7041 | Federal Inmate Locator |
| State Prison | Women's Eastern Reception, Diagnostic and Correctional Center | Audrain County | 1101 East Highway 54, Vandalia, MO 63382 | (573) 594-6686 | Inmate Search |
| State Prison | Western Reception, Diagnostic and Correctional Center | Buchanan County | 3401 Faraon, St. Joseph, MO 64506 | (816) 387-2158 | Inmate Search |
| State Prison | Fulton Reception and Diagnostic Center | Callaway County | 1393 Highway O, Fulton, MO 65251 | (573) 592-4040 | Inmate Search |
| State Prison | Kansas City Reentry Center | Clay County | 651 Mulberry, Kansas City, MO 64101 | (816) 842-7467 | Inmate Search |
| State Prison | Crossroads Correctional Center | Clinton County | 1115 East Pence Road, Cameron, MO 64429 | (816) 632-2727 | Inmate Search |
| State Prison | Western Missouri Correctional Center | Clinton County | 609 East Pence Road, Cameron, MO 64429 | (816) 632-1390 | Inmate Search |
| State Prison | Algoa Correctional Center | Cole County | 8501 No More Victims Road, Jefferson City, MO 65101 | (573) 751-3911 | Inmate Search |
| State Prison | Jefferson City Correctional Center | Cole County | 8200 No More Victims Road, Jefferson City, MO 65101 | (573) 751-3224 | Inmate Search |
| State Prison | Boonville Correctional Center | Cooper County | 1216 East Morgan Street, Boonville, MO 65233-1300 | (660) 882-6521 | Inmate Search |
| State Prison | Missouri Eastern Correctional Center | Franklin County | 18701 US Highway 66, Pacific, MO 63069 | (636) 257-3322 | Inmate Search |
| State Prison | Chillicothe Correctional Center | Livingston County | 3151 Litton Road, Chillicothe, MO 64601 | (660) 646-4032 | Inmate Search |
| State Prison | Southeast Correctional Center | Mississippi County | 300 East Pedro Simmons Drive, Charleston, MO 63834 | (573) 683-4409 | Inmate Search |
| State Prison | Tipton Correctional Center | Moniteau County | 619 North Osage Avenue, Tipton, MO 65081 | (660) 433-2031 | Inmate Search |
| State Prison | Maryville Treatment Center | Nodaway County | 30227 US Highway 136, Maryville, MO 64468 | (660) 582-6542 | Inmate Search |
| State Prison | Northeast Correctional Center | Pike County | 13698 Airport Road, Bowling Green, MO 63334 | (573) 324-9975 | Inmate Search |
| State Prison | Moberly Correctional Center | Randolph County | 5201 South Morley, Moberly, MO 65270 | (660) 263-3778 | Inmate Search |
| State Prison | Eastern Reception, Diagnostic and Correctional Center | Saint Francois County | 2727 Highway K, Bonne Terre, MO 63628 | (573) 358-5516 | Inmate Search |
| State Prison | Farmington Correctional Center | Saint Francois County | 1012 West Columbia Street, Farmington, MO 63640 | (573) 218-7100 | Inmate Search |
| State Prison | South Central Correctional Center | Texas County | 255 West Highway 32, Licking, MO 65542 | (573) 674-4470 | Inmate Search |
| State Prison | Potosi Correctional Center | Washington County | 11593 State Highway O, Mineral Point, MO 63660 | (573) 438-6000 | Inmate Search |
| State Prison | Ozark Correctional Center | Webster County | 929 Honor Camp Lane, Fordland, MO 65652 | (417) 767-4491 | Inmate Search |
| Adair County Jail Roster | Adair County Detention Center | Adair County | 215 N. Franklin Street, Kirksville, MO 63501 | (660) 665-4644 | Jail Roster |
| Andrew County Jail Roster | Andrew County Jail | Andrew County | 400 East Market Street, Savannah, MO 64485 | (816) 324-4114 | Jail Roster |
| Barry County Jail Roster | Barry County Jail | Barry County | 505 East Street, Cassville, MO 65625 | (417) 847-3461 | Inmate Roster |
| Bates County Jail Roster | Bates County Jail | Bates County | 6 West Fort Scott Street, Butler, MO 64730 | (660) 679-6587 | Inmate Search |
| Benton County Jail Roster | Benton County Jail | Benton County | 174 W. Washington Street, Warsaw, MO 65355 | (660) 438-6135 | Jail Roster |
| Bollinger County Jail Roster | Bollinger County Jail | Bollinger County | 202 High Street, Marble Hill, MO 63764 | (573) 238-2633 | Inmate Search |
| Boone County Jail Roster | Boone County Jail | Boone County | 2121 County Drive, Columbia, MO 65202 | (573) 875-1111 | Jail Roster |
| Buchanan County Jail Roster | Buchanan County Jail | Buchanan County | 501 Faraon Street, St. Joseph, MO 64501 | (816) 236-8800 | Inmate Search |
| Butler County Jail Roster | Butler County Detention Center | Butler County | 200 Phillip Kearbey Blvd, Poplar Bluff, MO 63901 | (573) 686-8067 | Jail Roster |
| Caldwell County Jail Roster | Caldwell County Detention Center | Caldwell County | 280 W. Main, Kingston, MO 64650 | (816) 586-5245 | Jail Roster |
| Callaway County Jail Roster | Callaway County Jail | Callaway County | 1201 State Road O, Fulton, MO 65251 | (573) 642-7291 | Jail Roster |
| Camden County Jail Roster | Camden County Detention Facility | Camden County | 1 Court Cir Suite 13, Camdenton, MO 65020 | (573) 346-2243 | Jail Roster |
| Cape Girardeau County Jail Roster | Cape Girardeau County Jail | Cape Girardeau County | 216 North Missouri Street, Jackson, MO 63755 | (573) 243-3551 | Jail Roster |
| Carter County Jail Roster | Carter County Detention Facility | Carter County | 15 Sycamore Street, Van Buren, MO 63965 | (573) 323-4510 | Jail Roster |
| Cass County Jail Roster | Cass County Jail | Cass County | 2501 West Mechanic Street, Harrisonville, MO 64701 | (816) 380-5200 | Inmate Roster |
| Cedar County Jail Roster | Cedar County Jail | Cedar County | 202 South High Street, Stockton, MO 65785 | (417) 276-5133 | Jail Roster |
| Christian County Jail Roster | Christian County Jail | Christian County | 110 W. Elm Street, Ozark, MO 65721 | (417) 582-1976 | Inmate Search |
| Clay County Jail Roster | Clay County Detention Center | Clay County | 14 S. Water Street, Liberty, MO 64068 | (816) 407-3800 | Inmate Roster |
| Clinton County Jail Roster | Clinton County Jail | Clinton County | 207 North Main Street, Plattsburg, MO 64477 | (816) 539-2156 | Jail Roster |
| Cole County Jail Roster | Cole County Jail | Cole County | 350 E High Street, Jefferson City, MO 65101 | (573) 635-7070 | Jail Roster |
| Franklin County Jail Roster | Franklin County Adult Detention Facility | Franklin County | #1 Bruns Drive, Union, MO 63084 | (636) 583-2560 | Jail Roster |
| Greene County Jail Roster | Greene County Jail | Greene County | 1000 N Boonville Avenue, Springfield, MO 65802 | (417) 868-4048 | Inmate Search |
| Grundy County Jail Roster | Grundy County Jail | Grundy County | 610 Main Street, Trenton, MO 64683 | (815) 942-0336 | Jail Roster |
| Harrison County Jail Roster | Harrison County Jail | Harrison County | 1501 Central Street, Bethany, MO 64424 | (660) 425-3199 | Jail Roster |
| Henry County Jail Roster | Henry County Jail | Henry County | 200 North Main Street, Clinton, MO 64735 | (660) 885-7021 | Inmate Search |
| Holt County Jail Roster | Holt County Jail | Holt County | 107 S Main Street, Oregon, MO 64473 | (660) 446-3300 | Jail Roster |
| Howard County Jail Roster | Howard County Jail | Howard County | 100 N Mulberry Street, Fayette, MO 65248 | (660) 248-2477 | Inmate Search |
| Howell County Jail Roster | Howell County Jail | Howell County | 1106 Missouri Avenue, West Plains, MO 65775 | (417) 256-4323 | Jail Roster |
| Iron County Jail Roster | Iron County Jail | Iron County | 220 South Shepherd Street, Ironton, MO 63650 | (573) 546-4000 | Jail Roster |
| Jackson County Jail Roster | Jackson County Detention Center | Jackson County | 1300 Cherry Street, Kansas City, MO 64106 | (816) 881-4200 | Inmate Search |
| Jasper County Jail Roster | Jasper County Detention Center | Jasper County | 405 East 5th Street, Carthage, MO 64836 | (417) 358-8177 | Inmate Roster |
| Johnson County Jail Roster | Johnson County Jail | Johnson County | 278 SW 871st Road, Centerview, MO 64019 | (660) 747-6469 | Inmate Roster |
| Laclede County Jail Roster | Laclede County Jail | Laclede County | 240 N Adams Avenue, Lebanon, MO 65536 | (417) 532-2311 | Jail Roster |
| Lafayette County Jail Roster | Lafayette County New Detention Facility | Lafayette County | 107 S 11th Street, Lexington, MO 64067 | (660) 259-3622 | Jail Roster |
| Lawrence County Jail Roster | Lawrence County Jail | Lawrence County | 240 North Main Street, Mt. Vernon, MO 65712 | (417) 466-2131 | Inmate Roster |
| Lewis County Jail Roster | Lewis County Jail | Lewis County | 107 South Washington Street, Monticello, MO 63457 | (573) 767-5287 | Jail Roster |
| Lincoln County Jail Roster | Lincoln County Jail | Lincoln County | 65 Business Park Drive, Troy, MO 63379 | (636) 462-6507 | Jail Roster |
| Livingston County Jail Roster | Livingston County inmates are now housed at the Daviess-Dekalb County Regional Jail | Livingston County | 102 N. Meadows Lane, Pattonsburg, MO 64670 | (660) 367-2200 | Inmate Roster |
| Macon County Jail Roster | Macon County Jail | Macon County | 101 W. Sheridan Street, Macon, MO 63552 | (660) 385-2062 | Jail Roster |
| Marion County Jail Roster | Marion County Jail | Marion County | 1703 Marion City Road, Palmyra, MO 63461 | (573) 769-2077 | Inmate Roster |
| McDonald County Jail Roster | McDonald County Detention Center | McDonald County | 300 East 7th Street, Pineville, MO 64856 | (417) 223-4319 | Inmate Search |
| Miller County Jail Roster | Miller County Jail | Miller County | 1999 Highway 52, Tuscumbia, MO 65082 | (573) 369-2341 ext. 720 | Jail Roster |
| Mississippi County Jail Roster | Mississippi County Jail | Mississippi County | 200 W Commercial Street, Charleston, MO 63834 | (573) 683-2111 | Jail Roster |
| Monroe County Jail Roster | Monroe County Jail | Monroe County | 300 North Main Street, Paris, Missouri 65275 | (660) 327-4060 | Inmate Search |
| Montgomery County Jail Roster | Montgomery County Jail | Montgomery County | 211 East 3rd Street, Montgomery City, MO 63361 | (573) 564-8086 | Jail Roster |
| Morgan County Jail Roster | Morgan County Adult Detention Center | Morgan County | 211 East Newton Street #2, Versailles, MO 65084 | (573) 378-5481 | Inmate Roster |
| Newton County Jail Roster | Newton County Jail | Newton County | 208 W Coler Street, Neosho, MO 64850 | (417) 451-8311 | Jail Roster |
| Nodaway County Jail Roster | Nodaway County Jail | Nodaway County | 404 N Vine Street, Maryville, MO 64468 | (660) 582-7451 | Inmate Roster |
| Oregon County Jail Roster | Oregon County Jail | Oregon County | 900 South St. Paul Avenue, Pawhuska, OK 74056 | (918) 287-4295 | Jail Roster |
| Ozark County Jail Roster | Ozark County Jail | Ozark County | 1818 County Road 806, Gainesville, MO 65655 | (417) 679-4633 | Jail Roster |
| Perry County Jail Roster | Perry County Jail | Perry County | 710 South Kingshighway Street, Perryville, MO 63775 | (573) 547-4071 | Jail Roster |
| Pettis County Jail Roster | Pettis County Jail | Pettis County | 333 S Lamine Avenue, Sedalia, MO 65301 | (660) 827-0056 | Jail Roster |
| Pike County Jail Roster | Pike County Jail | Pike County | 1600 Business Highway 54 W, Bowling Green, MO 63334 | (573) 324-3202 | Jail Roster |
| Platte County Jail Roster | Platte County Detention Center | Platte County | 415 Third Street, Platte City, Missouri 64079 | (816) 858-3521 | Inmate Search |
| Polk County Jail Roster | Polk County Jail | Polk County | 113 E. Jefferson, Bolivar, MO 65613 | (417) 777-9020 | Jail Roster |
| Pulaski County Jail Roster | Pulaski County Jail | Pulaski County | 301 Historic 66 East Suite 136, Waynesville, MO 65583 | (573) 774-4793 | Inmate Roster |
| Saint Charles County Jail Roster | St. Charles County Corrections | Saint Charles County | 301 N 2nd St, St. Charles, MO 63301 | (636) 949-3003 | Jail Roster |
| Saint Clair County Jail Roster | Saint Clair County Jail | Saint Clair County | 360 Chestnut Street, Osceola, MO 64776 | (417) 646-7704 | Jail Roster |
| Saint Francois County Jail Roster | Saint Francois County Jail | Saint Francois County | 1550 Doubet Road, Farmington, MO 63640 | (573) 756-3110 | Jail Roster |
| Ste. Genevieve County Jail Roster | Ste. Genevieve County Detention Center | Ste. Genevieve County | 5 Basler Drive, Ste. Genevieve, MO 63670 | (573) 883-5820 | Jail Roster |
| Saline County Jail Roster | Saline County Jail | Saline County | 1915 W Arrow Street, Marshall, MO 65340 | (660) 886-5511 | Jail Roster |
| Scott County Jail Roster | Scott County Jail | Scott County | 131 S. New Madrid Street, Benton, MO 63736 | (573) 545-3525 | Inmate Roster |
| Stone County Jail Roster | Stone County Jail | Stone County | 110 South Maple Street, Galena, MO 65656 | (417) 357-6116 | Inmate Roster |
| Taney County Jail Roster | Taney County Jail | Taney County | 266 Main Street, Forsyth, MO 65653 | (417) 546-7251 | Inmate Roster |
| Vernon County Jail Roster | Vernon County Jail | Vernon County | 2040 E. Hunter, Nevada, MO 64772 | (417) 283-4411 | Jail Roster |
| Warren County Jail Roster | Warren County Jail | Warren County | 104 West Booneslick Road, Warrenton, MO 63383 | (636) 456-4332 | Jail Roster |
| Webster County Jail Roster | Webster County Jail | Webster County | 101 S Crittenden Street, Marshfield, MO 65706 | (417) 859-2247 | Jail Roster |
| Wright County Jail Roster | Wright County Jail | Wright County | 125 Court Square, Hartville, MO 65667 | (417) 741-7576 | Jail Roster |
| Regional Jail | Daviess/DeKalb Regional Jail | Daviess County | 102 North Meadows Lane, Pattonsburg, MO 64670 | (660) 367-2200 | Jail Roster |
| Sheriff's Dept | Douglas County Sheriff's Office | Douglas County | 209 SE 2nd Avenue, Ava, MO 65608 | (417) 683-1020 | Inmate Roster |
| Sheriff's Dept | Ralls County Sheriff's Office | Ralls County | 209 East 4th Street, New London, MO 63459 | (573) 985-5611 | Jail Roster |
Inmate Roster – Current Inmates Booking Date Descending – Barry County Sheriff MO Barry County Inmate Roster
Welcome to the Bates County Sheriff's Office Bates County Inmate Look Search
Current Detainees of Boone County Jail Boone County Jail Detainees
Sheriff's Office | Buchanan County, MO – Official Website Buchanan County Jail Inmate Search
Roster Choose – Cape Girardeau County MO Sheriff's Office Cape Girardeau Jail Inmate Search
Jail Division Cass County Jail Inmates
Sheriff – Cedar County Missouri Cedar County Jail Current Inmates
Clay County Inmate Roster Clay County Sheriff Inmate Listing
Cooper County Sheriff's Department Inmates Cooper County Inmate Search
Sheriff Greene County Sheriff's Office
Jackson County Detention Center Inmate Search Jackson County Detention Center Inmates
Jasper County Detention Center Inmate Roster The detention center houses inmates who are waiting to go to trial and those who have been convicted of a crime and sentenced to serve time at the detention center.
Inmate Roster – Current Inmates Booking Date Descending – Johnson County Sheriff MO Offering community resources including press releases and service information for Johnson County, Missouri.
Laclede County Sheriff's Office, Missouri Laclede County Current Inmate List
Roster Choose – Livingston County MO Sheriff Livingston County Inmate Search
Current Inmates ? Marion County MO Sheriff's Office Marion County Current Inmates
Welcome to the McDonald County Sheriff's Office Website McDonald County Sheriff's Inmate Search
Monroe County Sheriff's Department Inmates Monroe County Sheriff Inmate Lookup
NCSO Jail – Newton County Sheriff's Office Newton Count Jail Inmate Search
Detention Population ? ?Platte County Missouri Sheriff's Office Platte County Jail Inmate Search
Court Case Update – St. Clair County Sheriff MO St Clair County Inmate Lookup
Taney County, MO Taney County Jail Search
MODOC Offender Search Missouri Department of Corrections
Criminal Record Check Missouri Criminal Record Check
Sex Offender Registry Missouri State Highway Patrol Sex Offender Search