Kentucky Public Records
Kentucky has long made clear provisions for sharing most of its public records. It is important to understand what the public law says about accessing these records.
First passed in 1976, the Kentucky Open Records Act gives the public the constitutional right to access many of the public records. The Act is found in Chapter 61 KRS 61.870-61.884 of the state statute. The law states that "any person" can examine public records. The word 'person' also includes communities, societies, and corporations. You may be required to disclose the reason why you are requesting for the records and what you intend to use them for.
The public bodies that have to produce records include all public agencies, including al local and state government offices. Included here are the legislative and executive branches, as well as anybody in Kentucky that receives at least 25 percent of its funds from the government. The judicial branch is exempt from the law. Records that exempt include:
Medical files
Trade secrets
Personal information
Law enforcement records
Examination data
Records made exempt by court order or statute
Kentucky Criminal Records
There are two agencies that handle background checks in the state of Kentucky. You can apply for criminal records report using the online system of Kentucky Court of Justice. This is a name-based report and it is also for public records report. The Kentucky State Police also administers background checks for employment, criminal justice and licensing purposes. These reports require a signed consent from the person you would want to perform a background check on. They are also name-based reports.
For any information on an offender in the state of Kentucky, or information on the correctional facilities in the Commonwealth of Kentucky, or if you need any help with the Victim Services, just go to the website of Department of Corrections. There is a page that the state provides known as Kentucky Online Offender Lookup (KOOL) where you can search for an offender. You will be required to key in the offender's First, Last, and Middle Name. The system provides the current location, earliest possible release date, and a list of charges of the offender.
Kentucky Court Records
You can get information about the court system of the Commonwealth of Kentucky from the website of the administrator of the courts. You can search court records through the state's online website known as CourtNet. This will provide you with records on civil and criminal cases. However, you will still have to request for proper copies through the courthouse where the case was heard.
Kentucky Vital Records
Kentucky Vital Records are under the maintenance of the Kentucky Cabinet for health and Family Services, Vital Statistic Office. You can request for birth, marriage, divorce, or death certificate online by ordering directly through VitalCheck.com. You can also make your request in person at Office of Vital Statistics at: 275?E. Main St.,?1E-A, Frankfort, KY?40621. Alternatively, you can request for these records by mail by completing an appropriate downloadable form, which you will submit to the Office of Vital Statistics, 275?E. Main St.,?1E-A, Frankfort, KY?40621 along with the required documentation.
Birth records: Birth certificates in Kentucky are available from 1911 to present. You can only be granted access to these records if you are the subject, legal guardian, or a parent.
Death records: Death certificates in Kentucky are accessible from 10911 to present. These records are only available to close relatives or the deceased's legal representatives.
Marriage records: Marriage certificates in Kentucky are available statewide from 1908 to present. Anyone can request for these records.
Divorce records: Divorce records are available statewide from 1958 to present. Anyone can request for these records.
By making your request appropriately and to the right agency, office, or website, you should be able to obtain any obtainable records without any difficulty.
Kentucky State Court System
Understanding how the system of Kentucky state court works is very important as it helps you find court records easily.
Kentucky Courts Overview
To make your work easier, start searching for court records in Kentucky by simply going to courts by county.
The trial court system of Kentucky State consists of District Courts and Circuit Courts.
Kentucky Circuit Courts
Kentucky Circuit Courts have general jurisdiction to handle all types of criminal and civil cases, but typically handle only those cases that District Courts have no jurisdiction to handle.
Typical civil cases that Circuit Courts hear include civil cases with disputed amount of money being more than $5,000, excluding costs and interest. They also handle adoption, dissolution of marriage, reviews of the decisions made by administrative agencies, contested probate cases, and disputes involving title to real property.
Typical criminal cases that Circuit Courts hear include lesser included offenses, felonies and capital crimes.
There are some Circuit Courts that have Family Court divisions for handling cases such as domestic violence, child abuse, child neglect, termination of parental rights, adoption, paternity, divorce, child support, and child custody. Family Court divisions share jurisdiction with District Courts over certain types of cases.
District Courts, Circuit Courts, and Family Court divisions may have Drug Court divisions for offering an alternative to incarceration for some types of cases that involve drug use. A Drug Court supervises the progress of individuals who have been enrolled into drug rehabilitation programs.
Kentucky District Courts
These courts have jurisdiction to handle certain types of criminal and civil cases. Civil cases that District Courts hear include civil cases with disputed amount totaling to less than $5,000, exclusive of costs and interest. They also handle domestic violence cases, involuntary and voluntary commitments, guardianships, conservatorships, uncontested probate matters, and reviews of decisions by local administrative agencies.
Typical criminal cases that District Courts hear include majority of misdemeanor criminal cases, preliminary hearings for capital criminal or felony cases, and violations of city or county ordinances.
Each District Court has a Juvenile Court division for handling cases such as child neglect, some criminal offenses, juvenile delinquency, child abuse, and runaways. These Juvenile Court divisions share some jurisdiction with the Family Court divisions of Circuit Courts over some types of cases.
The Small Claims Court division hears majority of civil cases with amount in dispute being less than $2,500 between all parties involved. Certain types of parties and certain types of claims cannot be heard in Small Claims Court. In addition, jury trials are also not available.
A District Court may have a Drug Court division to offer an alternative to incarceration for some cases that involve drug use. A District Court may also have a Teen Court division for children who are aged 10 to 17 who have been either found guilty or have entered a plea of guilty by a court over minor criminal offenses.
Kentucky Crime Statistics
Violent & Property Crime Rates in Kentucky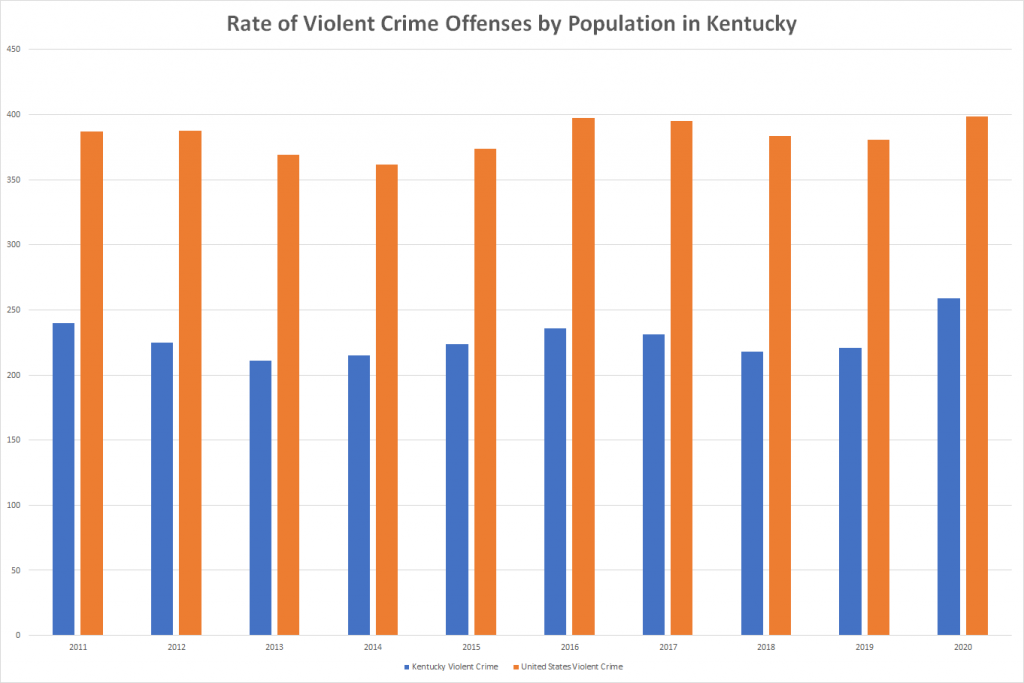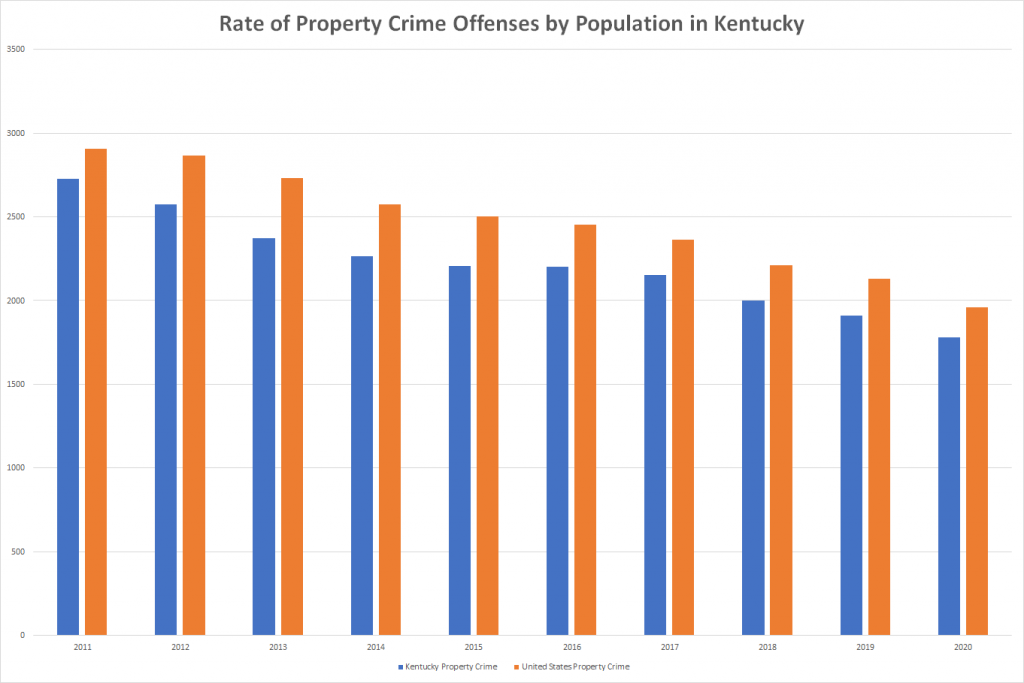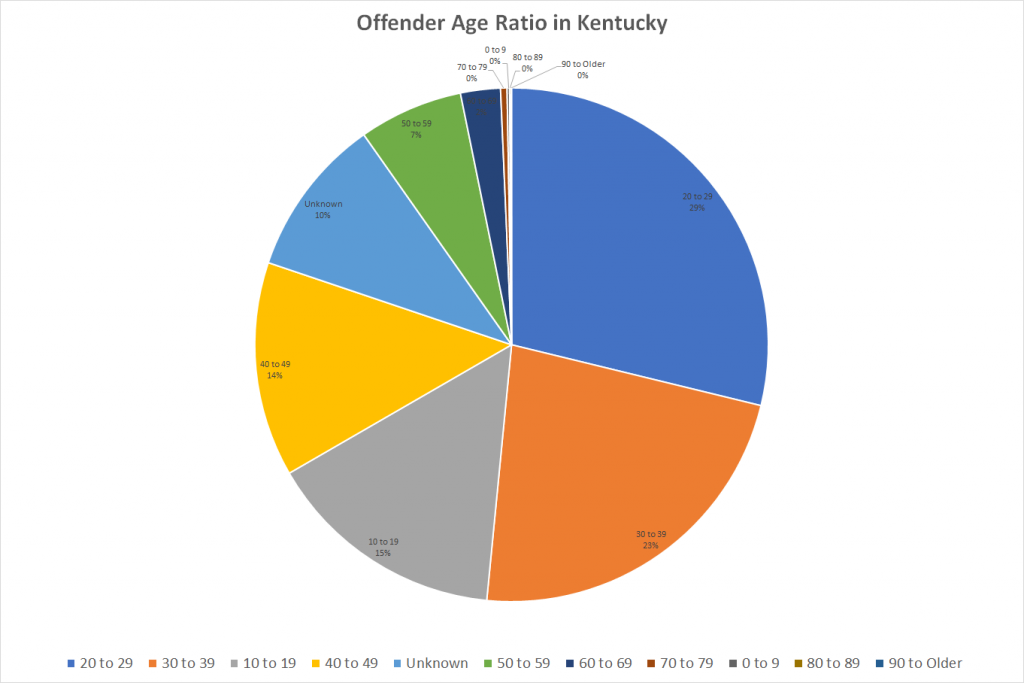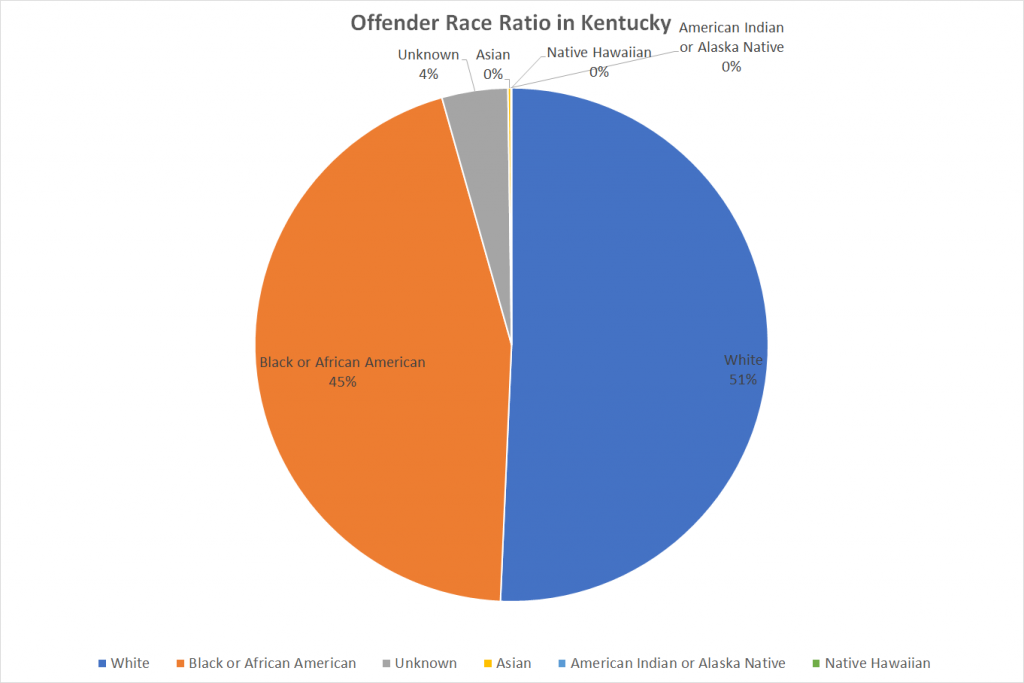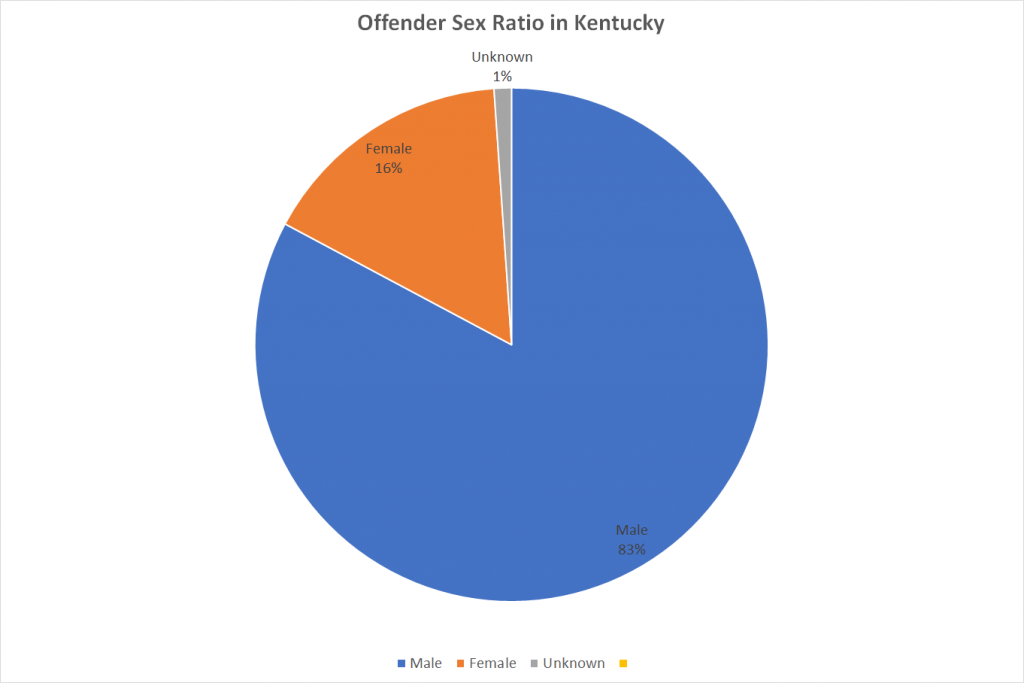 Arrests Offense in Kentucky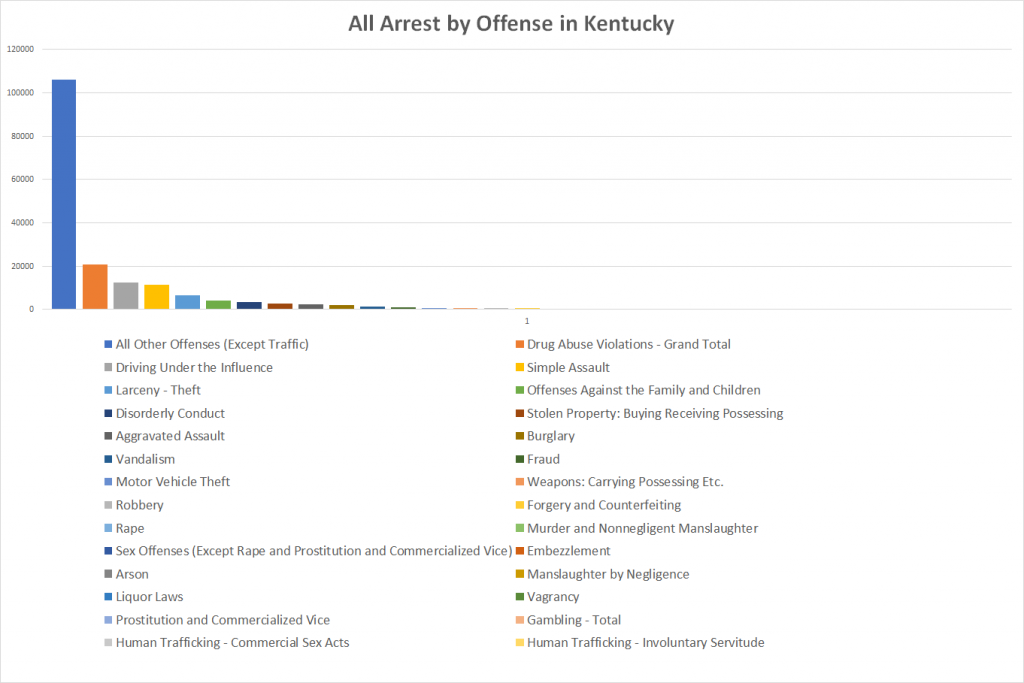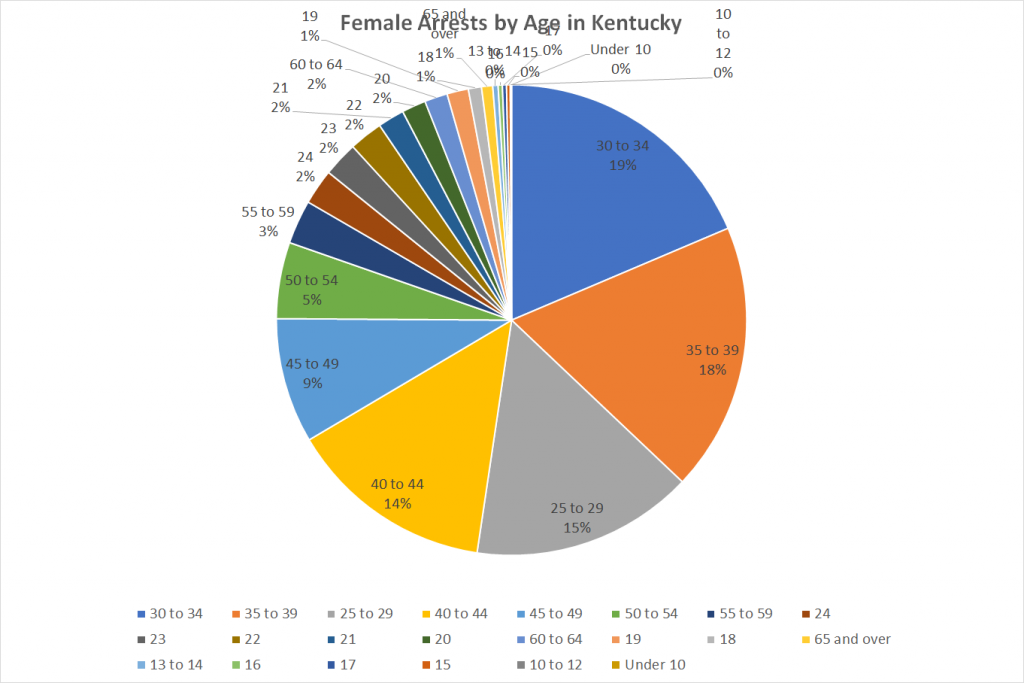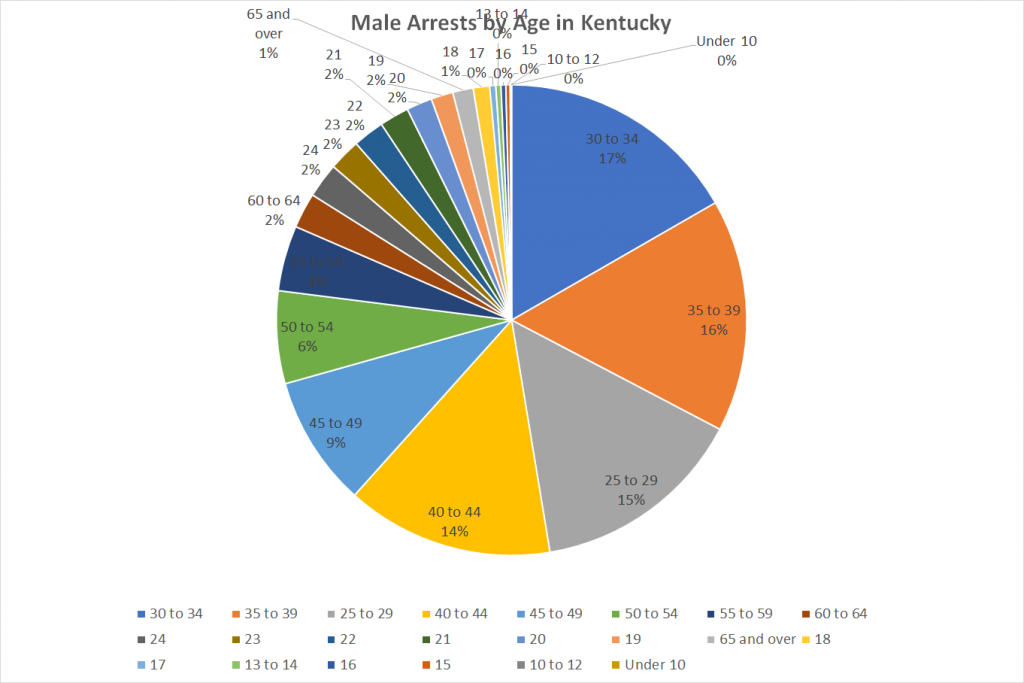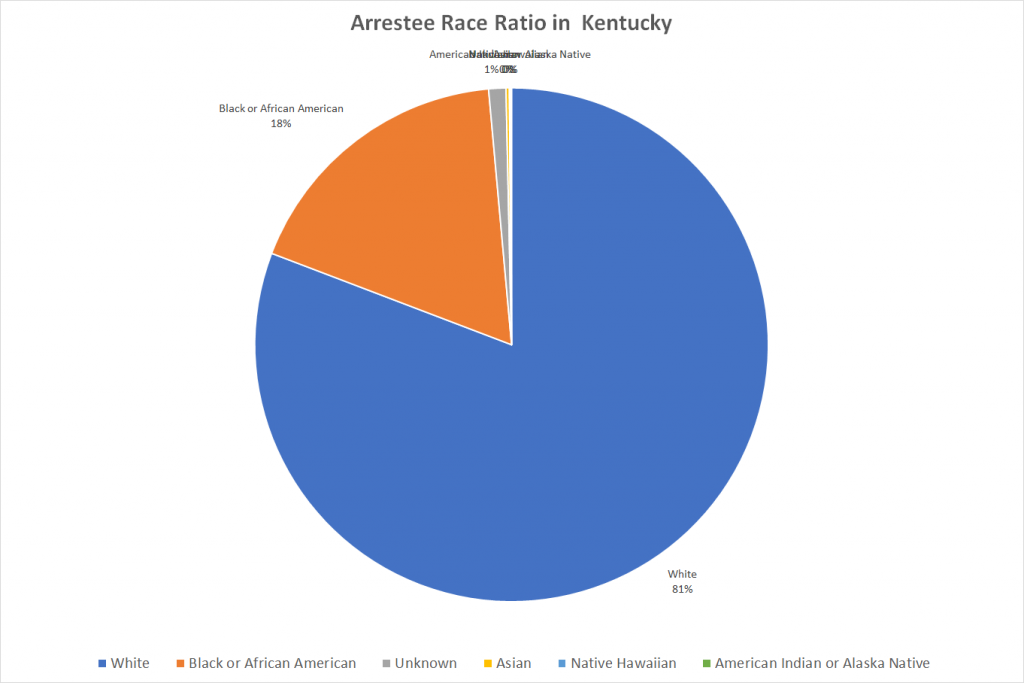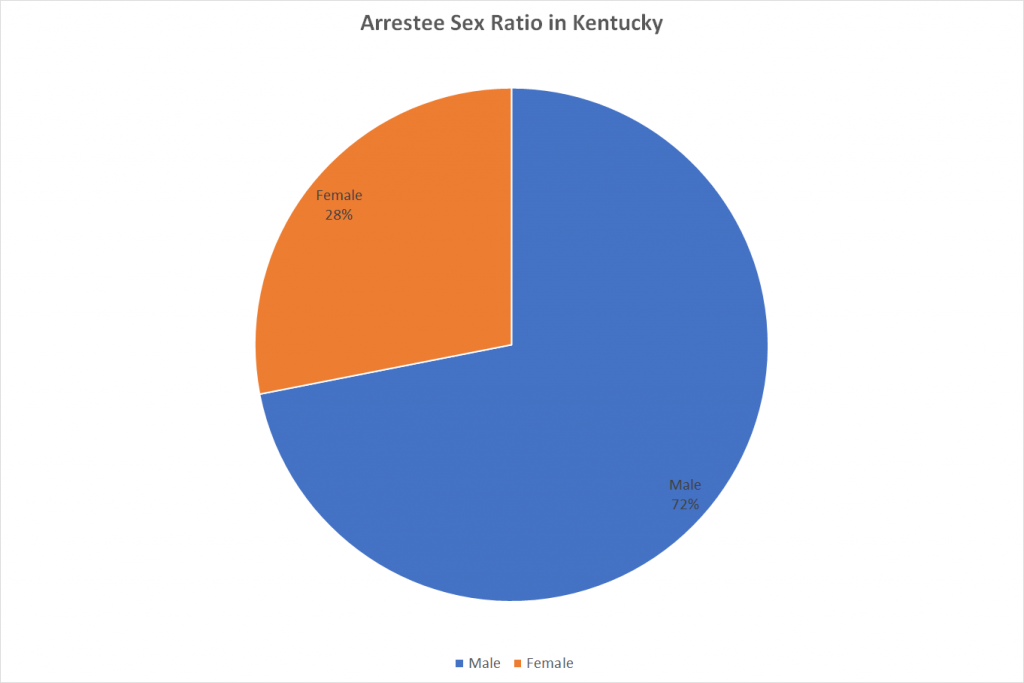 The latest data is from 2021. References: https://cde.ucr.cjis.gov/LATEST/webapp/#/pages/home
The Official Website of Kentucky County
Louisville LouisvilleKy.gov News, Events and Online Services for the Louisville Metro area.
Lexington Lexington, Kentucky: Horse Capital of the World? The official site of the City of Lexington provides quick and easy access to information about the agencies, programs and services available.
Owensboro City of Owensboro
Covington The City of Covington, Kentucky – Official Government Website
Hopkinsville City of Hopkinsville, KY Official Website for Local Government Welcome to Hopkinsville, KY
Richmond
Florence Welcome to City Of Florence, Kentucky
Henderson Henderson, KY – Official Website
Elizabethtown City of Elizabethtown – Strong & Growing Since 1779
Nicholasville Nicholasville.org | Welcome to the City of Nicholasville, Kentucky Positioned in the heart of Kentucky's Bluegrass region, on the outskirts of Lexington, Nicholasville is Kentucky's seventh fastest growing city.
Jeffersontown Jeffersontown, KY – Official Website
Frankfort Frankfort, KY | Official Website
Paducah City of Paducah
Independence City of Independence – The City of Independence KY
Radcliff City of Radcliff – Radcliff, KY 40160
Jefferson County Jefferson County Clerk | Bobbie Holsclaw
Fayette County Lexington, Kentucky: Horse Capital of the World? The official site of the City of Lexington provides quick and easy access to information about the agencies, programs and services available.
Kenton County Welcome to Kenton County, KY
Boone County Welcome to Boone County, KY
Warren County Warren County, KY | Where People Prosper, and Businesses Thrive Warren County, Kentucky, is a great place to live, work, raise a family and own a business. Come visit and see for yourself.
Hardin County Hardin County Government – Centralized Local Government Information Centralized Local Government Information
Daviess County Daviess County Kentucky Daviess County Fiscal Court provides an array of services to its residents, visitors and businesses. Provided are links to the various departments of the Fiscal Court.
Campbell County Campbell County Campbell County Kentucky
Madison County Madison County, KY – Official Site Madison County, KY Government.
Bullitt County Bullitt County Clerk's Office Kentucky
Christian County Christian County, Kentucky Visit or stay with us awhile and you'll soon discover that Christian County is a great place to live, work, do business or simply enjoy the pleasures of life.
McCracken County McCracken – Serving the people of McCracken County, Kentucky
Pulaski County Pulaski County Government WELCOME TO PULASKI COUNTY
Oldham County Oldham County Fiscal Court
Pike County Our Home in The Mountains
Jessamine County Jessamine County Kentucky
Franklin County Franklin County | KENTUCKY
Boyd County Boyd County Fiscal Court
Henderson County Henderson County, KY | Official Website
Shelby County Welcome to Shelby County Kentucky!
Nelson County Nelson County, Kentucky
Barren County Welcome – Barren County
Calloway County Calloway County KY Official website of the Calloway County Fiscal Court
Graves County Graves County Welcome Graves County!
Greenup County Greenup County | Kentucky Greenup County was established in 1803 and named for the fourth Governor of Kentucky. Come visit us and explore the beauty for yourself.
Clark County Clark County Kentucky
Whitley County Whitley County
Muhlenberg County Welcome – Muhlenberg County Kentucky
Marshall County Marshall County Chamber of Commerce
Boyle County Boyle County Kentucky – Historically Bold – Rich in History, Traditions, & Opportunity
Meade County Meade County Meade County
Harlan County Harlan County, Kentucky – Official Web Site – Welcome! Complete source for information on all tourism destinations in Harlan County, Kentucky, including ATV and off-road trails, horseback trails, hiking and more.
Bell County Welcome – Bell County, Kentucky
Perry County Perry County, Kentucky Welcome to Perry County The official site for Perry County, Kentucky providing key information about the County.
Montgomery County Montgomery CountyWelcome to Montgomery County!
Kentucky Jail Roster
| Type | Name | County | Inmate Locator | Phone Number | Inmate Search |
| --- | --- | --- | --- | --- | --- |
| Federal Prison | Ashland Federal Correctional Institution | Boyd County | St. Route 716, Ashland, KY 41105 | (606) 928-6414 | Federal Inmate Locator |
| Federal Prison | Manchester Federal Correctional Institution | Clay County | 805 Fox Hollow Road, Manchester, KY 40962 | (606) 598-1900 | Federal Inmate Locator |
| Federal Prison | Lexington Federal Medical Center | Fayette County | 3301 Leestown Road, Lexington, KY 40511 | (859) 255-6812 | Federal Inmate Locator |
| Federal Prison | Big Sandy United States Penitentiary | Martin County | 1197 Airport Road, Inez, KY 41224 | (606) 433-2400 | Federal Inmate Locator |
| Federal Prison | McCreary United States Penitentiary | Mccreary County | 330 Federal Way, Pine Knot, KY 42635 | (606) 354-7000 | Federal Inmate Locator |
| State Prison | Bell County Forestry Camp | Bell County | 560 Correctional Drive, Pineville, KY 40977 | (606) 337-7065 | Inmate Search |
| State Prison | Northpoint Training Center | Boyle County | 710 Walter Reed Road, Burgin, KY 40310 | (859) 239-7012 | Inmate Search |
| State Prison | Little Sandy Correctional Complex | Elliott County | 505 Prison Connector, Sandy Hook, KY 41171 | (606) 738-6133 | Inmate Search |
| State Prison | Blackburn Correctional Complex | Fayette County | 3111 Spurr Road, Lexington, KY 40511 | (859) 246-2366 | Inmate Search |
| State Prison | Kentucky State Penitentiary | Lyon County | 266 Water Street, Eddyville, KY 42038 | (270) 388-2211 | Inmate Search |
| State Prison | Western Kentucky Correctional Complex | Lyon County | 374 New Bethel Church Road, Fredonia, KY 42411 | (270) 388-9781 | Inmate Search |
| State Prison | Eastern Kentucky Correctional Complex | Morgan County | 200 Road to Justice, West Liberty, KY 41472 | (606) 743-2800 | Inmate Search |
| State Prison | Green River Correctional Complex | Muhlenberg County | 1200 River Road, Central City, KY 42330 | (270) 754-5415 | Inmate Search |
| State Prison | Kentucky State Reformatory | Oldham County | 3001 W Hwy 146, LaGrange, KY 40032 | (502) 222-9441 | Inmate Search |
| State Prison | Luther Luckett Correctional Complex | Oldham County | Dawkins Road, LaGrange, KY 40031 | (502) 222-0363 | Inmate Search |
| State Prison | Roederer Correctional Complex | Oldham County | 3001 Kentucky 146, La Grange, KY 40031 | (502) 222-0170 | Inmate Search |
| State Prison | Kentucky Correctional Institute for Women | Shelby County | 3000 Ash Avenue, Pewee Valley, KY 40056 | (502) 241-8454 | Inmate Search |
| Adair County Jail Roster | Adair County Jail | Adair County | 204 Greensburg Street, Columbia, KY 42728 | (270) 384-5701 | Jail Roster |
| Allen County Jail Roster | Allen County Detention Center | Allen County | 196 Wood Street, Scottsville, KY 42164 | (270) 237-3226 | Inmate Search |
| Ballard County Jail Roster | Ballard County Jail | Ballard County | 132 Mayola Avenue, Wickliffe, KY 42087 | (270) 335-3691 | Inmate Search |
| Barren County Jail Roster | Barren County Detention Center | Barren County | 201 Samson Street, Glasgow, KY 42141 | (270) 651-8806 | Inmate Search |
| Bath County Jail Roster | Bath County Jail | Bath County | 40 Slate Avenue, Owingsville, KY 40360 | (606) 674-2713 | Jail Roster |
| Bell County Jail Roster | Bell County Detention Center | Bell County | 214 West Virginia Avenue, Pineville, KY 40977 | (606) 337-5507 | Inmate Search |
| Boone County Jail Roster | Boone County Jail | Boone County | 3020 Conrad Lane, Burlington, KY 41005 | (859) 334-2143 | Inmate Search |
| Bourbon County Jail Roster | Bourbon County Regional Detention Center | Bourbon County | 101 Legion Drive, Paris, KY 40361 | (859) 987-2137 | Inmate Search |
| Boyd County Jail Roster | Boyd County Detention Center | Boyd County | 2714 Louisa Street, Catlettsburg, KY 41129 | (606) 739-4224 | Inmate Search |
| Boyle County Jail Roster | Boyle County Detention Center | Boyle County | 1860 South Danville Bypass, Danville, KY 40422 | (859) 238-1127 | Inmate Search |
| Breckinridge County Jail Roster | Breckinridge County Detention Center | Breckinridge County | 500 Glen Nash Lane, Hardinsburg, KY 40143 | (270) 756-6244 | Inmate Search |
| Bullitt County Jail Roster | Bullitt County Detention Center | Bullitt County | 1671 Preston Hwy, Shepherdsville, KY 40165 | (502) 543-7263 | Inmate Search |
| Butler County Jail Roster | Butler County Jail | Butler County | 112 N Warren Street, Morgantown, KY 42261 | (270) 526-3505 | Inmate Roster |
| Calloway County Jail Roster | Calloway County Jail | Calloway County | 310 N 4th Street, Murray, KY 42071 | (270) 753-6150 | Inmate Search |
| Campbell County Jail Roster | Campbell County Detention Center | Campbell County | 601 Central Avenue, Newport, KY 41071 | (859) 431-4611 | Inmate Search |
| Carroll County Jail Roster | Carroll County Detention Center | Carroll County | 800 Clay Street, Carrollton, KY 41008 | (502) 732-9499 | Inmate Search |
| Carter County Jail Roster | Carter County Detention Center | Carter County | 13 Crossbar Road, Grayson, KY 41143 | (606) 475-1606 | Inmate Search |
| Casey County Jail Roster | Casey County Jail | Casey County | 169 Court House Square, Liberty, KY 42539 | (606) 787-9097 | Inmate Search |
| Christian County Jail Roster | Christian County Jail | Christian County | 410 W 7th Street, Hopkinsville, KY 42240 | (270) 887-4152 | Inmate Roster |
| Clark County Jail Roster | Clark County Detention Center | Clark County | 30 Wall Street, Winchester, KY 40391 | (859) 745-0270 | Inmate Search |
| Clay County Jail Roster | Clay County Detention Center | Clay County | 67 Shamrock Road, Manchester, KY 40962 | (606) 598-2133 | Inmate Search |
| Crittenden County Jail Roster | Crittenden County Detention Center | Crittenden County | 208 W Carlisle Street, Marion, KY 42064 | (270) 965-3185 | Inmate Search |
| Daviess County Jail Roster | Daviess County Detention Center | Daviess County | 3337 E 4th Street, Owensboro, KY 42303 | (270) 685-8466 | Inmate Search |
| Fleming County Jail Roster | Fleming County Detention Center | Fleming County | 111 Elizaville Avenue, Flemingsburg, Ky 41041 | (606) 849-1939 | Jail Roster |
| Franklin County Jail Roster | Franklin County Regional Jail | Franklin County | 400 Coffee Tree Road, Frankfort, KY 40601 | (502) 875-7398 | Inmate Search |
| Fulton County Jail Roster | Fulton County Detention Center | Fulton County | 2010 7th Street, Hickman, KY 42050 | (270) 236-2405 | Inmate Search |
| Grant County Jail Roster | Grant County | Grant County | 212 Barnes Road, Williamstown, KY 41097 | (859) 824-5191 | Inmate Search |
| Graves County Jail Roster | Graves County Jail | Graves County | 103 E South Street, Mayfield, KY 42066 | (270) 247-4373 | Inmate Roster |
| Graves County Jail Roster | Graves County Restricted Custody Center | Graves County | 150 Jenkins Street, Mayfield, KY 42066 | (270) 247-9829 | Inmate Roster |
| Grayson County Jail Roster | Grayson County Detention Center Main Facility | Grayson County | 320 Shaw Station Road, Leitchfield, KY 42754 | (270) 259-3636 | Inmate Roster |
| Grayson County Jail Roster | Grayson County Detention Center Female Facility | Grayson County | 125 East White Oak Street, Leitchfield, KY 42754 | (270) 259-8406 | Inmate Roster |
| Grayson County Jail Roster | Grayson County Detention Center Annex Facility | Grayson County | South Heyser Drive, Leitchfield, KY 42754 | (270) 259-8160 | Inmate Roster |
| Greenup County Jail Roster | Greenup County Jail | Greenup County | 100 Laurel Street, Greenup, KY 41144 | (606) 473-9660 | Inmate Search |
| Hardin County Jail Roster | Hardin County Detention Center | Hardin County | 100 Lawson Blvd, Elizabethtown, KY 42701 | (270) 765-4159 | Inmate Search |
| Harlan County Jail Roster | Harlan County Detention Center | Harlan County | 6000 HWY 38, Evarts, KY 40828 | (606) 837-0096 | Inmate Search |
| Hart County Jail Roster | Hart County Jail | Hart County | 520 AA Whitman Lane, Munfordville, KY 42765 | (270) 524-2571 | Inmate Search |
| Henderson County Jail Roster | Henderson County Detention Center | Henderson County | 380 Borax Drive, Henderson, KY 42420 | (270) 827-5560 | Inmate Search |
| Hopkins County Jail Roster | Hopkins County Jail | Hopkins County | 2250 Laffoon Trail, Madisonville, KY 42431 | (270) 821-6704 | Inmate Search |
| Jackson County Jail Roster | Jackson County Detention Center | Jackson County | 1893 McCammon Ridge Road, McKee, KY 40447 | (606) 287-4560 | Jail Roster |
| Jessamine County Jail Roster | Jessamine County Detention Center | Jessamine County | 229 E Maple Street, Nicholasville, KY 40356 | (859) 885-4558 | Inmate Search |
| Johnson County Jail Roster | Big Sandy Regional Detention Center | Johnson County | 904 3rd Street, Paintsville, KY 41240 | (606) 297-5124 | Inmate Search |
| Kenton County Jail Roster | Kenton County Detention Center | Kenton County | 3000 Decker Crane Lane, Covington, KY 41017 | (859) 363-2400 | Inmate Search |
| Knox County Jail Roster | Knox County Detention Center | Knox County | 103 Jail Street, Barbourville, KY 40906 | (606) 546-6215 | Inmate Search |
| LaRue County Jail Roster | LaRue County Detention Center | LaRue County | 209 W High Street, Hodgenville, KY 42749 | (270) 358-9876 | Inmate Search |
| Laurel County Jail Roster | Laurel County Correctional Center | Laurel County | 204 W 4th Street, London, KY 40741 | (606) 878-9431 | Inmate Roster |
| Leslie County Jail Roster | Leslie County Detention Center | Leslie County | 2125 KY-118, Hyden, KY 41749 | (606) 672-3548 | Inmate Roster |
| Letcher County Jail Roster | Letcher County Jail | Letcher County | 156 E Main Street, Whitesburg, KY 41858 | (606) 633-5163 | Inmate Roster |
| Lewis County Jail Roster | Lewis County Detention Center | Lewis County | 26 Railroad Street, Vanceburg, KY 41179 | (606) 796-2312 | Inmate Search |
| Lincoln County Jail Roster | Lincoln County Regional Jail | Lincoln County | 100 Lancaster Street, Stanford, KY 40484 | (606) 365-4580 | Inmate Search |
| Livingston County Jail Roster | Livingston County Jail | Livingston County | 321 Court Street, Smithland, KY 42081 | (270) 928-2196 | Jail Roster |
| Logan County Jail Roster | Logan County Detention Center | Logan County | 304 W 3rd Street, Russellville, KY 42276 | (270) 726-3696 | Inmate Search |
| Madison County Jail Roster | Madison County Detention Center | Madison County | 107 W Irvine Street, Richmond, KY 40475 | (859) 624-4710 | Inmate Search |
| Marion County Jail Roster | Marion County Detention Center | Marion County | 201 Warehouse Road, Lebanon, KY 40033 | (270) 692-5802 | Inmate Search |
| Marshall County Jail Roster | Marshall County Detention Center | Marshall County | 54 judicial Drive, Benton, KY 42025 | (270) 527-4760 | Jail Roster |
| Mason County Jail Roster | Mason County Detention Center | Mason County | 702 U.S. 68, Maysville, KY 41056 | (606) 564-3621 | Inmate Search |
| Meade County Jail Roster | Meade County Detention Center | Meade County | 516 Hillcrest Drive, Brandenburg, KY 40108 | (270) 422-2546 | Jail Roster |
| Monroe County Jail Roster | Monroe County Correctional Center | Monroe County | 204 Crawford Street, Tompkinsville, KY 42167 | (270) 487-5594 | Jail Roster |
| Montgomery County Jail Roster | Montgomery County Regional Jail | Montgomery County | 751 Chenault Lane, Mt Sterling, KY 40353 | (859) 498-8747 | Inmate Search |
| Muhlenberg County Jail Roster | Muhlenberg County Detention Center | Muhlenberg County | 108 Court Row, Greenville, KY 42345 | (270) 338-2263 | Inmate Roster |
| Ohio County Jail Roster | Ohio County Detention Center | Ohio County | 108 Washington Street, Hartford, KY 42347 | (270) 298-4455 | Inmate Search |
| Oldham County Jail Roster | Oldham County Jail | Oldham County | 102 W Main Street, La Grange, KY 40031 | (502) 222-3500 | Inmate Search |
| Pike County Jail Roster | Pike County Detention Center | Pike County | 172 Division Street, Pikeville, KY 41501 | (606) 432-6232 | Inmate Search |
| Powell County Jail Roster | Powell County Detention Center | Powell County | 755 Breckenridge Street, Stanton, KY 40380 | (606) 663-6409 | Inmate Search |
| Pulaski County Jail Roster | Pulaski County Detention Center | Pulaski County | 300 Hail Knob Road, Somerset, KY 42503 | (606) 678-4315 | Inmate Search |
| Rockcastle County Jail Roster | Rockcastle County Detention Center | Rockcastle County | 205 E Main Street, Mt Vernon, KY 40456 | (606) 256-2178 | Inmate Search |
| Rowan County Jail Roster | Rowan County Detention Center | Rowan County | 121 Lee Avenue, Morehead, KY 40351 | (606) 784-8457 | Inmate Search |
| Russell County Jail Roster | Russell County Detention Center | Russell County | 228 Brian Walters Drive, Russell Springs, KY 42642 | (270) 858-6900 | Inmate Search |
| Scott County Jail Roster | Scott County Detention Center | Scott County | 130 Court Street, Georgetown, KY 40324 | (502) 863-7880 | Inmate Search |
| Shelby County Jail Roster | Shelby County Detention Center | Shelby County | 1000 Detention Road, Shelbyville, KY 40065 | (502) 633-2343 | Inmate Search |
| Simpson County Jail Roster | Simpson County Detention Center | Simpson County | 217 E Kentucky Street, Franklin, KY 42134 | (270) 586-5351 | Inmate Search |
| Taylor County Jail Roster | Taylor County Detention Center | Taylor County | 120 S Central Avenue, Campbellsville, KY 42718 | (270) 789-1909 | Inmate Search |
| Todd County Jail Roster | Todd County Detention Center | Todd County | 201 E McReynolds Drive, Elkton, KY 42220 | (270) 265-9966 | Inmate Roster |
| Union County Jail Roster | Union County Jail | Union County | 120 S Court Street, Morganfield, KY 42437 | (270) 389-1581 | Inmate Search |
| Warren County Jail Roster | Warren County Regional Jail | Warren County | 920 Kentucky Street, Bowling Green, KY 42101 | (270) 843-4606 | Jail Roster |
| Wayne County Jail Roster | Wayne County Detention Center | Wayne County | 217 Jim Hill Service Road, Monticello, KY 42633 | (606) 348-3626 | Inmate Search |
| Webster County Jail Roster | Webster County Detention Center | Webster County | 141 N Stegal Street, Dixon, KY 42409 | (270) 639-7020 | Inmate Search |
| Whitley County Jail Roster | Whitley County Detention Center | Whitley County | 1439 KY-92, Williamsburg, KY 40769 | (606) 549-6013 | Inmate Search |
| Woodford County Jail Roster | Woodford County Detention Center | Woodford County | 204 Beasley Drive, Versailles, KY 40383 | (859) 873-3196 | Inmate Search |
Bell County Detention Center Bell County Detention Center Inmate List
Inmates Boone County Inmate Search
Welcome to the Clark County Detention Center Clark County Detention Center
Daviess County Jail Inmates Daviess County Detention Center Inmate Lookup
Lexington Kentucky Inmate information Resources for information about?inmates, bail bonds, visiting, inmate services and more.
Franklin County Regional Jail Franklin County Regional Jail Current Inmates
Hardin County Detention Center Hardin County Detention Center Current Inmates
Henderson County Detention Center Henderson County Detention Center Inmate Search
Archonix XJail Public Louisville Kentucky Inmates
Laurel County Corrections Laurel County Corrections Inmate Roster
Ohio County Detention Center Inmates Ohio County Detention Center Inmate List
Welcome to the Shelby County Detention Center Shelby County Detention Center Recently Booked
Simpson County Detention Center Simpson County Detention Center Jail Tracker Inmates
Union County Jail Union County Jail Inmate Roster
Whitley County Detention Center Inmate List Whitley County Detention Center Inmate List
Kentucky Offender Search – Kentucky Department of Corrections – Offender Online Lookup System KOOL – Kentucky Online Offender Lookup
Criminal Record Reports ?Criminal Record Reports Kentucky Court of Justice – The Judicial Branch of State Government for the Commonwealth of Kentucky – A unified court system
Welcome to KYeCourts Kentucky Court Case Search
Home Page – Kentucky Sex Offender Registry Kentucky Sex Offender Registry