Kansas Public Records
Gaining access to a wide range of public information in Kansas is legal. Members of the public have the constitutional right to obtain most records that are under the maintenance of local and state agencies.
In the state of Kansas, the Freedom of Information Act (FOIA) protects public access to records. The Act was first passed in 1957 and was last updated in 1984. The Act protects the rights of citizens to access information that has been classified as public information. The information covered under FOIA includes the information discussed at all public meetings, such as judicial proceedings, town council sessions, and all other meetings whose outcome as well as proceedings will have an effect on the general public.
Information excluded includes juvenile court proceedings, the information in active lawsuit whose exposure may influence the outcome of the proceedings, and military records that may compromise public's safety.
Kansas Criminal Records
Accessing arrest and criminal records in Kansas is very simple. Just visit the website of the Kansas Bureau of Investigation and key in the appropriate information. You will need to pay $20 per search when conducting a background check. Anyone can conduct background check on anyone.
Records prohibited by the statutes will not be released. These records include expunged records, juvenile records, or any other criminal records that are exempt from being accessed by the public. Arrests that never led to convictions or that were dismissed are also not included. What are included are active diversions and arrest records from the previous 12 months that have no any dispositions.
Arrest records and inmate and jail records in Kansas can be searched at Kansas Adult Supervised Population Electronic Repository (KASPER). The public may obtain records of any person who is currently incarcerated through the system of Kansas Department of Criminal Justice.
Kansas Court Records
The court records in Kansas and opinions can be accessed from the website of Kansas Judicial Branch. The site has self-help directories that will guide you in your search. You can also access court decisions and opinions at the Office of Judicial Administration website. You can search completed and ongoing cases by names of the parties involved. Theo OJA site will charge you $1 per search. Records retrieved include marriage licenses, civil limited action, probate, domestic and family law, personal property tax information, statutory liens, small claims and state tax. Juvenile records are only included if transferred to adult status. Some counties in Kansas, such as the Shawnee County Third Judicial District, allow you to search online for free.
Kansas Vital Records
The public has restricted access to vital records in Kansas. Depending on the adoption terms, accessing adoption records may or may not be possible. The records for closed adoptions are sealed while records for open adoptions are available. You can access any of these records by making a request to the Office of Vital Statistics. You can also get copy certificates of no marriage, and a copy of your own birth certificate here.
Birth records: Birth records catalog in the state of Kansas are divided into the early-1911 category and 1911-present category. The records in the early-1911 category were collected from county records of vital statistics and Kansas church. Some counties in Kansas started keeping birth records in 1885. Birth records prior to 1911 are available at the county clerk offices where the birth was recorded. The Kansas Office of Vital Statistics keeps copies of birth records from 1911 to present.
Death records: Kansas Office of Vital Statistics began receiving files of death records from counties in 1911. Before then, some counties had started recording deaths in 1885 and these records are available at the county clerk's office. The Family History Library is currently collecting pre-1912 death records.
Marriage records: Marriage records in the state of Kansas are organized into early-1913 category and 1913-present category. Marriage Records in the early-1913 category are available at the Family History Library and were collected from county offices, clerks' offices, and church registers.
Divorce records: Divorce records are also divided into the early-1913 category and 1913-present category. Marriage records have always been kept and maintained by the stat since July 1913. All these records are available at the Family History Library.
Knowing what the public law dictates regarding access to public information in Kansas and where to look when in need of any record or information can be very helpful when you are conducting any private investigation or any form of background check.
Kansas State Court System
Understanding how the system of Kansas state court works is very important as it helps you find court records easily.
Kansas Courts Overview
Are you trying to find Kansas court records? If yes, then this post is for you. Continue reading to learn and understand the Kansas court system and how it works as it will help you find the court records easily.
The trial court system of Kansas State consists of Municipal Courts, County Courts, and District Courts. Kansas District Courts have general and overall jurisdiction over all criminal and civil cases. However, they typically handle only those cases that are beyond the jurisdiction limit of other courts.
There are some cities in Kansas that have Municipal Courts. These Municipal Courts have exclusive jurisdiction to handle city ordinance violations.
To make your work easier, start searching for court records in Kansas by simply going to courts by county. Here is the Kansas state court system in details.
Kansas District Courts
Generally, Kansas District Courts have exclusive jurisdiction over all criminal and civil cases, unless another court with the jurisdiction to handle the case exercises that authority.
District Courts may have several specialized court divisions that are based squarely on case type, including Limited Actions cases, Juvenile cases, Probate cases, Domestic Relations cases, Criminal cases, and Civil cases. Limited Actions cases may include Traffic cases and Small Claims. Other specialized may also exist, including Youth Court or Drug Court. Drug Court and Youth Court are special programs within District Courts that focus mainly on rehabilitating some offenders who commit certain types of crimes.
A case in a District Court may be presided over by District Magistrate Judge or a District Judge. This means that there may be District Magistrate Judges and District Judges in a Kansas District Court. A District Magistrate Judge has exclusive jurisdiction to preside over and pass judgment concerning certain types of cases. A District Judge has jurisdiction to preside over all types of cases that a District Court has jurisdiction over.
Kansas County Courts
There is a County Court in Sedgwick County. The Sedgwick County Court generally handles enforcement of county resolutions and codes, including traffic infractions, parking violations, nuisance citations, and misdemeanors that have been committed in unincorporated areas within the county. Sedgwick County Court also hears violations of parents who do not turn up to pick up their children who are supposed to be released from the Juvenile Intake and Assessment Center. It also handles trespassing and illegal damping within the "Big Ditch" area. There is a County Court only at Sedgwick County.
Kansas Municipal Courts
Kansas Municipal Courts have exclusive jurisdiction over cases that involve violations of city ordinances, including minor criminal offenses and traffic offenses. Jury trials cannot be offered by Municipal Courts.
Kansas Crime Statistics
Violent & Property Crime Rates in Kansas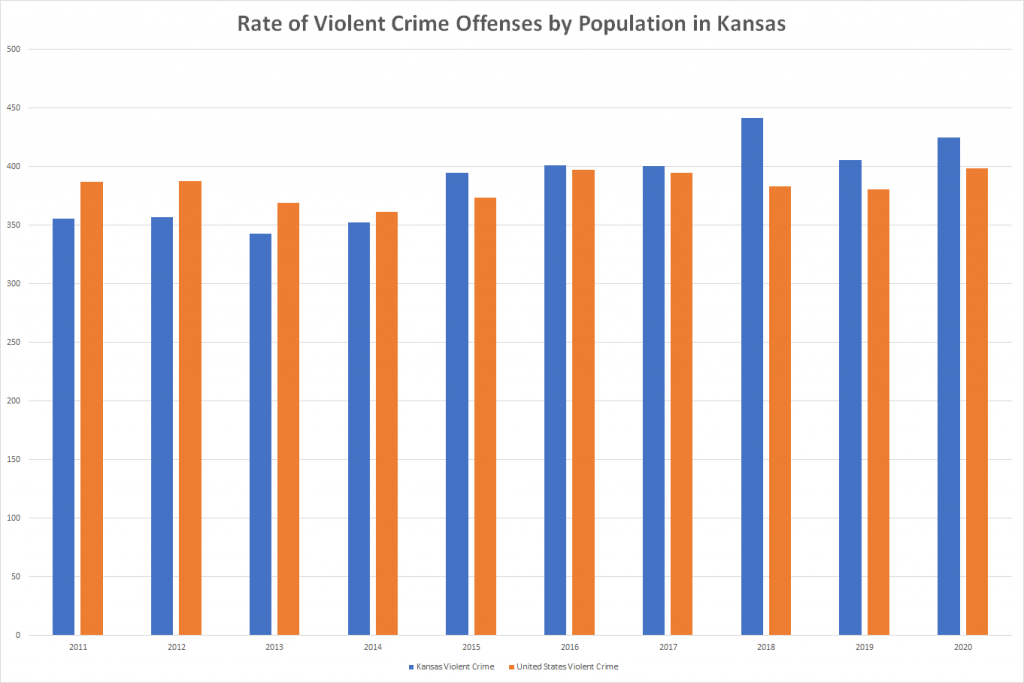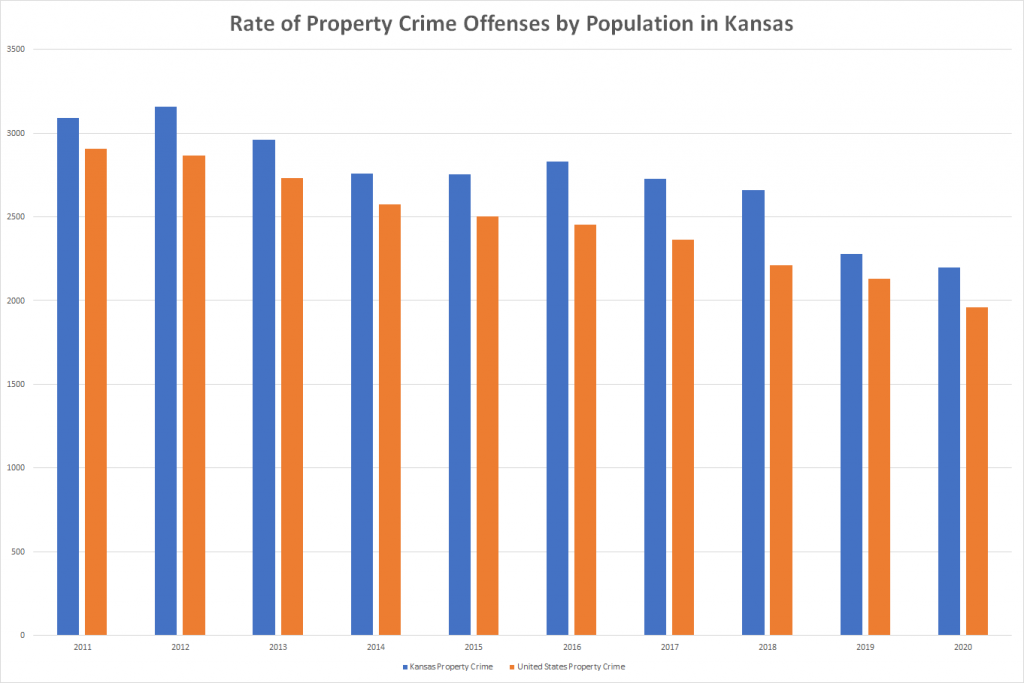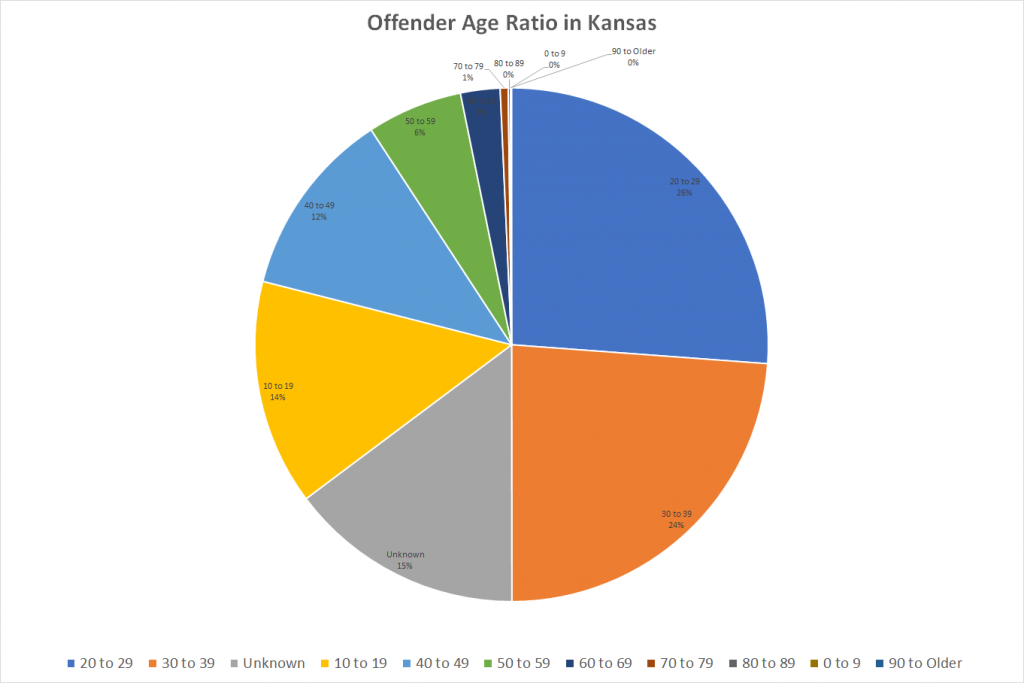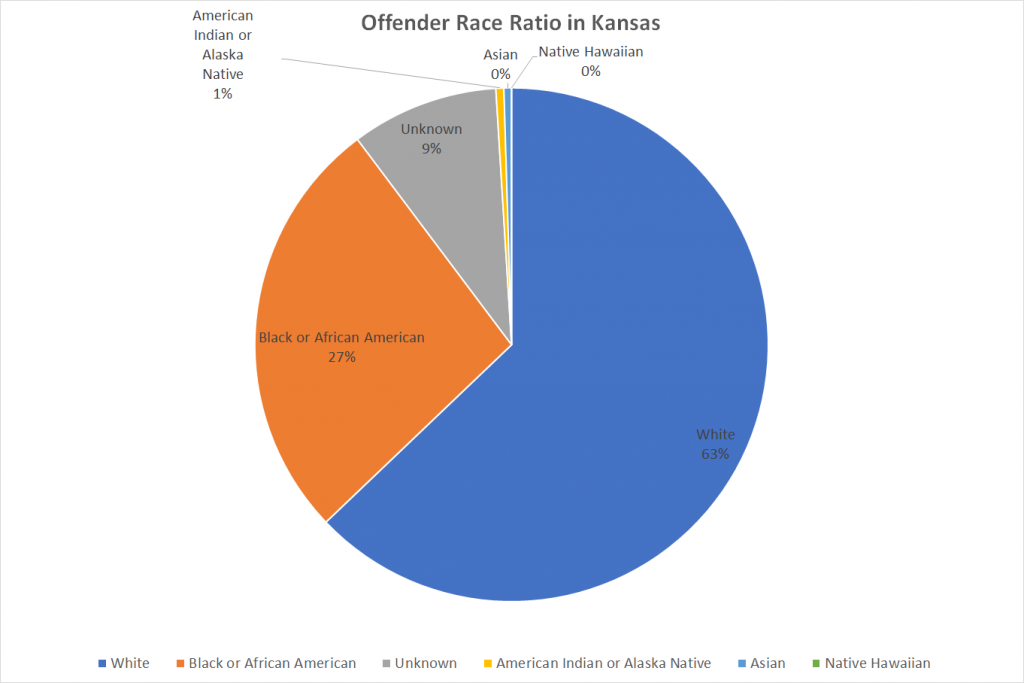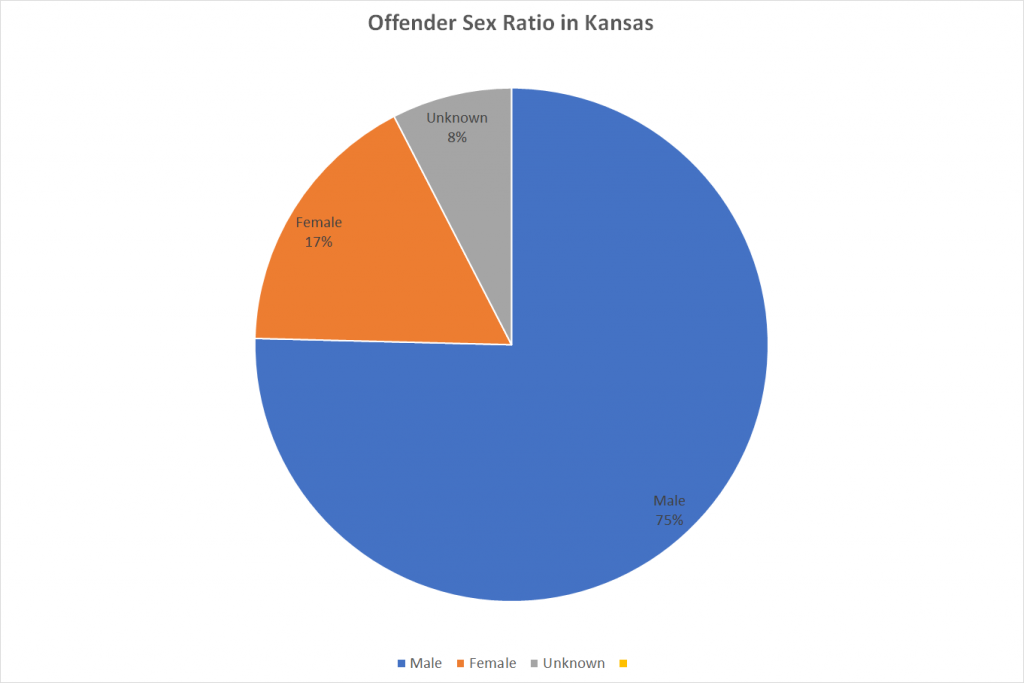 Arrests Offense in Kansas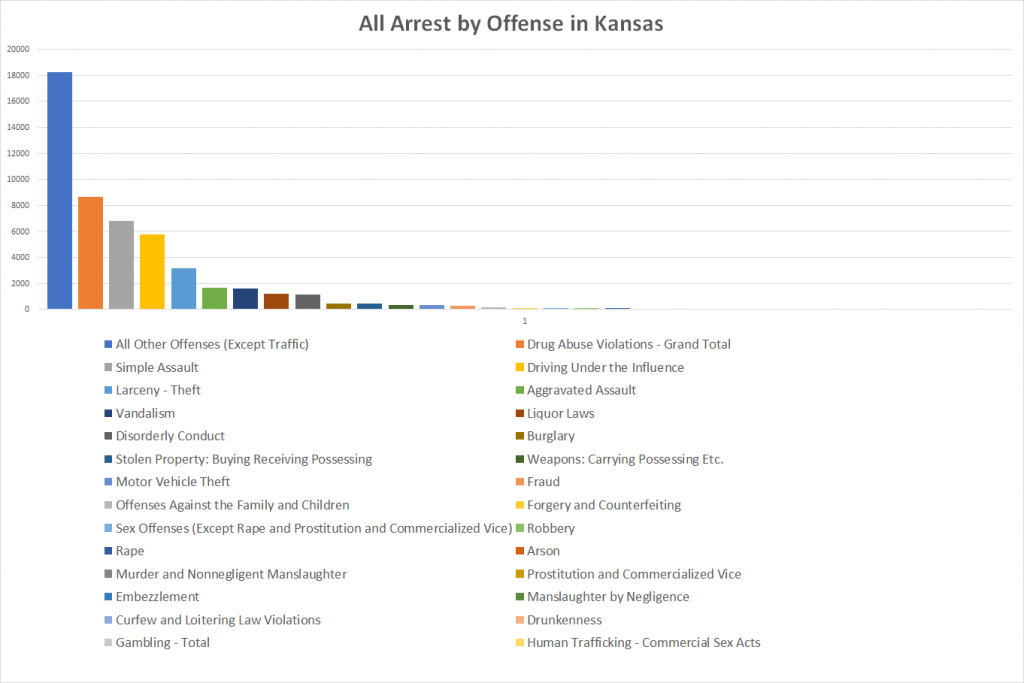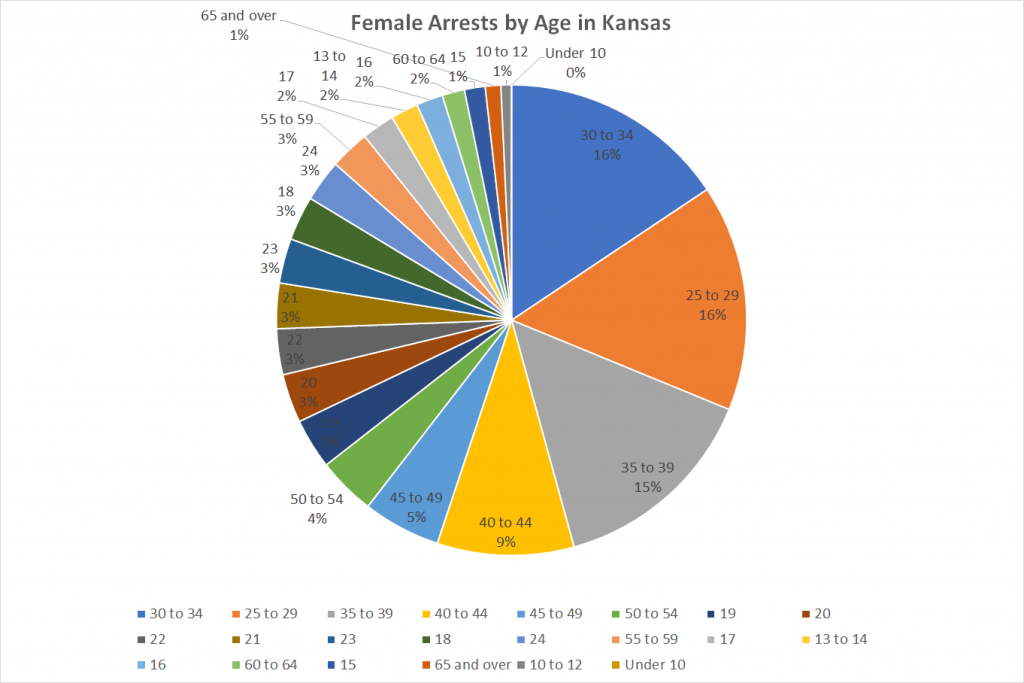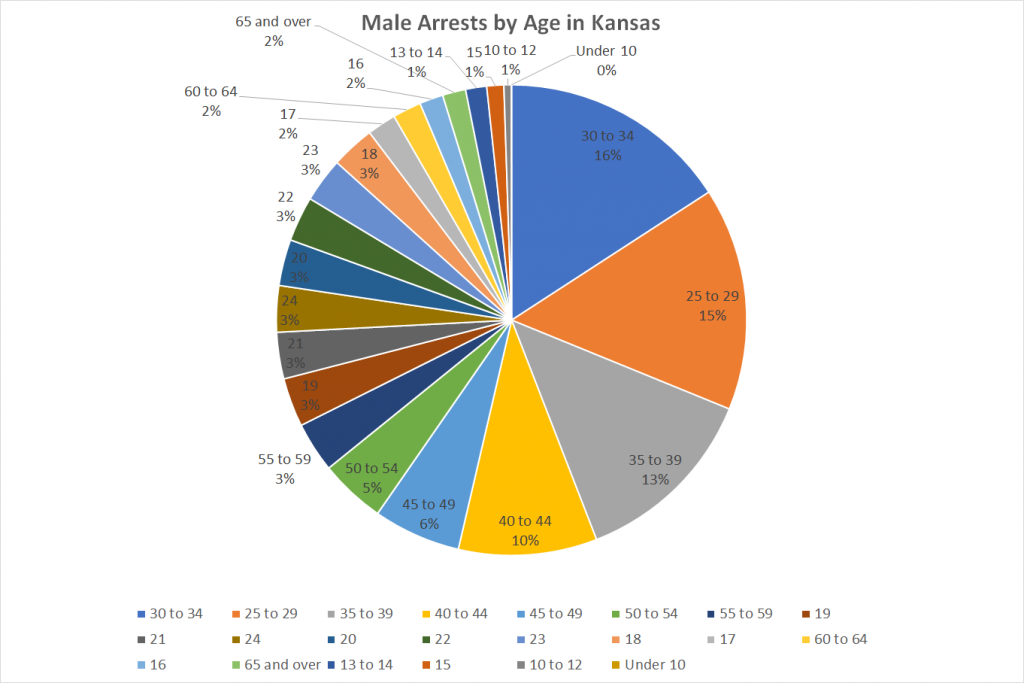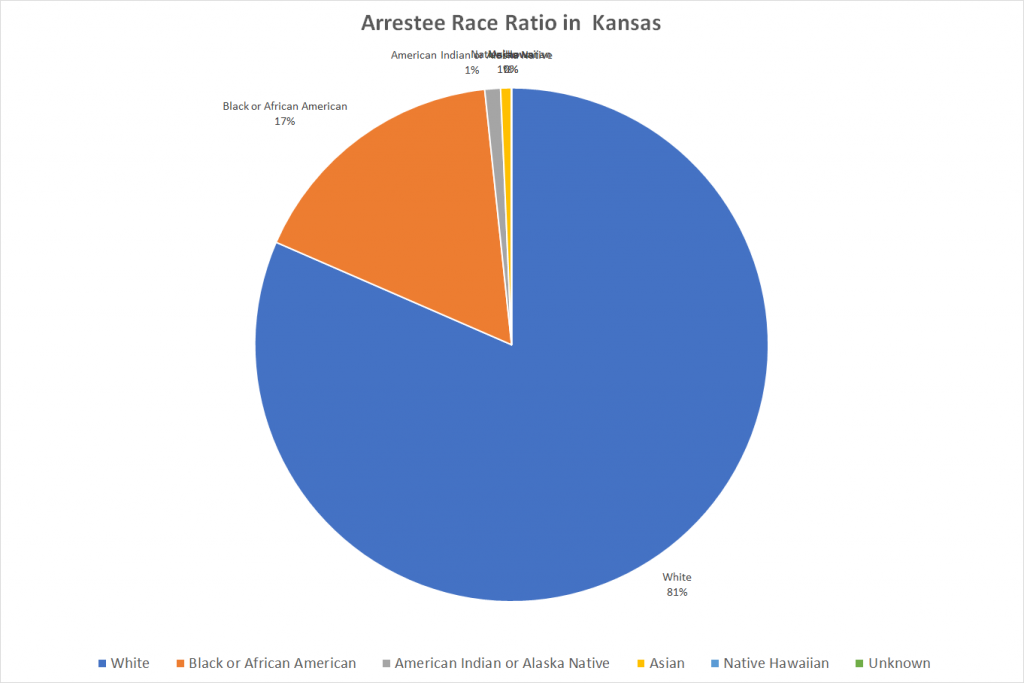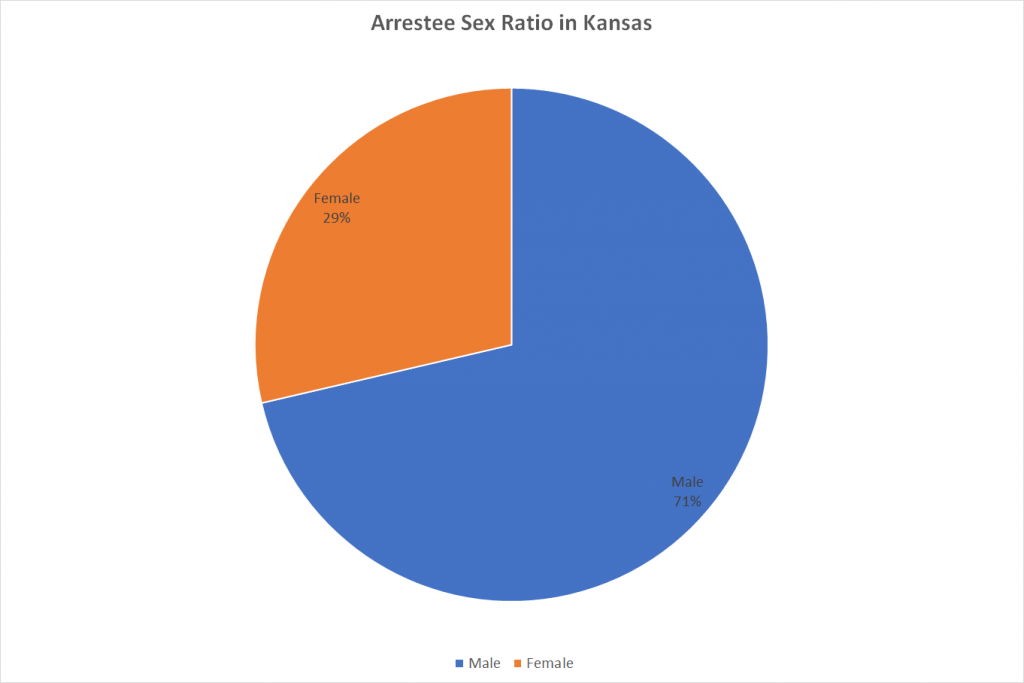 The latest data is from 2021. References: https://cde.ucr.cjis.gov/LATEST/webapp/#/pages/home
The Official Website of Kansas County
Wichita City Hall Wichita, Kansas
Overland Park City Government – City of Overland Park, Kansas City Government on City of Overland Park, Kansas – Mayor's OfficeThe mayor presides over all City Council meetings and signs all ordinances, resolutions, contracts and agreements authorized by the Governing Body.Municipal CourtThe Municipal Court is the judicial branch of the city, handling all…
Kansas City Kansas City
Olathe City of Olathe
Topeka City of Topeka | Official Site of the City of Topeka This is the official website for the City of Topeka. Here you can pay your utility bills, look up city code and ordinances, find programs, and more!
Lawrence City of Lawrence, Kansas | Government and City Services The City of Lawrence, Kansas official website. Information on city government, city services, news, events, jobs, payments, and more.
Shawnee City of Shawnee
Manhattan Manhattan, KS – Official Website The City of Manhattan, Kansas, provides municipal services for more than 50,000 residents.
Lenexa City of Lenexa
Salina Welcome to the City of Salina, Kansas
Hutchinson Hutchinson, KS | Official Website
Leavenworth City of Leavenworth, Kansas The Official Website of the City of Leavenworth, Kansas
Leawood City of Leawood, KS – Growing with Distinction
Dodge City Dodge City, KS – Official Website
Garden City Garden City
Johnson County Johnson County Kansas The official website of Johnson County Kansas Government serving citizen and business information needs.
Shawnee County Online Home · Shawnee County (Shawnee County, Kansas) Welcome to Shawnee County, Kansas. We strive to provide excellent service to our residents.
Wyandotte County Wyandotte County
Douglas County Welcome | Douglas County Kansas Official website of Douglas County, Kansas. Founded in 1854, Douglas County has a rich history. Great cities & towns located here include Lawrence, Eudora, Lecompton, and Baldwin City.
Leavenworth County Leavenworth County, Kansas
Riley County Riley County Official Website
Butler County Butler County, KS – Official Website
Reno County Reno County, KS – Official Website
Saline County Saline County
Crawford County CRAWFORD COUNTY, KS – Official Site The official website of Crawford County Kansas Government.
Geary County Geary County, Kansas
Finney County Finney County, KS – Official Website
Cowley County Cowley County
Harvey County Harvey County Harvey County is located in south central Kansas, along the Little Arkansas River. Harvey County is approximately ten miles north of the City of Wichita, and is within the northern portion of the Wichita Metropolitan Statistical Area. The County encompasses 540 square miles, is 18 miles wide in its north-south dimension and 30 miles long in its east-west dimension. Harvey County is an excellent location for both highway and railroad travel. Interstate I-135 lies north to south in the middle of the County, Highway 50 lies east to west through the County, and the Amtrak-mainline of the Burlington-Santa Fe Railroad lies east to west through the County.
Ford County Manhattan, KS – Official Website
Lyon County Lyon County Kansas | 430 Commercial Emporia, Ks 66801 (620)-341-4380
Miami County Miami County, KS – Official Website
McPherson County McPherson County Official Website
Ellis County Ellis County, KS – Official Website
Barton County Barton County
Franklin County Franklin County, KS – Official Website
Sumner County Sumner County, Kansas > About Sumner County
Seward County Seward County, KS – Official Website
Pottawatomie County Pottawatomie County, KS – Official Website
Labette County Labette County, Kansas The Official Website of Labette County, Kansas
Cherokee County Cherokee County, Kansas
Dickinson County Dickinson County, KS – Official Website
Jefferson County Jefferson County, KS – Official Website
Atchison County the Atchison County Official Website!!
Neosho County Welcome to Neosho County Community College
Osage County Osage County, Kansas
Bourbon County Bourbon County
Jackson County Welcome to Jackson County, Kansas Jackson County, Kansas is a northeast Kansas, rural community. Holton holds the county seat.
Allen County Welcome to Allen County, Kansas!
Marion County Marion County, Kansas
Kansas Jail Roster
| Type | Name | County | Inmate Locator | Phone Number | Inmate Search |
| --- | --- | --- | --- | --- | --- |
| Federal Prison | Leavenworth United States Penitentiary | Leavenworth County | 1300 Metropolitan Avenue, Leavenworth, KS 66048 | (913) 682-8700 | Federal Inmate Locator |
| State Prison | El Dorado Correctional Facility | Butler County | 1737 SE Us Highway 54, El Dorado, KS 67042 | (316) 321-7284 | Inmate Search |
| State Prison | Winfield Correctional Facility | Cowley County | 1806 Pinecrest Circle, Winfield, KS 67156 | (620) 221-6660 | Inmate Search |
| State Prison | Ellsworth Correctional Facility | Ellsworth County | 1607 State Street, Ellsworth, KS 67439 | (785) 472-5501 | Inmate Search |
| State Prison | El Dorado Correctional Facility Southeast Medium Unit | Labette County | 2501 W. 7th Street, Oswego, KS 67356 | (316) 322-2045 | Inmate Search |
| State Prison | El Dorado Correctional Facility Southeast Minimum Unit | Labette County | 1022 Fordyce Blvd, Oswego, KS 67356 | (316) 322-2045 | Inmate Search |
| State Prison | Lansing Correctional Facility | Leavenworth County | 301 E. Kansas Avenue, Lansing, KS 66043 | (913) 727-3235 | Inmate Search |
| State Prison | Norton Correctional Facility | Norton County | 11130 Road E4, Norton, KS 67654 | (785) 877-3389 | Inmate Search |
| State Prison | Larned Correctional Mental Health Facility | Pawnee County | 1318 KS Highway 264, Larned, KS 67550-0280 | (620) 285-6249 | Inmate Search |
| State Prison | Hutchinson Correctional Facility | Reno County | 500 Reformatory Street, Hutchinson, KS 67501 | (620) 662-2321 | Inmate Search |
| State Prison | Wichita Work Release Facility | Sedgwick County | 401 S. Emporia Street, Wichita, KS 67202 | (316) 265-5211 ext. 200 or ext. 232 | Inmate Search |
| State Prison | Kansas Juvenile Correctional Complex | Shawnee County | 1430 N.W. 25th Street, Topeka, KS 66618 | (785) 354-9800 | Inmate Search |
| State Prison | Topeka Correctional Facility | Shawnee County | 815 SE Rice Road, Topeka, KS 66607 | (785) 559-5002 | Inmate Search |
| Atchison County Jail Roster | Atchison County Jail | Atchison County | 518 Parallel Street, Atchison, KS 66002 | (913) 804-6080 | Jail Roster |
| Barton County Jail Roster | Barton County Detention Facility | Barton County | 1408 Kansas Avenue, Great Bend, KS 67530 | (620) 793-1876 | Jail Roster |
| Brown County Jail Roster | Brown County Jail | Brown County | 706 Utah Street, Hiawatha, KS 66434 | (785) 742-3291 | Inmate Roster |
| Butler County Jail Roster | Butler County Adult Detention Facility | Butler County | 701 Stone Road, El Dorado, KS 67042 | (316) 320-7766 | Jail Roster |
| Chase County Jail Roster | Chase County Jail | Chase County | 301 S. Walnut, Cottonwood Falls, KS 66845 | (620) 273-6313 Ext #2 | Inmate Search |
| Cherokee County Jail Roster | Cherokee County Jail | Cherokee County | 915 E Country Road, Columbus, KS 66725 | (620) 429-3897 | Inmate Roster |
| Cloud County Jail Roster | Cloud County Jail | Cloud County | 2090 Fort Kearney Road, Concordia, KS 66901 | (785) 243-8164 | Jail Roster |
| Coffey County Jail Roster | Coffey County Jail | Coffey County | 605 Neosho Street, Burlington, KS 66839 | (620) 364-3199 | Inmate Roster |
| Cowley County Jail Roster | Cowley County Jail | Cowley County | 910 Fuller Street, Winfield, KS 67156 | (620) 441-5446 | Inmate Roster |
| Crawford County Jail Roster | Crawford County Jail | Crawford County | 225 Enterprise Drive, Girard, KS 66743 | (620) 724-8274 | Inmate Search |
| Dickinson County Jail Roster | Dickinson County Jail | Dickinson County | 109 East First Street, Abilene, KS 67410 | (785) 263 – 4734 | Inmate Roster |
| Douglas County Jail Roster | Douglas County Correctional Facility | Douglas County | 3601 E 25th Street, Lawrence, KS 66046 | (785) 830-1000 | Inmate Roster |
| Ellis County Jail Roster | Ellis County Jail | Ellis County | 105 W 12th Street, Hays, KS 67601 | (785) 625-1050 | Jail Roster |
| Finney County Jail Roster | Finney County Jail | Finney County | 304 N 9th Street, Garden City, KS 67846 | (620) 272-3756 | Jail Roster |
| Franklin County Jail Roster | Franklin County Detention Center | Franklin County | 305 South Main, Ottawa, KS 66067 | (785) 229-1220 | Jail Roster |
| Geary County Jail Roster | Geary County Jail | Geary County | 826 N. Franklin, Junction City, KS 66441 | (785) 762-6583 | Jail Roster |
| Hamilton County Jail Roster | Hamilton County Jail | Hamilton County | 103 W. Avenue C, Syracuse, KS 67878 | (620) 384-5616 | Jail Roster |
| Harvey County Jail Roster | Harvey County Detention Center | Harvey County | 800 N Main Street, Newton, KS 67114 | (316) 284-6959 | Jail Roster |
| Jackson County Jail Roster | Jackson County Jail | Jackson County | 210 US Hwy 75, Holton, KS 66436 | (785) 364-4121 | Inmate Roster |
| Jefferson County Jail Roster | Jefferson County Jail | Jefferson County | 1360 Walnut, Oskaloosa, KS 66066 | (785) 863-2765 | Inmate Roster |
| Johnson County Jail Roster | Johnson County Jail | Johnson County | 27745 159th Street, New Century, KS 66031 | (913) 715-5900 | Inmate Search |
| Kingman County Jail Roster | Kingman County Jail | Kingman County | 120 N. Spruce Street, Kingman, KS 67068 | (620) 532-5133 | Jail Roster |
| Labette County Jail Roster | Labette County Jail | Labette County | 718 5th Street, Oswego, KS 67356 | (620) 795-2565 | Inmate Roster |
| Leavenworth County Jail Roster | Leavenworth County Jail | Leavenworth County | 601 S 3rd Street, Leavenworth, KS 66048 | (913) 684-0789 | Jail Roster |
| Linn County Jail Roster | Linn County Jail | Linn County | 107 S 4th Street, Mound City, KS 66056 | (913) 795-2665 | Jail Roster |
| Lyon County Jail Roster | Lyon County Jail | Lyon County | 425 Mechanic Street, Emporia, KS 66801 | (620) 341-3205 | Inmate Roster |
| Marion County Jail Roster | Marion County Jail | Marion County | 202 S. 4th Street, Marion, KS 66861 | (620) 382-2144 | Jail Roster |
| Marshall County Jail Roster | Marshall County Jail | Marshall County | 107 South 13th Street, Marysville, KS 66508 | (785) 562-3141 | Jail Roster |
| Miami County Jail Roster | Miami County Jail | Miami County | 118 S Pearl Street, Paola, KS 66071 | (913) 294-3232 | Jail Roster |
| Mitchell County Jail Roster | Mitchell County Jail | Mitchell County | 1716 N Hersey Avenue, Beloit, KS 67420 | (785) 738-3523 | Jail Roster |
| Nemaha County Jail Roster | Nemaha County Jail | Nemaha County | 212 N 6th Street, Seneca, KS 66538 | (785) 336-2311 | Jail Roster |
| Ottawa County Jail Roster | Ottawa County Detention Center | Ottawa County | 312 N Ottawa Street, Minneapolis, KS 67467 | (785) 392-3625 | Jail Roster |
| Pottawatomie County Jail Roster | Pottawatomie County Jail | Pottawatomie County | 106 N 1st street, Westmoreland, KS 66549 | (785) 457-3707 | Jail Roster |
| Pratt County Jail Roster | Pratt County Jail | Pratt County | 303 S Oak Street, Pratt, KS 67124 | (620) 672-4150 | Inmate Roster |
| Reno County Jail Roster | Reno County Jail | Reno County | 210 W. First Avenue, Hutchinson, KS 67501 | (620) 694-2741 | Inmate Search |
| Rice County Jail Roster | Rice County Detention Center | Rice County | 1442 West Commercial Avenue, Lyons, KS 67554 | (620) 257-7877 | Jail Roster |
| Rooks County Jail Roster | Rooks County Jail | Rooks County | 803 S. Elm Street, Stockton, KS 67669 | (785) 425-6312 | Inmate Roster |
| Russell County Jail Roster | Russell County Jail | Russell County | 210 E 4th Street, Russell, KS 67665 | (785) 483-2151 | Jail Roster |
| Saline County Jail Roster | Saline County Jail | Saline County | 251 N 10th Street, Salina, KS 67401 | (785) 826-6502 | Inmate Search |
| Sedgwick County Jail Roster | Sedgwick County Jail | Sedgwick County | 141 W Elm Street, Wichita, KS 67203 | (316) 660-5245 | Inmate Search |
| Seward County Jail Roster | Seward County Jail | Seward County | 501 N Washington Avenue, Liberal, KS 67901 | (620) 309-2000 | Jail Roster |
| Shawnee County Jail Roster | Shawnee County Adult Detention Center | Shawnee County | 501 SE 8th Avenue, Topeka, KS 66607 | (785) 251-6602 | Jail Roster |
| Shawnee County Jail Roster | Shawnee County Juvenile Detention Center | Shawnee County | 401 SE 8th Avenue, Topeka, KS 66607 | (785) 251-7703 | Jail Roster |
| Sherman County Jail Roster | Sherman County Jail | Sherman County | 813 Broadway Avenue, Goodland, KS 67735 | (785) 890-4835 | Inmate Roster |
| Sumner County Jail Roster | Sumner County Jail | Sumner County | 610 E Hillside Road, Wellington, KS 67152 | (620) 326-8943 | Jail Roster |
| Thomas County Jail Roster | Thomas County Jail | Thomas County | 225 N Court Avenue, Colby, KS 67701 | (785) 460-4570 | Inmate Roster |
| Trego County Jail Roster | Trego County Jail | Trego County | 525 Warren Avenue, WaKeeney, KS 67672 | (785) 743-5721 | Jail Roster |
| Washington County Jail Roster | Washington County Jail | Washington County | 301 B Street, Washington, KS 66968 | (785) 325-2293 | Jail Roster |
| Wyandotte County Jail Roster | Wyandotte County Adult Detention Center | Wyandotte County | 710 N 7th Street, Kansas City, KS 66101 | (913) 573-2865 | Inmate Search |
| Wyandotte County Jail Roster | Wyandotte County Juvenile Detention Center | Wyandotte County | 710 N 7th Street, Kansas City, KS 66101 | (913) 573-2900 | Inmate Search |
Jail Roster | Brown County Sheriff's Office Brown County Sheriff's Office Jail Roster
Roster Choose – Cherokee County Sheriff KS Cherokee County Inmate Roster
Crawford County Sheriff's Office Crawford County Sheriff's Office Detainee List
Inmate Search Dickinson County Jail Roster
Inmates in Custody Douglas County Sheriff's Office Inmate Search
Jail Division | Finney County, KS – Official Website Finney County Jail Division
Franklin County, KS – Official Website – Detention Center Franklin County Detention Center
Corrections Division | Geary County KS Sheriff Geary County Sheriff Jail Info
Graham County Jail Information Graham County Sheriff's Office
Harper County, KS – Official Website – Sheriff Harper County Sheriff's Office
Jail Roster | Jackson County Sheriff's Office of Kansas Jackson County Recent Arrests
Inmate Roster – Current Inmates Booking Date Descending – Jefferson County, Kansas Sheriff's Office Jefferson County Detainee List
Inmate Search | Johnson County Sheriff You can search here for an inmate currently in custody by entering their first and last name, then click the 'Search' button. To retrieve an inmates past booking and release information, enter the first and last name, click the 'Show Previous Booking History' button, then click the 'Search' button.
Inmate Roster – Labette County Sheriff KS Offering community resources including press releases and service information for Labette County, Kansas.
Roster Choose – Pratt County, Kansas Sheriff's Office Pratt County Inmate Search
Inmate Information | Reno County, KS – Official Website Reno County Jail Inmate Information
Current Inmates Rooks County Sheriff's Office Recent Arrests
Housed Inmates Saline County Sheriff's Office Inmates
Current Jail Inmate Search – Sedgwick County, Kansas Sheriff's Office Sedgwick County Sheriff's Office Jail Inmate Search
Inmate Search – Department of Corrections Shawnee County Department of Corrections Inmate Search
Current Inmates Sherman County Sheriff's Office Current Inmate List
Inmate Roster – Woodson County, Kansas Sheriff's Office Woodson County Sheriff's Office Inmate List
Kansas Department of Corrections KASPER – OFFENDER POPULATION SEARCH
Criminal History Record Search Online record checks is a fee based service that allows a person to perform a public record name search against the Kansas Criminal History database.
Office of Judicial Administration – Kansas District Court Records Search Kansas Court Case Search
Public Offender Registry Kansas Registered Sex Offender Search