Indiana Public Records
The State of Indiana is the sixteenth most populous U.S. State with more than 6.5 million residents. The state has long made provisions for the sharing of government records with the general public.
Indiana adopted its first public records law known as Hughes Anti-Secrecy Act in 1953, which was later replaced by the Public Records Act in 1983. The Act dictates that "any person" may access Indiana public records. The purpose for requesting for the records needs not to be stated, but there are some few restrictions on what the information can be used for. For example, lists of addresses, emails, and names cannot be disclosed for political or commercial purposes.
Records covered under the Public Records Act include those records from all the public bodies, including the legislative, judicial, and executive branches. There are records that are exempt and they include:
Trade secrets
Medical reports
Any records exempt by court order or statute
Security-related records
License examinations
Personal files
Social security numbers
Indiana Criminal Records
The Indiana State Police is responsible for conducting background checks in Indiana. Anyone can request a Limited Criminal History report on any person through an online system. The online system will provide a report that includes a list of arrests less than one year old and convictions older than a year. In case the request is for a government position or licensing, the background check will be performed through that particular agency and the exercise will be a fingerprint-based check. Any employer who wants to apply for a criminal background check is required to obtain a signed authorization form from the person applying for the job.
Arrest records and jail and inmate records are made available to the public. To gain any information regarding offenders in Indiana and to obtain more about services for victims, just visit the website of the Indiana Department of Corrections. If you wish to locate any offender, you may search on the Indiana Department of Corrections website by a First and Last Name or by an Offender Number. You will get information on the current location, earliest possible release date, and conviction of the offender.
Indiana Court Records
Any information on courts and court records in the state of Indiana is available at the website of the administrator of the courts. The website provides two sites where you can search the court records. One site is for appeals courts and another is for trial courts. Official copies of court files are only requested from the courthouse where the cases were heard.
Indiana Vital Records
The state Department of Health has the responsibility to maintain Indiana Vital Records. You can request for a birth or death certificate online through VitalCheck.com or Indiana.gov online. You can also request for these certificates in person by visiting the appropriate local health department. Alternatively, you can make your request by mail through downloading and submitting a complete form with the required documents at Vital Records, Indiana State Department of Health, PO Box 7125, Indianapolis, IN 46206-7125.
Birth records: Birth certificates are accessible from October 1907 to date, while death certificates are available from 1900 to present.
Birth records: Death certificates in Indiana are accessible from 1900 to present. Access to death certificates is limited to those people who are considered to have a legal or personal financial interest in the records.
Marriage records: You can obtain marriage certificates from the county in which the event took place. Divorce certificates are also available at the county in which the final decree was made.
Divorce records: Divorce certificates in Indiana are available at the county where the final decree was made. Some counties started keeping divorce records earlier than others.
The state of Indiana is one of the earliest adopters of public records law in the U.S. and you should not have any difficulty accessing most of the records in the state.
Indiana State Court System
Understanding how the system of Indiana state court works is very important as it helps you find court records easily.
Indiana Courts Overview
The trial court system of Indiana State consists of St. Joseph County Probate Court, Marion County Small Claims Courts, Tax Court, City and Town Courts, Superior Courts, and Circuit Courts.
To make your work easier, start searching for court records in Indiana by simply going to courts by county.
Indiana Circuit Courts
Indiana Circuit Courts have original and general jurisdiction over all criminal and civil cases, but typically handle on those cases that other courts have no jurisdiction to handle.
Civil cases that Circuit courts hear include general civil claims that are beyond the capacity or jurisdiction of other courts. In counties where Superior Courts are not available, Circuit Courts handle even small claim cases, with an exception of Marion County where there is Small Claims Court in every township.
Criminal cases that Circuit Courts handle include all types of lesser included offenses and felonies. They also handle ordinance violations and misdemeanors in counties where Superior Courts are not available.
These courts hear the majority domestic relations cases, including domestic violence protection orders, paternity, child custody, child support, and divorce. Circuit Courts share some jurisdiction over juvenile cases with Superior Courts. Such juvenile cases include termination of parental rights, child abuse and neglect, and juvenile delinquency. These courts also handle majority of juvenile matters.
They also share jurisdiction over probate matters and mental health cases with Superior Courts.
Indian Superior Courts
Indian Superior Courts have general jurisdiction over most criminal and civil cases, but jurisdiction generally varies by county. They may have specialized divisions including Family, Civil, and Criminal.
Criminal cases that Superior Courts handle include misdemeanors and felonies. Civil cases include the general civil claims. Other than in Marion County where Small Claims Courts are in every township, Superior Courts also hear small claims cases.
Indiana City and Town Courts
These courts have exclusive jurisdiction over all town or city ordinance violations, some misdemeanor criminal cases, and infractions. These courts are not allowed to handle certain types of cases, including injunctive relief, dissolution of marriage, equity, most probate matters, libel, slander, and other cases involving title or real estate.
Marion County Small Claims Courts
Every Township of Marion County has its own Small Claims Court with exclusive jurisdiction to handle most civil cases with less than $6,000 disputed amount, including landlord-tenant cases.
Indiana Tax Court
It operates outside the central office in Indianapolis and handles statewide cases. The Indiana Tax Court has limited jurisdiction over most cases related to tax laws. The cases include appeals of the tax decisions that other various state agencies have made.
St. Joseph County Probate Court
This court shares jurisdiction with Superior Court and Circuit Court over states, trust administration and protected persons. Besides, the Indian St. Joseph County Probate Court has limited jurisdiction over child protection, juvenile delinquency, adoptions and paternity cases.
Indiana St. Joseph County Probate Court
St. Joseph County has a separate Probate Court that shares jurisdiction with Circuit Court and Superior Court over estates, protected persons and trust administration.
The St. Joseph County Probate Court also has exclusive jurisdiction over adoptions, juvenile delinquency, child protection and paternity cases.
Indiana Crime Statistics
Violent & Property Crime Rates in Indiana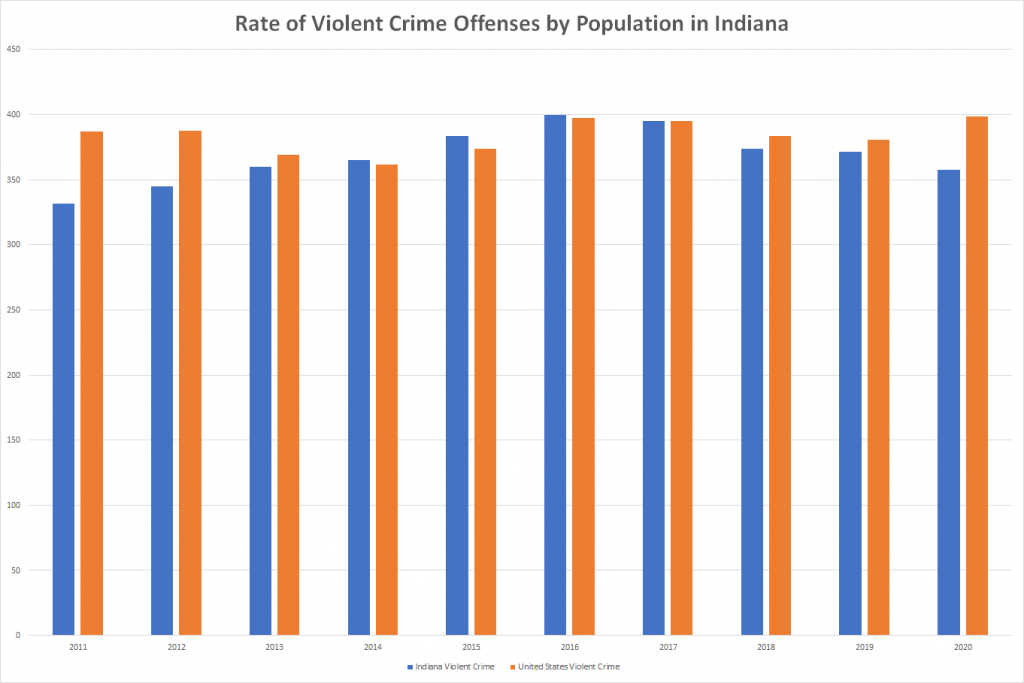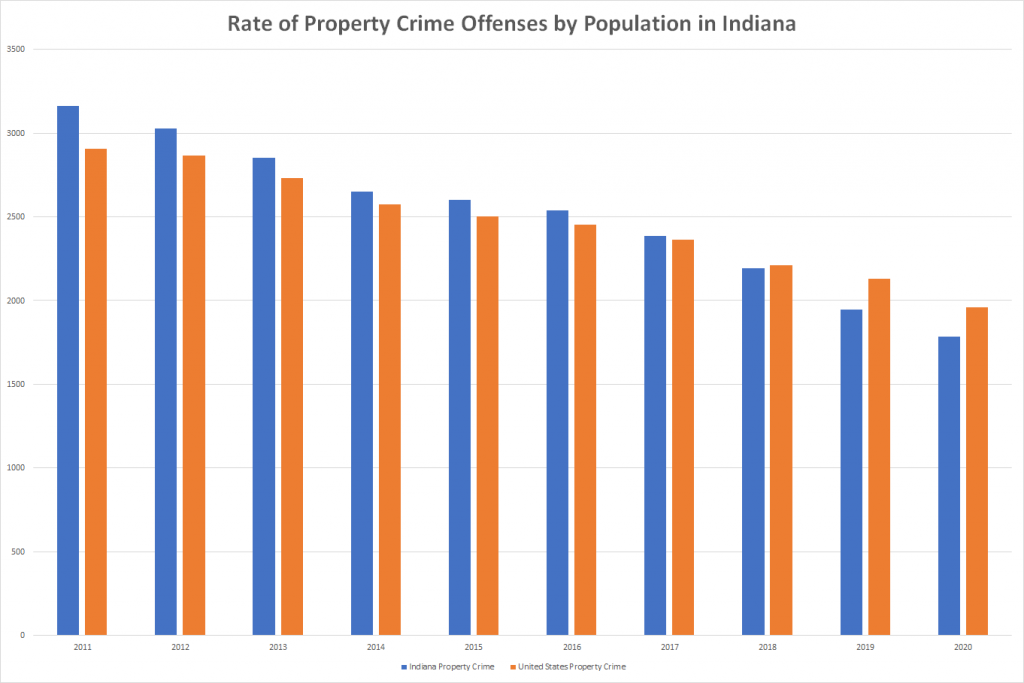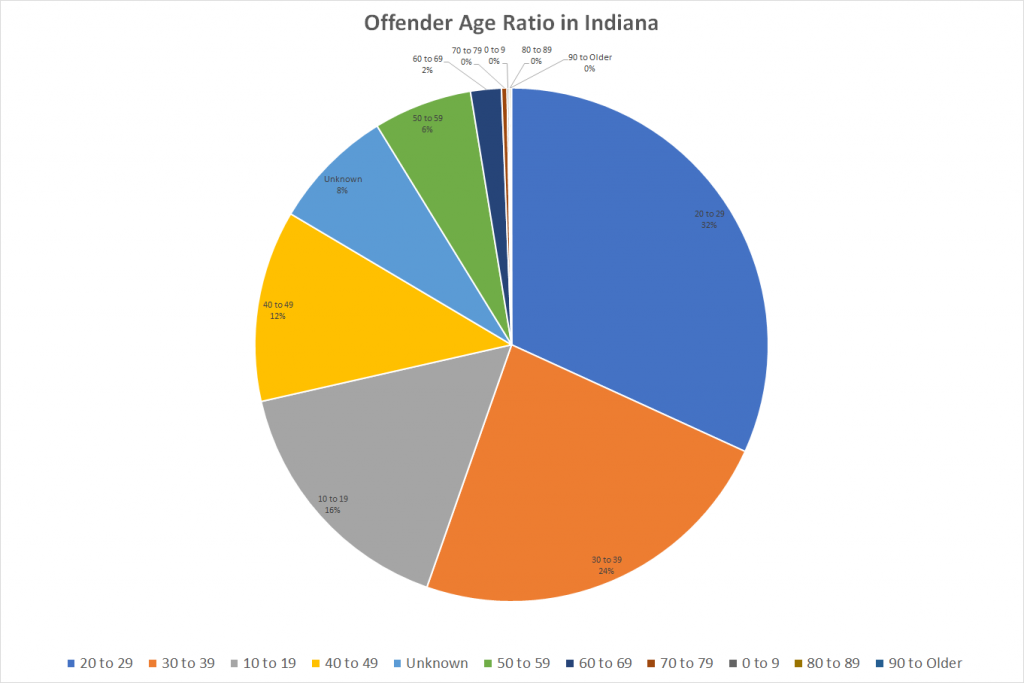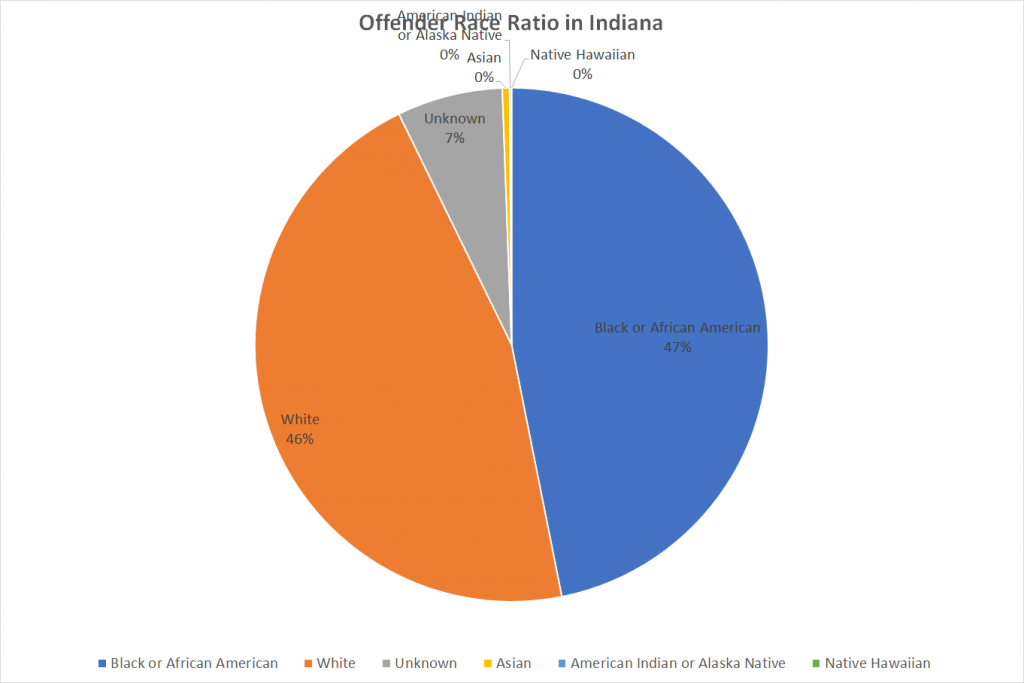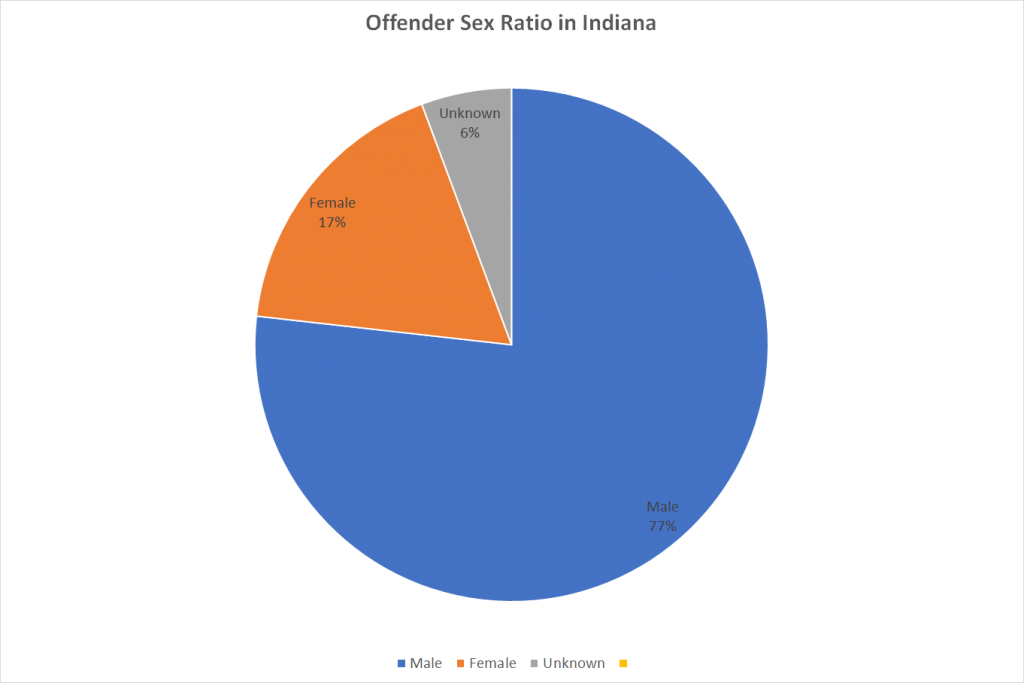 Arrests Offense in Indiana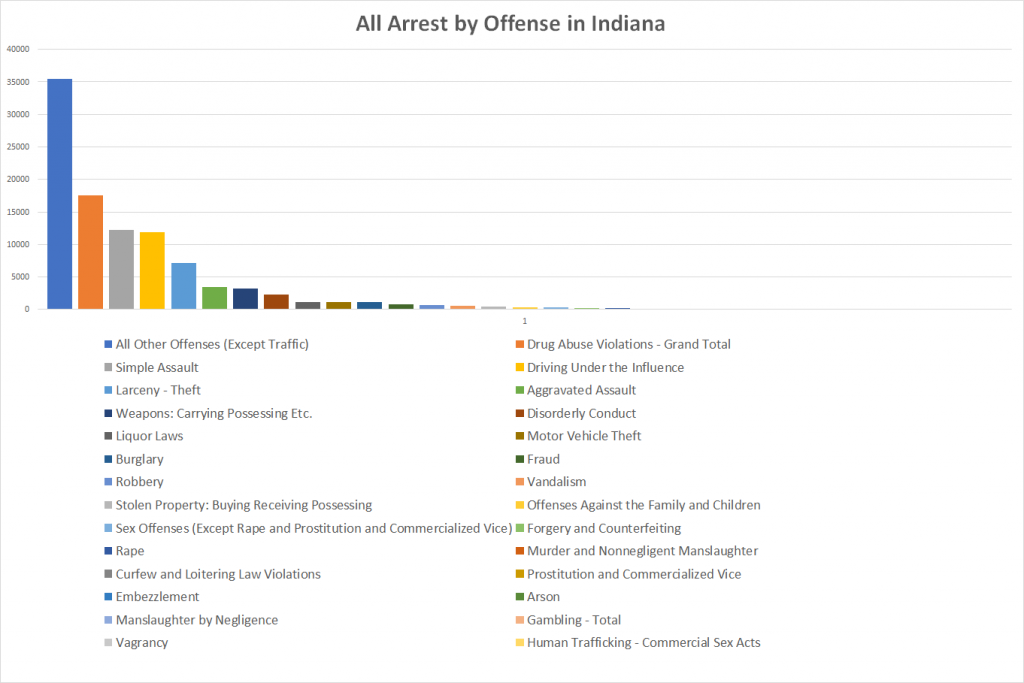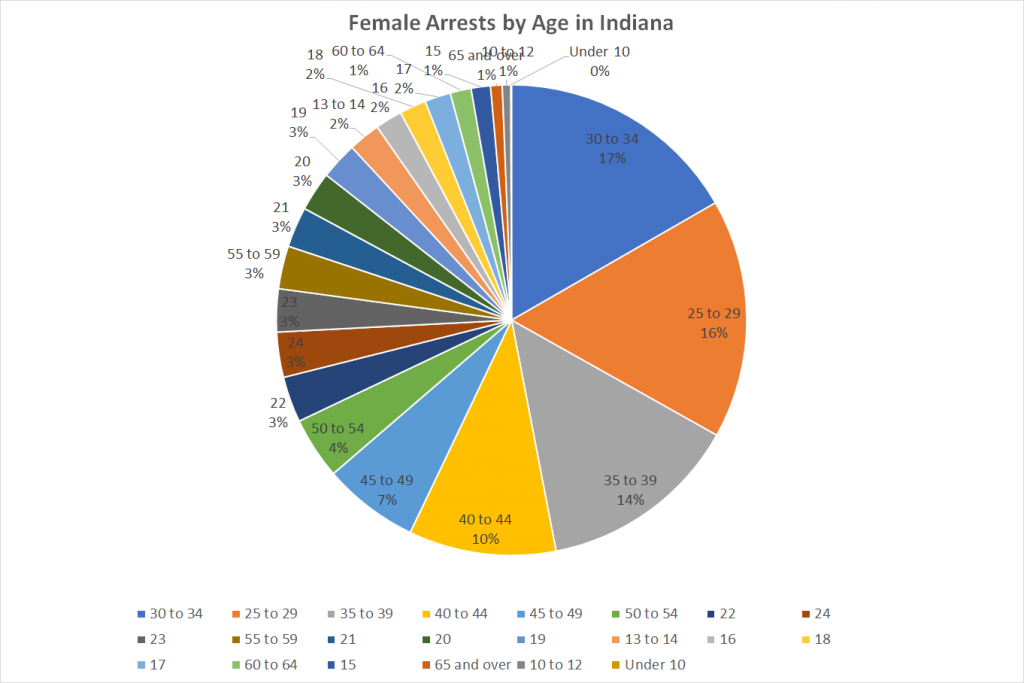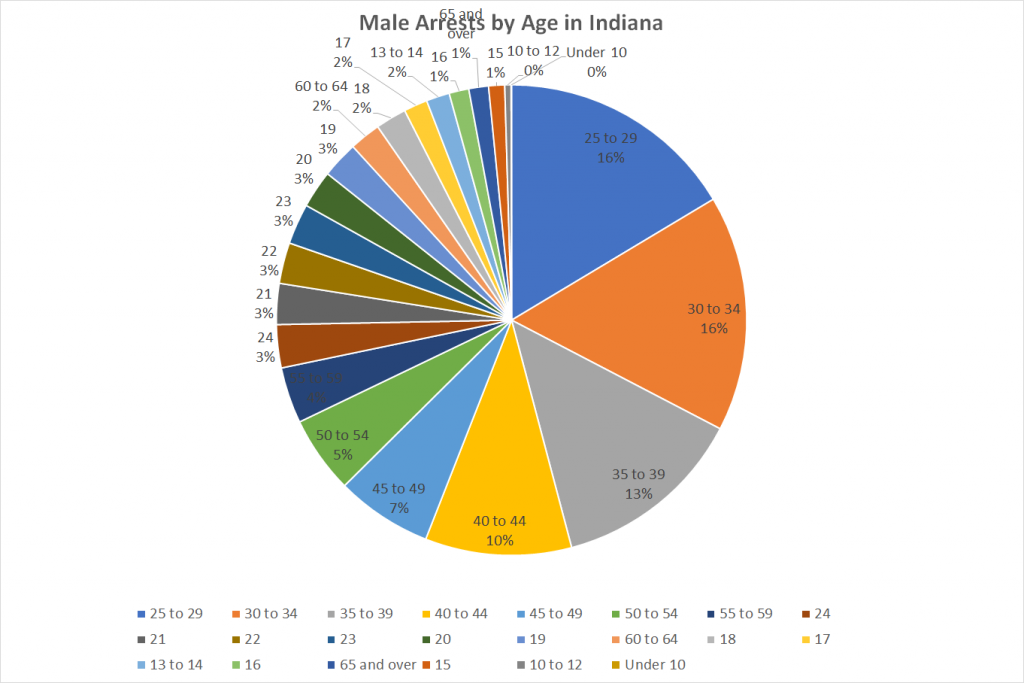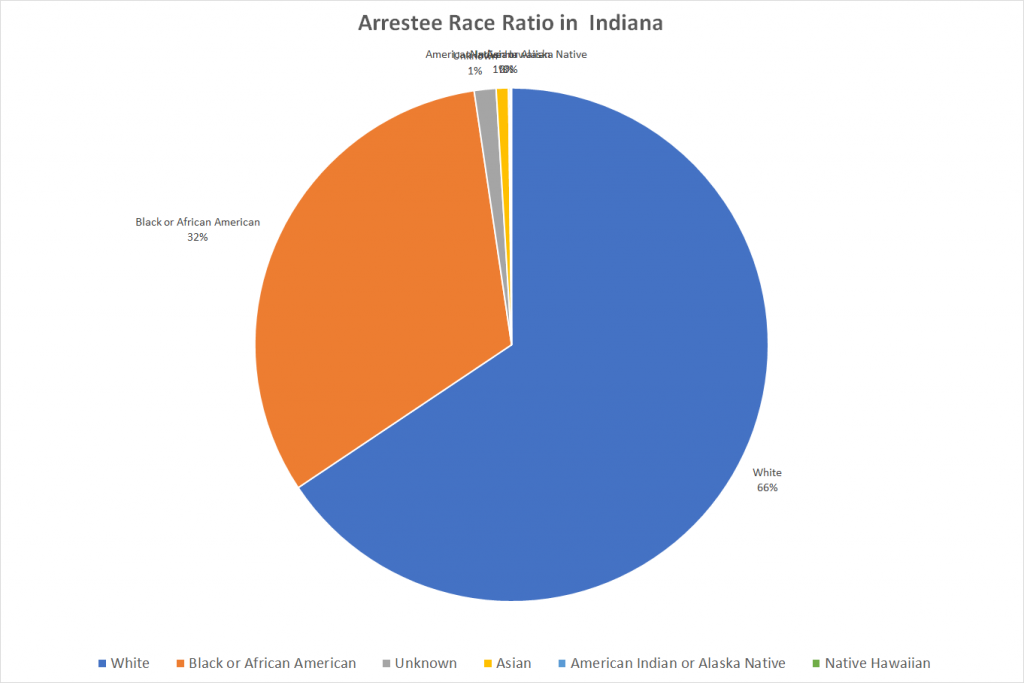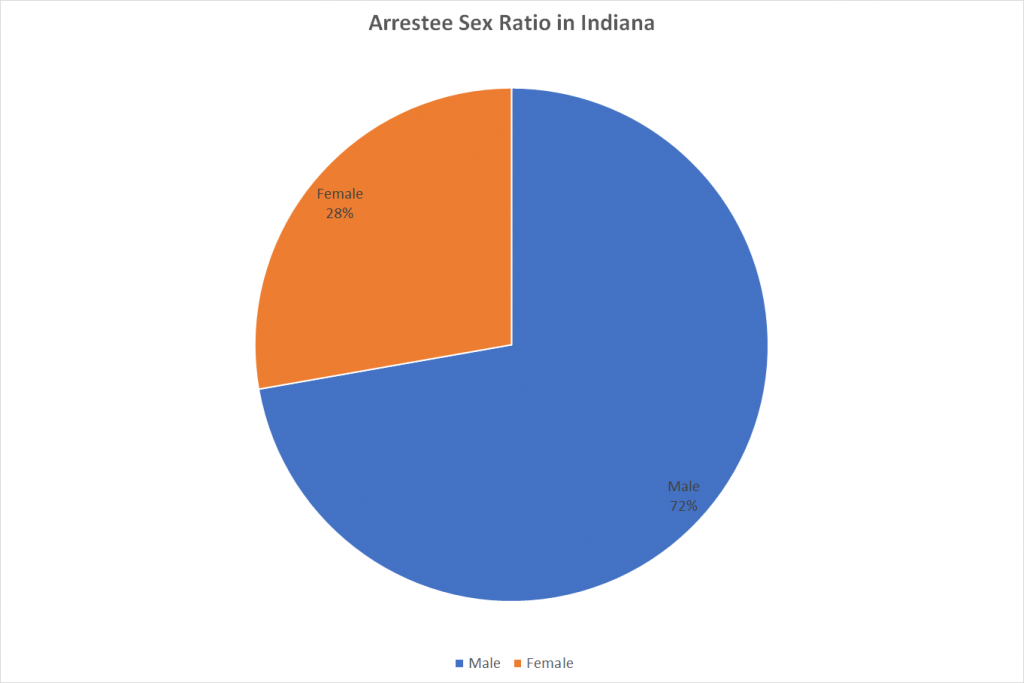 The latest data is from 2021. References: https://cde.ucr.cjis.gov/LATEST/webapp/#/pages/home
The Official Website of Indiana County
Lafayette Lafayette, IN – Official Website
Muncie City of Muncie Indiana
Terre Haute Welcome to the City of Terre Haute — City of Terre Haute Government
Kokomo Welcome to Kokomo, Indiana
Noblesville City of Noblesville, Indiana The official government website of city of noblesville, Indiana.
Anderson Anderson, IN – Official Website
Marion County City of Indianapolis and Marion County
Lake County .:: Lake County Indiana ::.
Allen County Allen County Official site government site. Features county services, departments, officials and includes event calendar and community links.
Hamilton County Hamilton County, IN | Official Website
St. Joseph County St. Joseph County, IN | Official Website
Elkhart County Home – Elkhart County
Tippecanoe County Tippecanoe County, IN | Official Website
Porter County Porter County, IN – Official Website
Hendricks County Home / Hendricks County, IN The official website of Hendricks County, Indiana
Johnson County WELCOME TO JOHNSON COUNTY
Monroe County Monroe County, IN The official website of Monroe County, Indiana
Madison County Welcome to Madison County, Indiana
Delaware County Delaware County, IN / Home The official website of Delaware County, Indiana
LaPorte County LaPorte County Online Government
Vigo County Vigo County, Indiana The Official Government Website of Vigo County, Indiana. The Vigo County Government website has been designed to provide citizens easy access to government information and online services.
Clark County Clark County Indiana Community Portal Clark County Indiana Community Portal
Howard County Howard County Indiana Government Howard County Indiana is a thriving community with robust business and agriculture sectors. Our quality of life is unmatched. Our culture reflects our values.
Floyd County Floyd County Indiana Government Floyd County Indiana Government
Kosciusko County Kosciusko County, IN The official website of the Kosciusko County, Indiana Government
Kosciusko County Kosciusko County, IN The official website of the Kosciusko County, Indiana Government
Bartholomew County Official website of the Bartholomew County, Indiana Government. United States of America
Wayne County Wayne County Indiana Government Home Page Official Classic Website for Wayne County Indiana Government
Grant County Grant County Indiana Home Grant County Indiana Home
Morgan County Morgan County Indiana – Morgan County Indiana
Warrick County Warrick County
Boone County Boone County
Dearborn County Dearborn County, Indiana The official website of Dearborn County, Indiana
Henry County Henry County, Indiana – Welcome to Henry County, Indiana
Noble County Noble County, Indiana
Lawrence County Limestone County – Visit Lawrence County
Marshall County Marshall County, IN The official website of the Marshall County, Indiana Government
Shelby County Shelby County Government
Jackson County Welcome to Jackson County
Cass County Cass County | Government Information The Cass county Government is here to protect and serve the citizens of Cass County. Find out about county planning, departments, and services for residents
Indiana Jail Roster
| Type | Name | County | Inmate Locator | Phone Number | Inmate Search |
| --- | --- | --- | --- | --- | --- |
| Federal Prison | Terre Haute Federal Correctional Institution | Vigo County | 4200 Bureau Road N, Terre Haute, IN 47808 | (812) 238-1531 | Federal Inmate Locator |
| Federal Prison | Terre Haute United States Penitentiary | Vigo County | 4700 Bureau Road S, Terre Haute, IN 47802 | (812) 244-4400 | Federal Inmate Locator |
| State Prison | Logansport Juvenile Correctional Facility Intake Unit | Cass County | 1118 South State Road 25, Logansport, IN 46947 | (574)753-5549 | Inmate Search |
| State Prison | Logansport Juvenile Correctional Facility Treatment Unit | Cass County | 1118 South State Road 25, Logansport, IN 46947 | (574) 753-7571 | Inmate Search |
| State Prison | Heritage Trail Correctional Facility | Hendricks County | 501 W. Main Street, Plainfield, IN 46168 | (317) 839-7751 | Inmate Search |
| State Prison | Plainfield Correctional Facility | Hendricks County | 727 Moon Road, Plainfield, IN 46168 | (317) 839-2513 | Inmate Search |
| State Prison | Reception Diagnostic Center | Hendricks County | 737 Moon Road, Plainfield, IN 46168 | (317) 839-7727 | Inmate Search |
| State Prison | New Castle Correctional Facility | Henry County | 1000 Van Nuys Road, New Castle, IN 47362 | (765) 593-0111 | Inmate Search |
| State Prison | Madison Correctional Facility | Jefferson County | 800 MSH Bus Stop Drive, Madison, IN 47250 | (812) 265-6154 | Inmate Search |
| State Prison | Madison Juvenile Correctional Facility | Jefferson County | 1130 MSH 4th Street, Madison, IN 47250 | (812) 265-6154 | Inmate Search |
| State Prison | Edinburgh Correctional Facility | Johnson County | 23rd & Schoolhouse Road, Edinburgh, IN 46124 | (812) 526-8434 | Inmate Search |
| State Prison | Camp Summit Boot Camp | LaPorte County | 2407 N. 500 W, LaPorte, IN 46350 | (219) 326-1188 | Inmate Search |
| State Prison | Indiana State Prison | LaPorte County | 1 Park Row, Michigan City, IN 46360 | (219) 874-7258 | Inmate Search |
| State Prison | Westville Correctional Facility | LaPorte County | 5501 South 1100 West, Westville, IN 46391 | (219) 785-2511 | Inmate Search |
| State Prison | Correctional Industrial Facility | Madison County | 5124 W. Reformatory Road, Pendleton, IN 46064 | (765) 778-8011 | Inmate Search |
| State Prison | Pendleton Correctional Facility | Madison County | 4490 W. Reformatory Road, Pendleton, IN 46064-9001 | (765) 778-2107 | Inmate Search |
| State Prison | Pendleton Juvenile Correctional Facility | Madison County | 9310 South State Road 67, Pendleton, IN 46064 | (765) 778-3778 | Inmate Search |
| State Prison | Indianapolis Re-entry Educational Facility | Marion County | 401 North Randolph Street, Indianapolis, IN 46201 | (317) 639-2671 | Inmate Search |
| State Prison | Indiana Women's Prison | Marion County | 2596 Girl's School Road, Indianapolis, IN 46214 | (317) 244-3387 | Inmate Search |
| State Prison | Miami Correctional Facility | Miami County | 3038 West 850 South, Bunker Hill, IN 46914-9810 | (765) 689-8920 | Inmate Search |
| State Prison | Chain O' Lakes Correctional Facility | Noble County | 3516 E 75 South, Albion, IN 46701 | (260) 636-3114 | Inmate Search |
| State Prison | Rockville Correctional Facility | Parke County | 811 W. 50 N, Rockville, IN 47872 | (765) 569-3178 | Inmate Search |
| State Prison | Branchville Correctional Facility | Perry County | 21390 Old State Road 37, Branchville, IN 47514 | (812) 843-5921 | Inmate Search |
| State Prison | Putnamville Correctional Facility | Putnam County | 1946 West U.S. Hwy 40, Greencastle, IN 46135 | (765) 653-8441 | Inmate Search |
| State Prison | South Bend Community Re-Entry Center | St. Joseph County | 4650 Old Cleveland Road, South Bend, IN 46628 | (574) 234-4094 | Inmate Search |
| State Prison | Wabash Valley Correctional Facility | Sullivan County | 6908 S. Old U.S. Highway 41, Carlisle, IN 47838 | (812) 398-5050 | Inmate Search |
| Adams County Jail Roster | Adams County Jail | Adams County | 313 S 1st Street, Decatur, IN 46733 | (260) 724-5345 | Jail Roster |
| Allen County Jail Roster | Allen County Jail | Allen County | 417 S Calhoun Street, Fort Wayne, IN 46802 | (260) 449-7107 | Jail Roster |
| Bartholomew County Jail Roster | Bartholomew County Jail | Bartholomew County | 543 2nd Street, Columbus, IN 47201 | (812) 379-1753 | Jail Roster |
| Benton County Jail Roster | Benton County Jail | Benton County | 105 S Lincoln Avenue, Fowler, IN 47944 | (765) 884-0080 opt. 2 | Jail Roster |
| Blackford County Jail Roster | Blackford County Jail | Blackford County | 0064 N 500 E, Hartford City, IN 47348 | (765) 348-0930 ext. 3211 | Jail Roster |
| Boone County Jail Roster | Boone County Jail | Boone County | 1905 Indianapolis Avenue, Lebanon, IN 46052 | (765) 482-1412 | Inmate Search |
| Brown County Jail Roster | Brown County Jail | Brown County | 55 State Road 46 East Nashville, IN 47448 | (812) 988-6655 | Jail Roster |
| Carroll County Jail Roster | Carroll County Jail | Carroll County | 310 W. Main Street, Delphi, IN 46923 | (765) 564-2413 ext. 2 | Jail Roster |
| Cass County Jail Roster | Cass County Jail | Cass County | 100 Court Park, Logansport, IN 46947 | (574) 753-7800 | Jail Roster |
| Clark County Jail Roster | Michael L. Becher Adult Correctional Complex | Clark County | 501 East Court Avenue, Jeffersonville, IN 47130 | (812) 283-4471 | Inmate Search |
| Clinton County Jail Roster | Clinton County Jail | Clinton County | 301 E Walnut Street, Frankfort, IN 46041 | (765) 659-6333 | Inmate Search |
| Daviess County Jail Roster | Daviess County Jail | Daviess County | 101 NE 4th Street, Washington, IN 47501 | (812) 254-5974 | Jail Roster |
| Dearborn County Jail Roster | Dearborn County Jail | Dearborn County | 301 W High Street, Lawrenceburg, IN 47025 | (812) 537-8700 | Inmate Search |
| Decatur County Jail Roster | Decatur County Jail | Decatur County | 119 East Railroad Street, Greensburg, IN 47240 | (812) 222-5246 | Jail Roster |
| DeKalb County Jail Roster | DeKalb County Jail | DeKalb County | 100 S Main Street, Auburn, IN 46706 | (260) 333-0701 | Jail Roster |
| Delaware County Jail Roster | Delaware County Jail | Delaware County | 100 W Washington Street, Muncie, IN 47305 | (765) 747-7870 | Inmate Search |
| Dubois County Jail Roster | Dubois County Jail | Dubois County | 255 Brucke Strasse, Jasper, IN 47546 | (812) 482-3522 | Inmate Search |
| Elkhart County Jail Roster | Elkhart County Jail | Elkhart County | 26861 County Road 26, Elkhart, IN 46517 | (574) 891-2100 | Inmate Search |
| Floyd County Jail Roster | Floyd County Jail | Floyd County | 311 Hauss Square, New Albany, IN 47150 | (812) 948-5404 | Jail Roster |
| Fulton County Jail Roster | Fulton County Jail | Fulton County | 815 Madison Street, Rochester, IN 46975 | (574) 224-5630 | Inmate Roster |
| Gibson County Jail Roster | Gibson County Jail | Gibson County | 112 E Emerson, Princeton, IN ?????47670 | (812) 385-2018 | Jail Roster |
| Grant County Jail Roster | Grant County Jail | Grant County | 214 East Fourth Street, Marion, IN 46952 | (765) 662-9836 | Inmate Roster |
| Greene County Jail Roster | Greene County Jail | Greene County | 204 County Road 70 E, Bloomfield, IN 47424 | (812) 384-4411 Press 4 | Jail Roster |
| Hamilton County Jail Roster | Hamilton County Jail | Hamilton County | 18102 Cumberland Road, Noblesville, IN 46060 | (317) 776-9800 | Inmate Search |
| Hancock County Jail Roster | Hancock County Jail | Hancock County | 123 E Main Street, Greenfield, IN 46140 | (317) 477-1158 | Inmate Search |
| Harrison County Jail Roster | Harrison County Jail | Harrison County | 1445 Gardner Lane NW #100, Corydon, IN 47112 | (812) 738-2195 | Jail Roster |
| Hendricks County Jail Roster | Hendricks County Jail | Hendricks County | 925 E Main Street, Danville, IN 46122 | (317) 745-9332 | Inmate Search |
| Henry County Jail Roster | Henry County Jail | Henry County | 127 N 12th Street, New Castle, IN 47362 | (765) 521-7032 | Jail Roster |
| Howard County Jail Roster | Howard County Jail | Howard County | 1800 W Markland Avenue, Kokomo, IN 46901 | (765) 456-2020 | Inmate Search |
| Huntington County Jail Roster | Huntington County Jail | Huntington County | 332 E State Street, Huntington, IN 46750 | (260) 356-3110 | Jail Roster |
| Jackson County Jail Roster | Jackson County Jail | Jackson County | 150 East SR 250, Brownstown, IN 47220 | (812) 358-1982 | Inmate Roster |
| Jasper County Jail Roster | Jasper County Detention Center | Jasper County | 2171 N McKinley Avenue, Rensselaer, IN 47978 | (219) 866-4993 | Jail Roster |
| Jefferson County Jail Roster | Jefferson County Jail | Jefferson County | 317 South Walnut Street, Madison, IN 47350 | (812) 265-2648 | Jail Roster |
| Johnson County Jail Roster | Johnson County Jail | Johnson County | 1091 Hospital Road, Franklin, IN 46131 | (317) 346-4716 | Jail Roster |
| Knox County Jail Roster | Knox County Jail | Knox County | 2375 S. Old Decker Road, Vincennes, IN 47591 | (812) 882-7660 | Jail Roster |
| Kosciusko County Jail Roster | Kosciusko County Jail | Kosciusko County | 221 W Main Street, Warsaw, IN 46580 | (574) 267-5667 | Inmate Search |
| LaGrange County Jail Roster | LaGrange County Jail | LaGrange County | 0875 S SR 9, LaGrange, IN 46761 | (260) 463-4734 | Jail Roster |
| Lake County Jail Roster | Lake County Jail | Lake County | 2293 N. Main Street, Crown Point, IN 46307-1854 | (219)648-6300 | Jail Roster |
| LaPorte County Jail Roster | LaPorte County Jail | LaPorte County | 809 State Street, La Porte, IN 46350 | (219) 326-7700 ext. 2283 | Inmate Search |
| Lawrence County Jail Roster | Lawrence County Jail | Lawrence County | 1420 I Street, Bedford, IN 47421 | (812) 277-2014 | Jail Roster |
| Madison County Jail Roster | Madison County Jail | Madison County | 720 Central Avenue, Anderson, IN 46016 | (765) 646-9285 | Inmate Search |
| Marion County Jail Roster | Marion County Jail | Marion County | 40 S. Alabama Street, Indianapolis, IN 46204 | (317) 327-1574 | Inmate Search |
| Martin County Jail Roster | Martin County Jail | Martin County | 318 Capital Avenue, Shoals, IN 47581 | (812) 247-3726 | Jail Roster |
| Miami County Jail Roster | Miami County Jail | Miami County | 1104 W 200 N, Peru, IN 46970 | (765) 472-1322 | Jail Roster |
| Monroe County Jail Roster | Monroe County Correctional Center | Monroe County | 301 N. College Avenue, Bloomington, IN 47404 | (812) 349-2750 | Jail Roster |
| Montgomery County Jail Roster | Montgomery County Jail | Montgomery County | 600 Memorial Drive, Crawfordsville, IN 47933 | (765) 362-3740 | Inmate Search |
| Morgan County Jail Roster | Morgan County Jail | Morgan County | 160 N. Park Avenue, Martinsville, IN 46151 | (765) 342-4303 | Inmate Roster |
| Newton County Jail Roster | Newton County Jail | Newton County | 304 E Seymour Street, Kentland, IN 47951 | (219) 474-3999 | Jail Roster |
| Noble County Jail Roster | Noble County Jail | Noble County | 210 S 7th Street, Albion, IN 46701 | (260) 636-6404 | Jail Roster |
| Owen County Jail Roster | Owen County Jail | Owen County | 291 Vandalia Avenue, Spencer, IN 47460 | (812) 829-4874 | Jail Roster |
| Parke County Jail Roster | Parke County Jail | Parke County | 458 W. Strawberry Road, Rockville, IN 47872 | (765) 569-5413 | Jail Roster |
| Perry County Jail Roster | Perry County Jail | Perry County | 2211 Herrman Street, Tell City, IN 47586 | (812) 547-2441 | Inmate Roster |
| Porter County Jail Roster | Porter County Jail | Porter County | 2755 State Road 49, Valparaiso IN 46383 | (219) 477-3050 | Inmate Search |
| Putnam County Jail Roster | Putnam County Jail | Putnam County | 3 Keightly Road, Greencastle, IN 46135 | (765) 653-1810 | Jail Roster |
| Randolph County Jail Roster | Randolph County Jail | Randolph County | 155 E South Street, Winchester, IN 47394 | (765) 584-1721 | Inmate Search |
| Ripley County Jail Roster | Ripley County Jail | Ripley County | 210 N Monroe Street, Versailles, IN 47042 | (812) 689-3437 | Inmate Roster |
| St. Joseph County Jail Roster | St. Joseph County Jail | St. Joseph County | 401 W Sample Street, South Bend, IN 46601 | (574) 245-6501 | Inmate Search |
| Scott County Jail Roster | Scott County Jail | Scott County | 111 S 1st Street, Scottsburg, IN 47170 | (812) 752-8400 | Inmate Roster |
| Shelby County Jail Roster | Shelby County Jail | Shelby County | 107 W Taylor Street, Shelbyville, IN 46176 | (317) 392-6345 | Inmate Search |
| Spencer County Jail Roster | Spencer County Jail | Spencer County | 120 N 2nd Street, Rockport, IN 47635 | (812) 649-2286 | Jail Roster |
| Starke County Jail Roster | Starke County Jail | Starke County | 5435 E State Road 8, Knox, IN 46534 | (574) 772-3771 | Inmate Roster |
| Steuben County Jail Roster | Steuben County Jail | Steuben County | 206 E Gale Street, Angola, IN 46703 | (260) 668-1000 | Jail Roster |
| Switzerland County Jail Roster | Switzerland County Jail | Switzerland County | 405 Liberty Street, Vevay, IN 47043 | (812) 427-2057 | Jail Roster |
| Tippecanoe County Jail Roster | Tippecanoe County Jail | Tippecanoe County | 2640 Duncan Road, Lafayette, IN 47904 | (765) 423-9388 | Inmate Roster |
| Union County Jail Roster | Union County Jail | Union County | 106 East Union Street, Liberty, IN 47353 | (765) 458-5194 | Jail Roster |
| Vanderburgh County Jail Roster | Vanderburgh County Jail | Vanderburgh County | 3500 N Harlan Avenue, Evansville, IN 47711 | (812) 421-6200 | Inmate Search |
| Vermillion County Jail Roster | Vermillion County Jail | Vermillion County | 1888 S. State Road 63, Hillsdale, IN 47854 | (765) 492-3838 | Jail Roster |
| Vigo County Jail Roster | Vigo County Jail | Vigo County | 201 Cherry Street, Terre Haute, IN 47807 | (812) 462-3224 | Inmate Search |
| Warren County Jail Roster | Warren County Jail | Warren County | 29 E 2nd Street, Williamsport, IN 47993 | (765) 764-4367 | Jail Roster |
| Warrick County Jail Roster | Warrick County Jail | Warrick County | 100 W S.R. 62, Boonville, IN 47601 | (812) 897-6096 | Jail Roster |
| Wayne County Jail Roster | Wayne County Jail | Wayne County | 200 E Main Street, Richmond, IN 47374 | (765) 973-9393 | Inmate Search |
| Wells County Jail Roster | Wells County Jail | Wells County | 1615 Western Avenue, Bluffton, IN 46714 | (260) 824-3426 | Jail Roster |
| White County Jail Roster | White County Jail | White County | 915 Hanawalt Street, Monticello, IN 47960 | (574) 583-2251 | Jail Roster |
| Whitley County Jail Roster | Whitley County Jail | Whitley County | 101 W Market Street, Columbia City, IN 46725 | (260) 244-7119 | Inmate Search |
| Sheriff's Dept | Pulaski County Sheriff's Office | Pulaski County | 110 East Meridian Street, Winamac, IN 46996 | (574) 946-6655 | Inmate Roster |
Jail & Work Release | Allen County Sheriff's Department The mission of the Allen County Sheriff's Department is to enhance the quality of life for the citizens of Allen County by professionally working in partnership to provide safety, security and service to the community.
Jail Division – Carroll County Sheriff's Office | Delphi, IN Carroll County Sheriff's Office
:: Clark County Sheriff :: Clark County Sheriff's Department Inmate Information Search
Clinton County Indiana Sheriff Inmate Lookup Clinton County Sheriff's Department Inmate Search
Daviess County, Indiana / Jail Command Daviess County Security Center
Inmate Lookup – Elkhart County Sheriff's Office Elkhart?County Sheriff's Department Inmate Lookup
Inmate Information & Services – Floyd County Sheriff's Department Floyd County Sheriff's Department Inmate Information
Grant County Jail Grant County Jail Inmate Search
Active Inmates – Sheriff – Hancock County Sheriff's Office Hancock County Sheriff's Department
Inmate Lookup Hendricks County Jail Inmate Lookup
Inmate & Case Lookup / Danville, IN Town of Danville Inmate & Case Lookup
Jail Henry County Jail Inmate Search
Howard County Indiana Corrections Division The Howard County Sheriff's Department Corrections Division has included information for the public regarding inmate visitation, commissary accts and medical.
Jail / Huntington County, Indiana Huntington County Jail
Roster Choose – Jackson County IN Sheriff Jackson County Sheriff's Office Inmate Search
Jail Division Jail Division – Johnson County Indiana Sheriff's Office
Inmate Information / Kosciusko County, IN Kosciusko County Sheriff's Department Jail Division
Lawrence County Indiana – Justice – Sheriff Lawrence County Sheriff Inmate Information
Inmate Lookup Tool Indianapolis Inmate Lookup
Monroe County Sheriff's Office Monroe County Sheriff's Department Inmate Information
Inmate Roster – Current Inmates Booking Date Descending – Morgan County Sheriff MO Morgan County Sheriff's Office Inmate Search
Welcome to the Putnam County Sheriff's webpage Putnam County Sheriff's Department
Review Recent Arrests | Randolph County Arrested persons are innocent until proven guilty in a court of law.
Roster Choose – Scott County Sheriff – Scottsburg, IN Scott County Sheriff Inmate Roster
St. Joseph County Police Department | St. Joseph County, IN St. Joseph County Police Department Inmate Search
Inmate Roster – Current Inmates Booking Date Descending – Morgan County Sheriff MO Starke County Inmate Roster
Vanderburgh County Sheriff's Office | Areas | Jail | Inmate Lookup Vanderburgh County Sheriff's Office Inmate Lookup
Warrick County Sheriff's Office (Jail) The Warrick County Security Center, also known as the jail, houses State, County and Local inmates. If an individual is arrested for an offense occuring in Warrick County, the subject will be transported to the Security Center and housed until he/she has either bonded out or made an initial court appearance.
Inmates Wayne County Sheriff's Office Inmate Roster
Sheriff Jail Information – Wells County, Indiana Wells County Sheriff Jail & Inmate Information
Indiana Offender Database Search http://www.in.gov/apps/indcorrection/ofs/ofs
Indiana Criminal Background Check
Case Search – MyCase Indiana Office of Judicial Administration – Public Access
Indiana Sex and Violent Offender Registry Indiana Sex Offender Registry