Idaho Public Records
The Transparent Idaho policies give members of the public the statutory right to obtain public records. You can get more information about this law by getting the relevant manual from the Idaho Attorney General's office.
The Idaho Public Records Law Manual states that the main purpose of the Idaho public records law should be to give the general public the ability to access all the records that the government agencies both at the local and state levels maintain. "Public record" is defined as the information that includes, but not limited to, the writing that comprises information that has been prepared, utilized, kept, or owned by a local or state agency and an independent corporate or political public body. Such writing may be in the form of a typed or a handwritten document. It might also be viewed through computer media, magnetic or punched cards, pictures, tapes, or cards.
The records that would generally disclose sensitive information are not covered in the Idaho Public Records Law. These records include more than 75 exemptions. Most of these exemptions include records of investigations, juvenile records, specific information related to law enforcement agencies.
Idaho Criminal Records
The responsibility of maintaining criminal history records in Idaho rests with the Idaho State Police, Bureau of Criminal Identification. This is the agency that also issues state background checks. You can search criminal history records by name or fingerprint at the agency's website. The information is available on the website on a "rap sheet" and it may be accessed by the general public. The information included in this rap sheet may include the information about criminal charges, dispositions, dismissals, and convictions. Also available is the arrest records and information, such as the arresting agency, the date of the arrest, whether the charge is a felony or misdemeanor, and case number.
Jail and Inmate records in Idaho are made available via the Idaho Department of Correction official website. You may obtain details on individuals who are probation or parole in Idaho. The public may also obtain information regarding incarcerated persons. You should find the names of people who have already completed their sentences and the list of felonies that led to the incarceration of a person. You can also find such information at the Victim Information and Notification Everyday (VINE) website.
Idaho Court Records
Both state and local Idaho Court Records are available at the state agency administering such information. The Idaho State Judiciary is the administrator of the courts in Idaho that administers the Idaho Supreme Court Data Repository. Court records for Twin Fall County are only accessible through the Idaho's Court Records Transition Information Site (iCourt site).
Idaho Vital Records
If you need information on Idaho Vital Records, you should visit the Idaho Department of Health and Welfare website. To make a request to obtain vital records information, you need to complete a certificate request form, which you can find at the Health and Welfare website.
Gaining access to most public information in Idaho is legal and protected by the law. The general public has the constitutional right to access most records that the local and state agencies maintain.
Idaho State Court System
Understanding how the system of Idaho state court works is very important as it helps you find court records easily.
Idaho Courts Overview
The trial court system of Idaho State consists of Magistrate Divisions and District Courts.
To make your work easier, start searching for court records in Idaho by simply going to courts by county.
Idaho District Courts
Idaho District Courts are basically the primary trial courts of the state of Idaho. They have general and original jurisdiction over all criminal and civil cases, but typically handle only cases that the Magistrate Division has no jurisdiction to handle. Each District Court has a Magistrate Division for certain types of cases.
Civil cases that District Courts hear include general civil cases with disputed amount that exceeds $10,000. They also handle some juvenile cases, some probate cases, and some domestic relations cases. Criminal cases that these courts handle include lesser included offenses and felonies.
There are some District Courts that have specialized court programs that handle certain types of cases. These court programs include Youth Courts, Family Dependency Treatment Courts, Juvenile Drug Courts, DUI Courts, Adult Mental Health Courts, and Adult Drug Courts.
Idaho Magistrate Divisions
Idaho Magistrate Divisions have exclusive jurisdiction to handle certain types of criminal and civil cases. They operate within the District Courts.
Typical civil cases that Magistrate Divisions handle include name changes, driver license suspension, civil commitment, guardianships of adults and minors, majority of juvenile proceedings, majority of probate matters, majority of domestic relations cases, and general civil claims for disputed amount below $10,000.
Typical criminal cases that Magistrate Divisions handle include preliminary hearings for all types of criminal cases and misdemeanors. Besides, Magistrate Divisions also have the jurisdiction over traffic infractions.
Each Magistrate Division also has a Small Claims department for some types of general civil claims that are within the legible financial limits. In case you are seeking a property and a dollar amount, the value of the property, total dollar amount, or combined total in your claim should be $5,000 or less. Small Claims division cannot award damages for pain and suffering and punitive damages. Besides, jury trials are also not available within the Small Claims division.
Idaho Court Notes
In addition to District Courts and Magistrate Divisions, Idaho has also an independent Tribal Court system which shares some criminal and civil jurisdiction with Idaho District Courts.
Some Native American nations in Idaho run their own judicial systems independently. The courts in Native American judicial systems are referred to as Tribal Courts. The Idaho state court system may enforce the orders of independent Tribal Courts system.
Idaho Crime Statistics
Violent & Property Crime Rates in Idaho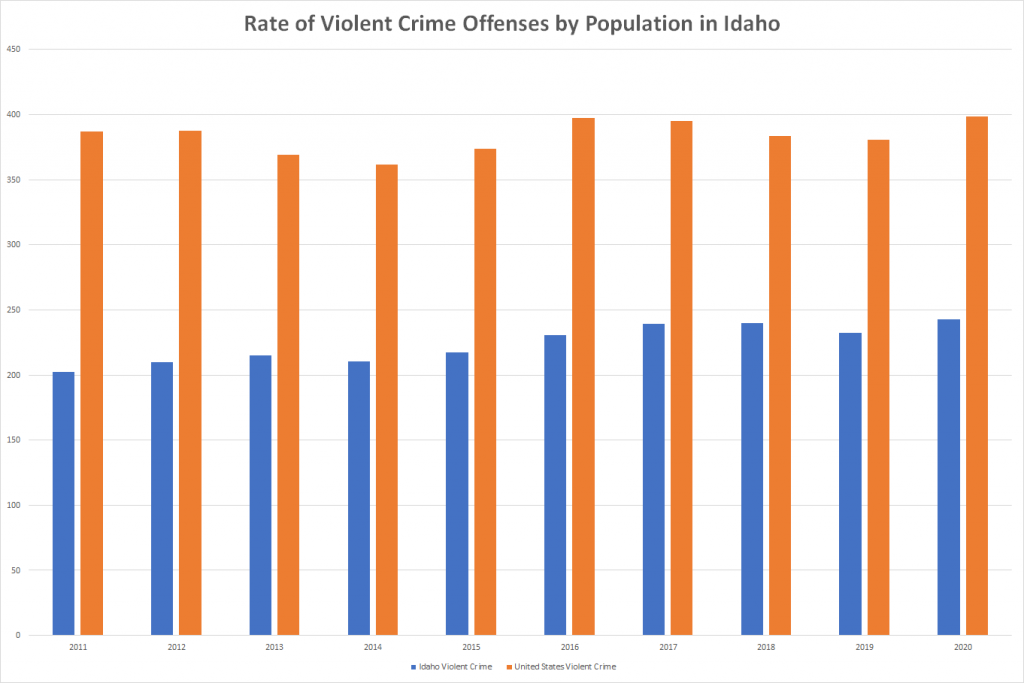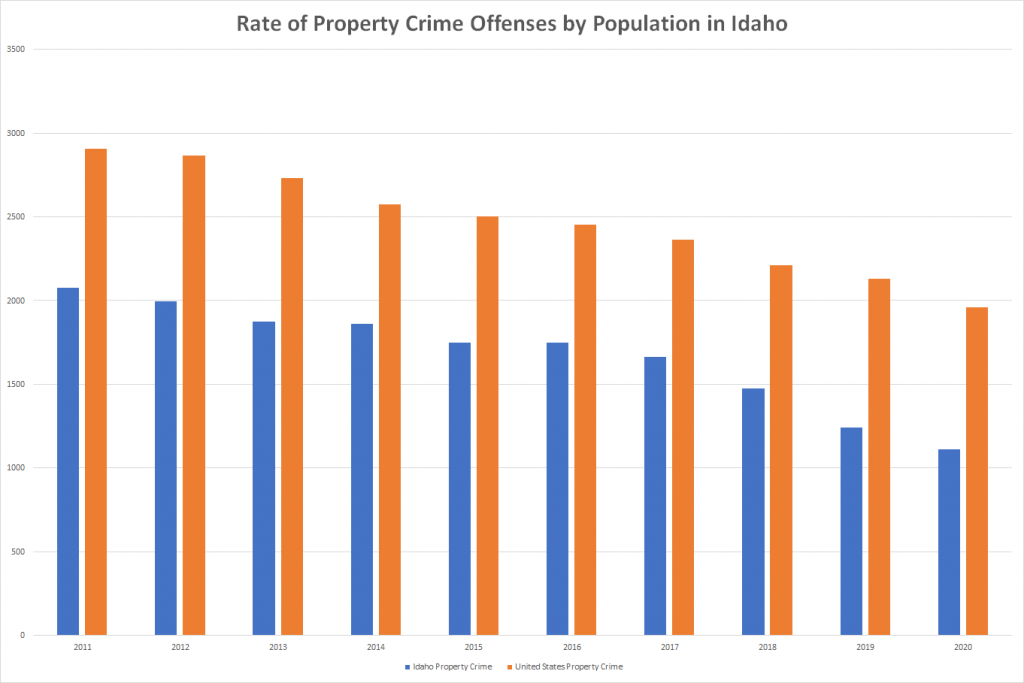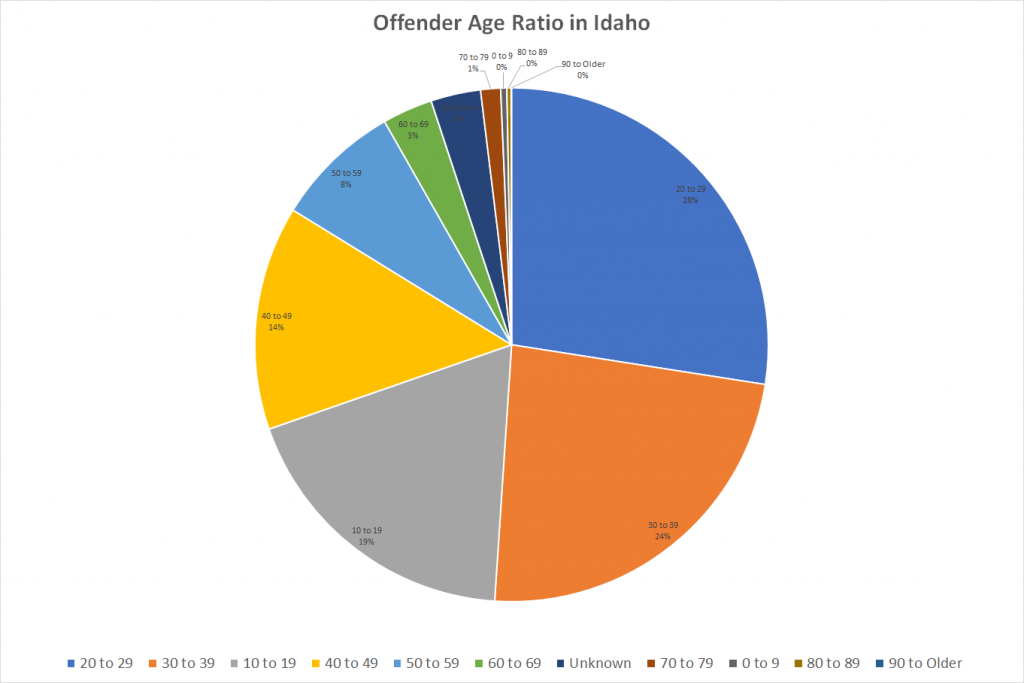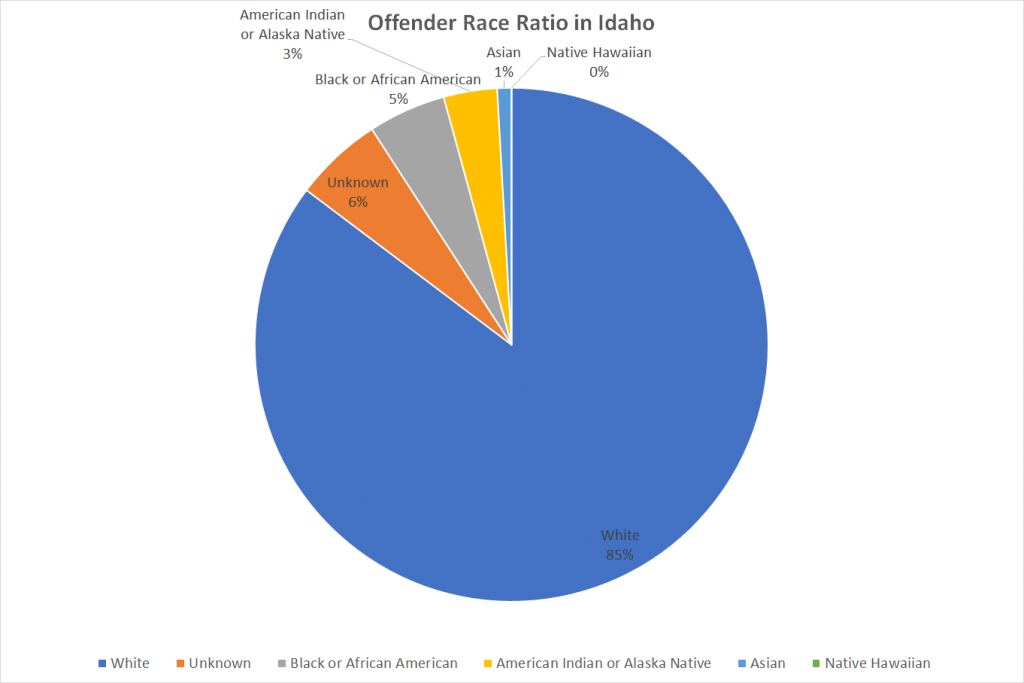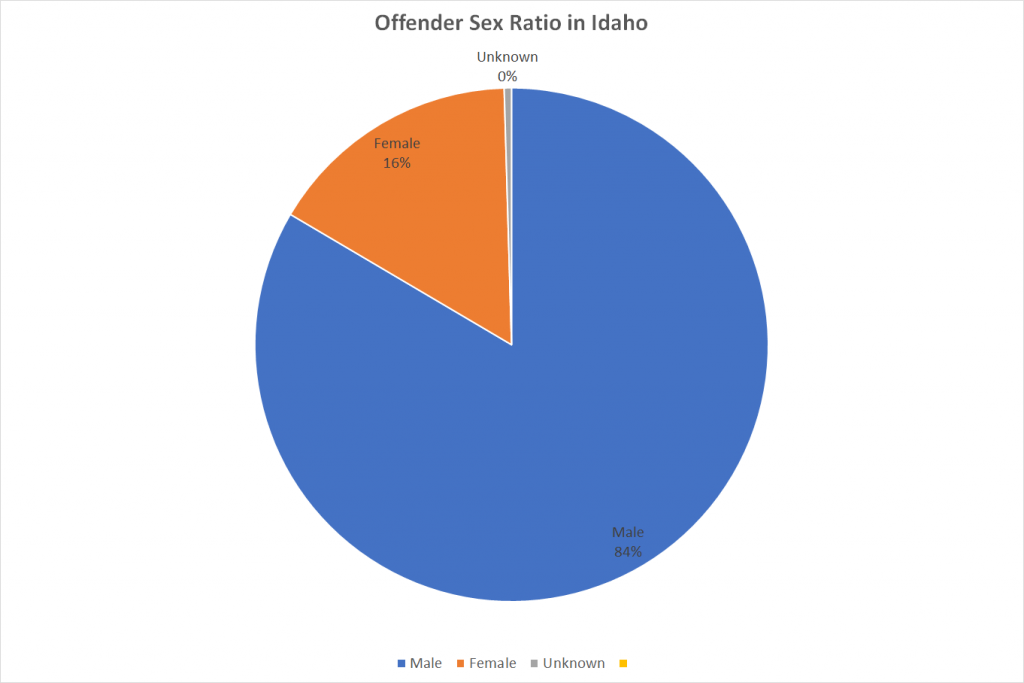 Arrests Offense in Idaho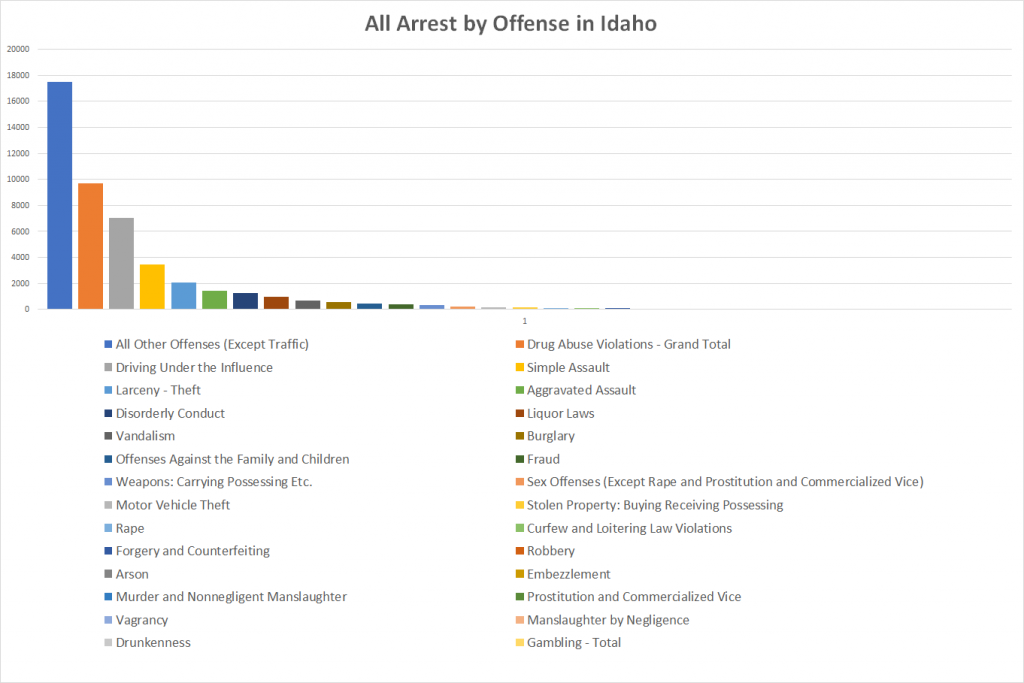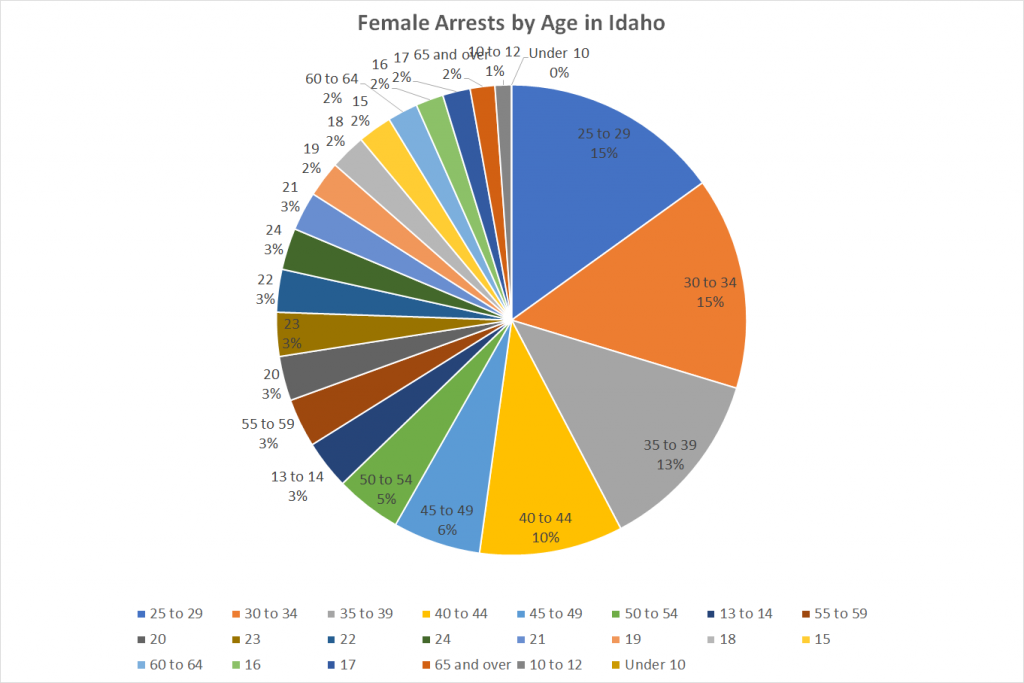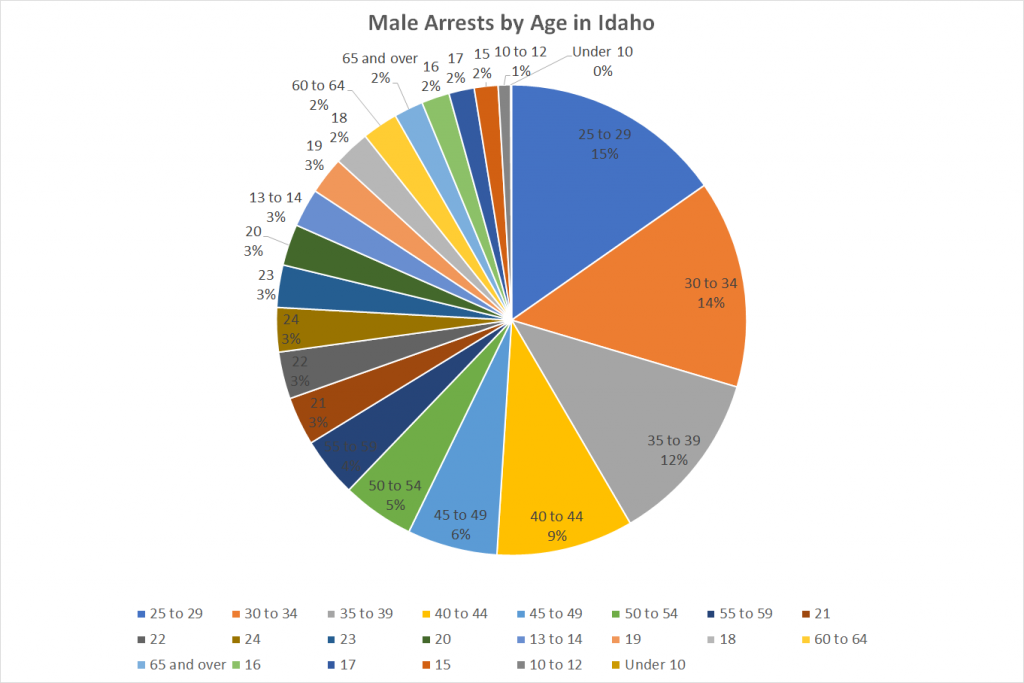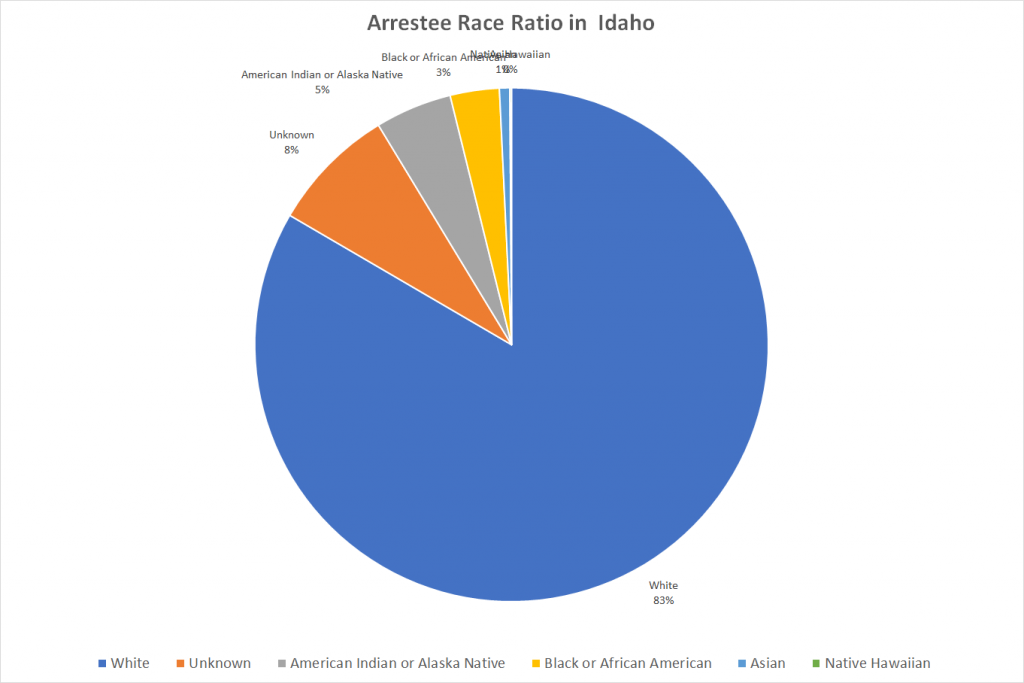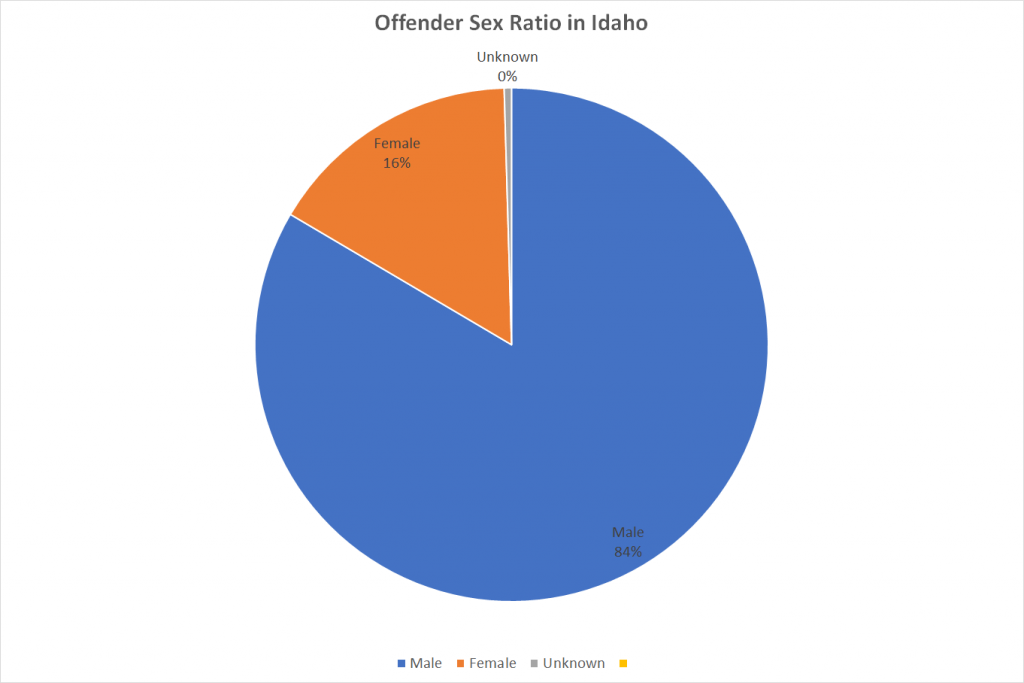 The latest data is from 2021. References: https://cde.ucr.cjis.gov/LATEST/webapp/#/pages/home
The Official Website of Idaho County
Boise City of Boise
Meridian City of Meridian
Nampa Nampa, ID – Official Website
Idaho Falls Idaho Falls, ID | Official Website
Pocatello City of Pocatello | Official Website Pocatello, Idaho – The official website for the City of Pocatello offers job listings, recreation opportunities, utility bill pay, meeting agendas, and more.
Caldwell Caldwell, ID Welcome to the City of Caldwell website. The Treasure of the Valley!Caldwell is the first major city and western entrance to the magnificent and picturesque Treasure Valley. A community full of friendly, sincere people are here to greet you and to help with all your travel needs. We can take care of your hotel accommodations, your appetite with wonderful food from our local restaurants and your wish for adventure with our variety of recreation opportunities.
Twin Falls Twin Falls, ID – Official Website
Lewiston Lewiston, ID
Post Falls Post Falls Idaho – City of Post Falls, Idaho Official Home page of the City of Post Falls, Idaho. City government meetings & agendas, Mayor & Council, economic development, parks, recreation, city budget, CAFR, PAFR, Spokane River, 4-seasons, west of Coeur d'Alene, east of Spokane, Kootenai County, North Idaho
Moscow Moscow, ID | Official Website
Eagle Eagle, ID | Official Website
Kuna Kuna, ID – Official Website
Ammon City of Ammon
Chubbuck City of Chubbuck | The Future Together
Hayden City of Hayden
Canyon County Canyon County | Idaho
Kootenai County Kootenai County, ID | Official Website
Bonneville County Bonneville County Bonneville County, in southeast Idaho, is part of the Upper Snake River Valley. Its eastern border is also the state border of Idaho and Wyoming. Idaho Falls, originally called Eagle Rock, is the county seat. Incorporated cities in Bonneville County include Ammon, Idaho Falls, Iona, Irwin, Swan Valley, and Ucon. Bonneville is the fourth largest county in the state with a population of more than 104,000.
Bannock County Bannock County Courthouse in Pocatello Idaho Bannock County Government information, Contact Info, Departments, Judicial & Legal Help, Taxes, Licenses, Sheriff, Public Defender, Zoning, Jobs, etc.
Twin Falls County Twin Falls County – Twin Falls County
Bingham County Bingham County
Bonner County Bonner County
Madison County Madison County | The Official Website of the State of Idaho Established February 18,1913 with its county seat at Rexburg. Named for President James Madison, the fourth president of the United States. First settlers in the county were Mormon families from Utah, who built the first irrigation system.
Latah County Latah County Latah County is located in the northern Idaho panhandle; to the immediate west lies Whitman County, Washington. These counties are referred to as The Palouse, which produces a large share of the wheat, lentils, peas, oats and barley in the United States. The Palouse is home to two major universities, University of Idaho and Washington State University. Latah County incorporated cities include Bovill, Deary, Genesee, Juliaetta, Kendrick, Moscow, Onaway, Potlatch and Troy. Our unincorporated communities are Avon, Cedar Creek, Farmington, Harvard, Helmer, Howell, Joel, Princeton and Viola.
Elmore County Elmore County – Idaho Welcome to Elmore County. Elmore County is located in Idaho.
Jefferson County Jefferson County
Cassia County Cassia County, Idaho
Payette County Payette County Welcome to Payette County, where life is simply better.
Jerome County Jerome County, ID | Official Website
Blaine County Blaine County, ID | Official Website
Minidoka County Minidoka County, ID | Official Website
Gem County Gem County
Idaho County Official Idaho County Site – Welcome to Idaho County Courthouse online!
Gooding Countyt Gooding County IDGenWeb Project
Fremont County Fremont County, Idaho
Franklin County Franklin County Courthouse & Sheriff in Preston Idaho Franklin County Idaho Government – Departments, Courts, Taxes, Driver & Vehicle Licenses, Sheriff, Zoning, Jobs, etc.
Shoshone County Shoshone County, Idaho Website – Shoshone County, Idaho
Owyhee County Owyhee County Idaho
Boundary County Boundary County
Washington County Washington County, ID | Official Website
Teton County Teton County Idaho
Valley County Valley County Idaho | Official Site
Benewah County Benewah County | The Official Website of the State of Idaho Established by an act of the state legislature from the southern part of Kootenai County. Named for a Coeur d'Alene Indian chief. Some settlement began after the completion of the Mullan Road in 1860, but most settlers came to the area after the discovery of gold near St. Maries in 1880.
Clearwater County Welcome to Clearwater County, Idaho
Lemhi County Welcome to Lemhi County Lemhi County, Idaho Website contains information regarding departments, taxes, coroner, fairgrounds, emergency services,and family adventures.
Power County Power County, Idaho –
Boise County Boise County, Idaho
Caribou County Welcome to Caribou County, Idaho
Bear Lake County Bear Lake County Idaho – Bear Lake County Idaho Official Website Bear Lake County Courthouse, Sheriff, Courts, Taxes, Landfill, Planning & Zoning, Drivers Licenses, Weed Control, etc
Custer County Custer County, Idaho | we are what America used to be
Idaho Jail Roster
| Type | Name | County | Inmate Locator | Phone Number | Inmate Search |
| --- | --- | --- | --- | --- | --- |
| State Prison | Correctional Alternative Placement Program | Ada County | 15505 S. Pleasant Valley Road, Kuna, ID 83634 | (208) 336-9959 | Inmate Search |
| State Prison | Idaho Maximum Security Institution | Ada County | 13400 S. Pleasant Valley Road, Kuna, ID 83634 | (208) 338-1635 | Inmate Search |
| State Prison | Idaho State Correctional Center | Ada County | 14601 S. Pleasant Valley Road, Kuna, ID 83634 | (208) 331-2760 | Inmate Search |
| State Prison | Idaho State Correctional Institution | Ada County | 13500 S. Pleasant Valley Road, Kuna, ID 83634 | (208) 336-0740 | Inmate Search |
| State Prison | South Boise Women's Correctional Center | Ada County | 13200 S. Pleasant Valley Road, Kuna, ID 83634 | (208) 334-2731 | Inmate Search |
| State Prison | South Idaho Correctional Institution | Ada County | 13900 S. Pleasant Valley Road, Kuna, ID 83634 | (208) 336-1260 | Inmate Search |
| State Prison | Pocatello Women's Correctional Center | Bannock County | 1451 Fore Road, Pocatello, ID 83204 | (208) 236-6360 | Inmate Search |
| State Prison | Idaho Correctional Institution-Orofino | Clearwater County | 381 West Hospital Drive, Orofino, ID 83544 | (208) 476-3655 | Inmate Search |
| State Prison | St. Anthony Work Camp | Fremont County | 125 N. 8th West, St. Anthony, ID 83445 | (208) 624-3775 | Inmate Search |
| State Prison | North Idaho Correctional Institution | Idaho County | 236 Radar Road, Cottonwood, ID 83522 | (208) 962-3276 | Inmate Search |
| Ada County Jail Roster | Ada County Jail | Ada County | 7210 Barrister Drive, Boise, ID 83704 | (208) 577-3000 | Inmate Search |
| Adams County Jail Roster | Adams County Jail | Adams County | 201 Industrial Avenue, Council, ID 83612 | (208) 253-4168 | Jail Roster |
| Bannock County Jail Roster | Bannock County Detention Center | Bannock County | 5800 S. 5th Avenue, Pocatello, Idaho 83201 | (208) 236-7125 | Jail Roster |
| Benewah County Jail Roster | Benewah County Jail | Benewah County | 701 College Avenue # 301, St. Maries, ID 83861 | (208) 245-2555 | Jail Roster |
| Bingham County Jail Roster | Bingham County Jail | Bingham County | 501 N Maple Street # 408, Blackfoot, ID 83221 | (208) 785-1238 | Inmate Search |
| Blaine County Jail Roster | Blaine County Jail | Blaine County | 1650 Aviation Drive, Hailey, ID 83333 | (208) 788-5564 | Inmate Roster |
| Bonner County Jail Roster | Bonner County Jail | Bonner County | 4001 N Boyer Avenue, Sandpoint, ID 83864 | (208) 255-2374 | Inmate Roster |
| Bonneville County Jail Roster | Bonneville County Jail | Bonneville County | 900 Environmental Way, Idaho Falls, ID 83401 | (208) 529-1315 | Inmate Roster |
| Boundary County Jail Roster | Boundary County Jail | Boundary County | 6438 Kootenai Street, Bonners Ferry, ID 83805 | (208) 267-3151 | Jail Roster |
| Canyon County Jail Roster | Canyon County Jail | Canyon County | 219 N 12th Avenue, Caldwell, ID 83605 | (208) 454-7541 | Inmate Search |
| Caribou County Jail Roster | Caribou County Jail | Caribou County | 475 East 2nd South, Soda Springs, Idaho 83276 | (208) 547-3094 | Jail Roster |
| Cassia County Jail Roster | Cassia County Jail | Cassia County | 1415 Albion Avenue, Burley, ID 83318 | (208) 878-1000 | Inmate Roster |
| Clearwater County Jail Roster | Clearwater County Jail | Clearwater County | 150 Michigan Avenue, Orofino, Idaho 83544 | (208) 476-4521 | Jail Roster |
| Elmore County Jail Roster | Elmore County Jail | Elmore County | 2255 E 8th N, Mountain Home, ID 83647 | (208) 587-9103 | Inmate Roster |
| Gem County Jail Roster | Gem County Jail | Gem County | 410 E 1st Street, Emmett, ID 83617 | (208) 365-4484 | Jail Roster |
| Gooding County Jail Roster | Gooding County Jail | Gooding County | 624 Main Street, Gooding, ID 83330 | (208) 934-4421 | Jail Roster |
| Idaho County Jail Roster | Idaho County Jail | Idaho County | 320 W Main Street, Grangeville, ID 83530 | (208) 983-1100 | Jail Roster |
| Jefferson County Jail Roster | Jefferson County Jail | Jefferson County | 200 Courthouse Way, Rigby, ID 83442 | (208) 745-6574 | Jail Roster |
| Jerome County Jail Roster | Jerome County Jail | Jerome County | 2151 South Tiger Drive, Jerome, ID 83338 | (208) 595-3360 | Jail Roster |
| Latah County Jail Roster | Latah County Jail | Latah County | 522 S Adams Street, Moscow, ID 83843 | (208) 882-2216 | Inmate Roster |
| Lemhi County Jail Roster | Lemhi County Jail | Lemhi County | 206 Courthouse Drive, Salmon, ID 83467 | (208) 756-8980 | Jail Roster |
| Madison County Jail Roster | Madison County Detention Center | Madison County | 145 E Main Street, Rexburg, ID 83440 | (208) 356-5426 | Jail Roster |
| Minidoka County Jail Roster | Mini-Cassia Juvenile Detention Center | Minidoka County | 718 H Street, Rupert, Idaho 83350 | (208) 436-7199 | Jail Roster |
| Nez Perce County Jail Roster | Nez Perce County Adult Detention Center | Nez Perce County | 1150 Wall Street, Lewiston, ID 83501 | (208) 799-3132 | Inmate Roster |
| Owyhee County Jail Roster | Owyhee County Jail | Owyhee County | 20381 State Highway 78, Murphy, ID 83650 | (208) 495-1154 | Jail Roster |
| Payette County Jail Roster | Payette County Detention Facility | Payette County | 1130 3rd Avenue N Rm.101, Payette, ID 83661 | (208) 642- 6008 Ext. 1141 | Jail Roster |
| Power County Jail Roster | Power County Jail | Power County | 550 Gifford Avenue, American Falls, ID 83211 | (208) 226-7930 | Inmate Roster |
| Twin Falls County Jail Roster | Twin Falls County Jail | Twin Falls County | 425 Shoshone Street N, Twin Falls, ID 83301 | (208) 734-9090 | Jail Roster |
| Valley County Jail Roster | Valley County Detention Facility | Valley County | 107 W Spring Street, Cascade, ID 83611 | (208) 382-7168 | Jail Roster |
| Washington County Jail Roster | Washington County Jail | Washington County | 262 East Court Street, Weiser, ID 83672 | (208) 414-2124 | Jail Roster |
Arrests Inmates Warrants – Ada County Arrests Inmates Warrants Ada County Sheriff's Office provides a number of reports, including current arrests, an inmate roster, and valid arrest warrants.
Jail – Adams County, Idaho Adams County Jail
List Current Bookings Bingham County Sheriff Inmate List
Recent Arrests and Bookings Blaine County Sheriff's Office Recent Arrests
Detention Roster Bonner County Sheriff's Office Current Inmate List
Inmate List | Bonneville County Sheriff's Office The jail roster is updated once per day at about 7am Mountain Time. If you have any questions or comments, please contact us.
Cassia County, Idaho – Jail Roster Cassia County Jail Roster
List Current Bookings Elmore County Jail Inmate List
Jail Jefferson County Jail
Jerome County Jail Jerome County Jail
In-Custody Report Kootenai County Sheriff In Custody List
List Current Bookings Latah County Sheriff Inmate Roster
In Custody Nez Perce County Sheriff In Custody List
Jail – Owyhee County Idaho Owyhee County Jail
Zuercher Portal Washington County Inmate Search
Offender Search | Idaho Department of Correction https://www.idoc.idaho.gov/content/prisons/offender_search
Bureau of Criminal Identification Fingerprinting and Background Checks
iCourt Portal – Online records & payments for the Idaho courts iCourt Portal Court Records Search
Idaho State Police Idaho State Police Sex Offender Search