Florida Public Records
The access to the information is hassle-free in Florida since the state does make provisions for sharing the public records. Citizens may be granted access to most state's public records.
The government of Florida has laws that govern access to the state's public records. The laws are stipulated in Florida's Public Records Act, which gives the citizens the statutory right to obtain and inspect most of the public records and information. The information included within the Public Records Act of Florida consists of the records produced by county, state or municipal level government agencies. Also considered to be part of the public record is any information regarding third-party or private institutions that are acting on behave of these state or government agencies. These records are readily available for personal inspection upon request, or for copying by any person.
The types of documents that citizens can access include tapes, maps, video recordings, sound recordings, photographs, and documents. Besides, the public can also access all materials received or made by an agency that pertains to their official business.
Florida Criminal Records
Multiple criminal history information records are maintained by the Florida Department of Law Enforcement, which also processes the requests that the public makes to obtain these histories. There is a fee that must be paid every time an individual request for a record check. The fee must be paid whether the request to access these records is approved or denied.
The repository for criminal history information of Florida makes the information contained in the database available to the public. You can make a request for arrest records and criminal records online through the website of the Florida Department of Law Enforcement. Also available is the ability status and the account balances of any inmate who is to be bailed. These inmate records can be searched by inmate name and county. Also accessible is the arresting officer's name, the last and first name of the inmate, where the arrest was made, and the type of violation an inmate is charged with.
The Florida Department of Law Enforcement is also responsible for state issued background checks.
Florida Court Records
The public can access Florida Courts Records through the county or court in which the case took place. You can request to obtain copies of court records through email, by mail, or in person. Such requests are often associated with fees and the delivery is made within a period of 5 days or more.
You can contact the Florida Office of the State Courts Administration for further clarification concerning requesting Florida Court Records as well as accessing them.
Florida Vital Records
Florida Vital requests are kept and distributed by the Florida Department of Health upon request. The vital records consist of birth, marriage, divorce, death and fetal records. Such records may be required for school entrance, employment or gaining passports.
Florida public records are easy to obtain. Just make your request through the right channel and meet all the requirements and you will be granted access to the information you seek.
Florida State Court System
Understanding how the system of Florida state court works is very important as it helps you find court records easily.
Florida Courts Overview
The trial court system of Florida State consists of Miami-Dade County Courts, County Courts, and Circuit Courts.
To make your work easier, start searching for court records in Florida by simply going to courts by county.
Florida Circuit Courts
Florida Circuit Courts have general jurisdiction to handle all criminal and civil cases. However, they typically hear only those cases that County Courts have no jurisdiction to handle.
Typical civil cases that Circuit Courts handle include general civil claims that exceed $15,000, excluding attorney fees and interest. They also handle majority of cases that request injunctive relief, all actions that involve the boundaries or title of real property, and some landlord-tenant cases. Typical criminal cases that these courts handle include lesser-included offenses and felonies.
They also handle family law cases, abuse prevention orders, juvenile matters, probate matters, and mental cases. Family law cases that these courts handle include child support, divorce and child custody. Juvenile cases include majority of juvenile delinquency cases and child protection cases. Probate cases include guardianship, estates, trusts and wills. Mental Health cases handled by Circuit Courts include involuntary hospitalization.
These courts also provide a simplified procedure for some divorce cases and also handle juvenile traffic offenses.
Florida County Courts
These courts have exclusive jurisdiction to handle certain criminal and civil cases. Typical criminal cases that these courts handle include violations of county and municipal ordinance and most misdemeanors. They also hear some juvenile traffic offenses.
These courts handle most equity and civil cases with claims for less than $15,000, excluding costs and interest. County Courts share jurisdiction over disputes in most landlord-tenant cases and certain misdemeanor's associations with Circuit Courts.
With the authorization of the Circuit Court, or if the Circuit Court Judge is not available, County Courts can issue provisional orders for emergency hospitalization.
Florida Miami-Dade County Courts
The way the courts in Miami-Dade County are organized is different from how other courts in other counties in Florida are organized. In this county, the jurisdiction of County Court and Circuit Court is not only combined, but is also organized into the following divisions:
Civil Court
Criminal Court
Family Court
Juvenile Court
Traffic Court
The Miami-Dade County Civil Court division is further organized into sections for County Civil and Circuit Civil cases. The Circuit Civil case section handles majority of civil cases when the disputed amount exceeds $15,000. Besides landlord-tenant cases, the County Civil section also provides a simplified Small Claims procedure for majority of cases with less than $15,000 amount in dispute.
Miami-Dade Criminal Court division is also organized further into sections for County Criminal and Circuit Criminal cases. The County Criminal section handles municipal ordinance violations, certain civil infractions and misdemeanor criminal cases. The Circuit Criminal section on the other hand handles felonies and other related criminal cases.
The Family Court Division of Miami-Dade County handles probate cases and domestic relations cases. The typical cases that this court hear include mental health cases, guardianships, estates, name changes, paternity, child support, adoption, child custody, divorce and dissolution of marriage.
The Juvenile Court division hears juvenile dependency and juvenile delinquency cases.
The Traffic Court division in Miami-Dade County handles all the traffic citations.
Besides the court divisions, there are also separate District Courts in Miami-Dade County with exclusive jurisdiction to handle certain types of cases.
Florida Crime Statistics
Violent & Property Crime Rates in Florida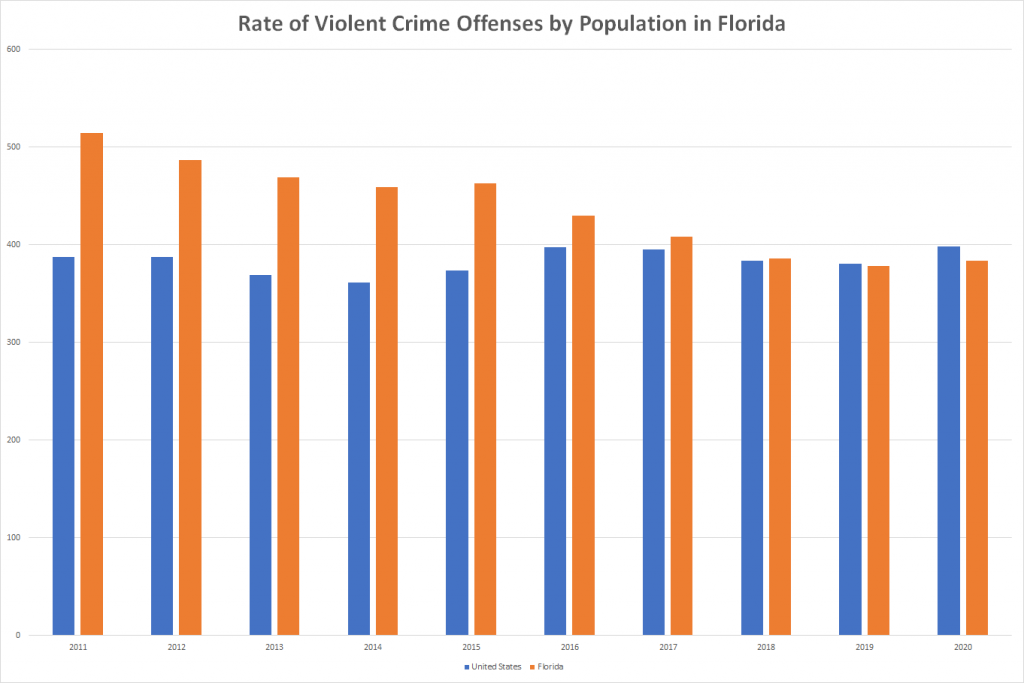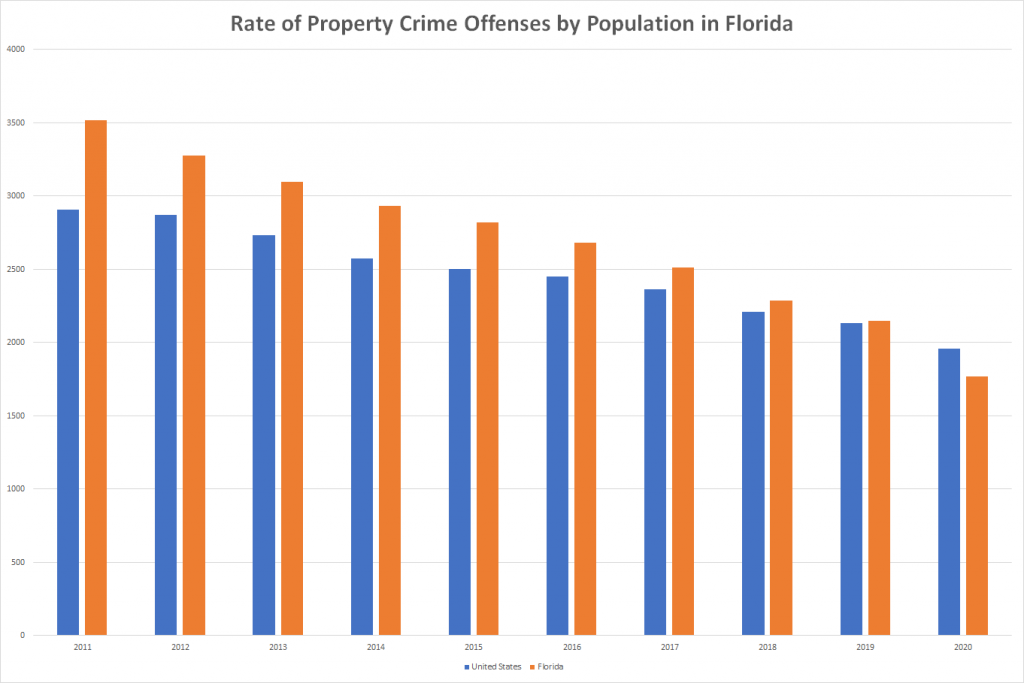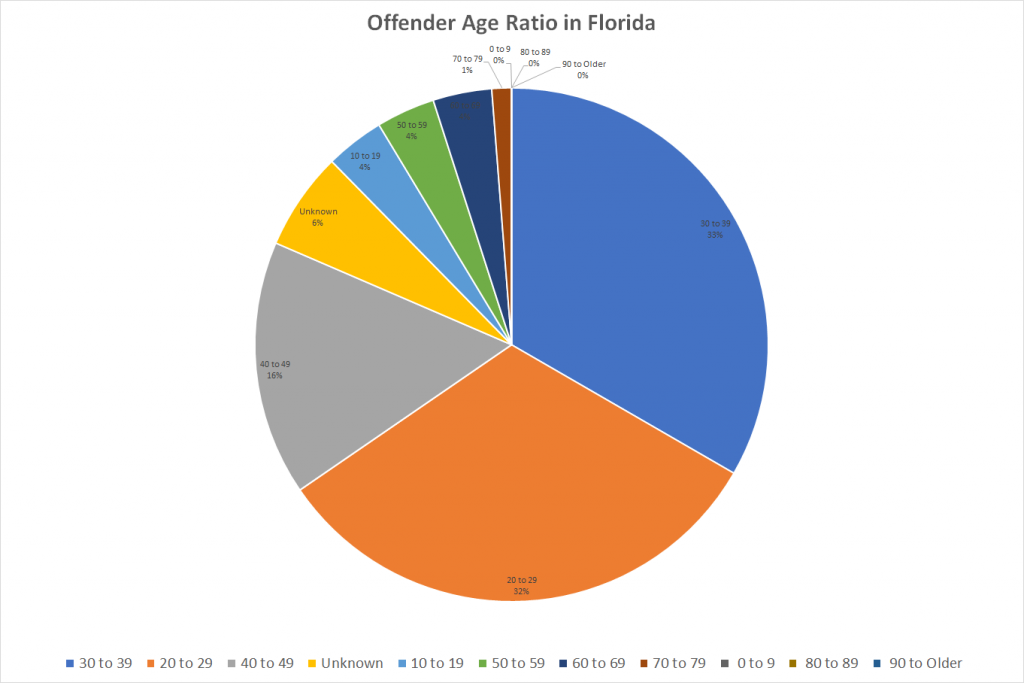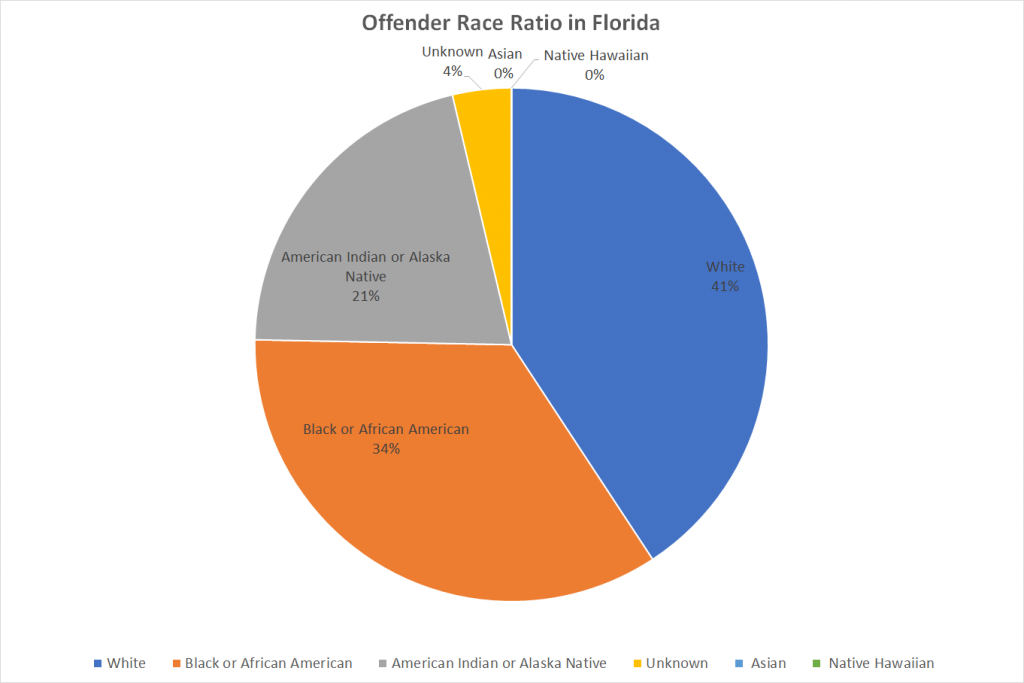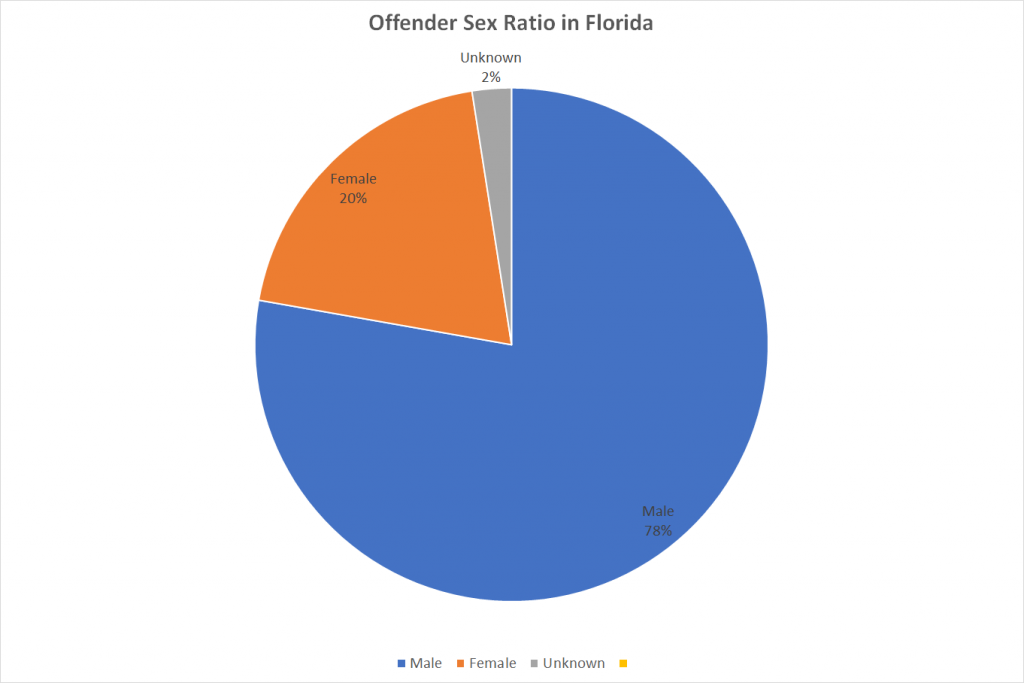 Arrests Offense in Florida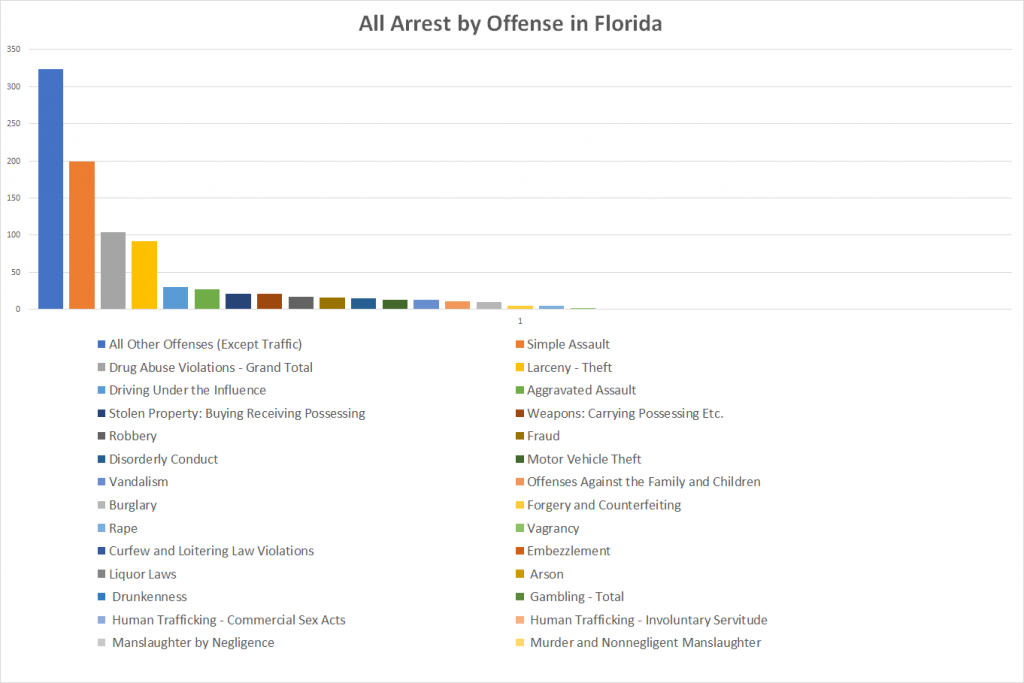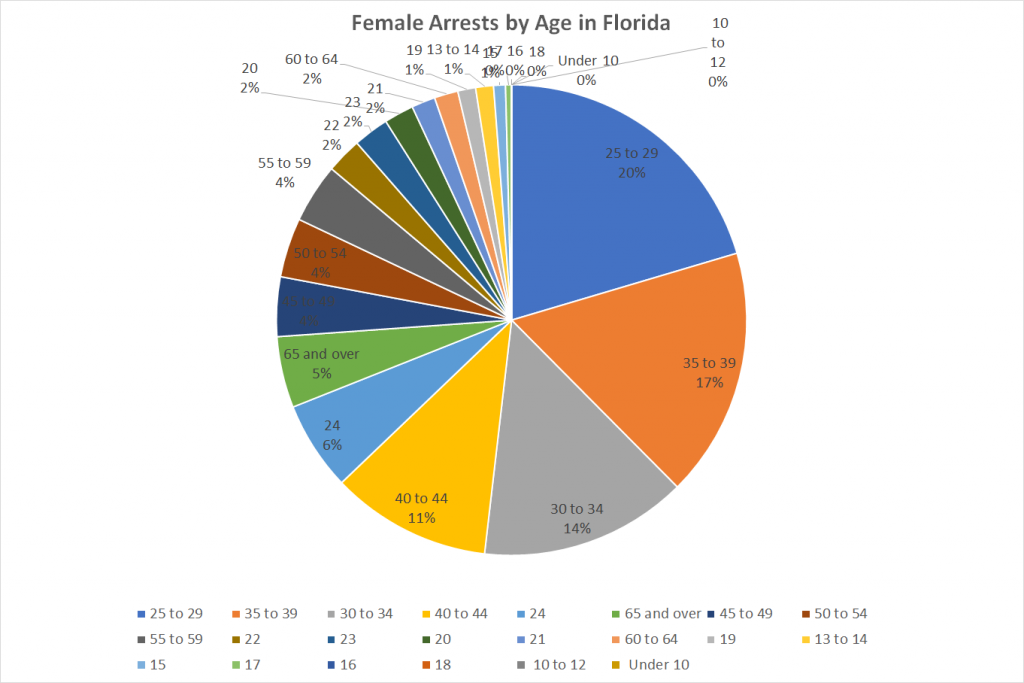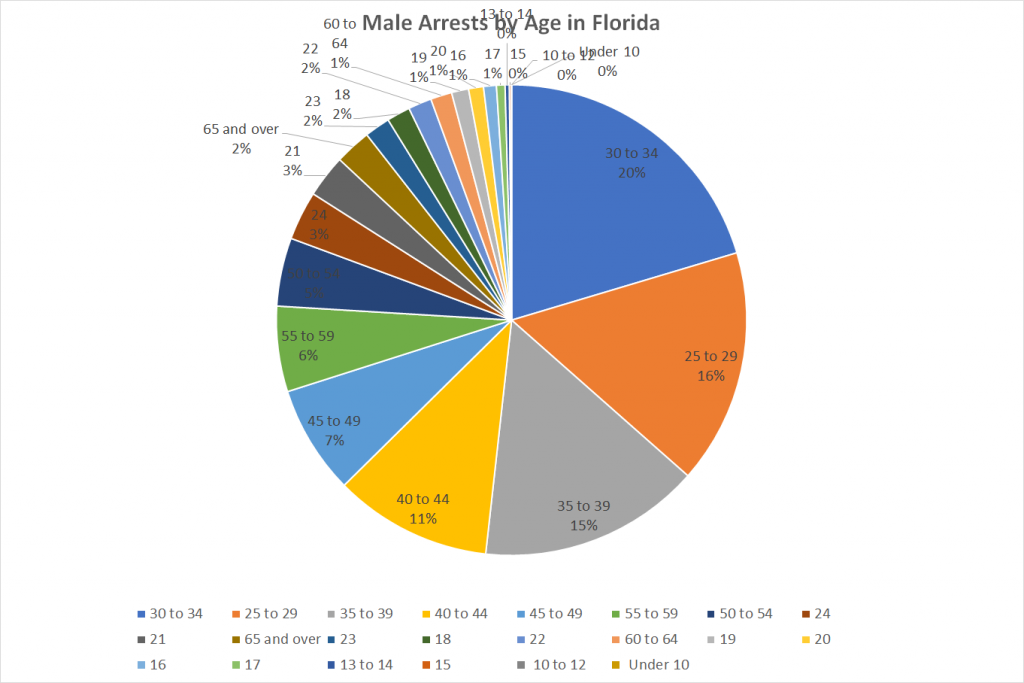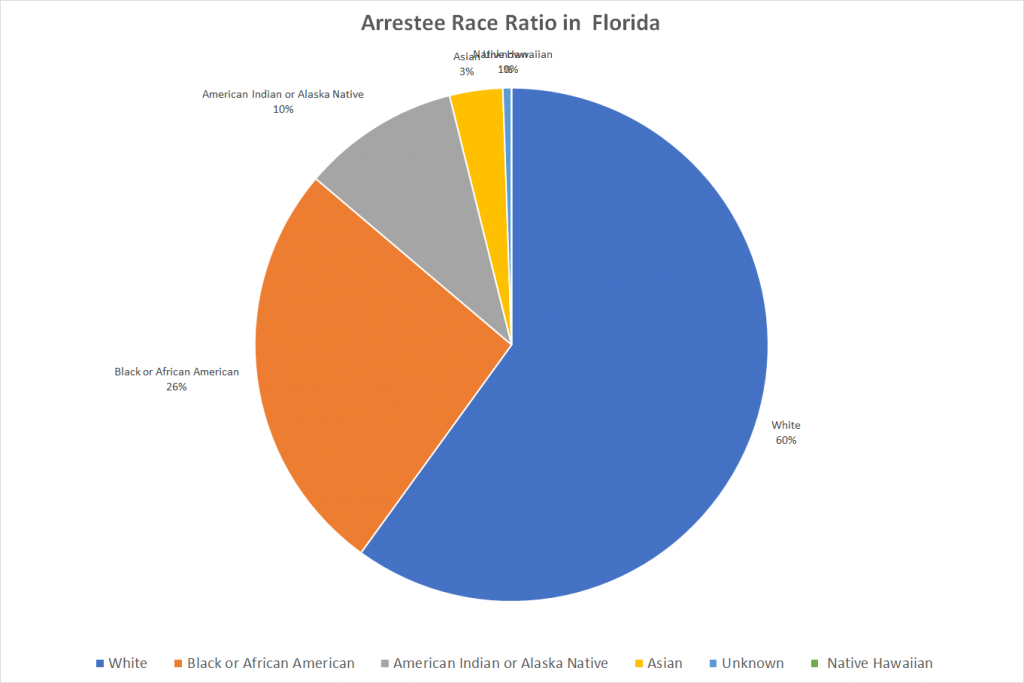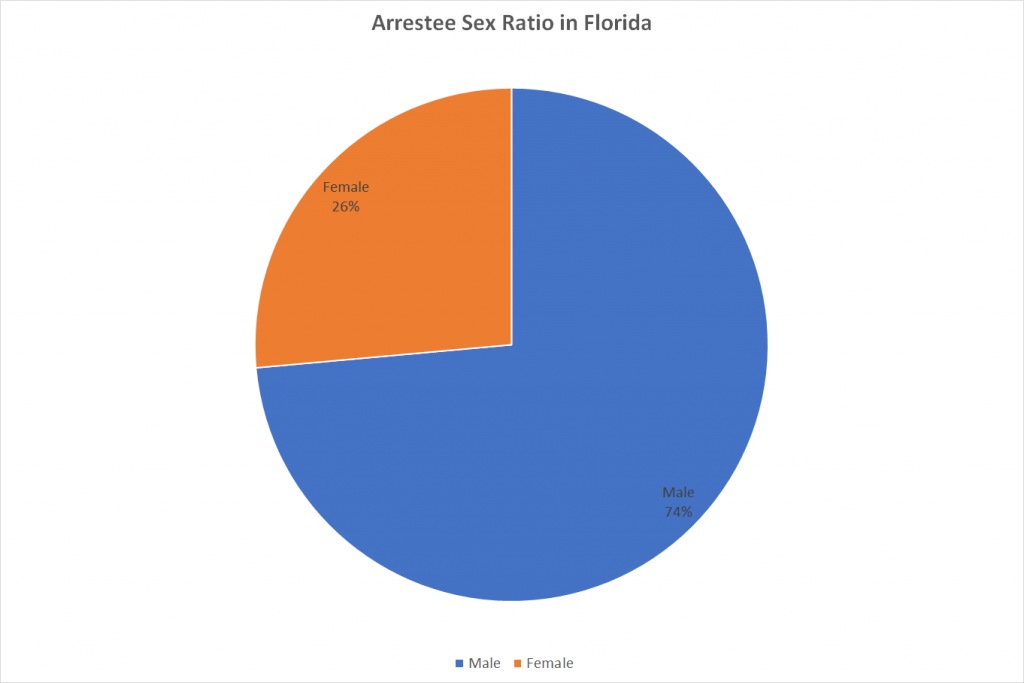 The latest data is from 2021. References: https://cde.ucr.cjis.gov/LATEST/webapp/#/pages/home
The Official Website of Florida County
Jacksonville COJ.net – Welcome
Miami Miami
Tampa City of Tampa
Orlando City of Orlando
St. Petersburg City of St. Petersburg
Hialeah Hialeah, FL
Tallahassee Talgov.com | The Official Website of the City of Tallahassee
Fort Lauderdale City of Fort Lauderdale, FL
Port St. Lucie Port St. Lucie
Cape Coral Welcome to City of Cape Coral, Florida!!!!
Pembroke Pines Pembroke Pines, FL – Official Website
Hollywood Hollywood, FL – Official Website
Miramar Miramar, FL – Official Website
Gainesville Welcome to the City of Gainesville
Coral Springs Coral Springs, FL
Miami-Dade County Miami-Dade County Miami-Dade County's website allows constituents and visitors to read about key services, important news and other vital government information.
Broward County Welcome to Broward County!
Palm Beach County Palm Beach County Welcome to Discover Palm Beach County
Hillsborough County Hillsborough County
Orange County Orange County
Pinellas County Pinellas County Government
Lee County Lee County Southwest Florida Visit Leegov.com to find useful information for residents, businesses and visitors of Lee County in Southwest Florida.
Polk County Polk County Board of County Commissioners
Brevard County Brevard County Government
Volusia County Volusia County Government Online
Pasco County Pasco County, FL – Official Website
Seminole County Seminole County
Sarasota County Sarasota County, FL
Marion County Marion County, FL
Collier County Collier County, FL Home Page
Manatee County Manatee County Manatee Home Page
Lake County Lake County, Florida Government The official Web site for the Lake County, FL Board of County Commissioners. Lake County is located in northwest Central Florida. Gently rolling hills and glimmering lakes peacefully coexist with a high-tech industrial park and growing residential development.
Escambia County Escambia County Escambia is the official website of the Escambia County Commission, who serves as the legislative and policy-setting body of Escambia County, Florida.
St. Lucie County St. Lucie County, FL
Leon County LEON COUNTY – Florida's Capital County
Osceola County Osceola County
Alachua County Alachua County
St. Johns County St. Johns County Government Welcome to the St. Johns County, Florida web site. A directory of information for residents and visitors to St. Johns County and surrounding areas.
Clay County Clay County, FL
Okaloosa County Okaloosa County
Hernando County Hernando County, FL Hernando County, also known as Florida's Adventure Coast, is the geographic center of the state. The location is ideal to start or expand a business.
Bay County Bay County, FL
Charlotte County Charlotte County BCC
Santa Rosa County Santa Rosa County, FL | Official Website
Martin County Martin County Florida | your county, your community
Citrus County Citrus County Board of County Commissioners – Official Website Citrus County's Official Board of County Commissioners Government Website
Indian River County ircgov.com Indian River County Board of County Commissioners
Highlands County Highlands County: Avon Park – Sebring – Lake Placid
Sumter County Sumter County, FL – Official Website
Flagler County Welcome to Flagler County, Florida
Florida Jail Roster
| Type | Name | County | Inmate Locator | Phone Number | Inmate Search |
| --- | --- | --- | --- | --- | --- |
| Federal Prison | Pensacola Federal Prison Camp | Escambia County | 110 Raby Avenue, Pensacola, FL 32509 | (850) 457-1911 | Federal Inmate Locator |
| Federal Prison | Marianna Federal Correctional Institution | Jackson County | 3625 FCI Road, Marianna, FL 32446 | (850) 526-2313 | Federal Inmate Locator |
| Federal Prison | Tallahassee Federal Correctional Institution | Leon County | 501 Capital Cir NE, Tallahassee, FL 32301 | (850) 878-2173 | Federal Inmate Locator |
| Federal Prison | Miami Federal Correctional Institution | Miami-Dade County | 15801 SW 137th Avenue, Miami, FL 33177 | (305) 259-2100 | Federal Inmate Locator |
| Federal Prison | Miami Federal Detention Center | Miami-Dade County | 33 NE 4th Street, Miami, FL 33132 | (305) 577-0010 | Federal Inmate Locator |
| Federal Prison | Coleman United States Penitentiary I | Sumter County | 846NE 54th Terrace, Sumterville, FL 33521 | (352) 689-6000 | Federal Inmate Locator |
| Federal Prison | Coleman United States Penitentiary II | Sumter County | 846NE 54th Terrace, Sumterville, FL 33521 | (352) 689-7000 | Federal Inmate Locator |
| Federal Prison | Coleman Federal Correctional Institution Low | Sumter County | 846NE 54th Terrace, Sumterville, FL 33521 | (352) 689-4000 | Federal Inmate Locator |
| Federal Prison | Coleman Federal Correctional Institution Medium | Sumter County | 846NE 54th Terrace, Sumterville, FL 33521 | (352) 689-5000 | Federal Inmate Locator |
| State Prison | Baker Correctional Institution | Baker County | 20706 US Highway 90 West, Sanderson, FL 32087-2359 | (386) 719-4500 | Inmate Search |
| State Prison | Bay Correctional Facility | Bay County | 5400 Bayline Drive, Panama City, FL 32404-5492 | (850) 769-1455 | Inmate Search |
| State Prison | Lawtey Correctional Institution | Bradford County | 22298 NE County Road 200B, Lawtey FL 32058 | (904) 782-2000 | Inmate Search |
| State Prison | Calhoun Correctional Institution | Calhoun County | 19562 SE Institution Drive, Blountstown, FL 32424-5156 | (850) 237-6500 | Inmate Search |
| State Prison | Charlotte Correctional Institution | Charlotte County | 33123 Oil Well Road, Punta Gorda, FL 33955-9701 | (941) 833-8100 | Inmate Search |
| State Prison | Columbia Correctional Institution | Columbia County | 216 S.E. Corrections Way, Lake City, FL 32025-2013 | (386) 754-7600 | Inmate Search |
| State Prison | Lake City Correctional Facility | Columbia County | 7906 East Highway 90, Lake City, FL 32055-6290 | (386) 755-3379 | Inmate Search |
| State Prison | DeSoto Annex | DeSoto County | 13617 S.E. Highway 70, Arcadia, FL 34266-7800 | (863) 494-3727 | Inmate Search |
| State Prison | Cross City Correctional Institution | Dixie County | 568 NE 255th Street, Cross City, FL 32628 | (352) 498-4741 | Inmate Search |
| State Prison | Century Correctional Institution | Escambia County | 400 Tedder Road, Century, FL 32535-3659 | (850) 256-2600 | Inmate Search |
| State Prison | Franklin Correctional Institution | Franklin County | 1760 Highway 67 North, Carrabelle, FL 32322 | (850) 697-1100 | Inmate Search |
| State Prison | Gadsden Correctional Facility | Gadsden County | 6044 Greensboro Highway, Quincy, FL 32351-9100 | (850) 875-9701 | Inmate Search |
| State Prison | Quincy Annex | Gadsden County | 2225 Pat Thomas Parkway, Quincy, FL 32351-8645 | (850) 627-5400 | Inmate Search |
| State Prison | Lancaster Correctional Institution | Gilchrist County | 3449 S.W. State Road 26, Trenton, FL 32693-5641 | (352) 463-4100 | Inmate Search |
| State Prison | Moore Haven Correctional Facility | Glades County | Post Office Box 719001, Moore Haven, FL 33471 | (863) 946-2420 | Inmate Search |
| State Prison | Gulf Correctional Institution | Gulf County | 500 Ike Steele Road, Wewahitchka, FL 32465-0010 | (850) 639-1000 | Inmate Search |
| State Prison | Gulf Correctional Institution Annex | Gulf County | 699 Ike Steele Road, Wewahitchka, FL 32465-0010 | (850) 639-1000 | Inmate Search |
| State Prison | Hamilton Correctional Institution | Hamilton County | 10650 SW 46th Street, Jasper, FL 32052-1360 | (386) 792-5151, (386) 792-5897 (Annex) | Inmate Search |
| State Prison | Hardee Correctional Institution | Hardee County | 6901 State Road 62, Bowling Green, FL 33834-9505 | (863) 767-4500 | Inmate Search |
| State Prison | Hernando Correctional Institution | Hernando County | 16415 Spring Hill Drive, Brooksville, FL 34604-8167 | (352) 754-6715 | Inmate Search |
| State Prison | Avon Park Correctional Institution | Highlands County | 8100 Highway 64 East, Avon Park, FL 33825 | (863) 452-8801 | Inmate Search |
| State Prison | Holmes Correctional Institution | Holmes County | 3142 Thomas Drive, Bonifay, Florida 32425-0190 | (850) 547-8600 | Inmate Search |
| State Prison | Apalachee Correctional Institution East | Jackson County | 35 Apalachee Drive, Sneads, FL 32460-4166 | (850) 718-0688 | Inmate Search |
| State Prison | Apalachee Correctional Institution West | Jackson County | 52 West Unit Drive, Sneads FL 32460-4165 | (850) 718-0577 | Inmate Search |
| State Prison | Graceville Correctional Facility | Jackson County | 5168 Ezell Road, Graceville, FL 32440 | (850) 263-5500 | Inmate Search |
| State Prison | Jackson Correctional Institution | Jackson County | 5563 10th Street, Malone, FL 32445-3144 | (850) 569-5260 | Inmate Search |
| State Prison | Jefferson Correctional Institution | Jefferson County | 1050 Big Joe Road, Monticello, FL 32344-0430 | (850) 342-0500 | Inmate Search |
| State Prison | Lake Correctional Institution | Lake County | 19225 U.S. Highway 27, Clermont, FL 34715-9025 | (352) 394-6146 | Inmate Search |
| State Prison | Liberty Correctional Institution | Liberty County | 11064 N.W. Dempsey Barron Road, Bristol, FL 32321-9711 | (850) 643-9400 | Inmate Search |
| State Prison | Madison Correctional Institution | Madison County | 382 Southwest MCI Way, Madison, FL 32340-4430 | (850) 973-5300 | Inmate Search |
| State Prison | Florida Women's Reception Center | Marion County | 3700 NW 111th Place, Ocala, FL 34482-1479 | (352) 840-8000 | Inmate Search |
| State Prison | Lowell Correctional Institution | Marion County | 11120 NW Gainesville Road, Ocala, FL 34482-1479 | (352) 401-5301 | Inmate Search |
| State Prison | Marion Correctional Institution | Marion County | 3269 NW 105th Street, Ocala, FL 34475 | (352) 401-6400 | Inmate Search |
| State Prison | Martin Correctional Institution | Martin County | 1150 S.W. Allapattah Road, Indiantown, FL 34956-4397 | (772) 597-3705 | Inmate Search |
| State Prison | Dade Correctional Institution | Miami-Dade County | 19000 S. W. 377th Street, Florida City, FL 33034-6409 | (305) 242-1900 | Inmate Search |
| State Prison | Everglades Correctional Institution | Miami-Dade County | 1599 S.W. 187th Avenue, Miami, FL 33194 | (305) 228-2000 | Inmate Search |
| State Prison | Homestead Correctional Institution | Miami-Dade County | 19000 S. W. 377th Street, Florida City, FL 33034-6409 | (305) 242-1770 | Inmate Search |
| State Prison | South Florida Reception Center | Miami-Dade County | 14000 NW 41st Street, Doral, FL 33178-3003 | (305) 592-9567 | Inmate Search |
| State Prison | South Florida Reception Center South Unit | Miami-Dade County | 13910 NW 41st Street, Doral, FL 33178-3014 | (305) 592-9710 | Inmate Search |
| State Prison | Okaloosa Correctional Institution | Okaloosa County | 3189 Colonel Greg Malloy Road, Crestview, FL 32539-6708 | (850) 682-0931 | Inmate Search |
| State Prison | Okeechobee Correctional Institution | Okeechobee County | 3420 N.E. 168th Street, Okeechobee, FL 34972-4824 | (863) 462-5400 | Inmate Search |
| State Prison | Central Florida Reception Center | Orange County | 7000 H C Kelley Road, Orlando, FL 32831-2518 | (407) 207-7777 | Inmate Search |
| State Prison | South Bay Correctional Facility | Palm Beach County | 600 U.S. Highway 27 South, South Bay, FL 33493-2233 | 561) 992-9505 | Inmate Search |
| State Prison | Zephyrhills Correctional Institution | Pasco County | 2739 Gall Boulevard, Zephyrhills, FL 33541-9701 | (813) 782-5521 | Inmate Search |
| State Prison | Polk Correctional Institution | Polk County | 10800 Evans Road, Polk City, FL 33868-6925 | (863) 984-2273 | Inmate Search |
| State Prison | Putnam Correctional Institution | Putnam County | 128 Yelvington Road, East Palatka, FL 32131-2112 | (386) 326-6800 | Inmate Search |
| State Prison | Blackwater River Correctional Facility | Santa Rosa County | 5914 Jeff Ates Road, Milton, FL 32583-0000 | (850) 983-4100 | Inmate Search |
| State Prison | Santa Rosa Correctional Institution | Santa Rosa County | 5850 East Milton Road, Milton, FL 32583-7914 | (850) 983-5800 | Inmate Search |
| State Prison | Sumter Correctional Institution | Sumter County | 9544 County Road 476B, Bushnell, FL 33513-0667 | (352) 569-6100 | Inmate Search |
| State Prison | Suwannee Correctional Institution | Suwannee County | 5964 U.S. Highway 90, Live Oak, FL 32060 | (386) 963-6530 | Inmate Search |
| State Prison | Taylor Correctional Institution | Taylor County | 8501 Hampton Springs Road, Perry, FL 32348-8747 | (850) 838-4000 | Inmate Search |
| State Prison | Florida State Prison | Union County | 7819 N.W. 228th Street, Raiford, FL 32026-1000 | (904) 368-2500 | Inmate Search |
| State Prison | Reception and Medical Center | Union County | 7765 S. CR 231, Lake Butler, FL 32054-0628 | (386) 496-6000 | Inmate Search |
| State Prison | Union Correctional Institution | Union County | 7819 N.W. 228th Street, Raiford, FL 32026-4000 | (386) 431-2000 | Inmate Search |
| State Prison | Tomoka Correctional Institution | Volusia County | 3950 Tiger Bay Road, Daytona Beach, FL 32124-1098 | (386) 323-1070 | Inmate Search |
| State Prison | Wakulla Correctional Institution | Wakulla County | 110 Melaleuca Drive, Crawfordville, FL 32327-4963 | (850) 410-1895 | Inmate Search |
| State Prison | Walton Correctional Institution | Walton County | 691 Institution Road, DeFuniak Springs, FL 32433-1831 | (850) 951-1300 | Inmate Search |
| State Prison | Northwest Florida Reception Center | Washington County | 4455 Sam Mitchell Drive, Chipley, FL 32428-3501 | (850) 773-6100, (850) 773-6500 (Annex) | Inmate Search |
| Alachua County Jail Roster | Alachua County Jail | Alachua County | 3333 NE 39th Avenue, Gainesville, FL 32609 | (352) 491-4444 | Inmate Search |
| Baker County Jail Roster | Baker County Detention Center | Baker County | 1 Sheriffs Office Drive, Macclenny, FL 32063 | (904) 259-3311 | Jail Roster |
| Bay County Jail Roster | Bay County Jail | Bay County | 5700 Star Lane, Panama City, Florida 32404 | (850) 785-5245 | Jail Roster |
| Bradford County Jail Roster | Bradford County Jail | Bradford County | 945-B N. Temple Avenue, Starke, FL 32091 | (904) 966-6178 | Inmate Search |
| Brevard County Jail Roster | Brevard County Jail Complex | Brevard County | 860 Camp Road, Cocoa, Florida 32927 | (321) 690-1500 | Inmate Search |
| Broward County Jail Roster | Broward County Main Jail | Broward County | 555 SE 1st Avenue, Ft. Lauderdale, FL 33301 | (954) 831-5900 | Inmate Search |
| Broward County Jail Roster | Broward County Joseph V. Conte Facility | Broward County | 1351 NW 27th Avenue, Pompano Beach, FL 33069 | (954) 831-5900 | Inmate Search |
| Broward County Jail Roster | Broward County North Broward Bureau | Broward County | 1550 NW 30th Avenue, Pompano Beach, FL 33069 | (954) 831-5900 | Inmate Search |
| Broward County Jail Roster | Broward County Central Intake Bureau | Broward County | 555 SE 1st Avenue, Ft. Lauderdale, FL 33301 | (954) 831-5900 | Inmate Search |
| Broward County Jail Roster | Broward County Paul Rein Detention Facility | Broward County | 2421 NW 16 Street, Pompano Beach, FL 33069 | (954) 831-5900 | Inmate Search |
| Calhoun County Jail Roster | Calhoun County Jail | Calhoun County | 20776 Central Avenue East, Blountstown, FL 32424-2276 | (850) 674-5049 | Inmate Roster |
| Charlotte County Jail Roster | Charlotte County Jail | Charlotte County | 26601 Airport Road, Punta Gorda, FL 33982 | (941) 833-6300 | Arrest Records |
| Citrus County Jail Roster | Citrus County Detention Facility | Citrus County | 2604 W. Woodland Ridge Drive, Lecanto, FL 34461 | (352) 527-3332 | Jail Roster |
| Clay County Jail Roster | Clay County Jail | Clay County | 901 N Orange Avenue, Green Cove Springs, FL 32043 | (904) 529-5905 | Inmate Search |
| Collier County Jail Roster | Collier County Naples Jail Center | Collier County | 3347 Tamiami Trail E, Naples, FL 34112-4434 | (239) 252-9504 | Inmate Search |
| Collier County Jail Roster | Collier County Immokalee Jail Center | Collier County | 302 Stockade Road, Immokalee, Florida 34142 | (239) 657-2878 | Inmate Search |
| Columbia County Jail Roster | Columbia County Jail | Columbia County | 389 NW Quinten Street, Lake City, FL 32055 | (386) 755-7000 | Inmate Search |
| DeSoto County Jail Roster | DeSoto County Jail | DeSoto County | 208 E Cypress Street, Arcadia, FL 34266 | (863) 993-4710 | Inmate Search |
| Dixie County Jail Roster | Dixie County Jail | Dixie County | 386 NE 255th Street, Cross City, FL 32628 | (352) 498-1231 | Jail Roster |
| Duval County Jail Roster | Duval County Pre-Trial Detention Facility | Duval County | 500 East Adams Street, Jacksonville, FL 32202 | (904) 630-5759 | Inmate Search |
| Duval County Jail Roster | Duval County Community Transition Center | Duval County | 451 Catherine Street, Jacksonville, FL 32202 | (904) 630-2856 | Inmate Search |
| Duval County Jail Roster | Duval County Montgomery Correctional Center | Duval County | 4727 Lannie Road, Jacksonville, FL 32218 | (904) 766-5076 | Inmate Search |
| Escambia County Jail Roster | Escambia County Jail | Escambia County | 2935 North "L" Street, Pensacola, Florida 32501 | (850) 436-9830 | Inmate Search |
| Flagler County Jail Roster | Flagler County Jail | Flagler County | 1002 Justice Lane, Bunnell, FL 32110 | (386) 437-4116 | Inmate Search |
| Franklin County Jail Roster | Franklin County Jail | Franklin County | 270 State Road 65, Eastpoint, Florida 32328 | 850-670-8500 | Inmate Roster |
| Gadsden County Jail Roster | Gadsden County Jail | Gadsden County | 2135 Pat Thomas Pkwy, Quincy, FL 32351 | (850) 875-8844 | Inmate Search |
| Gilchrist County Jail Roster | Gilchrist County Jail | Gilchrist County | 9239 South US Hwy 129, Trenton, FL 32693 | (352) 463-3490 | Jail Roster |
| Glades County Jail Roster | Glades County Detention Center | Glades County | 1297 East State Road 78, Moore Haven, FL 33471 | (863) 946-1600 | Inmate Search |
| Hamilton County Jail Roster | Hamilton County Jail | Hamilton County | 207 NE 1st Street, Jasper, FL 32052 | (386)792-7131 | Inmate Search |
| Hardee County Jail Roster | Hardee County Detention Facility | Hardee County | 900 Summit Street E, Wauchula, FL 33873 | (863) 767-9042 ext 222 | Arrest Log |
| Hendry County Jail Roster | Hendry County Jail | Hendry County | 101 Bridge Street, LaBelle, FL 33935 | (863) 674-5600 | Inmate Search |
| Hernando County Jail Roster | Hernando County Detention Center | Hernando County | 16425 Spring Hill Drive, Brooksville, FL 34604 | (352) 544-2334 | Inmate Search |
| Highlands County Jail Roster | Highlands County Jail | Highlands County | 338 S Orange Street, Sebring, FL 33870 | (863) 402-7201 | Inmate Search |
| Hillsborough County Jail Roster | Hillsborough County Orient Road Jail | Hillsborough County | 1201 Orient Road, Tampa, FL 33619 | (813) 247-8300 | Arrest Inquiry |
| Hillsborough County Jail Roster | Hillsborough County Falkenburg Road Jail | Hillsborough County | 520 N. Falkenburg Road, Tampa, FL 33619 | (813) 247-8300 | Arrest Inquiry |
| Holmes County Jail Roster | Holmes County Jail | Holmes County | 3207 Lonny Lindsey Drive, Bonifay, FL 32425 | (850) 547-3681 | Jail Roster |
| Indian River County Jail Roster | Indian River County Jail | Indian River County | 4055 41st Avenue, Vero Beach, FL 32960 | (772) 569-6700 | Inmate Search |
| Jackson County Jail Roster | Jackson County Correctional Facility | Jackson County | 2737 Penn Avenue, Marianna, FL 32448 | (850) 482-9651 | Jail Roster |
| Jefferson County Jail Roster | Jefferson County Jail | Jefferson County | 171 Industrial Park, Monticello, FL 32344 | (850) 997-5094 | Jail Roster |
| Lake County Jail Roster | Lake County Jail | Lake County | 551 W Main Street, Tavares, FL 32778 | (352) 742-4000 | Inmate Search |
| Lee County Jail Roster | Lee County Jail | Lee County | 2501 Ortiz Avenue, Fort Myers, FL 33905 | (239) 477-1700 | Inmate Search |
| Leon County Jail Roster | Leon County Jail | Leon County | 535 Appleyard Drive, Tallahassee, FL 32304 | (850) 606-3500 | Inmate Search |
| Levy County Jail Roster | Levy County Jail | Levy County | 9150 NE 80th Avenue, Bronson, FL 32621 | (352) 486-5121 | Inmate Search |
| Madison County Jail Roster | Madison County Jail | Madison County | 823 Pinckney Street, Madison, FL 32340 | (850) 973-4001 | Jail Roster |
| Manatee County Jail Roster | Manatee County Jail | Manatee County | 14470 Harlee Road, Palmetto, FL 34221 | (941) 747-3011 | Jail Roster |
| Marion County Jail Roster | Marion County Jail | Marion County | 692 NW 30th Avenue, Ocala, FL 34475 | (352) 732-8181 | Inmate Search |
| Martin County Jail Roster | Martin County Jail | Martin County | 800 SE Monterey Road, Stuart, FL 34994 | (772) 220-7200 | Inmate Search |
| Miami-Dade County Jail Roster | Miami-Dade County Metro West Detention Center | Miami-Dade County | 13850 NW 41st Street, Miami, Florida 33178 | (786) 263-5101 | Inmate Search |
| Miami-Dade County Jail Roster | Miami-Dade County Pre-Trial Detention Center | Miami-Dade County | 1321 NW 13th Street, Miami, Florida 33125 | (786) 263-4100 | Inmate Search |
| Miami-Dade County Jail Roster | Miami-Dade County Training and Treatment Center | Miami-Dade County | 6950 NW 41st Street, Miami, Florida 33166 | (786) 263-5713 | Inmate Search |
| Miami-Dade County Jail Roster | Miami-Dade County Turner Guilford Knight Correctional Center | Miami-Dade County | 7000 NW 41st Street, Miami, Florida 33166 | (786) 263-5600 | Inmate Search |
| Miami-Dade County Jail Roster | Miami-Dade County Women's Detention Center | Miami-Dade County | 1401 NW 7th Avenue, Miami, Florida 33136 | (786) 263-4600 | Inmate Search |
| Monroe County Jail Roster | Monroe County Main Detention Facility | Monroe County | 5501 College Road, Key West, FL 33040 | (305)293-7300 | Inmate Roster |
| Monroe County Jail Roster | Monroe County Marathon Detention Center | Monroe County | 3981 Ocean Terrace, Marathon, FL 33050 | (305)289-2420 | Inmate Roster |
| Monroe County Jail Roster | Monroe County Plantation Detention Center | Monroe County | 53 High Point Road, Plantation Key, FL 33037 | (305)853-3266 | Inmate Roster |
| Nassau County Jail Roster | Nassau County Jail | Nassau County | 76212 Nicholas Cutinha Road, Yulee, Fl 32097 | (904) 548-4002 | Inmate Search |
| Okaloosa County Jail Roster | Okaloosa County Jail | Okaloosa County | 1200 East James Lee Boulevard, Crestview, FL 32539 | (850) 689-5690 | Inmate Search |
| Okeechobee County Jail Roster | Okeechobee County Jail | Okeechobee County | 504 NW 4th Street, Okeechobee, FL 34972 | (863) 357-5343 | Jail Roster |
| Orange County Jail Roster | Orange County Jail | Orange County | 3723 Vision Blvd, Orlando, FL 32839 | (407) 836-3400 | Inmate Search |
| Osceola County Jail Roster | Osceola County Correctional Facility | Osceola County | 402 Simpson Road, Kissimmee, FL 34744 | (407) 742-4444 | Inmate Search |
| Palm Beach County Jail Roster | Palm Beach County Main Detention Center | Palm Beach County | 3228 Gun Club Road, West Palm Beach, FL 33406-3001 | (561) 688-4400 | Inmate Search |
| Palm Beach County Jail Roster | Palm Beach County West Detention Center | Palm Beach County | 38811 James Wheeler Way, Belle Glade, FL 33430 | (561) 992-1697 | Inmate Search |
| Pasco County Jail Roster | Pasco County Jail | Pasco County | 20101 Central Blvd, Land O Lakes, FL 34637 | (813) 996-6982 | Inmate Search |
| Pinellas County Jail Roster | Pinellas County Jail | Pinellas County | 14400 49th Street North, Clearwater, FL 33762-2877 | (727) 464-6415 | Inmate Search |
| Polk County Jail Roster | Polk Central County Jail | Polk County | 2390 Bob Phillips Road, Bartow, FL 33830 | (863) 534-6123 | Inmate Search |
| Polk County Jail Roster | Polk South County Jail | Polk County | 1103 US Hwy 98 West, Frostproof, FL 33843 | (863) 635-6920 | Inmate Search |
| Putnam County Jail Roster | Putnam County Jail | Putnam County | 130 Orie Griffin Blvd, Palatka, FL 32177 | (386) 329-0854 | Inmate Search |
| St. Johns County Jail Roster | St. Johns County Detention Center | St. Johns County | 4015 Lewis Speedway, St Augustine, FL 32084 | (904) 824-8304 | Inmate Search |
| St. Lucie County Jail Roster | St. Lucie County Jail | St. Lucie County | 900 Rock Road, Fort Pierce, FL 34945 | (772) 462-7300 | Inmate Search |
| Santa Rosa County Jail Roster | Santa Rosa County Jail | Santa Rosa County | 5755 E Milton Road, Milton, FL 32583 | (850) 983-1100 | Inmate Search |
| Seminole County Jail Roster | Seminole County John E. Polk Correctional Facility | Seminole County | 211 Eslinger Way, Sanford, FL 32773 | (407) 665-1200 | Inmate Search |
| Seminole County Jail Roster | Seminole County Juvenile Detention Center | Seminole County | 200 Eslinger Way, Sanford, FL 32773 | (407) 665-4190 | Inmate Search |
| Sumter County Jail Roster | Sumter County Detention Center | Sumter County | 219 E Anderson Avenue, Bushnell, FL 33513 | (352) 793-0225 | Inmate Search |
| Suwannee County Jail Roster | Suwannee County Jail | Suwannee County | 200 S Ohio Avenue, Live Oak, FL 32064 | (386) 364-3778 | Inmate Search |
| Taylor County Jail Roster | Taylor County Jail | Taylor County | 589 US-27, Perry, FL 32347 | (850) 584-4333 | Jail Roster |
| Union County Jail Roster | Union County Jail | Union County | 50 NW 1st Street, Lake Butler, FL 32054 | (386) 496-2501 | Jail Roster |
| Volusia County Jail Roster | Volusia County Correctional Facility | Volusia County | 1354 Indian Lake Road, Daytona Beach, FL 32124 | (386) 254-1569 | Inmate Search |
| Volusia County Jail Roster | Volusia County Branch Jail | Volusia County | 1300 Red John Drive, Daytona Beach, FL 32124 | (386) 254-1582 | Inmate Search |
| Wakulla County Jail Roster | Wakulla County Detention Facility | Wakulla County | 15 Oak Street, Crawfordville, FL 32327 | (850) 745-7153 | Jail Roster |
| Walton County Jail Roster | Walton County Jail | Walton County | 796 Triple G Road, Defuniak Springs, FL 32433 | (850) 892-8196 | Inmate Search |
| Washington County Jail Roster | Washington County Jail | Washington County | 1293 Jackson Avenue # 400, Chipley, FL 32428 | (850) 638-6111 | Jail Roster |
| | | | | | |
| --- | --- | --- | --- | --- | --- |
| Type | Name | County | Address | Phone Number | Inmate Search |
| Sheriff's Dept | Gulf County Sheriff's Office | Gulf County | 1000 Cecil G. Costin Sr. Blvd, Port St. Joe, FL 32456 | (850) 227-1115 | Arrest Log |
Alachua County Jail Inmate Lookup Alachua County Jail Inmate Lookup
Court Records Alachua County Clerk of Courts Case Records Search
Baker County Jail List Baker County Sheriff's Office
Bay County Sheriff's Office Bay County Sheriff's Office Jail Division
Jail / Inmate Search | Bradford County Sheriff's Office Bradford County Sheriff's Office Inmate Search
Inmate Information Brevard County Sheriff's Office Brevard County Sheriff's Office Arrest Inquiry
Broward Sheriff's Office Broward Sheriff's Office Arrest Search
Case Search – Public – Broward County Clerk of Courts Broward County Clerk of Courts
Calhoun County Jail Roster Calhoun County Sheriff's Office
Calhoun County Sheriff's Office Arrest Report Calhoun County Sheriff's Office
CCSO Arrest Database Charlotte County Sheriff's Office Arrest Record Search
Crime Statistics Charlotte County Crime Statistics
Landmark Web Official Records Search Charlotte County Official Records Search
Arrest Records Citrus County Florida View arrest records for Citrus County Florida.
Clay County Sheriff's Office P2C – provided by OSSI Clay County Jail Inmate and Arrest Search
Collier County Arrests Collier County Arrests
electronic court records Collier County Clerk of Courts Records Access
DeSoto County Jail DeSoto County Jail Inmate Search
Dixie County Sheriff's Office Dixie County Detention Center
JSO Inmate Information Search JSO Inmate Information Search
JAIL View Escambia County JAIL View
Inmate Search Flagler County Inmate Search
Franklin County Florida Sheriff's Office – Arrest Log Arrests listed were made by officers from the Apalachicola Police Department, Carrabelle Police Department, and Franklin County Sheriff's Office.
Gadsen County SmartWEB Welcome to the Gadsden County Sheriff's Office Public Information Web Site.
Inmate Search – Gilchrist County Sheriff's Office Gilchrist Inmate Search
Glades County Sheriff's Office Glades County Sheriff's Inmate Search
Gulf County Sheriff Arrest Log Gulf County Sheriff's Office
JAIL View Hamilton County Sheriff's Office Inmate Search
:: Hardee County Sheriff :: Detention Division Hardee County Detention Division
Inmate Search Hendry County Inmate and Arrest Search
Hernando County Detention Hernando County Detention Center Inmate Search
Highlands County Public Records Division All public records requests should be directed to the Highlands County Sheriff s Office Records Custodian. HIGHLANDS COUNTY SHERIFF S OFFICE RECORDS CUSTODIANMail 400 S.
Arrest Inquiry – Search | HCSO Hillsborough County Arrest Search
Jail Division – HOLMES COUNTY SHERIFF'S OFFICE Holmes County Jail
Indian River County Inmate Booking Search Indian River County Sheriff's Office
Indian River County Sheriff's Office Indian River Warrant Check
Jackson County Correctional Facility Offical site for the Jackson County, Florida Board of County Commissioners
Landmark Web Official Records Search Jackson County Clerk of Court Case Records Search
MCSO – Current Inmates – Monroe County Sheriff's Office Monroe County Sheriff's Office Current Inmates
Search the M.C.S.O. Arrest History Monroe County Sheriff's Office Arrest Search
M.C.S.O. – Warrants Warrant Check
M.C.S.O. – Current Arrests Arrests and Mugshots For the Past 7 Days
Lafayette County Sheriff's Office Website of the Lafayette County (FL) Sheriff's Office
Lake County Sheriff's Office Inmate Search Peyton C. Grinnell, lake county, lake county Florida, lake county sheriff, lake sheriff, lake county sheriffs office, law enforcement, lake county inmate, lake county jail, lake county detention, lake county corrections
Court Records Agreement – Lake County Clerk of Circuit & County Courts Lake County Clerk of Circuit and County Courts provides various services such as court services in support of the judiciary, the public and attorneys, management of official records of Lake County as well as passport and documentary stamp agent.
Arrest Search – Welcome to Lee County Sheriff s Office The Lee County Sheriff's Office provides this database as a courtesy to the community.
Lee County Crime Mapping Service This service can be used to track criminal activity by clicking the search icon and then typing in an address.
Lee County Sexual Offenders and Predators See if there are registered sex offenders living near you.
Inmate search – Leon County Sheriff's Office Leon County Sheriff's Office Jail Inmate Search
Arrest Inquiry – Manatee County Sheriff's Office Manatee County Arrest Search
Crime Mapping Manatee Crime Maps
Manatee County Crime Stoppers Crime Stoppers utilizes modern technology to acquire anonymous online crime tips. You do not have to identify yourself, and may be eligible for a cash reward.
Manatee County Clerk – Public Records Hub Manatee Clerk of Circuit Court Case Records Access
DETENTION BUREAU — Marion County Sheriff's Office Marion County Detention Bureau
Jail Inmate Search | Martin County Sheriff's Office Martin County Inmate Search
Florida Offender Alert System Sex Offender Watch
MDCR Inmate Search – Miami-Dade County Miami-Dade Inmate In Custody Search
Criminal Court Services ?- Clerk of Courts – Miami-Dade County Criminal Court Services
Inmate Search Nassau County Inmate Search
Nassau County Clerk of Courts and Comptroller – Nassau County Clerk of Courts and Comptroller Nassau County Clerk of Court Public Records Search
Archonix XJail Public Okaloosa Department of Corrections Booking Search
Case Search JD Peacock II, Okaloosa County Clerk of Circuit Court and Comptroller
Okeechobee Department of Corrections The Okeechobee County Sheriff's Office is committed to reduce crime, the fear of crime and improve the quality of life of Okeechobee's residents.
Current Inmate Database Orange County Current Inmate Database
Orange County Clerk of Courts Records Search Orange County Clerk of Courts Records Search
Osceola County Corrections | Search Osceola County Current Inmates
Osceola County Corrections | Daily Daily Arrest Report
Official Records Search Osceola County Clerk Official Records Search
Palm Beach County Sheriff's Office – Booking Blotter Palm Beach Booking Blotter
Arrest Inquiry Pasco County In Custody Search
Official Records – Search by Name Pasco Clerk & Comptroller Public Records Access
Who`s In Jail Pinellas County Sheriff's Office
Pinellas County Crime Viewer Pinellas County Crime Viewer
Criminal & Traffic Case Records Pinellas County Clerk of Courts Records Search
Pinellas Public Records Login Pinellas County Florida Public Records Access
Warrants Inquiry | Polk County Sheriff's Office Polk County Sheriff's Office
JAIL View Putnam County JAIL View
Jail View | Santa Rosa County Sheriff's Office Santa Rosa JAIL View
ARREST SEARCH DISCLAIMER The Sarasota County Sheriff s Office provides this information as a service to citizens, inmate families or friends, attorneys, law enforcement and others but does not detail the final disposition of criminal justice proceedings ARREST SEARCH DISCLAIMER The Sarasota County Sheriff s Office provides this information as a service to citizens, inmate families or friends, attorneys, law enforcement and others but does not detail the final disposition of criminal justice proceedings. Several area law enforcement agencies bring inmates to the Sarasota County Jail.
This database contains possible active warrants that are held by the Sarasota County Sheriff s Office This database contains possible active warrants that are held by the Sarasota County Sheriff s Office. This information is offered as a service to the general public.
Electronic Court Records in Sarasota County Sarasota County Clerk of Court Case Search
Search for Inmates Seminole County Sheriff's Office
St. Johns Inmate Search | St. Johns County Sheriff's Office St. Johns Inmate Search
Inmate Lookup | St. Lucie Co Sheriff's Office, FL St. Lucie County Inmate Lookup
JAIL View Sumter County JAIL View
SCSO 10 Most Wanted Sumter County Sheriff's Office 10 Most Wanted
Suwannee County JAIL View Suwannee County Adult Inmate Database
Booking Reports – Taylor County Sheriff's Office Taylor County Booking Reports
Union County Sheriff's Office Union County Most Wanted
Volusia County Corrections – Public Access Volusia County Corrections Arrest Logs
LAURA E. ROTH – Clerk of the Circuit Court Volusia County Clerk of Circuit Court
Inmate Search Walton County Inmate Search
Walton County Inmate Inquiry Walton County Sheriff's Office
CrimeStoppers | Walton County Sheriff's Office, FL Walton County Crime Stoppers
Walton County Court Records Walton County Clerk of Courts Public Case Search
Washington County Sheriff's Office Washington County Sheriff's Office
Florida Department of Corrections — Homepage Florida DOC
FDLE – Sexual Offender and Predator System Sex Offender Search
Wanted Persons View a list of most wanted individuals in the state of Florida.
Obtaining Criminal History Information Obtaining a Criminal History Check in Florida
Florida Courts Florida Court Case Lookups
ONLINE COURT RECORDS SEARCH CIVITEK Online Court Records Check