California Public Records
The California Public Act (CPRA) is the public law that governs California government data. The Act obligates the state of California to provide anyone with the information requested. Passed in 1968, the CPRA requires that government records must be disclosed to the general upon request, with the exemption of those that are exempted by the court or law. Under this law, residents of California have the legal right to obtain and copy public information kept by state and local government agencies.
The Act defines public records as "any writing containing information relating to the conduct of a public's business prepared, owned, used or retained by any state or local agency regardless of physical form or characteristic." As per the definition of what public records is according to the California Public Act, only personal information that doesn't relate do not in any way related to the conduct of public business can be considered exempt.
California Criminal Records
The California Department of Justice (DOJ) is responsible for maintaining California criminal records. The law restricts the access to the criminal history summary authorized applicant agencies and legitimate law enforcement agencies only. Every individual can request a copy of his or her own criminal history record to ensure completeness and accuracy. To receive your own criminal history record, you have to submit your fingerprint images to the DOJ and pay the required administrative fee.
Arrest records and jail and inmate records are also available for sharing with the public. You can request any of these records through the DOJ.
California Court Records
California Superior Court and Local Court Records are made available to the public. You can request for any case record or proceedings by contacting the specific court with jurisdiction over that particular case.
California Vital Records
California Vital Records consist of such documents as death certificates, birth certificates, marriage records and divorce records. The Office of Vital Records has the responsibility to maintain these records.
The state of California makes so much information available for sharing with the public. The only thing you need to do is to search for that particular piece of information in the right place.
California State Court System
Understanding how the system of California state court works is very important as it helps you find court records easily.
California Courts Overview
California, unlike most states of the United States, has a unified court system. This actually means that finding court records is easier because you only have one central system to research from.
The trial court system of California State consists of Superior Courts. Since the state has a unified court system, it therefore goes without saying that all court proceedings in California are conducted only in Superior Courts.
California Superior Courts
Superior Courts are the only court systems in California. These courts are further organized into court divisions depending on the case type. They have jurisdiction over all criminal and civil cases. Divisions within a California Supreme Court may include Small Claims, Traffic, Juvenile, Probate, Family, Criminal, and Civil.
Criminal Divisions generally hear misdemeanor and felony cases.
Criminal Divisions may be divided into divisions for "Limited" cases and "Unlimited" cases. Criminal Divisions generally handle felony and misdemeanor cases. "Unlimited" cases generally involve claims for $25,000 or more, and "Limited" cases generally involve claims for below $25,000.
Generally, Small Claims Divisions hear civil claims that are less than $7500, provided the case can be simplified for Small Claims process. Besides, there are restrictions on Small Claims jurisdiction, including financial as well as other limits on when and how to use the Small Claims process by organizations and businesses.
Family Divisions on the other hand generally hear cases that involve children and families, including legal separation, dissolution of marriage, spousal support, division of marital property, child support, child custody, and paternity.
Probate Divisions typically hear cases related to wills, trusts, conservatorships, estate administration and guardianships.
Juvenile Divisions, just like the name suggests, generally handle cases that involve juvenile delinquency, children in need of supervision, and child abuse and neglect.
Traffic Divisions normally hear traffic-related citations, including parking as well as other offenses that are punishable by fines. This division may handle some juvenile traffic cases.
Many Superior Courts of California have Drug Court programs or departments that focus mainly on rehabilitation as an alternative to incarceration for some types of criminal cases, especially those that are committed due to mental illness or drug addiction.
Tribal Courts
Besides Superior Courts, California also has independent Tribal Courts. Some Native American nations in California run their own judicial systems independently. These courts are recognized in the larger California court system and are known as Tribal Courts. These courts have some criminal and civil jurisdiction. The California court system may enforce the orders of Tribal Courts.
California Crime Statistics
Violent & Property Crime Rates in California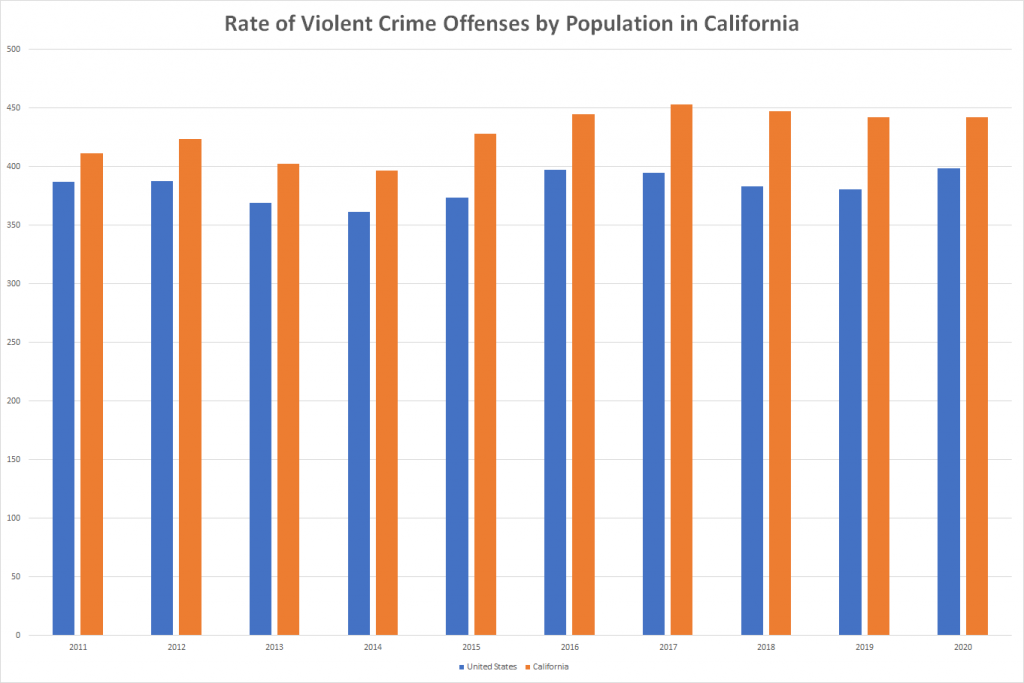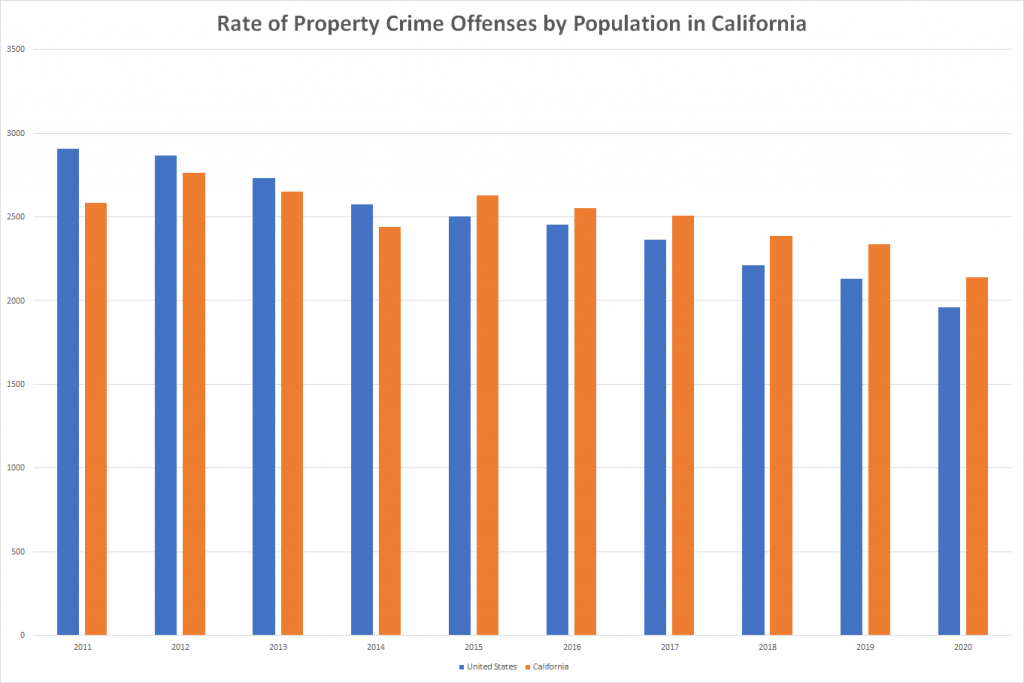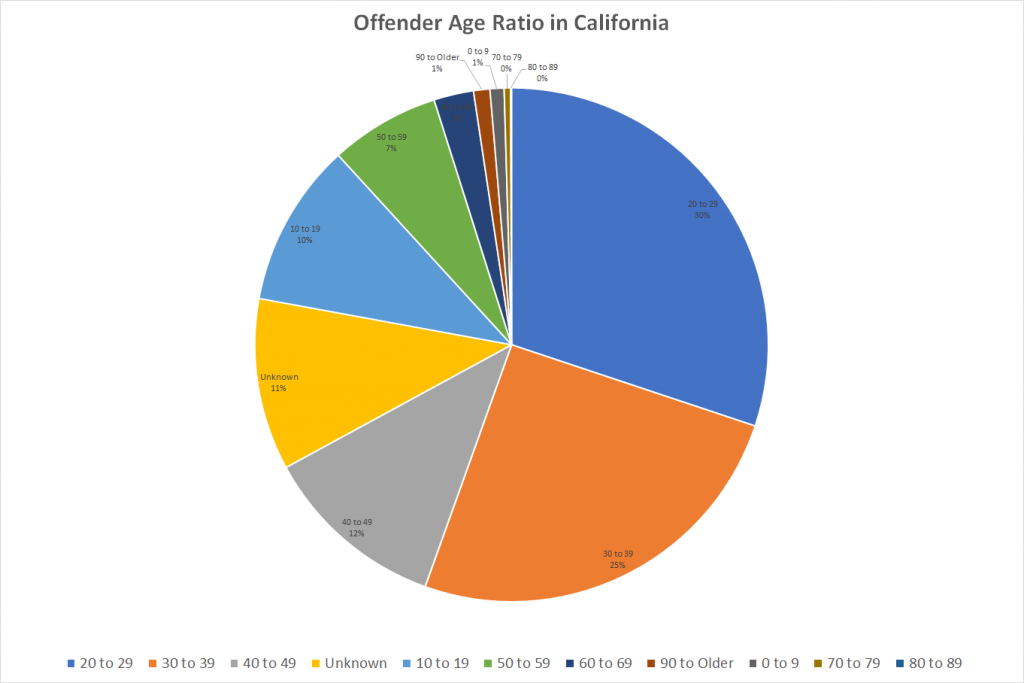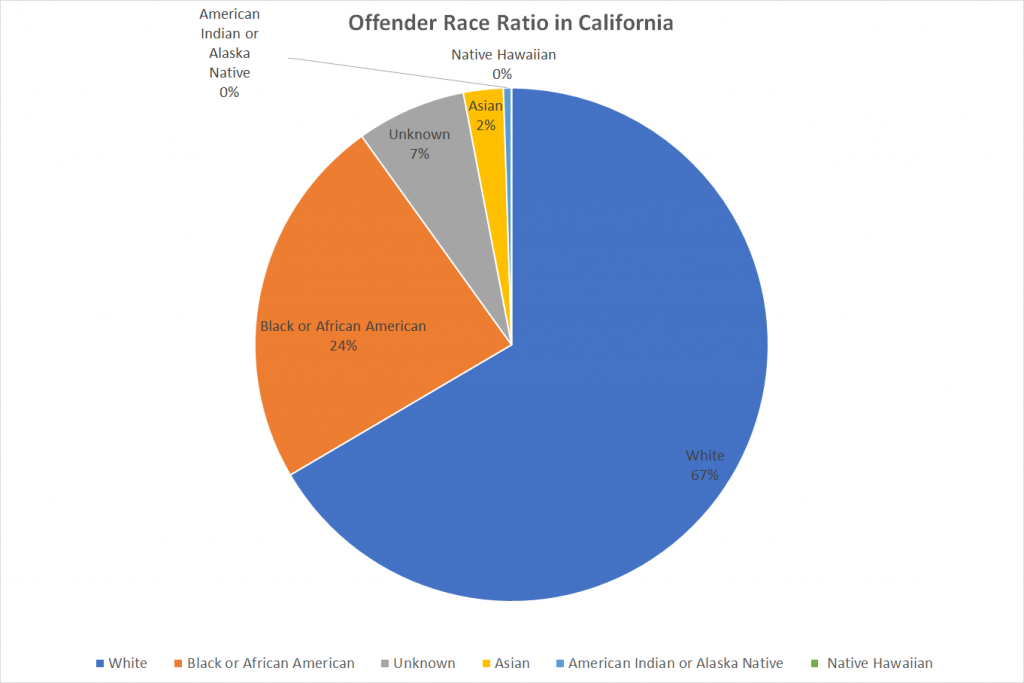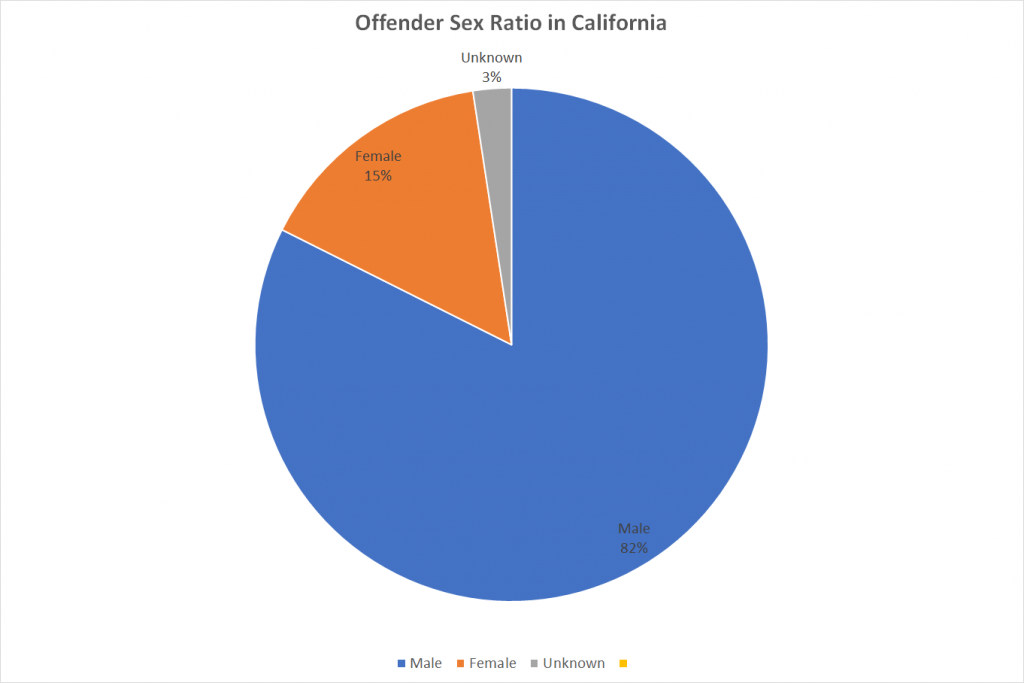 Arrests Offense in California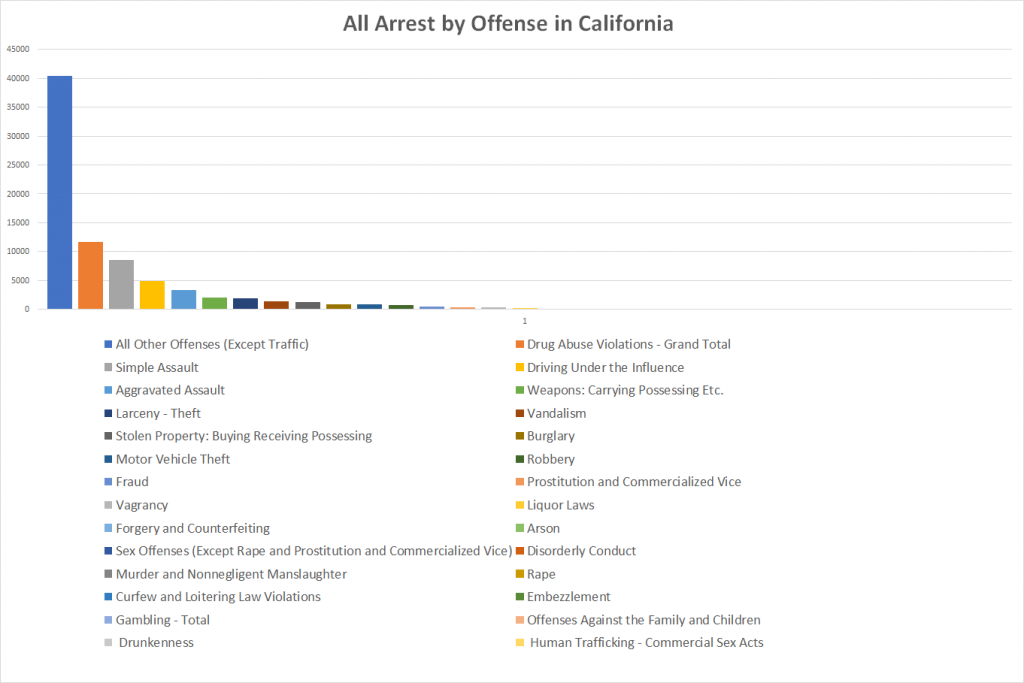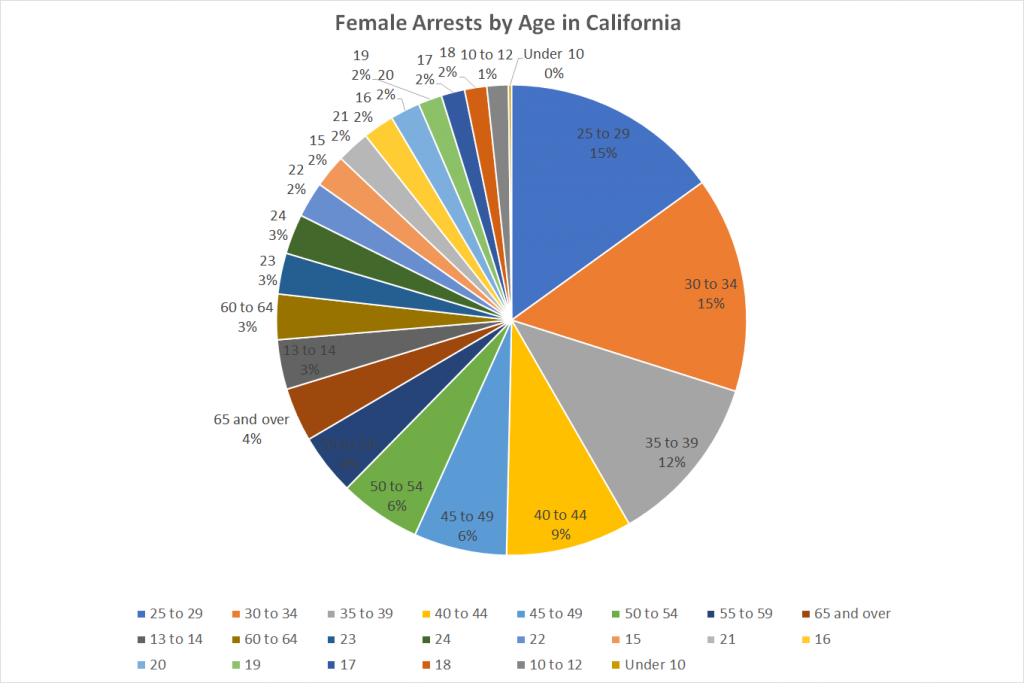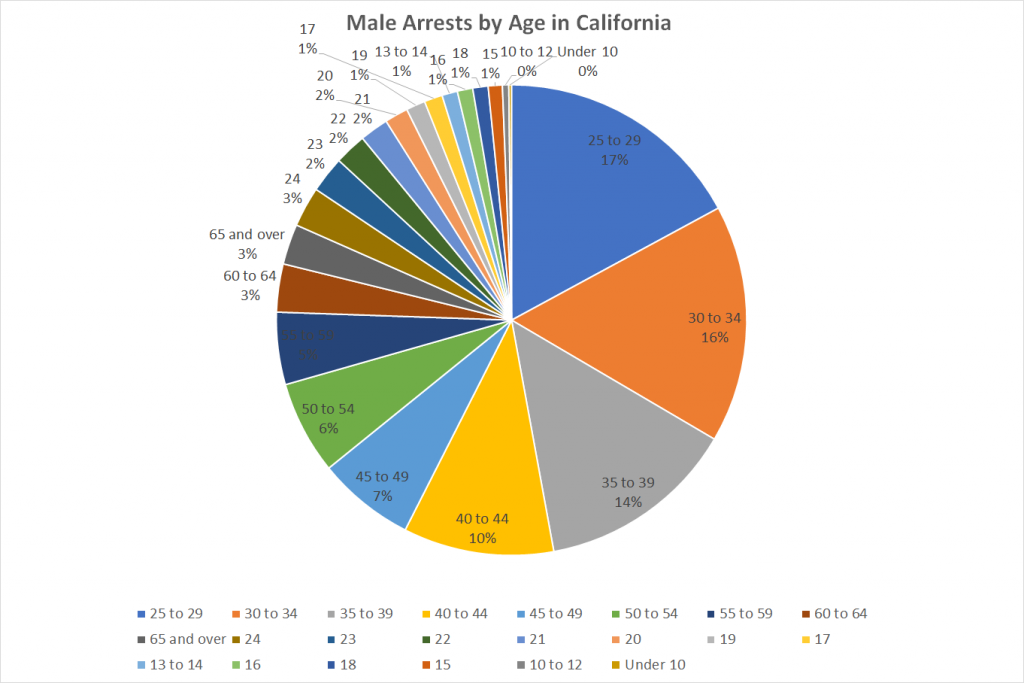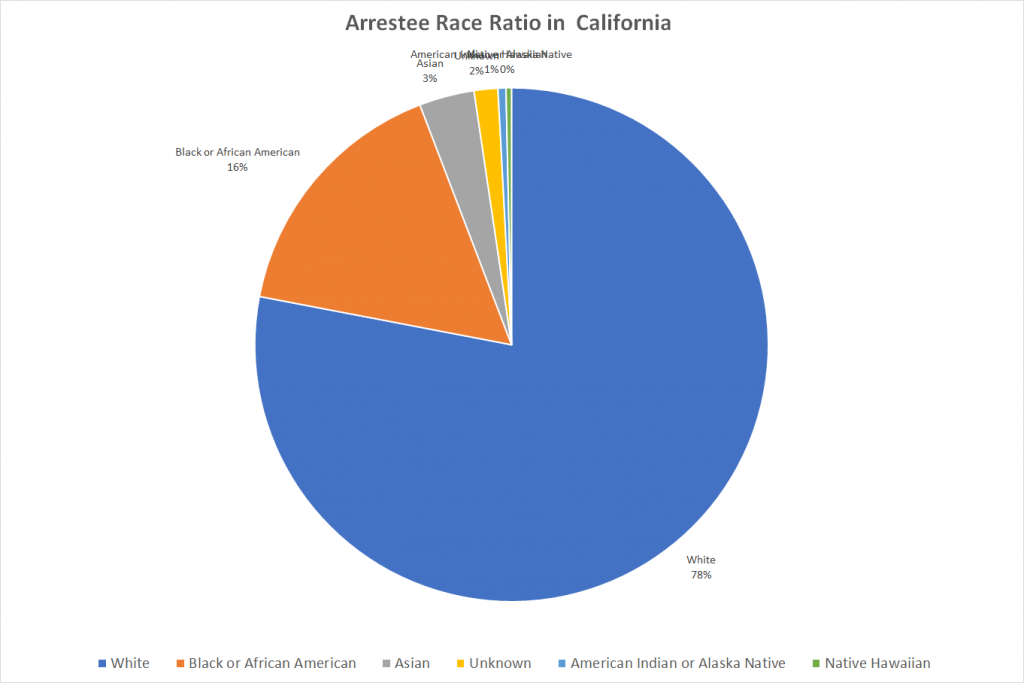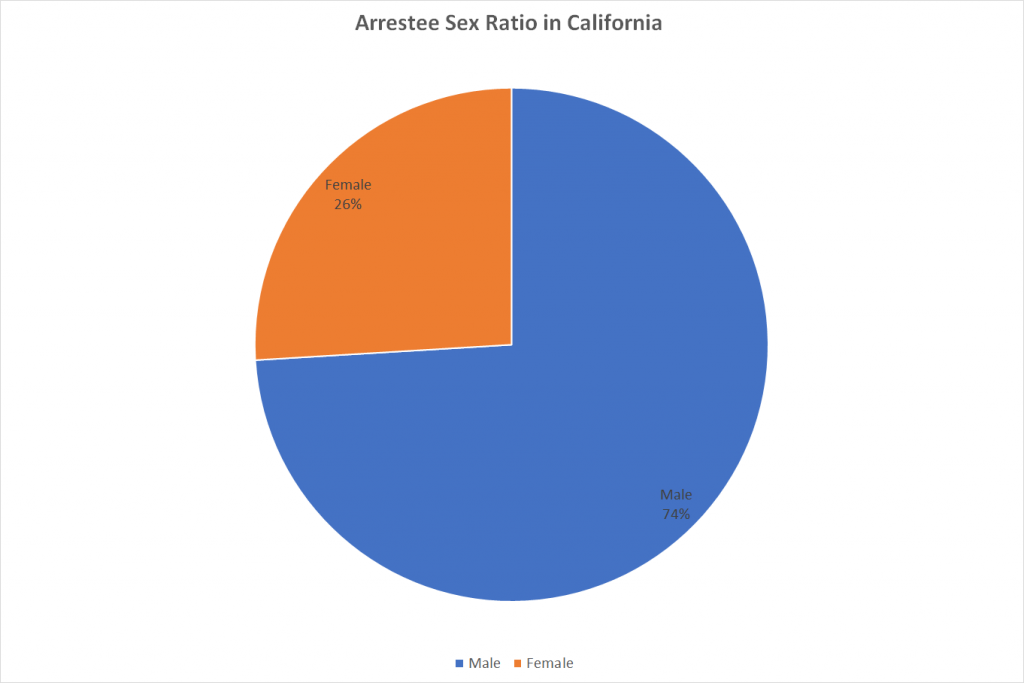 The latest data is from 2021. References: https://cde.ucr.cjis.gov/LATEST/webapp/#/pages/home
The Official Website of California County
Los Angeles City of Los Angeles
San Diego City of San Diego Official Website
San Jose San Jose, CA – Official Website
San Francisco City & County of San Francisco | San Francisco
Fresno City of Fresno | Welcome to Fresno, CA
Sacramento City Home – City of Sacramento
Long Beach City of Long Beach
Oakland City of Oakland The official website of the City of Oakland. Find out about meetings, request City services through OAK 311, or contact the Mayor and City Council.
Bakersfield City of Bakersfield
Anaheim Anaheim, CA – Official Website The home page of Anaheim.net allowing residents to navigate through the website and see what's going on in the City and contact the right people.
Santa Ana The City of Santa Ana
Riverside Riverside, California | City of Arts & Innovation
Stockton
Chula Vista City of Chula Vista Welcome to Chula Vista. Chula Vista means "beautiful view" and there is more to see and do here than you can imagine! Visit Chula Vista for the best in outdoor recreation, family activities, and urban amenities.
Irvine City of Irvine Official site includes event schedules, city guide, and administration/department information.
Los Angeles County Los Angeles County Los Angeles County, one of California's original 27 counties, was established on Feb. 18, 1850. It is one of the nation's largest counties with 4,084 square miles, and has the largest population of any county in the nation.
San Diego County SanDiegoCounty.gov The County of San Diego is one of the most award-winning and innovative government agencies in the United States. The five elected Supervisors run the County like a business, relying on the General Management System (GMS), a structure emphasizing accountability, efficiency and customer service.
Orange County Orange County, California
Riverside County County of Riverside This web site is designed to make it easier for Riverside County residents, businesses, and visitors to access the many programs and services offered by the county government and non-profit agencies.
San Bernardino County San Bernardino County – Official Website
Santa Clara County Welcome to the County of Santa Clara Located in northern California, the Official website of the County of Santa Clara, California, providing useful information and valuable resources to County residents.
Alameda County ACGOV.org | Alameda County Government
Sacramento County Sacramento County, California
Contra Costa County Contra Costa County, CA Official Website
Fresno County County of Fresno
Kern County Kern County, CA Official County Web Site Kern County, located in the heart of California, is a growing community with a variety of industries and recreational opportunities.
San Mateo County All of California in one County
San Joaquin County San Joaquin County California
Stanislaus County Stanislaus County Stanislaus County official site. Live, work and play here with recreation, arts and family fun. Info on Stanislaus County parks, jobs, animal services, tax bills & more.
Sonoma County County of Sonoma, California
Tulare County Tulare County Main
Santa Barbara County County of Santa Barbara
Solano County Solano County
Monterey County Monterey County, CA Proudly serving the community since 1850. The Mission of Monterey County is to Excel at providing Quality Services for the benefit of all Monterey County residents while developing, maintaining, and enhancing the resources of the area.
Placer County Placer County, CA | Official Website
San Luis Obispo County San Luis Obispo County
Santa Cruz County Santa Cruz County Home
Merced County Merced County, CA – Official Website
Butte County Butte County
Yolo County Yolo County
El Dorado County El Dorado County Welcome to the El Dorado County site. Local Number: (530) 621-5567. Phone: (530) 621-5567. Located in east-central California. The County seat is Placerville.
Imperial County Imperial County Website Official Website for The County of Imperial, CA
Shasta County Shasta County Official website of Shasta County, California
Madera County Madera County
Kings County Kings County The home page for the Kings County website.
Napa County Napa County, CA | Official Website
Humboldt County Humboldt County, CA – Official Website The official website for Humboldt County government.
Nevada County Nevada County, CA | Official Website
Sutter County Sutter County Home Sutter County, California, official website.
California Jail Roster
| Type | Name | County | Inmate Locator | Phone Number | Inmate Search |
| --- | --- | --- | --- | --- | --- |
| Federal Prison | Dublin Federal Correctional Institution | Alameda County | 5701 8th Street, Dublin, CA 94568 | (925) 833-7500 | Federal Inmate Locator |
| Federal Prison | Mendota Federal Correctional Institution | Fresno County | 33500 W California Avenue, Mendota, CA 93640 | (559) 274-4000 | Federal Inmate Locator |
| Federal Prison | Taft Correctional Institution | Kern County | 1500 Cadet Road, Taft, CA 93268 | (661) 763-2510 | Federal Inmate Locator |
| Federal Prison | Herlong Federal Correctional Institution | Lassen County | 741-925 Herlong Access Rd A-25, Herlong, CA 96113 | (530) 827-8000 | Federal Inmate Locator |
| Federal Prison | Los Angeles Metropolitan Detention Center | Los Angeles County | 535 Alameda Street, Los Angeles, CA 90012 | (213) 485-0439 | Federal Inmate Locator |
| Federal Prison | Terminal Island Federal Correctional Institution | Los Angeles County | 1299 S Seaside Avenue, San Pedro, CA 90731 | (310) 831-8961 | Federal Inmate Locator |
| Federal Prison | Atwater United States Penitentiary | Merced County | 1 Federal Way, Atwater, CA 95301 | (209) 386-0257 | Federal Inmate Locator |
| Federal Prison | Victorville Federal Correctional Institution Medium I | San Bernardino County | 13777 Air Base Road, Victorville, CA 92394 | (760) 246-2400 | Federal Inmate Locator |
| Federal Prison | Victorville Federal Correctional Institution Medium II | San Bernardino County | 13777 Air Base Road, Victorville, CA 92394 | (760) 530-5700 | Federal Inmate Locator |
| Federal Prison | Victorville United States Penitentiary | San Bernardino County | 13777 Air Base Road, Victorville, CA 92394 | (760) 530-5000 | Federal Inmate Locator |
| Federal Prison | San Diego Metropolitan Correctional Center | San Diego County | 808 Union Street, San Diego, CA 92101 | (619) 232-4311 | Federal Inmate Locator |
| Federal Prison | Lompoc Federal Correctional Institution | Santa Barbara County | 3600 Guard Road, Lompoc, CA 93436 | (805) 736-4154 | Federal Inmate Locator |
| Federal Prison | Lompoc United States Penitentiary | Santa Barbara County | 3901 Klein Blvd, Lompoc, CA 93436 | (805) 735-2771 | Federal Inmate Locator |
| State Prison | Mule Creek State Prison | Amador County | 4001 Highway 104, Ione, CA 95640 | (209) 274-4911 | Inmate Search |
| State Prison | Pelican Bay State Prison | Del Norte County | 5905 Lake Earl Drive, Crescent City, CA 95531 | (707) 465-1000 | Inmate Search |
| State Prison | Pleasant Valley State Prison | Fresno County | 24863 West Jayne Avenue, Coalinga, CA 93210 | (559) 935-4900 | Inmate Search |
| State Prison | California State Prison-Centinela | Imperial County | 2302 Brown Road, Imperial, CA 92251 | (760) 337-7900 | Inmate Search |
| State Prison | Calipatria State Prison | Imperial County | 7018 Blair Road, Calipatria, CA 92233 | (760) 348-7000 | Inmate Search |
| State Prison | California City Correctional Facility | Kern County | 22844 Virginia Blvd, California City, CA 93505 | (760)246-7600 | Inmate Search |
| State Prison | California Correctional Institution | Kern County | 24900 Highway 202, Tehachapi, CA 93561 | (661) 822-4402 | Inmate Search |
| State Prison | Kern Valley State Prison | Kern County | 3000 West Cecil Avenue, Delano, CA 93216-6000 | (661) 721-6300 | Inmate Search |
| State Prison | North Kern State Prison | Kern County | 2737 West Cecil Avenue, Delano, CA 93215 | (661) 721-2345 | Inmate Search |
| State Prison | Wasco State Prison-Reception Center | Kern County | 701 Scofield Avenue, Wasco, CA 93280 | (661) 758-8400 | Inmate Search |
| State Prison | Avenal State Prison | Kings County | #1 Kings Way, Avenal, CA 93204 | (559) 386-0587 | Inmate Search |
| State Prison | California State Prison-Corcoran | Kings County | 4001 King Avenue, Corcoran, CA 93212 | (559) 992-8800 | Inmate Search |
| State Prison | California Substance Abuse Treatment Facility and State Prison-Corcoran | Kings County | 900 Quebec Avenue, Corcoran, CA 93212 | (559) 992-7100 | Inmate Search |
| State Prison | California Correctional Center | Lassen County | 711-045 Center Road, Susanville, CA 96127-0790 | (530) 257-2181 | Inmate Search |
| State Prison | High Desert State Prison | Lassen County | 475-750 Rice Canyon Road, Susanville, CA 96127 | (530) 251-5100 | Inmate Search |
| State Prison | California State Prison-Los Angeles County | Los Angeles County | 44750 60th Street West, Lancaster, CA 93536-7620 | (661) 729-2000 | Inmate Search |
| State Prison | Central California Women's Facility | Madera County | 23370 Road 22, Chowchilla, CA 93610 | (559) 665-5531 | Inmate Search |
| State Prison | Valley State Prison | Madera County | 21633 Avenue 24, Chowchilla, CA 93610 | (559) 665-6100 | Inmate Search |
| State Prison | San Quentin State Prison | Marin County | San Quentin, CA 94964 | (415) 454-1460 | Inmate Search |
| State Prison | Correctional Training Facility | Monterey County | Highway 101 North, Soledad, CA 93960 | (831) 678-3951 | Inmate Search |
| State Prison | Salinas Valley State Prison | Monterey County | 31625 Highway 101, Soledad, CA 93960 | (831) 678-5500 | Inmate Search |
| State Prison | California Rehabilitation Center | Riverside County | 5th Street & Western, Norco, CA 92860 | (951) 737-2683 | Inmate Search |
| State Prison | Chuckawalla Valley State Prison | Riverside County | 19025 Wiley's Well Road, Blythe, CA 92225 | (760) 922-5300 | Inmate Search |
| State Prison | Ironwood State Prison | Riverside County | 19005 Wiley's Well Road, Blythe, CA 92225 | (760) 921-3000 | Inmate Search |
| State Prison | California State Prison-Sacramento | Sacramento County | 100 Prison Road, Represa, CA 95671 | (916) 985-8610 | Inmate Search |
| State Prison | Folsom State Prison | Sacramento County | 300 Prison Road, Represa, CA 95671 | (916) 985-2561 | Inmate Search |
| State Prison | California Institution for Women | San Bernardino County | 16756 Chino-Corona Road, Corona, CA 92880 | (909) 597-1771 | Inmate Search |
| State Prison | California Institution for Men | San Bernardino County | 14901 Central Avenue, Chino, CA 91710 | (909) 597-1821 | Inmate Search |
| State Prison | Richard J. Donovan Correctional Facility | San Diego County | 480 Alta Road, San Diego, CA 92179 | (619) 661-6500 | Inmate Search |
| State Prison | California Men's Colony | San Joaquin County | Highway 1 San Luis, Obispo, CA 93409 | (805) 547-7900 | Inmate Search |
| State Prison | Deuel Vocational Institution | San Joaquin County | 23500 Kasson Road, Tracy, CA 95376 | (209) 835-4141 | Inmate Search |
| State Prison | California Medical Facility | Solano County | 1600 California Drive, Vacaville, CA 95696 | (707) 448-6841 | Inmate Search |
| State Prison | California State Prison-Solano | Solano County | 2100 Peabody Road Vacaville, CA 95696 | (707) 451-0182 | Inmate Search |
| State Prison | Sierra Conservation Center | Tuolumne County | 5100 O'Byrnes Ferry Road, Jamestown, CA 95327 | (209) 984-5291 | Inmate Search |
| Alameda County Jail Roster | Alameda County Glenn E. Dyer Detention Facility | Alameda County | 550 6th Street, Oakland, CA 94607 | (510) 268-7777 | Inmate Search |
| Alameda County Jail Roster | Alameda County Santa Rita Jail | Alameda County | 5325 Broder Blvd, Dublin, CA 94568 | (925) 551-6500 | Inmate Search |
| Amador County Jail Roster | Amador County Jail | Amador County | 700 Court Street, Jackson, CA 95642 | (209) 223-6522 | Inmate Search |
| Butte County Jail Roster | Butte County Jail | Butte County | 33 County Center Drive, Oroville, CA 95965 | (530) 538-7471 | Jail Roster |
| Calaveras County Jail Roster | Calaveras County Jail | Calaveras County | 1045 Jeff Tuttle Drive, San Andreas, CA 95249 | (209) 754-6499 | Booking Logs |
| Colusa County Jail Roster | Colusa County Jail | Colusa County | 929 Bridge Street, Colusa, CA 95932 | (530) 458-0205 | Jail Roster |
| Contra Costa County Jail Roster | Contra Costa County Martinez Detention Facility | Contra Costa County | 1000 Ward Street, Martinez, CA 94553 | (925) 335-4600 | Jail Roster |
| Contra Costa County Jail Roster | Contra Costa County Custody Alternative Facility | Contra Costa County | 1011 Las Juntas, Martinez, CA 94553 | (925) 313-4251 | Jail Roster |
| Contra Costa County Jail Roster | Contra Costa West County Detention Facility | Contra Costa County | 5555 Giant Highway Richmond, Richmond, CA 94806 | (510) 262-4200 | Jail Roster |
| Contra Costa County Jail Roster | Contra Costa County Marsh Creek Detention Facility | Contra Costa County | 12000 Marsh Creek Road, Clayton, CA 94517 | (925) 646-5700 | Jail Roster |
| El Dorado County Jail Roster | El Dorado County Placerville Jail | El Dorado County | 300 Forni Road, Placerville, CA 95667 | (530) 621-6000 | Inmate Search |
| El Dorado County Jail Roster | El Dorado County South Lake Tahoe Jail | El Dorado County | 1051 Al Tahoe Blvd, South Lake Tahoe, CA 96150 | (530) 573-3031 | Inmate Search |
| Fresno County Jail Roster | Fresno County Jail | Fresno County | 1225 M Street, Fresno, CA 93721 | (559) 600-8600 | Inmate Search |
| Glenn County Jail Roster | Glenn County Jail | Glenn County | 141 S Lassen Street, Willows, CA 95988 | (530) 934-6428 | Jail Roster |
| Humboldt County Jail Roster | Humboldt County Correctional Facility | Humboldt County | 901 5th Street, Eureka, CA 95501 | (707) 441-5121 | Inmate Search |
| Imperial County Jail Roster | Imperial County Jail | Imperial County | 328 Applestill Road, El Centro, CA 92243 | (442) 265-2267 | Jail Roster |
| Inyo County Jail Roster | Inyo County Jail | Inyo County | 550 South Clay Street, Independence, CA 93526 | (760) 878-0370 | Inmate Search |
| Kern County Jail Roster | Kern County Central Receiving Facility | Kern County | 1415 Truxtun Avenue, Bakersfield, CA 93301 | (661) 868-6850 | Inmate Search |
| Kern County Jail Roster | Kern County Lerdo Pre-Trial Facility | Kern County | 17695 Industrial Farm Road, Bakersfield, CA 93308 | (661) 391-7900 | Inmate Search |
| Kern County Jail Roster | Kern County Lerdo Minimum Facility | Kern County | 17635 Industrial Farm Road, Bakersfield, CA 93308 | (661) 391-7800 | Inmate Search |
| Kern County Jail Roster | Kern County Lerdo Maximum-Medium Facility | Kern County | 17645 Industrial Farm Road, Bakersfield, CA 93308 | (661) 391-7856 | Inmate Search |
| Kern County Jail Roster | Kern County Mojave Jail | Kern County | 1771 Highway 58, Mojave, CA 93501 | (661) 824-7147 | Inmate Search |
| Kern County Jail Roster | Kern County Ridgecrest Jail | Kern County | 128 E Coso Avenue, Ridgecrest, CA 93555 | (760) 384-5855 | Inmate Search |
| Kings County Jail Roster | Kings County Jail | Kings County | 1444 W. Lacey Blvd, Hanford, CA 93230 | (559) 584-1431 ext 2812 | Inmate Search |
| Lake County Jail Roster | Lake County Jail | Lake County | 4913 Helbush Drive, Lakeport, CA 95453 | (707) 262-4240 | Inmate Search |
| Los Angeles County Jail Roster | Los Angeles County Century Regional Detention Facility | Los Angeles County | 11705 Alameda Street, Los Angeles, CA 90059 | (323) 357-5100 | Inmate Search |
| Los Angeles County Jail Roster | Los Angeles County Men's Central Jail | Los Angeles County | 441 Bauchet Street, Los Angeles, CA 90012 | (213) 473-6100 | Inmate Search |
| Los Angeles County Jail Roster | Los Angeles County Twin Towers Correctional Facility | Los Angeles County | 450 Bauchet Street, Los Angeles CA 90012 | (213) 893-5100 | Inmate Search |
| Los Angeles County Jail Roster | Los Angeles North County Correctional Facility | Los Angeles County | 29340 The Old Road, Castaic, CA 91384 | (213) 473-6100 | Inmate Search |
| Los Angeles County Jail Roster | Los Angeles County Pitchess Detention Center's North Facility | Los Angeles County | 29320 The Old Road, Castaic, CA 91384 | (213) 473-6100 | Inmate Search |
| Los Angeles County Jail Roster | Los Angeles County Pitchess Detention Center's South Facility | Los Angeles County | 29330 The Old Road, Castaic, CA 91384 | (213) 473-6100 | Inmate Search |
| Madera County Jail Roster | Madera County Department of Corrections | Madera County | 14191 Road 28, Madera, CA 93638 | (559) 675-7951 | Inmate Search |
| Marin County Jail Roster | Marin County Jail | Marin County | 13 Peter Behr Drive, San Rafael, CA 94903 | (415) 499-6655 | Inmate Search |
| Mariposa County Jail Roster | Mariposa County Adult Detention Facility | Mariposa County | 5379 Highway 49 North, Mariposa, CA 95338 | (209) 966-3616 | Inmate Search |
| Mendocino County Jail Roster | Mendocino County Corrections | Mendocino County | 951 Low Gap Road, Ukiah, CA 95482 | (707) 463-4565 | Inmate Search |
| Merced County Jail Roster | Merced County Main Jail Facility | Merced County | 700 W. 22nd Street, Merced, CA 95340 | (209) 385-7410 | Inmate Search |
| Merced County Jail Roster | Merced County John Latorraca Correctional Facility | Merced County | 2584 W. Sandy Mush Road, El Nido, CA 95317 | (209) 385-7575 | Inmate Search |
| Modoc County Jail Roster | Modoc County Jail | Modoc County | 102 South Court Street, Alturas, CA 96101 | (530) 233-4416 | Jail Roster |
| Mono County Jail Roster | Mono County Jail | Mono County | 25 Emigrant Street, Bridgeport, CA 93517 | (760) 932-7549 | Jail Roster |
| Monterey County Jail Roster | Monterey County Jail | Monterey County | 1410 Natividad Road, Salinas, CA 93906 | (831) 647-7782 | Inmate Search |
| Napa County Jail Roster | Napa County Department of Corrections | Napa County | 1125 3rd Street, Napa, CA 94559 | (707) 253-4401 | Inmate Search |
| Nevada County Jail Roster | Nevada County Jail | Nevada County | 950 Maidu Avenue, Nevada City, CA 95959 | (530) 265-1291 | Inmate Search |
| Orange County Jail Roster | Orange County Central Jail Complex | Orange County | 550 N. Flower Street, Santa Ana, CA 92703 | (714) 647-4666 | Inmate Search |
| Orange County Jail Roster | Orange County Theo Lacy Facility | Orange County | 501 The City Drive South, Orange, CA 92868 | (714) 935-6940 | Inmate Search |
| Orange County Jail Roster | Orange County James A. Musick Facility | Orange County | 13502 Musick, Irvine, CA 92618 | (949) 855-2600 | Inmate Search |
| Placer County Jail Roster | Placer County Auburn Main Jail | Placer County | 2775 Richardson Drive, Auburn CA 95603 | (530) 745-8500 | Inmate Roster |
| Placer County Jail Roster | Placer County South Placer Jail | Placer County | 11801 Go For Broke Road, Roseville, CA 95678 | (916) 409-8100 | Inmate Roster |
| Plumas County Jail Roster | Plumas County Jail | Plumas County | 1400 E Main Street, Quincy, CA 95971 | (530) 283-6375 | Jail Roster |
| Riverside County Jail Roster | Riverside County Robert Presley Detention Center | Riverside County | 4000 Orange Street, Riverside, CA 92501 | (951) 955-4500 | Inmate Search |
| Riverside County Jail Roster | Riverside County Southwest Detention Center | Riverside County | 30755-B Auld Road, Murrieta, CA 92563 | (951) 696-3050 | Inmate Search |
| Riverside County Jail Roster | Riverside County Larry D. Smith Correctional Facility | Riverside County | 1627 Hargrave Street, Banning, CA 92220 | (951) 922-7300 | Inmate Search |
| Riverside County Jail Roster | Riverside County Indio Jail | Riverside County | 46057 Oasis Street, Indio, CA 92201 | (760) 863-8252 | Inmate Search |
| Riverside County Jail Roster | Riverside County Blythe Jail | Riverside County | 260 N Spring Street, Blythe, CA 92225 | (760) 921-5780 | Inmate Search |
| Sacramento County Jail Roster | Sacramento County Main Jail | Sacramento County | 651 I Street, Sacramento, CA 95814 | (916) 874-6752 | Inmate Search |
| San Benito County Jail Roster | San Benito County Jail | San Benito County | 710 Flynn Road, Hollister, CA 95024 | (831) 636-4060 | Jail Roster |
| San Bernardino County Jail Roster | San Bernardino County High Desert Detention Center | San Bernardino County | 9438 Commerce Way, Adelanto, CA 92301 | (760) 530-9300 | Inmate Search |
| San Bernardino County Jail Roster | San Bernardino County Central Detention Center | San Bernardino County | 630 East Rialto Avenue, San Bernardino, CA 92415 | (909) 384-9059 | Inmate Search |
| San Bernardino County Jail Roster | San Bernardino County Glen Helen Rehabilitation Center | San Bernardino County | 18000 Institution Road, Devore, CA 92407 | (909) 473-3689 | Inmate Search |
| San Bernardino County Jail Roster | San Bernardino County West Valley Detention Center | San Bernardino County | 9500 Etiwanda Avenue, Rancho Cucamonga, CA 91739 | (909) 350-2476 | Inmate Search |
| San Diego County Jail Roster | San Diego County Central Jail – Downtown | San Diego County | 1173 Front Street, San Diego, CA 92101 | (619) 610-1647 | Inmate Search |
| San Diego County Jail Roster | San Diego County Vista Detention Facility – North County | San Diego County | 325 S. Melrose Drive, Ste 200, Vista, CA 92081 | (760) 936-0014 | Inmate Search |
| San Diego County Jail Roster | San Diego County South Bay Detention Facility | San Diego County | 500 Third Avenue, Chula Vista, CA 91910 | (619) 213-1433 | Inmate Search |
| San Diego County Jail Roster | San Diego County Las Colinas Detention & Reentry Facility | San Diego County | 451 Riverview Pkwy, Santee, CA 92071 | (619) 402-1312 | Inmate Search |
| San Diego County Jail Roster | San Diego County Facility 8 Detention Facility | San Diego County | 446 Alta Road, Suite 5300, San Diego, CA 92158 | (619) 210-0327 | Inmate Search |
| San Diego County Jail Roster | San Diego County East Mesa Reentry Facility | San Diego County | 446 Alta Road, Suite 5200, San Diego, CA 92158 | (619) 210-0334 | Inmate Search |
| San Diego County Jail Roster | San Diego County George Bailey Detention Facility | San Diego County | 446 Alta Road, Suite 5300, San Diego, CA 92158 | (619) 210-0385 | Inmate Search |
| San Francisco County Jail Roster | San Francisco County Intake and Release Center | San Francisco County | 425 7th Street, San Francisco 94103 | (415) 554-7225 | Inmate Search |
| San Francisco County Jail Roster | San Francisco County Jail #2 | San Francisco County | 425 7th Street, San Francisco 94103 | (415) 554-7225 | Inmate Search |
| San Francisco County Jail Roster | San Francisco County Jail #4 | San Francisco County | 850 Bryant Street, San Francisco 94103 | (415) 554-7225 | Inmate Search |
| San Francisco County Jail Roster | San Francisco County Jail #5 | San Francisco County | #1 Moreland Drive, San Bruno 94066 | (415) 554-7225 | Inmate Search |
| San Joaquin County Jail Roster | San Joaquin County Jail | San Joaquin County | 7000 Michael Canlis Blvd, French Camp, CA 95231 | (209) 468-4562 | Inmate Search |
| San Luis Obispo County Jail Roster | San Luis Obispo County Jail | San Luis Obispo County | 1585 Kansas Avenue, San Luis Obispo, CA 93405 | (805) 781-4600 | Inmate Search |
| San Mateo County Jail Roster | San Mateo County Maguire Correctional Facility | San Mateo County | 300 Bradford Street, Redwood City, CA 94063 | (650) 363-4000 ext. 6070 or 6071 | Inmate Search |
| San Mateo County Jail Roster | San Mateo County Maple Street Correctional Center | San Mateo County | 1300 Maple Street, Redwood City, CA 94063 | (650) 599-3000 | Inmate Search |
| Santa Barbara County Jail Roster | Santa Barbara County Jail | Santa Barbara County | 4436 Calle Real, Santa Barbara, CA 93110 | (805) 681-4260 | Jail Roster |
| Santa Clara County Jail Roster | Santa Clara County Department of Correction Main Jail Facility | Santa Clara County | 150 W. Hedding Street, San Jose, CA 95110 | (408) 299-3438 | Inmate Search |
| Santa Clara County Jail Roster | Santa Clara County Department of Correction Elmwood Complex | Santa Clara County | 701 South Abel Street, Milpitas, CA 95035 | (408) 957-5900 | Inmate Search |
| Santa Cruz County Jail Roster | Santa Cruz County Main Jail | Santa Cruz County | 259 Water Street, Santa Cruz, CA 95060 | (831) 454-7800 | Inmate Search |
| Santa Cruz County Jail Roster | Santa Cruz County Rountree Men's Facility | Santa Cruz County | 90 Rountree Lane, Watsonville, CA 95076 | (831) 454-7873 | Inmate Search |
| Santa Cruz County Jail Roster | Santa Cruz County Blaine St. Women's Facility | Santa Cruz County | 141 Blaine Street, Santa Cruz, CA 95060 | (831) 454-2177 | Inmate Search |
| Shasta County Jail Roster | Shasta County Jail | Shasta County | 1655 West Street, Redding, CA 96001 | (530) 245-6100 | Inmate Roster |
| Sierra County Jail Roster | Sierra County Jail | Sierra County | 100 Courthouse Square, Downieville, CA 95936 | (530) 289-3700 | Jail Roster |
| Siskiyou County Jail Roster | Siskiyou County Jail | Siskiyou County | 315 South Oregon Street, Yreka, CA 96097 | (530) 842-8157 | Inmate Search |
| Solano County Jail Roster | Solano County Justice Center Detention Facility | Solano County | 500 Union Avenue, Fairfield, CA 94533 | (707) 784-7100 | Inmate Search |
| Solano County Jail Roster | Solano County Claybank Detention Facility | Solano County | 2500 Claybank Road, Fairfield, CA 94533 | (707) 784-7181 | Inmate Search |
| Solano County Jail Roster | Solano County Stanton Correctional Facility | Solano County | 2450 Claybank Road, Fairfield, CA 94533 | (707) 784-4830 | Inmate Search |
| Sonoma County Jail Roster | Sonoma County Main Adult Detention Facility | Sonoma County | 2777 Ventura Avenue, Santa Rosa, CA 95403 | (707) 565-1400 | Inmate Search |
| Sonoma County Jail Roster | Sonoma County North County Detention Facility | Sonoma County | 2254 Ordinance Road, Santa Rosa, CA 95403 | (707) 565-1400 | Inmate Search |
| Stanislaus County Jail Roster | Stanislaus County Men's Jail | Stanislaus County | 1115 H Street, Modesto, CA 95354 | (209) 491-8727 | Inmate Roster |
| Stanislaus County Jail Roster | Stanislaus County Public Safety Center | Stanislaus County | 200 East Hackett Road, Modesto, CA 95358 | (209) 525-5630 | Inmate Roster |
| Stanislaus County Jail Roster | Stanislaus County Unit 1 & Unit 2 | Stanislaus County | 200 East Hackett Road, Modesto, CA 95358 | (209) 525-5630 | Inmate Roster |
| Sutter County Jail Roster | Sutter County Jail | Sutter County | 1077 Civic Center Blvd, Yuba City, CA 95993 | (530) 822-7300 | Inmate Search |
| Tehama County Jail Roster | Tehama County Jail | Tehama County | 502 Oak Street, Red Bluff, CA 96080 | (530) 529-7910 | Inmate Roster |
| Trinity County Jail Roster | Trinity County Jail | Trinity County | 101 Memorial Drive, Weaverville, CA 96093 | (530) 623-2611 | Jail Roster |
| Tulare County Jail Roster | Tulare County Main Jail | Tulare County | 2404 W. Burrel, Visalia, CA 93291 | (559) 636-4655 | Inmate Search |
| Tulare County Jail Roster | Tulare County Bob Wiley Detention Facility | Tulare County | 36712 Road 112, Visalia, CA 93291 | (559) 735-1700 | Inmate Search |
| Tulare County Jail Roster | Tulare County Pre-Trial Facility | Tulare County | 36650 Road 112, Visalia, CA 93291 | (559) 735-1750 | Inmate Search |
| Tuolumne County Jail Roster | Tuolumne County Jail | Tuolumne County | 175 Yaney Avenue, Sonora, CA 95370 | (888) 243-9939 | Jail Roster |
| Ventura County Jail Roster | Ventura East County Jail | Ventura County | 2101 East Olsen Road, Thousand Oaks, CA 91360 | (805) 494-8242 | Inmate Search |
| Ventura County Jail Roster | Ventura County Todd Road Jail Facility | Ventura County | 600 South Todd Road, Santa Paula, CA 93060 | (805) 933-8501 | Inmate Search |
| Ventura County Jail Roster | Ventura County Pre-Trial Detention Facility | Ventura County | 800 South Victoria Avenue, Ventura, CA 93009 | (805) 654-3335 | Inmate Search |
| Yolo County Jail Roster | Yolo County Jail | Yolo County | 140 Tony Diaz Drive, Woodland, CA 95776 | (530) 668-5245 | Jail Roster |
| Yuba County Jail Roster | Yuba County Jail | Yuba County | 215 5th Street, Marysville, CA 95901 | (530) 749-7740 | Inmate Search |
City of Pleasanton, CA – Police Blotter Pleasanton Police Blotter Weekly Arrests
San Leandro Weekly Arrest Reports City of San Leandro Police Department
Alameda County Inmate Locator Alameda County Inmate Locator
Jail Facility – City of Berkeley, CA Berkeley Police Department Jail Information
Detention Facility – Jail | City of Hayward – Official website LIVE SCAN SERVICES:We cannot currently process live scan transactions at the Hayward Police Department due to equipment malfunction. It is currently being serviced at this time.
Amador County Sheriff's Office CrimeGraphics.com
City of Chico Weekly Arrest Query Chico Weekly Arrest Log
Sheriff's Office – County of Del Norte Official site of the County of Del Norte, California.
Inmate Bookings Welcome to the official Website of the Fresno County Sheriff's Office.
Arrest Reports | County of Glenn Glenn County Arrest Reports
Jail Reports | Humboldt County, CA – Official Website Browse through daily reports for disposition of arrest list, release inmate report, daily booking sheet, must go report, and alpha population profile.
Imperial County Sheriffs's Office Imperial County Sheriff's Office, committed to professional service and protection. Ethics, Loyalty, Honesty, Accountability, Professionalism, Integrity, Commitment
Kern County Sheriff's Office Arrest Records INVESTIGATIONS BUREAU
Arrest Records | KCSO Kern Sheriff Inmate Search
Kern County Sheriff Detentions: Display In-Custody Inmate Information In Custody Inmate Search
Home – County of Kings Inmate Locator Search for current inmates in the Kings County Jail and view booking lists
Lake County Recent Arrests Office of the Sheriff Recent Arrests
Daily Arrest Logs – Crime Information | Burbank CA Police Department Design Burbank Police Daily Arrest Logs
Crime Statistics / Booking Reports | City of Glendale, CA City of Glendale Crime Statistics and Booking Reports
LASD Inmate Information Center – Inmate Search Los Angeles County Sheriff's Department Men's Central Jail
Inmate Lookup | Madera County Madera County Jail Inmate Inquiry
Public Booking Log – County Of Marin County of Marin Public Arrest Log
Adult Detention Facility | Mariposa County, CA – Official Website Mariposa County Adult Detention Facility Information
Booking Log | Fort Bragg, CA Fort Bragg Weekly Booking Log
Inmate Inquiry Mendocino County Sheriff Inmate Inquiry
Merced County Sheriff Public Services Merced County Sheriff Inmate Search
Inmate Information – Monterey Sheriff's Office Monterey County Sheriff's Patrol Log
Crime Logs | Marina, CA – Official Website Marina Crime Logs
Inmate Information – Monterey Sheriff's Office Monterey County Inmate List
Napa County – Content Has Moved Napa County DOC
Jail Media Report Nevada County Sheriff's Jail Log
City of Huntington Beach Arrest Log Huntington Beach Police Department Arrests
Arrest Log | Placentia, CA – Official Website Placentia Arrest Logs
Anaheim, CA – Official Website Anaheim Civic Alerts
Orange County, California – Inmate Records Orange County Inmate Records
Orange County, California – Inmate Information Orange County Inmate Information Services
Who's In Jail | Anaheim, CA – Official Website Who's In Jail will allow you to search for a person currently housed in the Anaheim Detention Facility, or you can call (714) 765-1988. ?For inmate information for the Orange County Jail, call (714) 647-4666.
Crime & Arrest Information – City of Roseville City of Roseville Jail Bookings
Placer County 24 Hour Bookings and Release Report The Placer County Sheriff's Office serves the people of Placer County by providing law enforcement to the unincorporated areas, from the Sacramento County line to the Nevada state line at Lake Tahoe, plus providing contract law enforcement services to the city of Colfax and the township of Loomis.
Placer County In Custody Reports The Placer County Sheriff's Office serves the people of Placer County by providing law enforcement to the unincorporated areas, from the Sacramento County line to the Nevada state line at Lake Tahoe, plus providing contract law enforcement services to the city of Colfax and the township of Loomis.
Inmate Information System Riverside Sheriff Inmate Information System
Sacramento County Sheriff's Department Sacramento County Inmate List
City of San Bernardino – Arrest Logs Arrest Log Summaries and Statistics
County of San Bernardino Inmate Locator San Bernardino Inmate Locator
La Mesa, CA – Official Website La Mesa Police Department Logs
San Diego County Sheriff's Department | Jail Information Information for friends and family of persons being held in San Diego County Jails
Chula Vista City Jail | City of Chula Vista Who's in Jail in Chula Vista
San Francisco Sheriff's Department San Francisco Inmate Locator
San Joaquin County Sheriff's Office Who's in Custody
Who's in Custody San Luis Obispo Sheriff's Office Recent Arrests
Arrest Log | City of Santa Clara Santa Clara Police Arrest Log
City of Mountain View – Arrests Learn about what happens when you're arrested in Santa Clara County as an adult or juvenile, plus other helpful links.
Find Inmate – OVR Santa Clara County Find an Inmate
Arrest Logs – Santa Cruz County Sheriff's Office Santa Cruz County Arrest Logs
Custody Division | Siskiyou County CA Siskiyou Custody Division
Solano County – Jail Booking Logs Solana County Jail Bookings Search
Arrest-Crime Logs — Sonoma County Sheriff's Office Sonoma County Sheriff's Office Crime and Arrest Reports
Jail Inmate Search — Sonoma County Sheriff's Office Sonoma Sheriff Jail Inmate Search
Who's in Custody Stanislaus County Sheriff's Department Who's in Jail
Sutter County Sheriff Inmates Sutter County Sheriff's Office Inmate Search page.
Tehama County Inmates | Jail Division | Tehama County Sheriff's Office Tehama County Inmate Information
Weaverville California – Trinity County Sheriff's Department News News and events in Trinity County that involve the Trinity County Sheriff's Department?and other law enforcement agencies. The following reports are the official Press Releases from the Trinity County Sheriff's Department and posted when we recieve them.
Inmate Search – Tulare County Sheriff Tulare County Active Inmates
CrimeGraphics.com Sonora Police Department CrimeGraphics.com
Custody Division | Tuolumne County, CA – Official Website Learn about the Tuolumne County Jail.
Home – Ventura County Sheriff's Office Ventura County Inmate Search
Daily Activity Log | City of Davis, CA City of Davis Daily Arrest And Activity Log
Jail – Yolo County Sheriff's Office | Woodland, CA Yolo County Sheriff's Office
Inmate Search Yuba County Inmate Search
State of California Inmate Locator The CDCR operates all state adult prisons and juvenile facilities, oversees a variety of community correctional facilities, and supervises all adult and juvenile offenders.
Fingerprint Background Checks | State of California – Department of Justice – Office of the Attorney General California Fingerprint Background Checks
California Courts – Home Committed to providing fair and equal access to justice for all Californians.
California Megans Law California Megans?Law Sex Offender Registry