Alaska Public Records
The state makes most of its records available to the public. Having the right information about what public records are available, which ones are accessible and where to find them is very important.
Alaska is also known to be a more conservative state of the USA when it comes to releasing of public records. However, Alaska makes many public records available to the general public, but with some exceptions. There are clauses in the statutes of Alaska government that allows the state to hold back notes or records from confidential meetings as well as status reports on some various aspects of running the Alaska government. Additionally, the state's Ethics Committee meeting notes are also confidential and are only accessible to the public once a ruling is made.
Alaska Criminal Records
The Alaska Department of Public Safety administers background checks in Alaska. These public records are available to licensing agencies and employers for screening purposes. The records are also open to any citizen provided they are holding a signed authorized form. You can obtain a report by doing a name-based search or by submitting fingerprints.
A typical Alaska background check may include information such as criminal history dating back 7 years, home address, and Social Security number confirmation. However, in case you are employed to work with seniors or children, there are several provisions for additional record disclosures.
Arrest records, as well as inmate and jail records, are also made available to the public. You can contact the Alaska Department of Correction to get the information on current inmates. You can also search for these records online throughvinelink.com. For you to perform a search, the site will prompt you to enter either the Offender's last and first name, or Offender ID.
Alaska Court Records
Basically, all the records produced in any Alaska court are typically considered to be public records except those records that the court has sealed. To obtain copies of the court records, you can contact the intake desk or visit the right court office. Alternatively, you can also obtain the records by making a request by email. It's worth noting that requests by emails are only accepted by the Anchor court. When making a request to obtain court records, you should know the case number, the court in which the case was filed, and the date the case was filed.
Alaska Vital Records
The Alaska State Bureau of Vital Statistics keeps and manages Alaska's vital records for things such as birth, marriage, divorce and death.
Birth records: The Alaska government did not require its agencies to keep birth records until 1913. Even though the birth certificates were required by the government as early as 1913, full compliance only began in 1945. The law of the state of Alaska states that only persons listed on the birth record are eligible to obtain copies, with the exception of a legal guardian.
Death records: There are no death records prior to 1913, and there wasn't full compliance throughout the state until 1945. Copies of death records can be obtained only by family members and their legal representatives.
Marriage records: Despite the fact that territorial for marriage in the state of Alaska began as early as 1913, there are very few records of marriage prior to 1930. Access to marriage certificates is limited to those whose names are listed on the certificate, or to a legal representative through a request.
Divorce records: There are divorce records back from 1950. The access to divorce certificates is limited to the persons named on the divorce record or the legal representatives of those named on the record.
You can obtain any of the above named records in person at either Anchorage or Juneau offices. They may also be obtained by mailing or faxing the completed form with the needed payment and required documentation.
Alaska State Court System
Understanding how the system of Alaska state court works is very important as it helps you find court records easily.
Alaska Courts Overview
The trial court system of Alaska State consists of District Courts and Superior Courts.
Alaska Superior Courts
Alaska Superior Courts have general jurisdiction over all criminal and civil cases. Actually, they are courts of general jurisdiction. Typically, Superior Courts handle cases that the District Courts have no jurisdiction to handle.
Criminal cases that Superior Courts handle include lesser-included offenses and felonies. Civil cases that Superior Courts handle include the general civil cases with claims of above 10,000 dollars per defendant. These courts also handle juvenile matters, domestic relations cases, administrative agency appeals, involuntary commitments, guardianships and probate matters.
Superior Courts do not handle any civil case that is within the jurisdiction of Alaska District Courts except domestic violence protection orders.
Alaska District Courts
Alaska District Courts, unlike Superior Courts, are courts of limited jurisdiction. The criminal cases that these courts handle include ordinance violations and misdemeanor. Civil cases that District Courts handle include most general civil cases that involve dispute claims of less than $100,000 per defendant, exclusive of attorney fees, interest and costs.
Alaska District Courts cannot handle civil cases with disputes over real property title or some equity disputes. These courts also have Small Claims divisions where claims for less than $10,000, exclusive of attorney fees, interest and costs are handled. The Small Claims Division has no jurisdiction to handle cases that raise unusual or important points of law. The Small Claims division also has no jurisdiction to handle cases where the State is the defendant. The Small Claims division can be used by the State for cases that involve payment of wages, provided the claim doesn't exceed $20,000, exclusive of attorney fees, costs and interest.
These courts have jurisdiction over stalking protection orders and they share jurisdiction with Superior courts over domestic violence protection orders.
Alaska Crime Statistics
Violent & Property Crime Rates in Alaska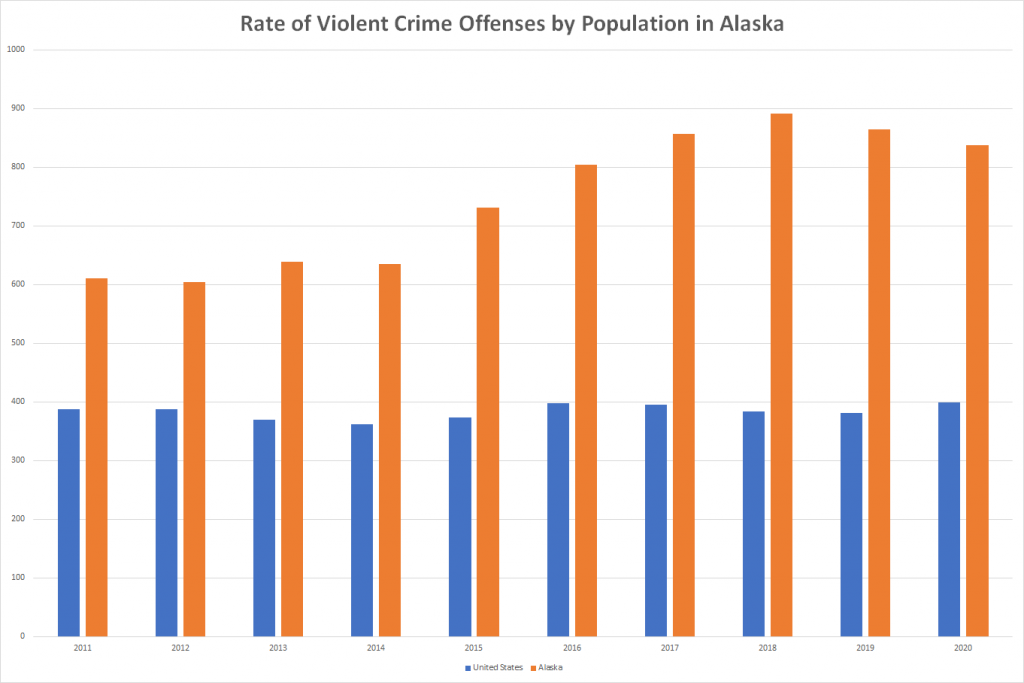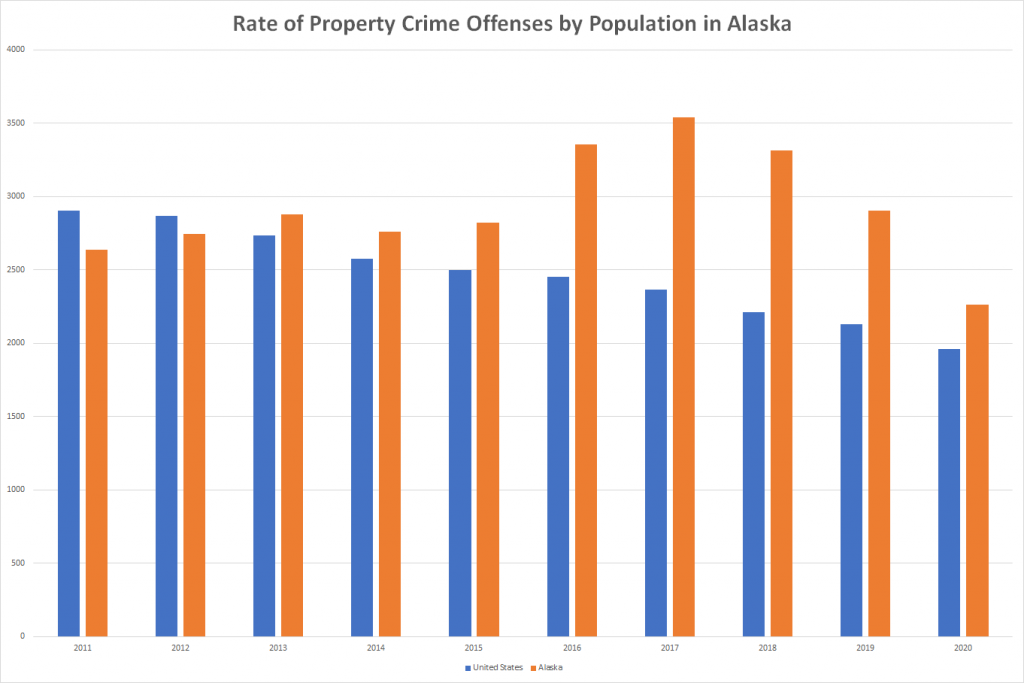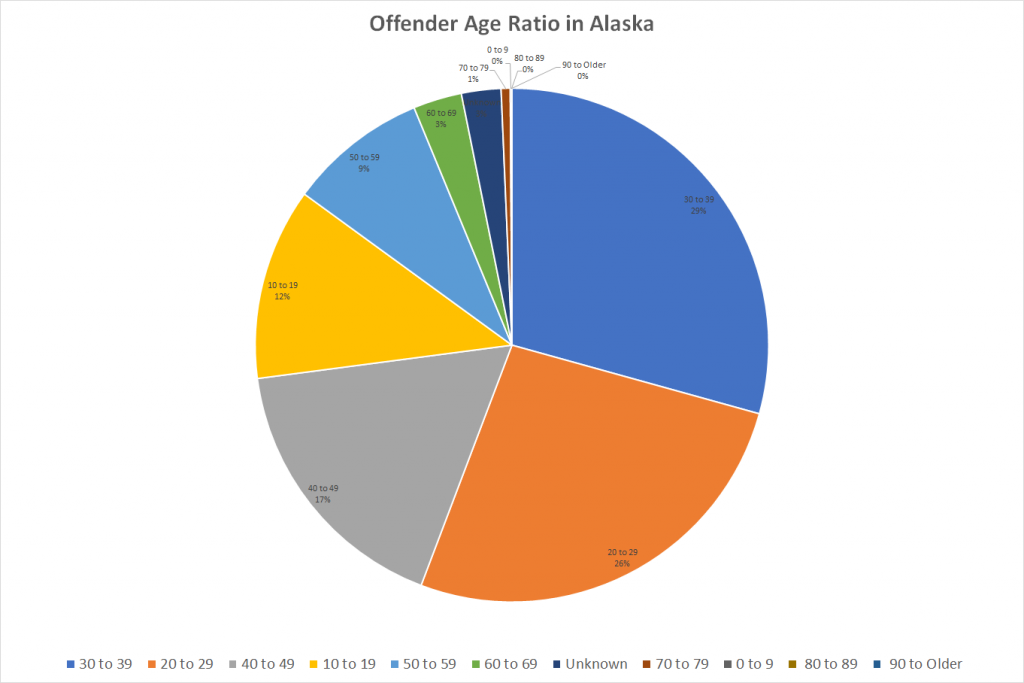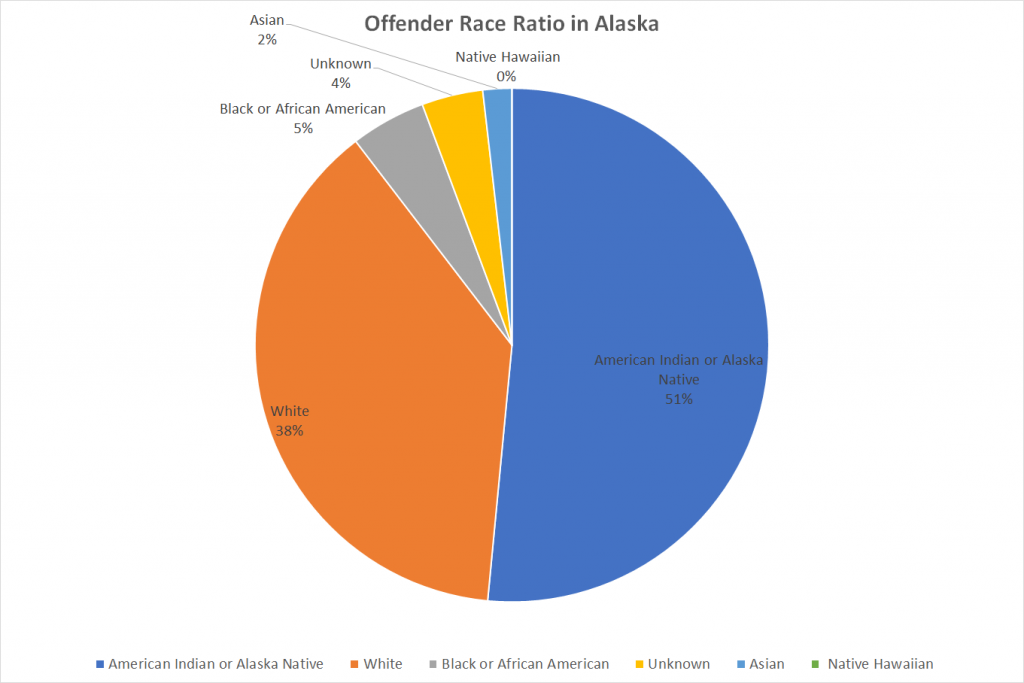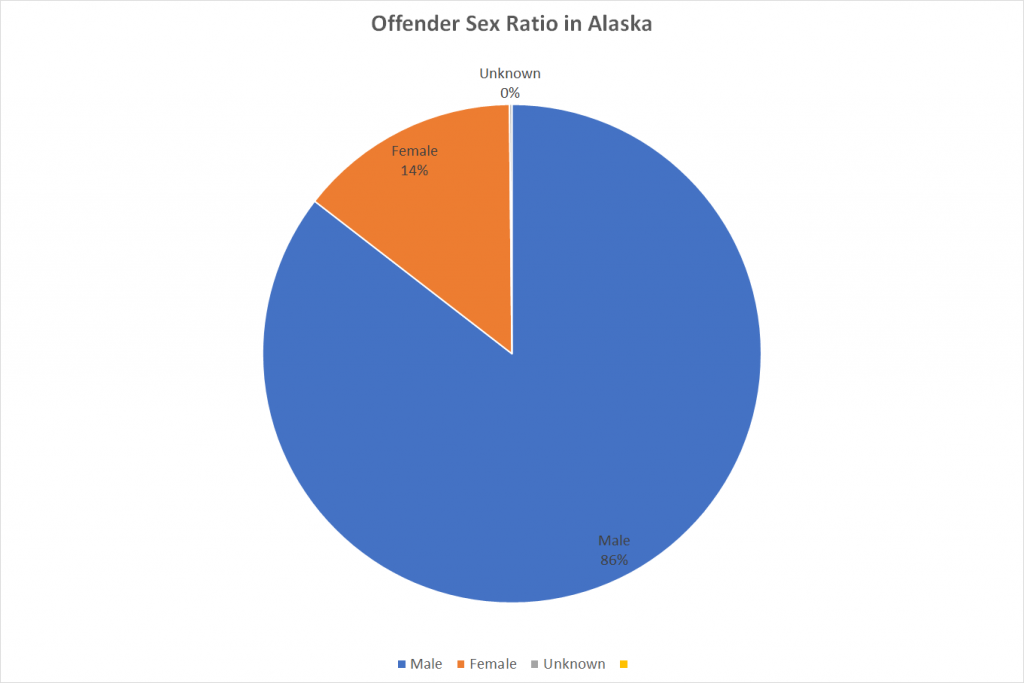 Arrests Offense in Alaska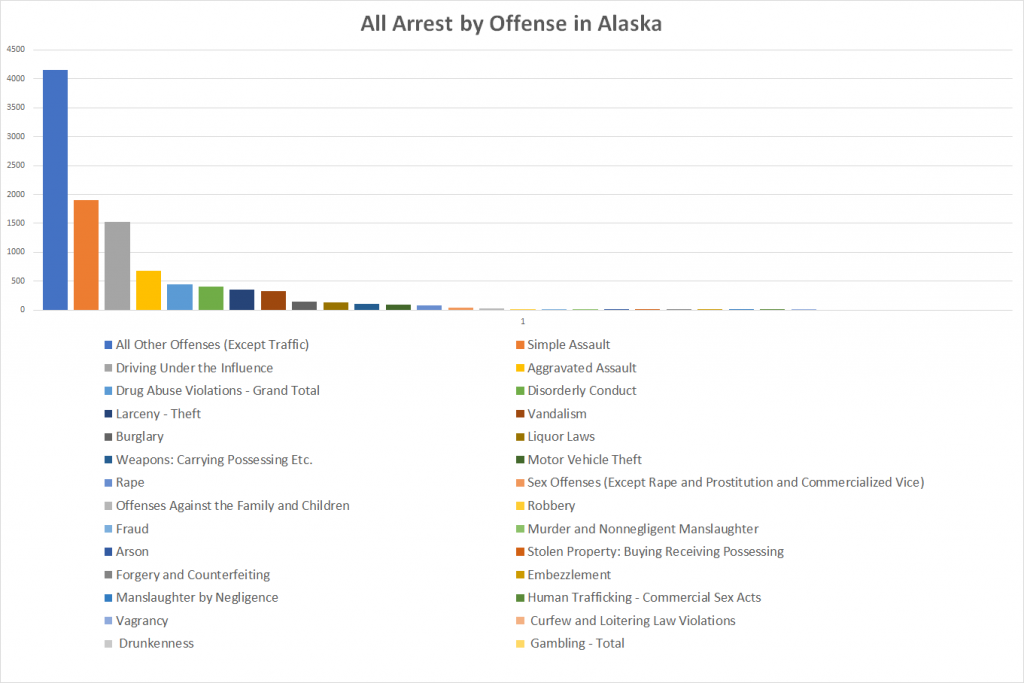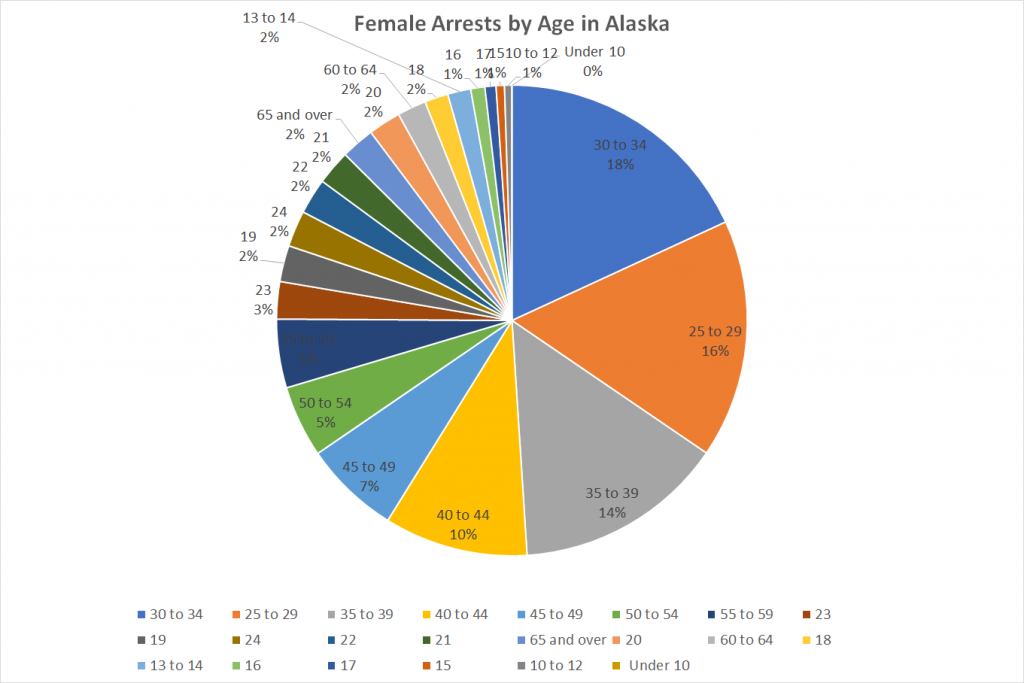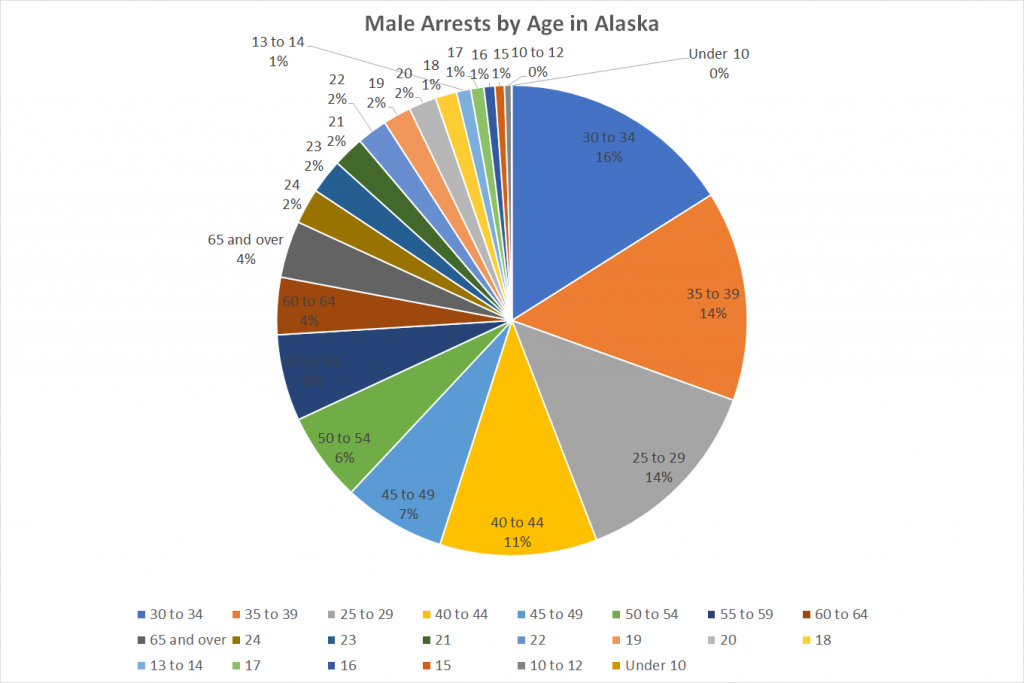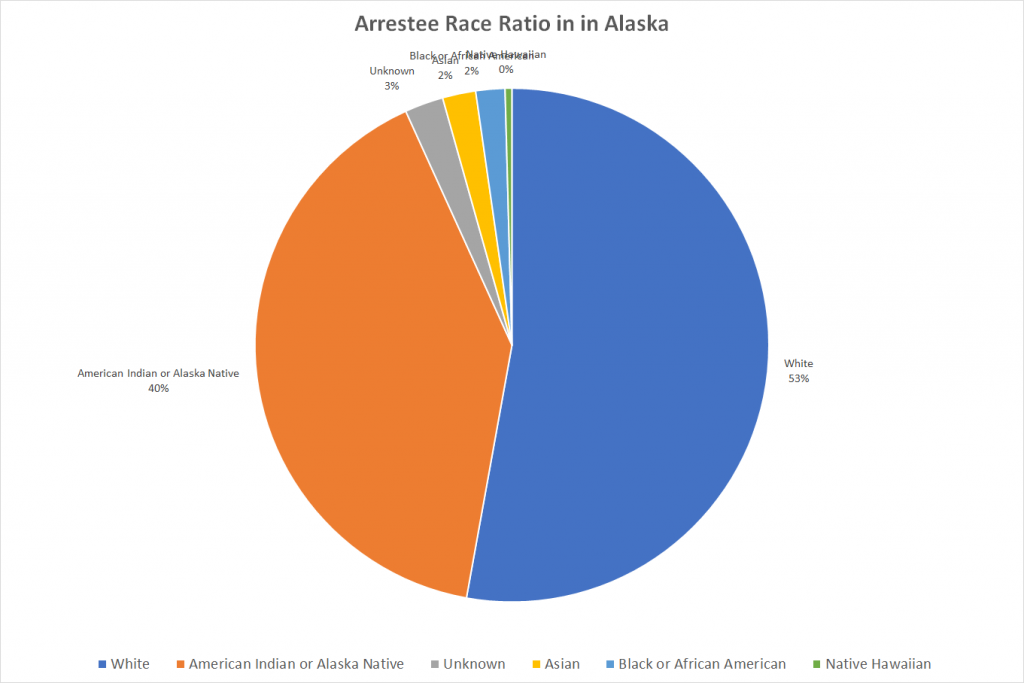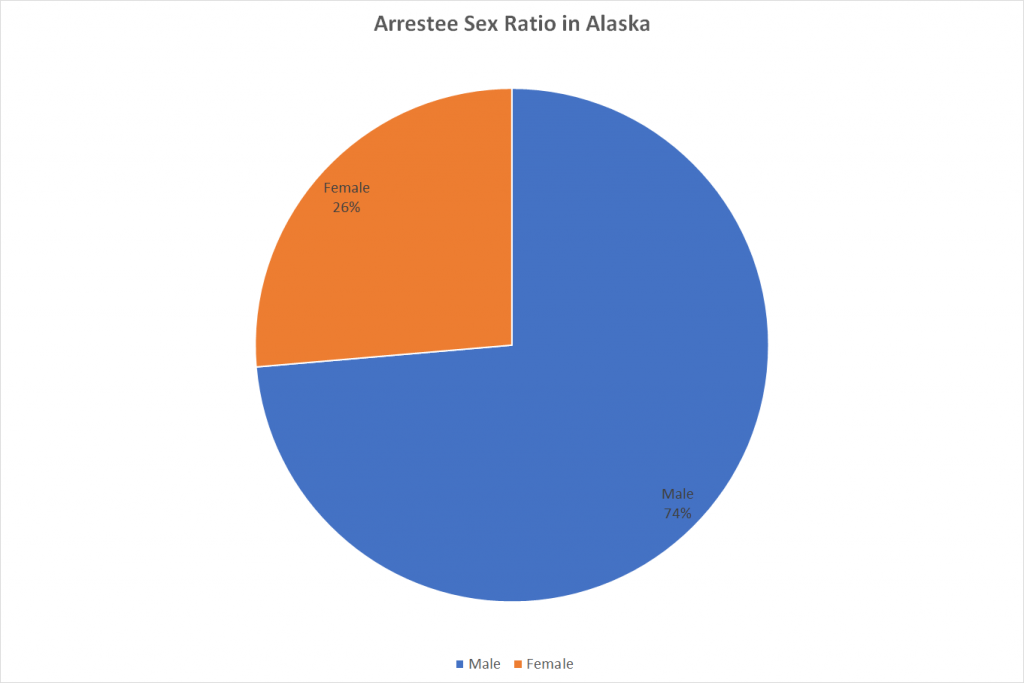 The latest data is from 2021. References: https://cde.ucr.cjis.gov/LATEST/webapp/#/pages/home
The Official Website of Alaska County
Anchorage Anchorage, Alaska: The Official Municipality of Anchorage, Alaska website
Fairbanks Fairbanks, Alaska
Juneau City and Borough of Juneau – Alaska's Capital City
Sitka Sitka Alaska Welcomes You The best travel and visitors guide for Sitka, Alaska.
Ketchikan Official Website of The City of Ketchikan, Alaska – Home
Wasilla City of Wasilla, AK Wasilla Alaska, Matanuska Susitna Valley, City of Wasilla,
Kenai Kenai
Kodiak City of Kodiak Alaska
Bethel City of Bethel, Alaska Official Website of Bethel, Alaska
Palmer City of Palmer, Alaska
Homer City of Homer Alaska Official Website
Unalaska Unalaska, Alaska Home | City of Unalaska – International Port of Dutch Harbor
Barrow The Northernmost American City
Soldotna City of Soldotna, AK Official website of the City of Soldotna, Alaska. Information on utilities, parks/rec, planning, public works, police, library, and more. Mobile/accessible friendly.
Valdez Valdez, AK – Official Website
Fairbanks North Star Borough Fairbanks North Star Borough Fairbanks North Star Borough, Fairbanks Alaska
Matanuska-Susitna Borough Matanuska-Susitna Borough
Kenai Peninsula Borough Kenai Peninsula Borough
Kodiak Island Borough Kodiak Island, AK – Official Website
Ketchikan Gateway Borough Ketchikan Gateway Borough, AK – Official Website
North Slope Borough The North Slope Borough
Borough of Sitka City and Borough of Sitka Alaska Welcome to the official web site of the City and Borough of Sitka, Alaska.
Northwest Arctic Borough Northwest Arctic Borough, Alaska – The Key to Alaska's Future Proudly Serving the Communities of: Ambler, Buckland, Deering, Kiana, Kivalina, Kobuk, Kotzebue, Noatak, Noorvik, Selawik and Shungnak.
Petersburg Borough Petersburg Borough Description
Aleutians East Borough Official Website of Aleutians East Borough, Alaska Official Website of Aleutians East Borough, Alaska
Haines Borough Haines Alaska
Borough of Wrangell Wrangell Alaska
Denali Borough Denali Borough, Alaska Official Website of Denali Borough, Alaska
Lake and Peninsula Borough Lake & Peninsula Alaska Alaska Boroughs
Bristol Bay Borough Welcome to Bristol Bay Borough
Skagway Skagway, Alaska | Convention & Visitors Bureau
Borough of Yakutat Yakutat, Alaska City and Borough of Yakutat
Alaska Jail Roster
Department of Public Safety The Department of Public Safety (DPS) is the state agency charged with providing functions relative to the protection of life, property, and wildlife resources. Department members enforce criminal laws, traffic laws and regulations, wildlife laws and regulations, fire laws and regulations, and are additionally responsible for a number of public safety related functions such as search and rescue, court services, and criminal justice records.
Craig Jail Facility Inmate Search Craig Jail Inmate Information
Valdez, AK – Official Website – Jail Valdez Jail
Police Blotter | City of Unalaska – International Port of Dutch Harbor Unalaska International Port of Dutch Harbor Police Blotter
Messages from Anchorage Police Department : Nixle Anchorage Police Department Alerts
Police Department Anchorage Police Department Municipal Website
University Police Department | University Police Department | University of Alaska Anchorage University of Alaska Anchorage Police Department
Messages from Fairbanks Police Department : Nixle Fairbanks Police Department Alerts
Police | Fairbanks, Alaska Fairbanks Police Department Home Page
University Police Department | University Police Department University Police Department
JPD – Homepage – City and Borough of Juneau Juneau Police Department Public Information
Police | City of Homer Alaska Official Website Homer Police Department
Seward, AK – Official Website – Seward Community Jail Seward Community Jail
Request a Police Department Record | City of Wasilla, AK Wasilla Police Department Record Request
Palmer Police Department – City of Palmer, Alaska Palmer Police Department
Alaska Department of Corrections Alaska Department of Corrections
Alaska Background Check Program The Department of Health and Social Services (DHSS) Background Check Program (BCP) provides centralized background check support for programs that provide for the health, safety, and welfare of persons who are served by the programs administered by the Department.
Alaska Court System Appellate Court Cases and Trial Court Cases